Who Are The Actors We Most Want To Join The MCU?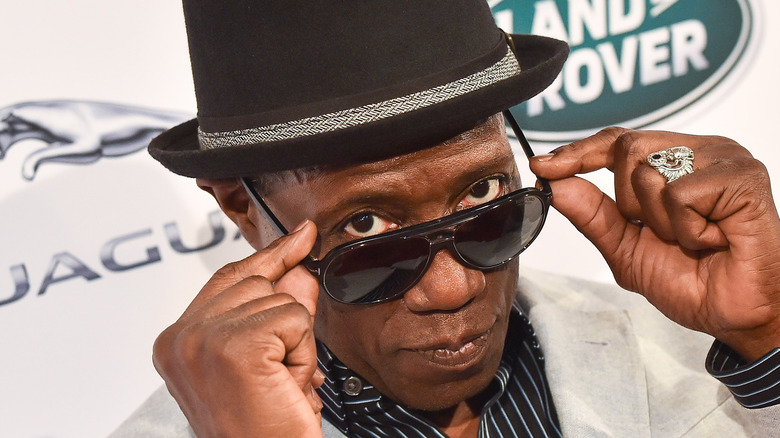 Shutterstock
Sometimes it seems like there are so many Marvel movies — including many on the way — that there couldn't possibly be a famous actor alive who hasn't appeared in one or more of the things. But the truth is there are plenty of well-known thespians who still, for whatever reason, haven't found their way to the magnificent world that creative pioneers like Stan Lee, Jack Kirby, and Steve Ditko built with their boundless imaginations.
How do we fix that? Well, we're not sure there's anything we can do. But at the very least we can take a crack at those who have yet to dip their toes in the world's most popular superhero franchise and give them our own fan castings. Here, for your review, are the actors we most want in the MCU and who we think they should play.
Richard Ayoade should play one of Marvel's Fantastic brains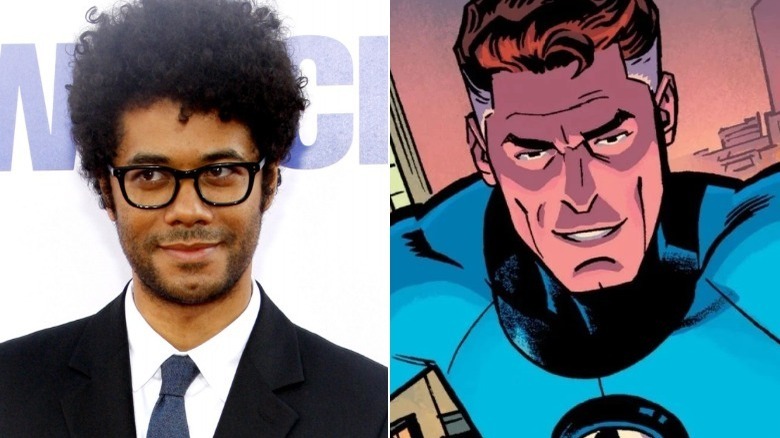 Shutterstock/Marvel Comics
As much as we all enjoy fan-casting John Krasinski as Reed Richards — aka Mister Fantastic of the Fantastic Four — Richard Ayoade practically already is the cerebral hero. 
Richards embodies the saying about being "too smart for your own good." Too often, his tireless curiosity and inventiveness outweigh all other considerations. Not only can this make him a neglectful husband, father, and friend, but his ethical failings contribute to some of Marvel's darkest moments, such as the creation of the clone Thor which leads directly to the death of Bill Foster, better known as Goliath, in 2006's "Civil War" #4.
One of Ayoade's biggest touchstones is his role as the brilliant but socially oblivious Maurice Moss on "The IT Crowd." He may be ready to take things up a notch as one of Marvel's biggest brains.
America Ferrera should play the matriarch of Marvel's first family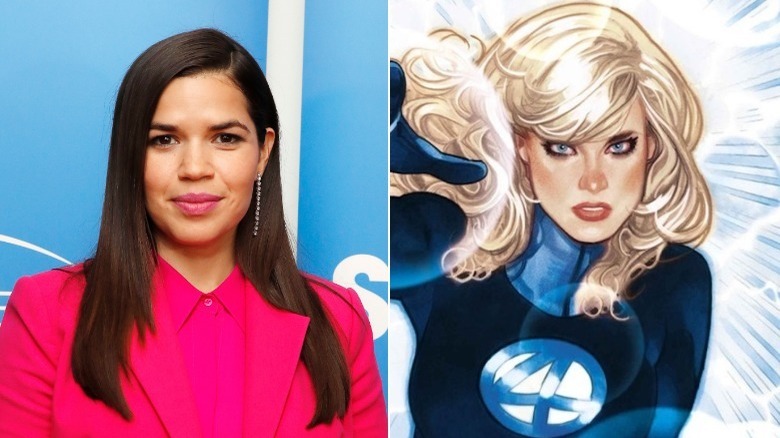 Shutterstock/Marvel Comics
America Ferrera is known for playing more youthful roles like the younger version of Carmen in the 2005 dramedy "The Sisterhood of the Traveling Pants" and Betty Suarez in the hit ABC series "Ugly Betty." We think she's ready for more mature roles, and she'd be perfect as the Fantastic Four's Invisible Woman.
Smart, independent and idealistic, Sue's fierce devotion to her family doesn't stop her from standing against her partner when their beliefs clash, such as she does in 2006's "Civil War" #4 when she helps the anti-registration heroes escape after Bill Foster's death, and later when she joins them in their final battle against the pro-registration heroes — including Reed — in 2007's "Civil War" #7. With a long list of nominations and awards, Ferrera's shown the acting chops to step into this complex hero's boots.
Brendan Fraser should play the ever-lovin', blue-eyed Thing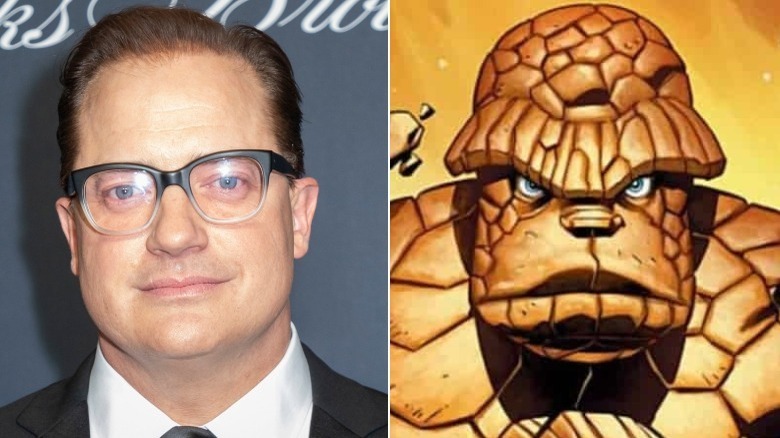 Shutterstock/Marvel Comics
Not too long ago, Brendan Fraser's career path struck a steep decline. But Fraser is making a comeback, including playing the irascible and foul-mouthed Robot Man on "Doom Patrol," someone with a lot in common with one of Marvel's most iconic heroes — Ben Grimm, aka the Thing. 
While everyone else in the Fantastic Four enjoys wondrous powers that go away when the bearers will it, Ben Grimm is stuck in the rocky form of the Thing. While being the Thing makes Grimm strong and difficult to hurt, it nevertheless makes him feel like the loneliest guy in the world. After watching him play a brain transplanted into an unfeeling robot body on "Doom Patrol," we're confident Fraser can bring a similar angst to Ben Grimm. Though as long as Disney still owns Marvel, he should probably swear a lot less. 
Bruce Campbell should play the eater of worlds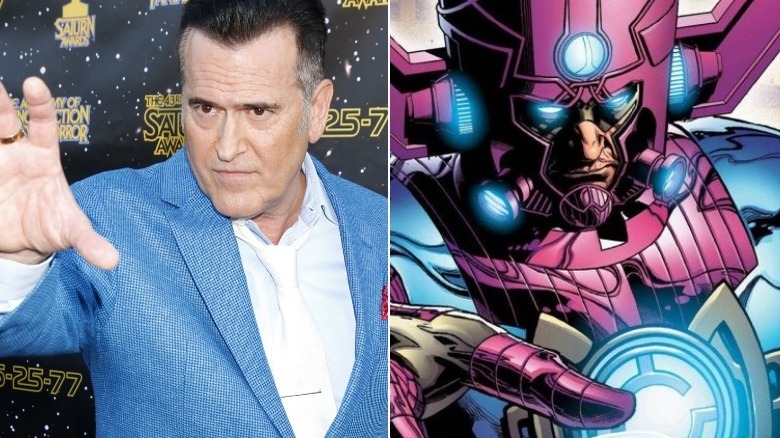 Shutterstock/Marvel Comics
With the announcement that a new "Fantastic Four" is on its way, Galactus, the Devourer of Worlds, probably won't be far behind, and we think Bruce Campbell should play him.
The casting would be a wonderful nod to the Marvel films that came before the MCU. Galactus is the sole survivor of a universe that is destroyed just as the prime Marvel Universe comes into being, and Campbell fittingly appears in all three of Sam Raimi's pre-MCU "Spider-Man" films. 
Of course, Campbell is expected to appear in "Doctor Strange in the Multiverse of Madness," because Raimi — who almost always casts Campbell in his films — is directing. But if it's anything like his "Spider-Man" appearances, Campbell will have a minor role, and he wouldn't potentially be the first actor to play a minor MCU role before a much more important one.
Gal Gadot should play Israel's greatest hero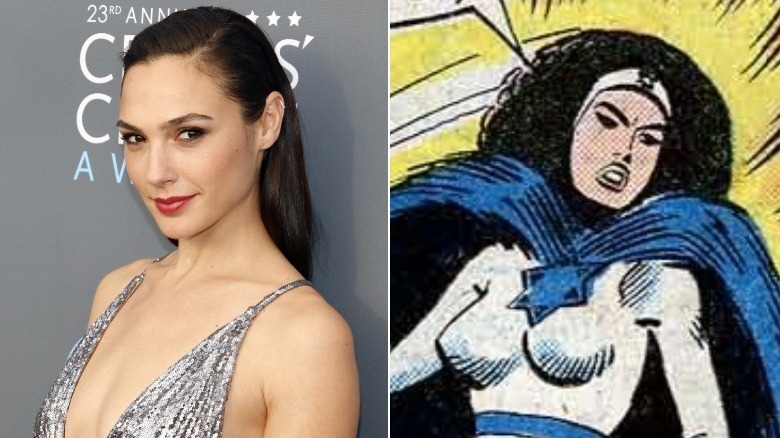 Shutterstock/Marvel Comics
Some fans feel Marvel's films are lacking in Jewish representation. The success of "WandaVision," in particular, brought attention to what some called the whitewashing of formerly Jewish characters Wanda and Pietro Maximoff, and a lot of fans were unhappy with the casting of Oscar Isaac — a non-Jewish actor — in the role of the canonically Jewish Moon Knight.
With this in mind, the Israeli hero Sabra would be a wonderful addition to the films' pantheon and we can't think of a better actor to play her than the Israeli-born Gal Gadot. It would be fitting for the same person who plays Themyscira's greatest warrior in the DCEU to take on the role of a mutant powerhouse who begins her superhero career going toe to toe with the Hulk in 1981's "Incredible Hulk" #256, and then does it again in 1991's "Incredible Hulk" #386-7.
Alan Tudyk should play Spider-Man's nemesis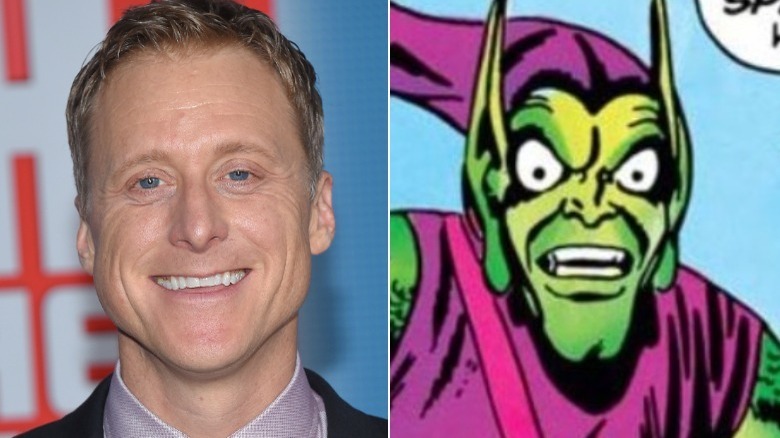 Shutterstock/Marvel Comics
Alan Tudyk is best known for funnier roles like the pilot Wash in the sci-fi series "Firefly" and the follow-up film "Serenity," not to mention the cult horror parody "Tucker and Dale vs Evil." Even when he voiced the powerful droid K-2SO in 2016's "Rogue One: A Star Wars Story," it was played mainly for laughs. But if you don't think Tudyk can play bad guys, you need to watch the first season of "Doom Patrol," in which he plays the terrifying fourth-wall-breaking bad guy Mr. Nobody.
We think Tudyk would make a great successor to the role of Norman Osborn, aka the Green Goblin. Tudyk's not only gifted at humorous roles, but has a disarming, non-threatening presence. That's exactly what you want if you're Norman Osborn and you need the world to not even begin to suspect that you're also the notorious Green Goblin.  
Sam Richardson should play the real McCoy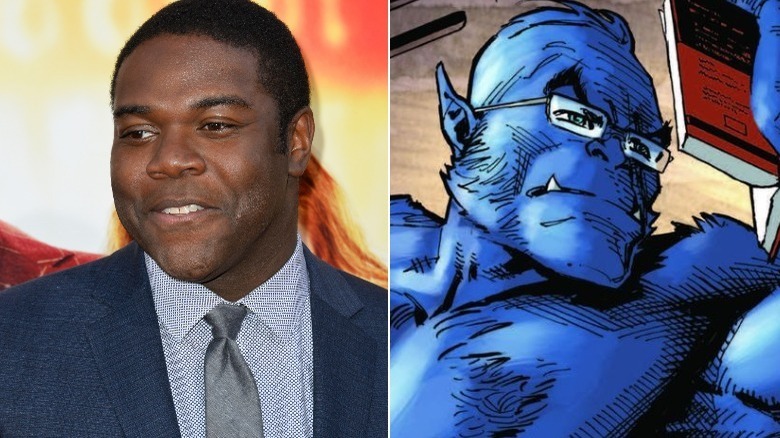 Shutterstock/Marvel Comics
We think Sam Richardson — best known as President Richard Splett on HBO's "Veep" — is possibly the best choice for the Beast of the X-Men whenever the mutants are finally introduced to the MCU, and apparently so does Richardson.
In a May 2021 column for Variety, Marc Malkin wrote that Richardson's experience making "The Tomorrow War" made him ready for more action fare, and in particular he wants to play the Beast. He told Malkin he saw the Beast as "a big blue-haired Richard Splett."
While we don't think Hank McCoy is quite as pure or innocent as Richardson's character on "Veep," he's likely even more intelligent and a lot funnier. And one area in which he definitely is more comic book accurate than the former Beast actor Nicholas Hoult is a bulkier physical build. 
Lana Condor should get a lot more screen time as Jubilee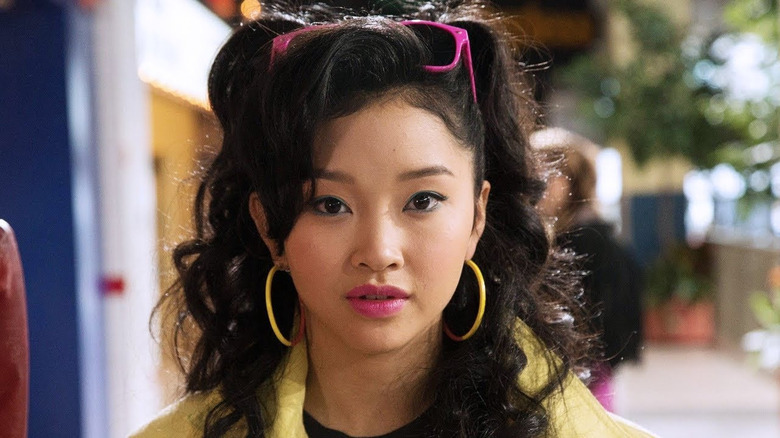 20th Century Fox
When Lana Condor was cast as Jubilee in 2016's "X-Men: Apocalypse," fans of the hero thought they might finally see their wishes fulfilled. Unfortunately, not only did Jubilee get precious little screen time in "Apocalypse," she was absent for the 2019 follow-up "Dark Phoenix."
In February 2020, Condor told the Wrap it's time for Jubilee to get her shot at the big time, and she wants to be the one who plays her. She told the website, "I would really like to do her justice because she didn't have it five years ago." We can't help but agree. Not only have her appearances in Netflix's "To All the Boys" series boosted her profile, but the very fact that she enjoys so little time onscreen in "Apocalypse" would make her return to the role less potentially disruptive than others.
Timothée Chalamet should play one of Wanda's twins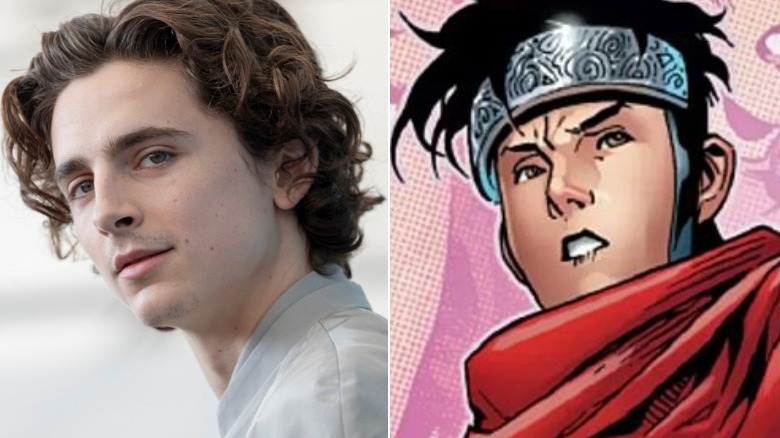 Shutterstock/Marvel Comics
The Disney+ series "WandaVision" stirred a lot of speculation about the futures of the twins Billy and Tommy — destined to become the heroes Wiccan and Speed. Once Billy becomes Wiccan, we think rising star Timothée Chalamet is the best choice.
Rumors about the casting have already swirled around Chalamet, and with good reason. Chalamet has proven that in spite of his age, he can play characters of nobility and gravitas. While Wiccan isn't exactly a nobleman, in the 2016-'17 series "Doctor Strange and the Sorcerers Supreme," we learn he's destined to succeed Stephen Strange as Earth's chief mystic protector. Wiccan is openly gay in the comics, and Chalamet became one of the youngest Academy Award for Best Actor nominees for his performance as a young gay man in the 2017 romance "Call Me By Your Name." Finally, come on — he looks like Wiccan.
Lauren Lapkus should surprise us as Black Cat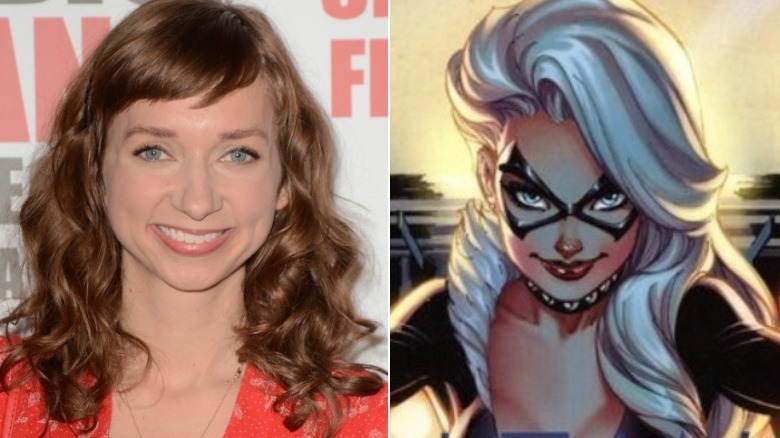 Shutterstock/Marvel Comics
This could be a bit of a stretch, particularly since Black Cat is currently under Sony's corporate umbrella, but we think actor/comedian Lauren Lapkus could be a wonderful fit as the burglar who loves to be bad, the Black Cat. 
The role would be something new for Lapkus. A hilarious standup comic, Lapkus has usually served as comic relief with her generally non-threatening TV and film roles, like the technician Vivian in 2015's "Jurassic World." One of her most well-known parts is that of corrections officer Susan Fischer in "Orange Is the New Black," where she's one of the most lenient of the COs.
But we think if she wanted the role, she could be amazing as the flirtatious thief. She could make great use of her natural "good girl" presence as a way to hide a character who is anything but.
Benm Schwartz should play Marvel's most beloved clown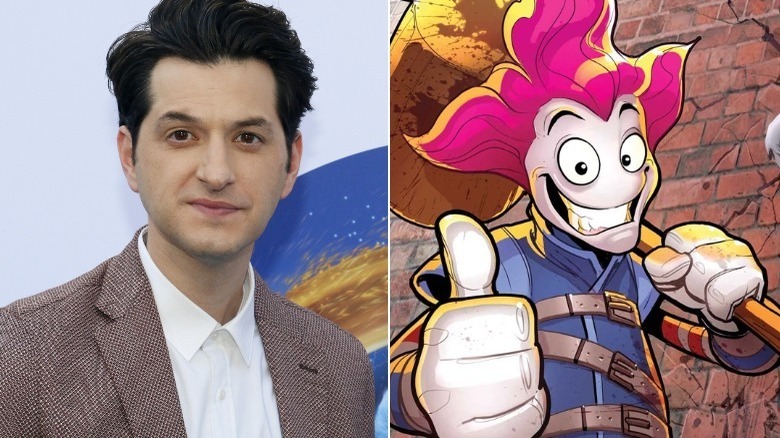 Shutterstock/Marvel Comics
To fans of "Parks and Recreation," it may be sacrilege for Ben Schwartz to play anyone but the pampered Jean-Ralphio. But the guy's got to work — and we know exactly who he should play in the MCU, because we got the name from Schwartz himself. 
In February 2021, Nerdist asked Schwartz what comic book characters he'd want to play. While he did say there was "an unlimited number" of heroes and villains he'd say yes to, the first character he named was the goofy, mallet-wielding Slapstick, who debuted in 1992's "The Awesome Slapstick" #1. 
With his obvious talent at comedy, Schwartz would be a better choice to play the clownish Marvel hero than most. And we wouldn't complain if, while fighting a Big Bad, Slapstick turned to another hero and sang into their ear, in perfect Jean-Ralphio style, "he's the woo-ooo-ooorst!"
Dafne Keen should play an older and wiser X-23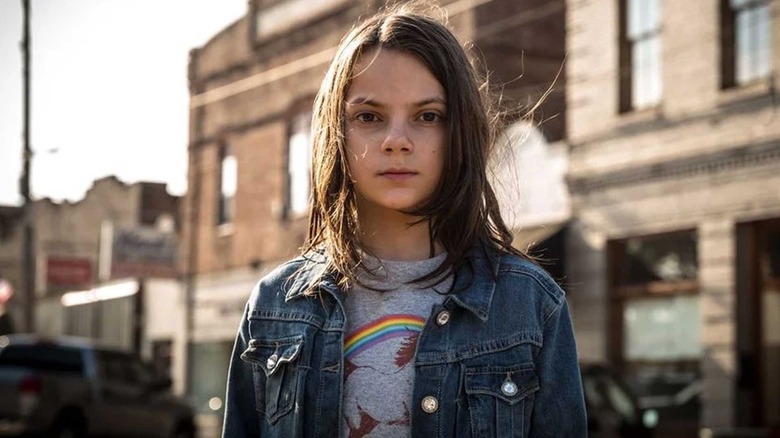 20th Century Fox
Dafne Keen was 12 years old when she appeared as Laura in 2017's "Logan." In spite of her age and size, Keen is deliciously fierce as Logan's unintended offspring — and we see no reason why she shouldn't get to play the character again. 
Of course, a lot would ride on when Marvel Studios does eventually bring mutants into its film narrative, but as long as it doesn't take too long, Keen would be the perfect age to play Wolverine's clone, better known in the comics as X-23. Depending on how the story of Wolverine unfolds in the films, she could even get a chance similar to that of Anthony Mackie. When the "All-New Wolverine" comic premiered in 2016, during a time when Logan is dead, Laura loses her letter/number designation, and becomes the new Wolverine.
Daniel Radcliffe should be the best at what he does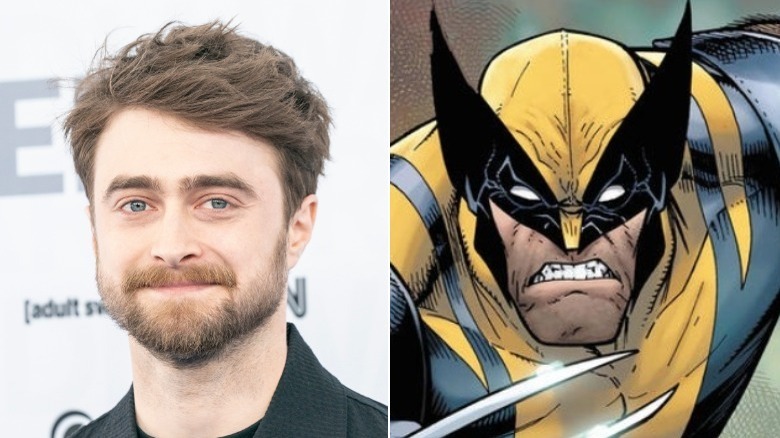 Shutterstock/Marvel Comics
It may seem bizarre to imagine Hogwart's most famous student as Wolverine. However, alongside top picks like Henry Cavill, Tom Hardy, and even Danny DeVito, Radcliffe has been one of the most heavily fan-cast successors to Hugh Jackman for a while, with some fans going so far as making amazing artwork to show what it would look like. 
Sure, he's going to need to beef up for the role, but his work on the 2019 action bonanza "Guns Akimbo" proved the kind of action work he could do. His age means he would be able to play Logan longer than a lot of the other fan-cast actors, and Michael Keaton's casting as Batman should've taught us by now that sometimes the most iconic superheroes can be played by the most surprising choices.
Laura Dern is perfect for one of the X-Men's staunchest allies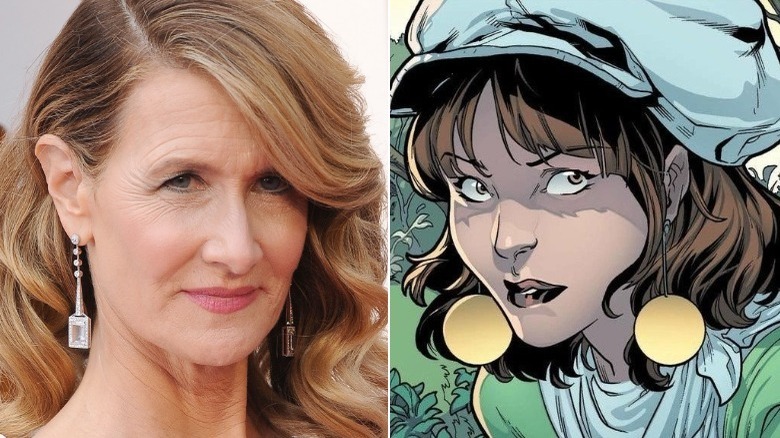 Shutterstock/Marvel Comics
In a movie narrative filled mostly with younger heroes, Laura Dern could have a tough time finding a place. Once the X-Men find their way to the MCU, however, Dern could find a great role in the form of Dr. Moira MacTaggert.
An accomplished scientist and at different times a romantic partner to both Professor X and Banshee, Dr. MacTaggert was for many years one of the X-Men's most loyal non-mutant allies. However, in the 2019's "House of X" #2, it's revealed MacTaggert is, in fact, a mutant. MacTaggert has the unique power of reincarnation, being able to come back to life with the knowledge of her previous lives. Since this power wasn't revealed back when Olivia Williams and later Rose Byrne played the character, it would add a new layer for Dern to explore.
Rowan Atkinson as a member of the Nova Corps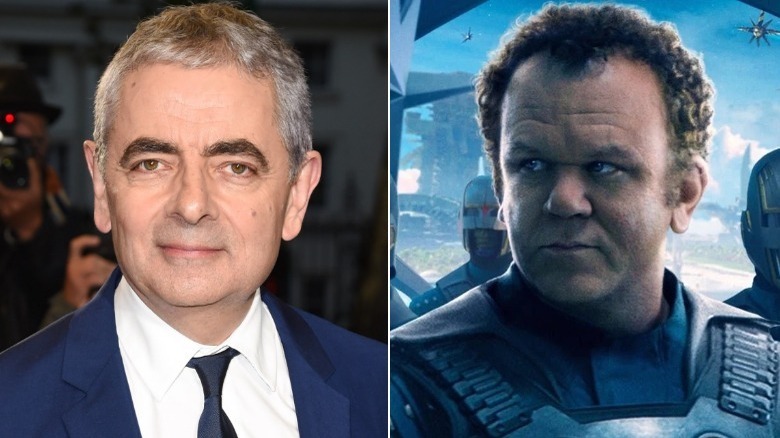 Shutterstock/Walt Disney Studio Motion Pictures
English funnyman Rowan Atkinson is best known for comedy series like "Blackadder" and "Mr. Bean," and we have a tough time imagining him playing either an Avenger, or one of their deadly enemies.
But that doesn't mean Atkinson couldn't appear in the films. In particular, he could be perfect for one of the growing number of fictional agencies that enforce laws not only on MCU's Earth, but among the stars and even throughout time.
Our first choice for Atkinson would be as a pencil-pushing employee of the Nova Corps, something like a more desk-bound version of John C. Reilly's Corpsman Dey. Of course, that depends a lot on the status of Xandar and the Nova Corps. Otherwise, he'd be great as a Time Variance Authority bureaucrat, or even in one of the more boring positions in SHIELD.
Jesse Plemons should play the living Massacre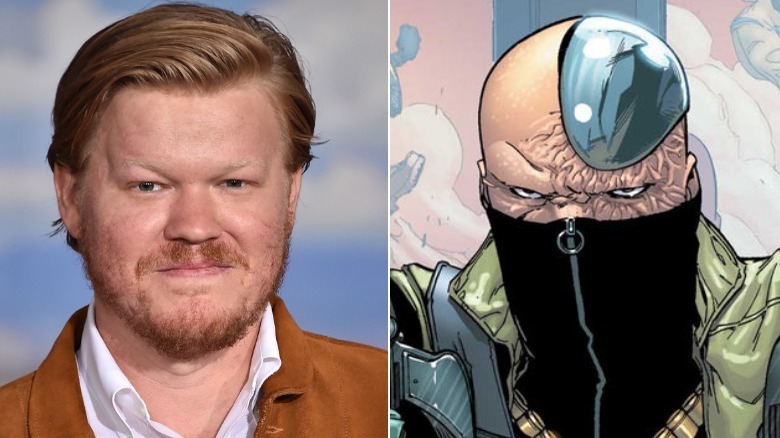 Shutterstock/Marvel Comics
With his chilling performance as Todd on "Breaking Bad" and the subsequent Netflix film "El Camino," it's impossible to not want to see Jesse Plemons play one of Marvel's villains. In particular, Plemons would be perfect as Marcus Lyman, aka Massacre.
Shrapnel lodged in Lyman's brain cripples his ability to connect with people or experience genuine emotion. In 2013's "Superior Spider-Man" #4, during a period when the villain Otto Octavius takes over Spider-Man's body, Massacre escapes Ravencroft Institute and continues his career as an indiscriminate mass murderer. In the following issue, without Peter Parker's ideals restraining him, the Superior Spider-Man murders Lyman at gunpoint (unsurprisingly, Massacre eventually returns).
With his time as Todd showing us how impressively Plemons can play a killer without even the slightest hint of emotion or remorse, he and Massacre could be perfect fits.  
Wesley Snipes should play the guy who used to make his weapons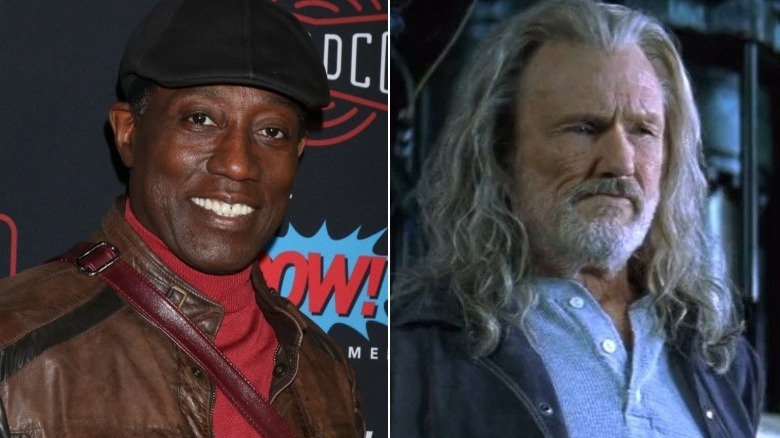 Shutterstock/New Line Cinema
In July 2019 it was confirmed that Mahershala Ali would be playing the MCU's version of the vampire hunter Blade. 
While there's a few likely reasons why Wesley Snipes couldn't reprise the role, we don't think that means he should be absent from the franchise. While he could always just make a cameo, there's no reason he couldn't fill the shoes of Blade's own version of Alfred the Butler — if Alfred the Butler had long hair, chain-smoked, and was a much heavier drinker.
First appearing in "Spider-Man: The Animated Series" when he was voiced by Malcolm McDowell, Abraham Whisper is played by Kris Kristofferson in 1998's "Blade" and its two sequels. It would be symbolically fitting to see Snipes take over the role, particularly since Whistler is a father figure to the half-vampire in the earlier films. 
Famke Janssen should play a Phoenix, but not the one you know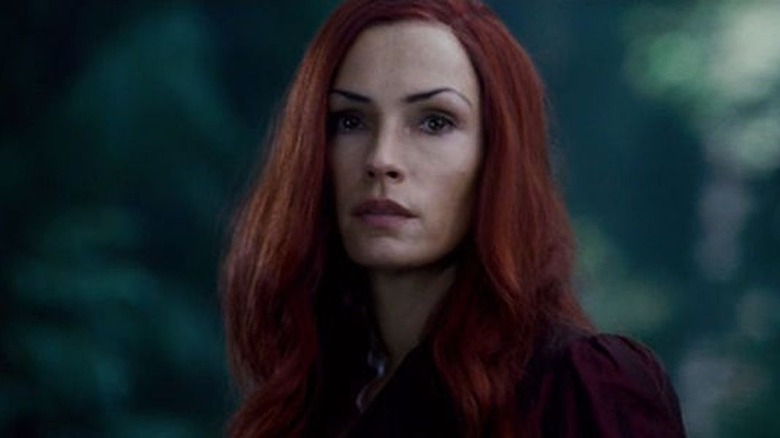 20th Century Fox
We don't think Famke Janssen should play the MCU version of Jean Grey. While there are some exceptions, for the most part we think new actors should be brought in to play the heroes and villains who already appeared in Marvel's pre-MCU flicks. However, it would be amazing to see her play a very similar character. 
Jean Grey is not the only vessel for Marvel's Phoenix Force. In particular, in 2017's "Marvel Legacy" #1 we learn there was a Stone Age team of Avengers that included a vessel for the powerful force, and in 2018's "Avengers" #1 it's revealed she was Odin's lover. 
Should this prehistoric team of Avengers ever show up on the big screen, Janssen would be the only rchoice. Another option would be that she could play not an ancient vessel for the Phoenix Force, but the Phoenix Force itself. 
Giancarlo Esposito should play Black Panther's craziest villain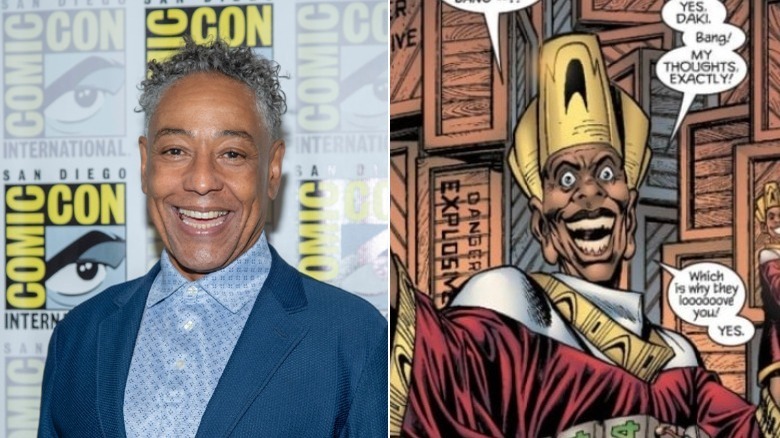 Shutterstock/Marvel Comics
Giancarlo Esposito has been acting professionally for decades, but it was his turn as the ruthless Gus Fring in "Breaking Bad," and later "Better Call Saul," that made him one of the first choices when it came to casting villains like the Imperial holdout Moff Gideon in "The Mandalorian" and the corporate bigwig Stan Edgar on "The Boys." We've got a villain he might not only be perfect for, but could give us a chance to see a different side of him.
First seen in 1999's "Black Panther" #3, Achebe is a brilliant madman. Unlike most of the cold, calculating, and often stoic antagonists Esposito has played, Achebe is an outlandish and flamboyant villain along the lines of the Joker, giving Esposito the chance to explore a whole new kind of villain. For example, Achebe is often found sporting a hand puppet made to look like his own mini-me, and he obsesses over biscuits. In 1999's "Black Panther" #12, he even traps T'Challa and Everett K. Ross in a giant claw crane game.