Cobra Kai Fans Are Split On The Most Annoying Character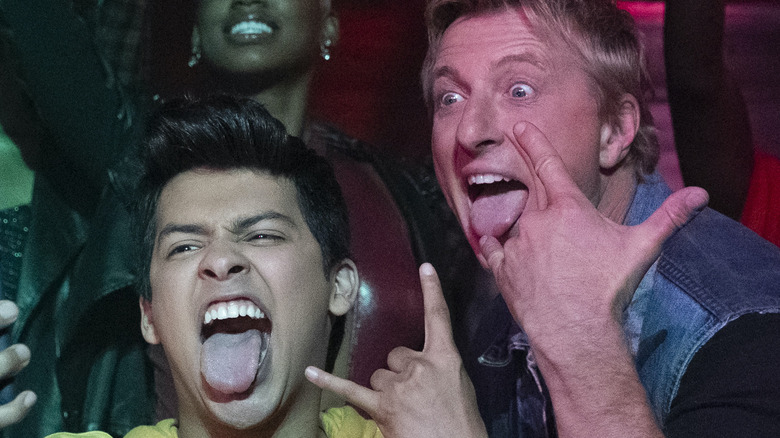 Netflix
The creators of "Cobra Kai" — Jon Hurwitz, Hayden Schlossberg, and Josh Heald — had a few interesting roadblocks in their journey to creating a successful nostalgia property in the karate dramedy Netflix series. First, they had to decide which characters to bring back to the "Karate Kid" spinoff and what their lives would be like nearly a quarter century after the last canonical film, 1994's "The Next Karate Kid." Next, they had to come up with some interesting new characters, create their personalities, and find a way to get viewers to care about them. Then they had to decide what would be a suitable sacrifice to Dionysus, the Greek god of theater, in order to conceivably make a spoiled punk like first-film antagonist Johnny Lawrence (William Zabka) into a likable, relatable, and sympathetic character (full disclosure: we're not sure how much thought the "Cobra Kai" braintrust put into the first two of those, but that last one definitely happened).
But when it comes to characters, there are ups and there are downs. In flip-flopping Johnny's character into a lovable loser — which was arguably the archetype for the original "Karate Kid" protagonist, Daniel LaRusso (Ralph Macchio) — they also made Daniel into a bit of an arrogant tool, pretty much going full "Freaky Friday." In creating a surrounding cast that would help ground the show in relevance and appeal to younger generations of fans, the "Cobra Kai" creators had to enlist a younger generation of actors as well, giving fans all new characters like Daniel's daughter Samantha (Mary Mouser). Samantha's entanglements with Johnny's first student Miguel (Xolo Maridueña) and Johnny's son Robby (Tanner Buchanan) helped keep things nice and dramatic.
"Cobra Kai" features characters we love, those we loathe, and some who lie in between. Looper asked 536 fans in the United States which character annoyed them the most and the results were surprisingly close.
Johnny Lawrence is the least annoying Cobra Kai character, followed closely by Daniel and Miguel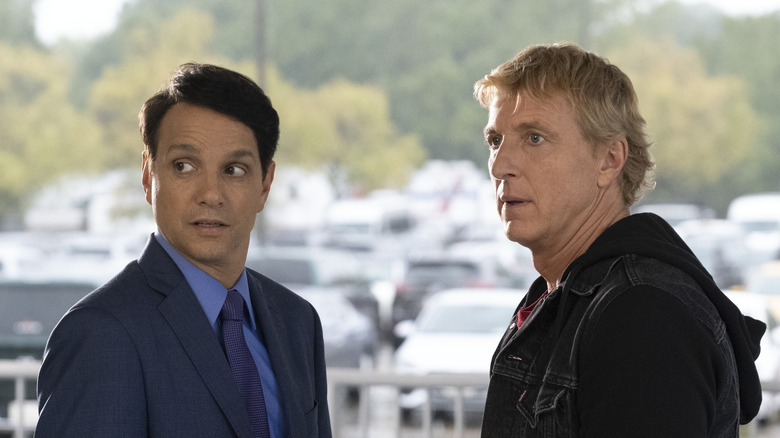 Netflix
The folks behind "Cobra Kai" took a gamble in choosing William Zabka's Johnny Lawrence as the series' protagonist, but it's one that clearly paid off, evident not only by the show's incredible popularity but by the results of our survey. Johnny received the fewest votes of the options provided in our poll to determine the most annoying character on "Cobra Kai," with a mere 8.21% of respondents choosing him. If even Ali Mills (Elisabeth Shue) can get on board the Johnny Lawrence redemption bandwagon, we're pretty sure anyone can.
Coming in a tie for second-to-last are Daniel LaRusso and Miguel Diaz — with 8.4% of the vote apiece— and it's no surprise that neither character was in danger of being selected. After all, Daniel is the original protagonist of the "Karare Kid" movies. While the success he's enjoyed in his adult life has given him a certain smug arrogance that breaks through to the surface of his perennially calm and charming demeanor, Daniel is, at his core, a good person who is always trying to do the right thing for his family, his students, and his community.
As far as Miguel is concerned, he's a bit naive but he's also undergone the most transformative arc among any of the new characters introduced in "Cobra Kai." He's dealt with bullying, betrayal, and some bad bounces beyond bumps and bruises. Despite dealing with the pain and confusion of young love, suffering a near-crippling injury at the hands of his sensei's son, and being at odds with pretty much every other character in the series at one point or another, Miguel came down on the side of good — so far, that is — by the time the "Cobra Kai" Season 3 finale rolled around.
The most annoying Cobra Kai character was chosen by a razor-thin margin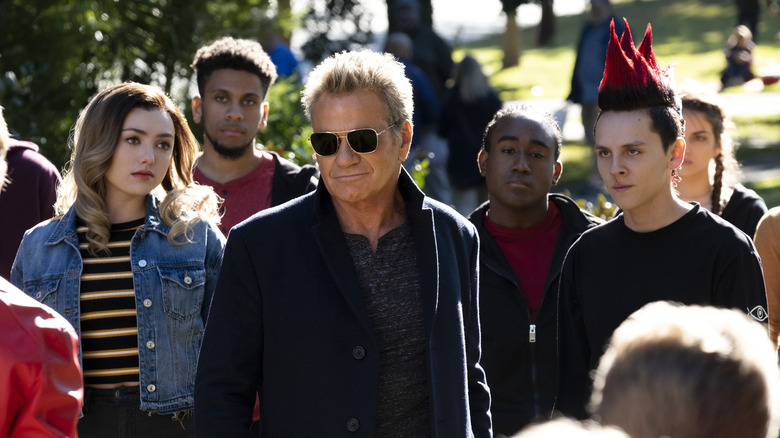 Netflix
In the middle of the pack, when it comes to the results of our quest to determine which "Cobra Kai" character annoys viewers the most, are the opposite sides of the teenaged-karate-girl coin, Tory Nichols (Peyton List) and Samantha LaRusso (Mary Mouser). Archetypal bad girl Tory only brought home 10.82% of the vote from our 536 respondents, with her counterpart, good girl Samantha, receiving a much healthier portion of the vote with 17.35%. We're going to go out on a limb and suggest that Sam's winning the most-annoying-girl contest as a result of her multiple relationship storylines — including those with Kyler (Joe Seo), Miguel, and Robby — which is something only the show's writers can fix (and they should).
Which brings us to the most annoying character on "Cobra Kai" — as selected by Looper readers — and the one least likely to end up in a romantic relationship with Samantha LaRusso: Hawk (Jacob Bertrand), who racked up 23.51% of the vote. Initially introduced as Eli Moskowitz, before he had his trademark mohawk and perplexing personal avian sound effect, Hawk was the subject of bullying related to his cleft lip. But one haircut, a dye job, and 14 hours in a tattoo studio later and he's now a total jerk posing as a badass and has become the kind of bully that first inspired him to take up karate for self defense purposes. Progress!
But Hawk and his jerk-wad makeover didn't exactly run away with the vote; he narrowly edged out original Cobra Kai sensei John Kreese (Martin Kampmann) by less 0.2%. That's right: the sadistic, gravel-voiced OG karate bad guy also managed to capture 23.32% of the annoying vote, for an identical margin of difference between the two most annoying characters and the least annoying. There's something zen about that and it's something we're sure Mr. Miyagi would appreciate.