The Unusual Inspiration Behind Disney And Pixar's Luca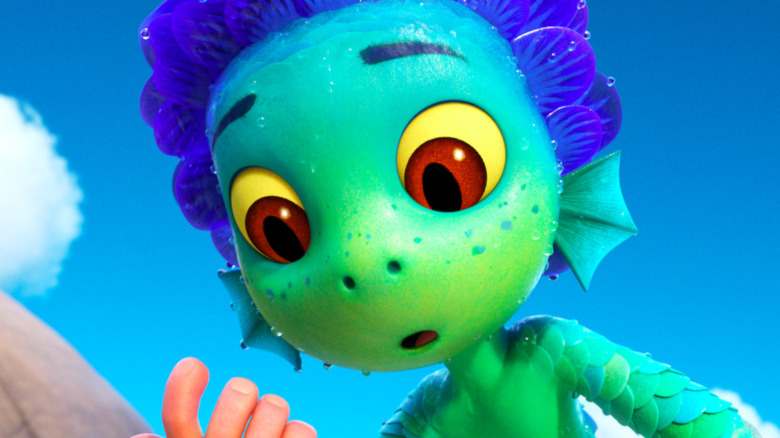 Disney/Pixar
Meet Luca, a cute sea monster who magically transforms into a human boy when he steps onto dry land. That's the premise behind Disney and Pixar's latest film, "Luca," which will be released June 18 exclusively on Disney+.
The animated film, directed by Enrico Casarosa and starring Jacob Tremblay and Jack Dylan Grazer, is set in a beautiful seaside town on the Italian Riviera, where Luca experiences an unforgettable summer of adventures alongside his newfound best friend Alberto. Underneath all their carefree fun, however, lurks the constant threat that their true identities will be discovered by a town full of people who believe sea monsters to be their mortal enemies.
It's a story that embraces friendship, food, and Italian culture — including a few unusual inspirations that shape the entire film. During a recent Q&A session with Casarosa that Looper attended, the director discussed the local legends that influenced "Luca" — and the iconic Italian item that represents freedom to the film's lead character.
Luca is loosely based on Italian sea monster legends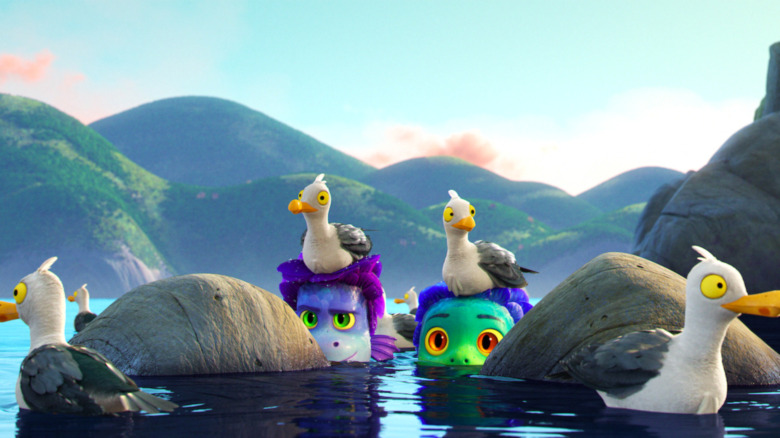 Disney/Pixar
The Mediterranean Sea, which surrounds Italy, has spawned many myths about sea monsters. While no specific legend directly influenced "Luca," Casarosa admits "a few different ones" helped guide the development of the story — especially visually.
"There is a wonderful town that is right next to La Spezia, which is close to Cinque Terre, that has a legend of a helpful octopus that rang the [church] bell when the pirates were coming, which I always found fascinating," says Casarosa. "Other places had dragons. There's a big history of sea dragons. For example, one is in San Fruttuoso, which has the famous abbey. It's a beautiful place that we definitely took a lot of reference from. A place that is known for a dragon that lives there, which actually made us think, 'They must have had great fishing there.' So, visually some of those different ideas ... the krakens and leviathans, and the mystery of those things were always very fascinating to me."
Much of Luca's story revolves around the iconic Italian Vespa scooter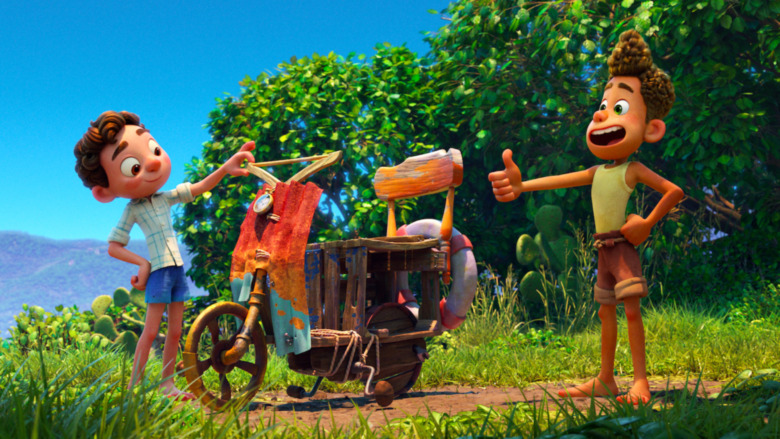 Disney/Pixar
Throughout much of "Luca," the Italian-designed Vespa scooter is portrayed as a symbol of freedom for Luca and his friend. Once they can get their hands on one, they believe their lives will change. But why the focus on the brightly colored, fast-moving mode of transportation that's been around since the 1940s?
"Italy is very much a culture of scooters," says Casarosa. "I grew up with a little Piaggio Si [moped], which is something between a Vespa and a bicycle. I was actually more into motorcycles, to be honest — the wind in my hair, it was something. Me and my best friend both had motorcycles. We actually drove up and down the Riviera in the summer quite a few times. That was such a big thing we shared, and it felt like such a great symbol of freedom. It's kind of preposterous in some ways, because kids come up with these kinds of crazy ideas — the idea that we can ride into the sunset and live in a Vespa. But I always loved that side of it that it's a bit silly."
As to why he chose a Vespa as the focal point of Luca's infatuation, Casarosa elaborates: "They're beautiful machines, especially those from the early 1960s. There's something about the design, the lines, that are so beautiful. Those were some of the ideas that came to the forefront, and slowly solidified as an interesting goal for them that was kid-like and silly. It was easy to have fun with some fantasies about it."
"Luca" will be released June 18 exclusively on Disney+.