How Pixar's Luca Was Personal For Jim Gaffigan - Exclusive Interview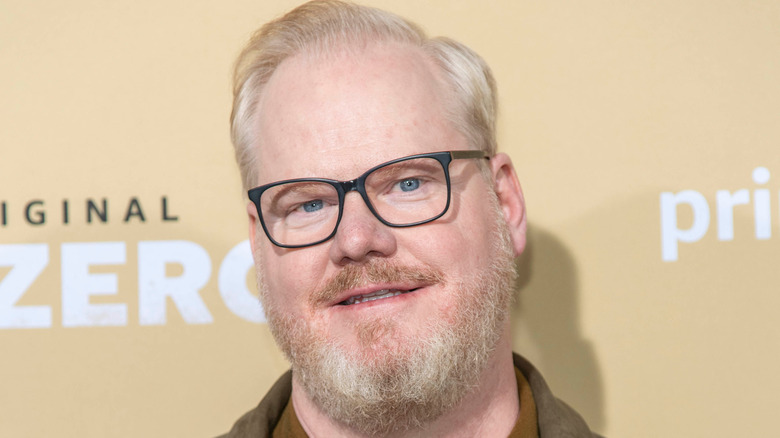 Shutterstock
Disney Pixar's latest animated film, "Luca," which will be available June 18 on Disney+, is not only the coming-of-age tale of a young boy named Luca who goes on a summer adventure with newfound friend Alberto as they try to hide their true identities as sea monsters — it's also a love letter to Italian culture and cuisine.
Enter Jim Gaffigan, who may be best known as a stand-up comedian who relies on "dad humor" and his love of food to make people laugh. And that's exactly why playing a distracted dad in a film like "Luca" that turns Italian eats into a secondary character is a perfect fit for him.
While his stand-up routines and best-selling books are what made him famous, Gaffigan has also made a name for himself as an actor on TV shows such as "The Ellen Show" and "That '70s Show" and in films like "Super Troopers" and "Chappaquiddick." Additionally, he has lent his voice to such animated fare as "WordGirl," "Bob's Burgers," and the "Hotel Transylvania" franchise.
In "Luca," which is loosely based on Italian-born director Enrico Casarosa's own childhood experiences, Gaffigan stars alongside Jacob Tremblay ("Room") as Luca, Jack Dylan Grazer ("Shazam," "It") as Alberto, and Maya Rudolph ("Saturday Night Live," "Bridesmaids") as Luca's overbearing mother Daniela.
Gaffigan spoke exclusively to Looper about his role in "Luca," discussing how real-life situations inspired his character and what it was like to record his lines at home during the COVID-19 pandemic.
Jim Gaffigan relied on real-life parenting skills for his role in Luca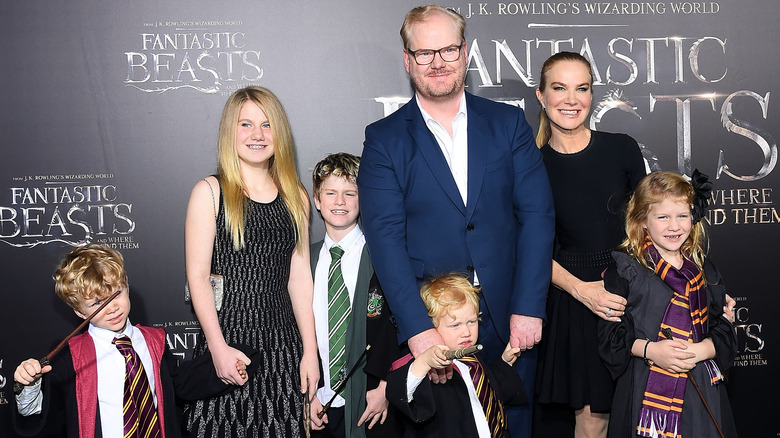 Ben Gabbe/Getty Images
As a father of five, were there any real-life situations that you drew inspiration from in order to play Luca's father?
Yeah. I mean, if you're a parent, you can identify with this [movie]. As a parent, you want to protect your children from any harm. If you have a two-and-a-half-year-old, you're literally trying to stop them from accidentally killing themselves, right? But as they get older, you have to find a balance between protecting them and also letting them find their own way and find their people, and it can be really hard letting go.
Another thing that I kind of found that helped was my wife and I are partnering parenting, whereas my character and Maya's are ... With two parents, or even if you're in a cab with two people and the driver goes the wrong way, there's no sense in both of you getting angry. One person will be angry and one person will be like, "It's okay." You know what I mean? And they can switch roles. It's not necessarily consistent. So my character Lorenzo is maybe the calmer side of the protectiveness. But I love the idea of that as a parent ...
Also, Lorenzo is a little distracted, where you kind of think you know your kid. But as an adult, you look back and you think, "My parents didn't know half of what I was doing." But from a parent perspective, you're like, "I know everything that my kid's doing," but as a kid, you're like, "My parents didn't know what they were doing." So it's capturing that.
You kind of touched on it a little bit, but I saw your character Lorenzo described as "a well-meaning, but sometimes distracted dad who's very passionate about raising his prize-winning crabs." From your perspective, what makes a good dad?
I wrote a whole book about this. I think that some of it is trying. The thing about parenting is no one's successfully pulled it off without failing. And the people that complain about parenting and about how exhausting it is, they're complaining because they're involved. So I guess it is participation, and then hopefully kind of attempting to grow into the role. Because what's so amazing about parenting is that the job changes every two years. When your child was six months old, those skills are completely different from what you need with a two-and-a-half-year-old. And so it's just ever-changing.
I have five kids and all their needs and desires are five different ways. It's really unfair. You think that if you had one family, all your kids would have the exact same interests. When they're seven, they're all the same size, and they'd all be interested in one sport. But that's not the case.
How recording from home affected Jim Gaffigan's performance in Luca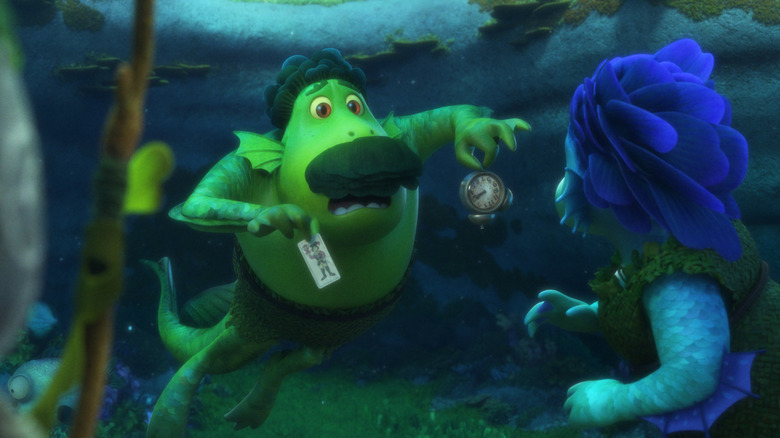 Disney/Pixar
Now I know voicing animation is different than filming live action, but what was it like working with Maya Rudolph as your counterpart in the film?
It's amazing. I had worked with Maya on this movie called "Away We Go." During this, though, it was all done during the pandemic, and it was all done virtually. We never did a session together. There was discussion of the possibility of it, but with the magic of editing, yeah, we were never even on the same phone line or recording session. It's pretty amazing. But I'm a big fan of hers.
Any funny stories or memorable moments that stand out in your mind from filming?
I guess it's not necessarily funny, but we rented a house after quarantining for three months in the city. And I would do a [recording] session [in the house] then I would be at dinner and my kids would ask, "Why were you yelling 'Luca'? Who's Luca?" I remember that came up once at dinner and I'm like, "What do you mean?" But what I really remember the most is director Enrico Casarosa's enthusiasm. It felt like a personal project [for him], and he was trying to get the tone right. He wasn't motivated necessarily by getting as many jokes as possible, he wanted to get the tone right, which was cool.
When you were a kid, did you have a friend or go on any adventures that could potentially spawn a movie like "Luca"?
I don't know about a movie. I grew up in a small town in Indiana and I felt like what we mostly did was complain about how bored we were, whether that was true or not. But I did have a friend that we would kind of complain together and we had great designs for life, which I was reminded of in "Luca" with Luca and Alberto kind of finding their path and beginning life together. And so yeah, my childhood was not ... there was no adventure like the Portorosso Cup or anything like that.
What do you hope your kids — and others — learn from this film?
There are so many things, and everyone's going to have a different experience, which is a real compliment, I think, to the movie. But I think that the "Silenzio, Bruno!" [scene] will probably resonate, kind of quieting that inner critic. But I would also imagine that kind of attachment to these youthful summer memories. Because as adults, we kind of approach summers with a certain amount of pressure, like we have to accomplish something. Whereas when you're a kid, the summer just kinds of lays out and then every summer after that is compared to it. And so that's really captured, this kind of splendid summer that Luca had.
"Luca" will be available on Disney+ on June 18.