The Unique Way Vin Diesel Prepped John Cena For F9
Vin Diesel found an interesting way to develop his onscreen rivalry with John Cena in "F9."
The upcoming film, which will be the ninth installment in the core "Fast and Furious" saga, is shaping up to be one of the biggest movies of 2021. Indeed, after being delayed by the COVID-19 pandemic last year, "F9" is finally set to hit theaters in the U.S. later this month. The film sees many of the franchise's recurring stars returning in their usual roles for an action adventure that will take the "Fast and Furious" series to all new heights – literally. It will also, notably, see John Cena making his "Fast and Furious" debut as Jakob Toretto, the estranged brother of Vin Diesel's Dominic Toretto.
Cena's Jakob is set to be the primary antagonist of "F9," and to say his bond with his brother isn't a good one would be an understatement. Their relationship promises to be one of the key sources of tension and drama in the film, and by revealing the secrets of his and Dom's turbulent past, "F9" has the potential to seriously challenge the long-running themes of family and loyalty that have come to define the "Fast and Furious" franchise.
Vin Diesel and John Cena found ways to bond before filming F9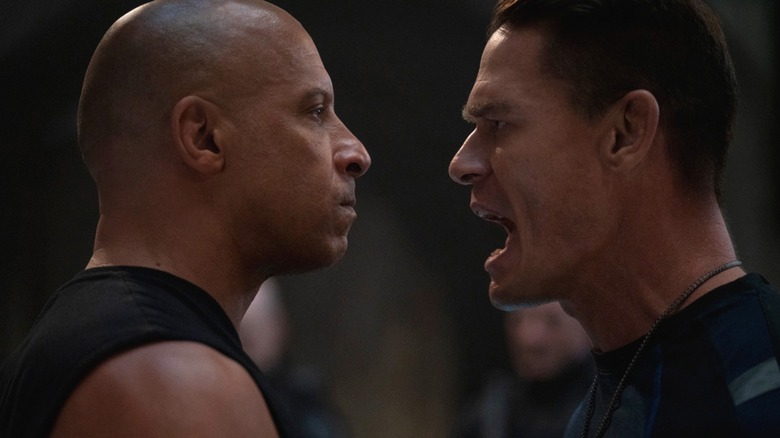 Universal Pictures
The bitter nature of the relationship between Jakob and Dom in "F9" required Vin Diesel and John Cena to go to some dark and angry places as actors. That meant Diesel had to work closely with Cena to make sure their characters' fractured brotherhood felt believable onscreen.
During a recent "F9" press event attended by Looper, Vin Diesel revealed the unique method he used to help prepare Cena for their scenes together in the film. According to the "Fast and Furious" actor, the film's cast often got together on weekends to bond and spend time with each other, and it was during those times that Diesel worked to make sure he and Cena could meet the requirements of their scenes together. Diesel revealed that he and Cena hung out a lot while prepping and filming "F9," with Cena even reportedly taking the time to play football and music with Diesel's son and daughter. That extra work was all in order for Cena and Diesel to feel comfortable going to the intense places together onscreen that Jakob and Dom's relationship demanded they go.
Now, it'll be up to the "Fast and Furious" fans to determine whether or not Diesel and Cena's work together ultimately paid off when "F9" finally hits theaters stateside this month.