This Was Vin Diesel's Reaction To John Cena's First Day On F9's Set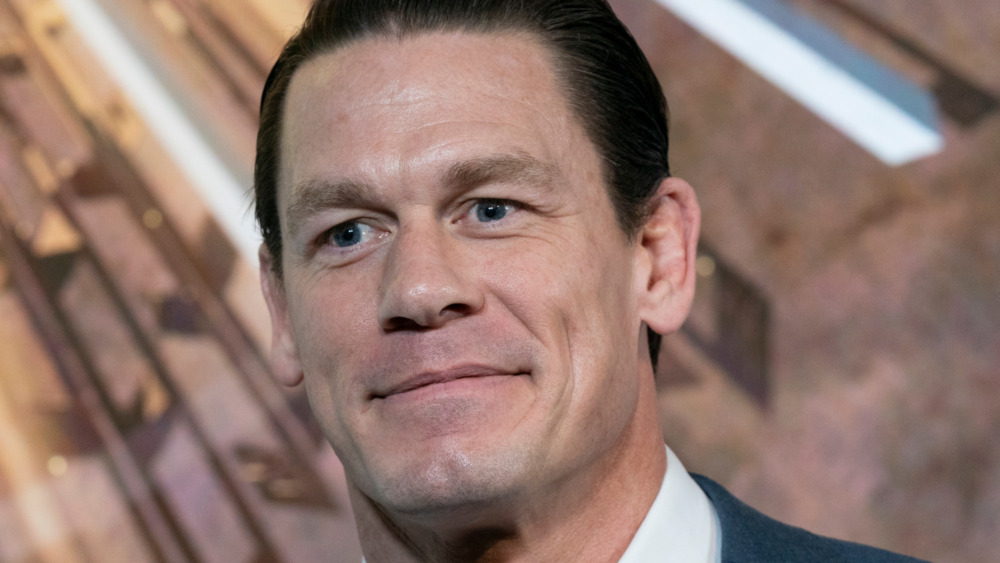 Shutterstock
When The Fast and the Furious hit theaters 20 years ago, nobody could have ever guessed it would drive headlong into success and produce a decades-long franchise about the importance of family, camaraderie, and fast cars. However, all good things must come to an end, and the series has only two more films until its narrative is complete. But that's as much bad news as it is good news since the franchise's creators are supercharging their final films with everything needed to leave a lasting impact. The eighth Fast movie, The Fate of the Furious, starred Dwayne Johnson, and the upcoming ninth movie, F9, will feature John Cena. Nobody saw that coming.
In June 2019, Universal Pictures announced that Cena would play a key role in F9. Audiences didn't learn that Cena would fill the role of Jakob Toretto, the brother of the franchise's leading man Dominic Toretto (Vin Diesel), until the film's first trailer debuted in January 2020. The only news more surprising than the knowledge Cena would play Dom's brother was the knowledge Dom had a brother. You'd think a man who's all about forming a family with his road crew would talk more about his relatives in previous movies. 
As it turns out, Diesel was unsure the filmmakers could pull off casting another person in the Toretto bloodline, but Cena totally won him over on their first day on the F9 set.
Vin Diesel saw John Cena as an act of providence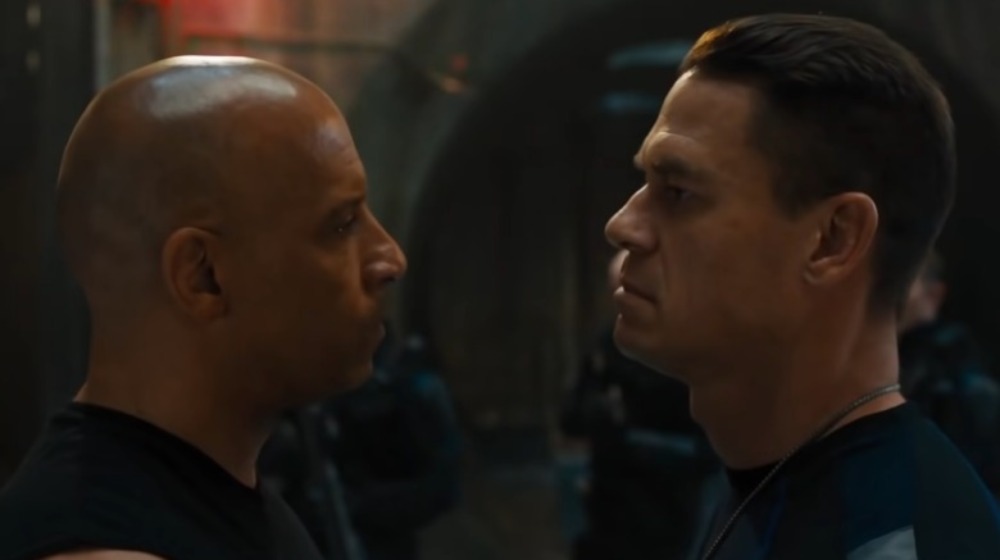 Universal Pictures
To celebrate the release of the film's newest trailer, Rotten Tomatoes held a virtual press event with some of F9's main cast — specifically Vin Diesel, John Cena, and Michelle Rodriguez — and writer-director Justin Lin. Looper was in attendance at the presser, during which everyone shared their thoughts about Cena joining the franchise (yes, he also provided his own two cents) as a character who has history with the protagonist despite never appearing in previous films. Though not everyone was on board with the idea at the start — but not because they disliked Cena — he quickly proved he had the chops.
While Rodriguez said casting Cena as Jakob Toretto was a "no-brainer," Diesel admitted he wasn't sold until the first day on set. He explained that he and Lin had toyed around with the concept of giving Dominic Toretto a brother for years. Based on personal experience, Diesel and Lin knew a Toretto sibling would create an "interesting dynamic" that would "make for great storytelling," but they also thought bringing the idea to life with an actual actor would be "harrowing." 
That feeling lasted until the first day of shooting on F9, when Cena met Diesel in the area he used to "meditate, and train, and start getting into that Dom state of mind" — Diesel's "Dom shrine," as he describes it. The moment Cena stepped into the so-called shrine, Diesel was struck by the unshakable feeling that his dearly departed friend Paul "Pablo" Walker had sent Cena to him. Walker, who played Dom's close pal Brain O'Conner in the franchise, died in a tragic car accident before filming on 2015's Furious 7 had finished.
The night after meeting Cena, Diesel talked to Lin and told him, "My gut and my heart feels like this was meant to be." It doesn't get much more perfect than that.
F9 will race into theaters on June 25.