What It's Really Like To Work With Dave Bautista - Exclusive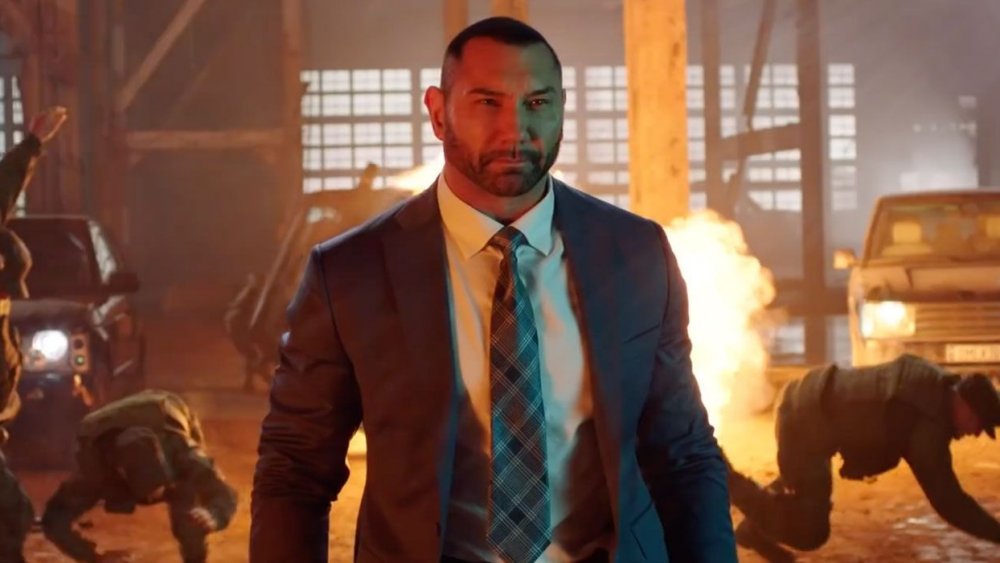 MWM Studios/STX Entertainment/Amazon Studios
At first glance, My Spy doesn't look like a huge stretch for Dave Bautista. A big, hulking tough guy who shoots first, asks questions later, and kicks an inordinate amount of butt? Yeah, we've seen Bautista play that sort of character before.
But Bautista's character in My Spy, a former Special Forces officer and newly minted CIA agent named JJ, has a softer side ... which comes out when a nine-year-old girl named Sophie, played by Chloe Coleman, blackmails him into teaching the kid the secrets of spycraft. As it turns out, that's not so far from Bautista's actual personality — at least according to My Spy cinematographer Larry Blanford.
"What happens, I think, throughout time, is the bigger you are, the nicer you are. Dave is that guy," Blanford tells Looper in an exclusive interview. "Dave is massive, and he's arguably one of the sweetest guys — one of the quietest guys."
Given that Bautista made a name for himself as a fighter — he burst onto the scene as a WWE Superstar, and won his one and only MMA match with a first-round TKO — that's a little surprising. Still, Blanford insists it's true: "When you see him in the wrestling ring, he's this huge presence, but when cameras aren't rolling, he's the softest-spoken, nicest guy. Just lovely to be around."
According to Blanford, that contrast made Bautista a natural fit for My Spy, the charming action-comedy from director Peter Segal. When Sophie first discovers that JJ is a spy, JJ and his fellow agent Bobbi (Kristen Schaal) have a debate about how to deal with the girl. "Dave is fumbling, fumbling. He goes, 'We kill her,'" Blanford says. "His delivery was so serious. 'Kill her.' That's all [JJ] knows. That's his world at the beginning. He kills people."
It doesn't stay that way. "This little nine-year-old girl just wears him down to where he becomes this father figure and lovable character," explains Blanford. In other words, My Spy is a pretty good reflection of Bautista's overall career. Like Blanford says, "As a person and as a human being and as an actor, I think he's awesome."
Bautista's physical background came in handy while shooting, too. "He's willing to try anything, do anything," Blanford tells us. Naturally, that involved doing as many of his own stunts as production would allow, but on the My Spy set, Bautista wasn't afraid to branch out into unknown territory. "He dances in the movie, and we brought in a dance instructor for him," says Blanford.
Still, even with all of Bautista's talent, he didn't excel at everything. "He didn't do too good with the ice skating," Blanford admits. "At the end of the movie, when he becomes a good ice skater, we had a double for that."
How Dave Bautista's My Spy co-star Chloe Coleman nearly stole the show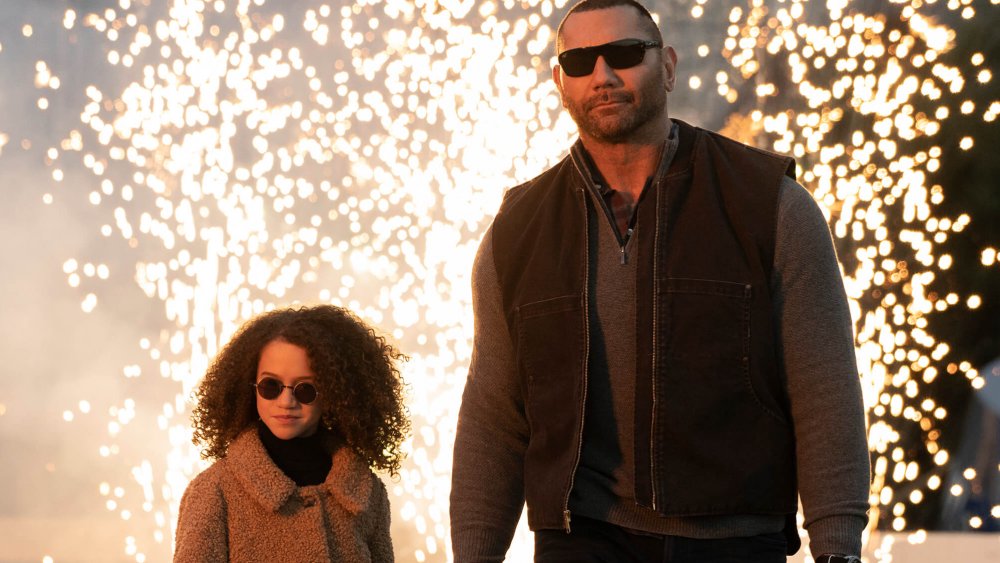 MWM Studios/STX Entertainment/Amazon Studios
Blanford — who previously worked on films like Ride Along, Terminator Genisys, Tag, and X-Men: Days of Future Past – has many kind things to say about Dave Bautista, but he absolutely raves about Bautista's co-star, Big Little Lies' Chloe Coleman. "I mean, she is the modern-day Shirley Temple. She's just amazing," Blanford says.
In fact, Coleman was so professional that she went well beyond memorizing her own dialogue. "I just remember, in a rehearsal, Dave, he's really formulating his delivery. Then Chloe's repeating his lines. Chloe knows his lines. I mean, the whole crew is just cracking up. So much fun," Blanford remembers, laughing.
Coleman also devised many of My Spy's biggest laughs off the cuff. "Chloe just improvises things. I mean she's like, 'Well what if I do this? What if I do this?'" Blanford says. As an example, he points to a scene featured in My Spy's trailer. "[JJ's] one friend in his whole life is a fish. The fish goes wherever he goes," Blanford says. "So, they're in this CIA surveillance room. He's teaching [Sophie] counterintelligence tactics. One of them is getting past him, creating a diversion. So, she knocks over the fish." He chuckles whenever he watches it — even though, by his own admission, he's already seen the movie multiple times: "I still laugh, because I laugh every time, because it was so much fun to shoot."
Not all of Coleman's on-screen antics are performances, though. Throughout My Spy, Coleman's character wants nothing more than to dramatically walk away from an explosion in slow-motion, action-hero style. After the movie's climax, she gets her chance. The ensuing explosion, which was shot on-set, was much larger than Coleman expected, and her surprised response is completely genuine.
"When that truck blows up, her reaction is priceless," Blanford shares, with clear affection. "That was the real deal. When we saw her reaction, it was so much fun to see it. A real nine-year-old child's reaction to a truck blowing up in the background — so much fun."
My Spy is available to stream on Amazon Prime Video now.