The Forgotten Paul Rudd Romantic Comedy You Can Find On HBO Max
Universal Pictures
Sure, HBO Max has plenty of cool films and shows that you've heard about. However, there are other approaches to enjoying the streaming service, too. For instance, you can acquaint yourself with some of the lesser-known works of your favorite actors, like Paul Rudd. 
From the likable actor's turn as Mike in "Friends," to his role as Scott "Ant-Man" Lang in the Marvel Cinematic Universe, Rudd has been an omnipresent, seemingly ageless force of boyishly charismatic nature for decades — and shows no signs of stopping. This, of course, is a good thing, because there's no such thing as too much Paul Rudd. 
There's no shame in admitting that you haven't seen every single thing on Rudd's considerable acting résumé. What would be a shame, though, is if a streaming service had one of his more obscure films available, and you wouldn't know about it. Fortunately, that's not about to happen. Today, we'll take a look at the forgotten Paul Rudd romantic comedy you can find on HBO Max right now. 
"This Is 40" continues the story of Pete and Debbie from "Knocked Up"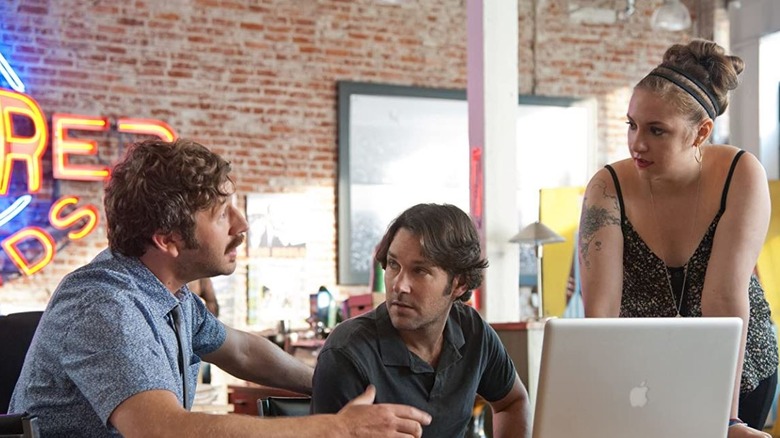 Universal Pictures
Judd Apatow's "This Is 40" takes place in the same universe as "Knocked Up," which stars Seth Rogen and Katherine Heigl as Ben and Alison, a mismatched couple that ends up dealing with a pregnancy after an inebriated one-night stand. Instead of a straight sequel, though, "This Is 40" is more of a spin-off, because it doesn't feature either of the original stars. Besides, it's unlikely that Heigl would have even wanted to appear in it, seeing as she regrets her big comedy role in the original.
What this likable romantic comedy does have, though, is Leslie Mann, who returns as Alison's sister, Debbie — and, of course, Paul Rudd, who reprises his role as her husband, Pete. The movie focuses on their strained relationship and family life as they both turn 40, and like many Apatow movies, it features a wide array of famous faces in various supporting roles and cameos. Expect to witness a who's who of comedians and acting titans, ranging from John Lithgow and Albert Brooks to Lena Dunham and Jason Segel. As an added bonus for music fans, Pete runs a record label, which means that you'll see a ton of musicians drop by. 
The 2012 movie isn't as well-known as "Knocked Up," but for fans of that movie, Apatow's comedy, and Rudd, "This Is 40" remains a must-watch. 
"This Is 40" is now available for streaming on HBO Max.