How Billie Lourd Really Felt When She Joined Carrie Fisher In Star Wars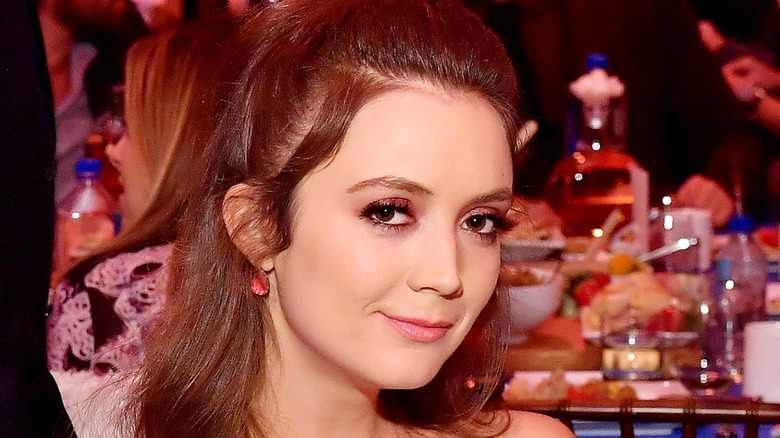 Stefanie Keenan/Getty Images for FIJI Water
Decades before its prequels, sequels, television shows, and spin-offs, there was only one "Star Wars" movie on the market. To put it mildly, the 1977 feature changed the game — pioneering innovative filmmaking technology, reinforcing the viability of movie tie-in merchandise, and captivating an entire generation of fans and storytellers in short order. At the forefront of such a revolutionary production, aside from director George Lucas, was a trio of up-and-coming on-screen talents whose lives and careers were forever changed by the project's success: Harrison Ford, Mark Hamill, and the late Carrie Fisher.
Though Ford's Han Solo and Hamill's Luke Skywalker are incredibly iconic in their own right, one cannot overstate the cultural significance of Fisher's Princess Leia Organa. Armed with strong moral convictions, a clever mind, and no shortage of courage, Leia was a breath of fresh air in a cinematic landscape oversaturated with the damsel in distress archetype. Naturally, this portrayal launched both her and the actress that brought her to life into superstardom, further cementing their remarkable legacies through 1980's "The Empire Strikes Back" and 1983's "Return of the Jedi."
Despite not appearing in a "Star Wars" production for over 30 years, Carrie Fisher returned to her most famous role for 2015's "The Force Awakens." However, if she was going to take on the next trilogy of "Star Wars" adventures, she was going to make it a family affair. Joining her as Lieutenant Kaydel Ko Connix was her daughter, Billie Lourd, who felt very strongly about sharing the spotlight with her mother at the time.
Billie Lourd's Star Wars experience with her mom was life-changing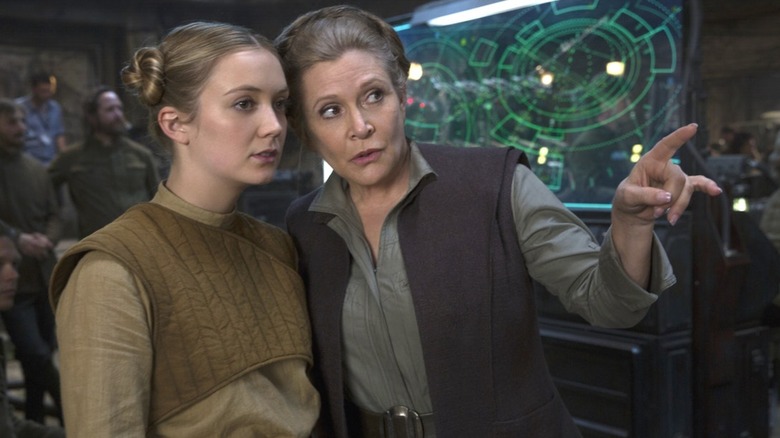 Lucasfilm/Disney
In November of 2019, Billie Lourd wrote an article for Time describing her complex relationship with the Princess Leia character as a child and how it affected her connection to her mom. Additionally, she discussed her interest in "Star Wars" and what led to her arrival in a galaxy far, far away, writing "when my mom called me and told me they wanted me to come in to audition for 'Star Wars,' I pretended it wasn't a big deal–I even laughed at the concept–but inside I couldn't think of anything that would make me happier."
Though she was "humiliated that my mom was moming me on my first day of work," Lourd detailed her experience filming "The Force Awakens" as a positive one. It even kickstarted her interest in becoming an actress, which Fisher shockingly endorsed after observing her calm nerves on set and solid performances. Therefore, she was more than happy to return for 2017's "The Last Jedi," where General Leia featured much more prominently than before. This was a big deal for Lourd, as revealed by her comment that "getting to watch her be Leia this time made me feel like the proud mom."
Tragically, Carrie Fisher died on December 27, 2016, narrowly completing her work on "The Last Jedi" and leaving director J.J. Abrams to use archival footage of her for its then-unfinished continuation, "The Rise of Skywalker." Nevertheless, Billie Lourd stuck with her Connix role for the film and even provided motion capture for a young Leia seen in a flashback sequence — making her mother proud, upholding her monumental legacy, and ensuring she was present in some form for the conclusion of the Skywalker saga.