How F9 Fulfills One Of Sung Kang's Dream Scenes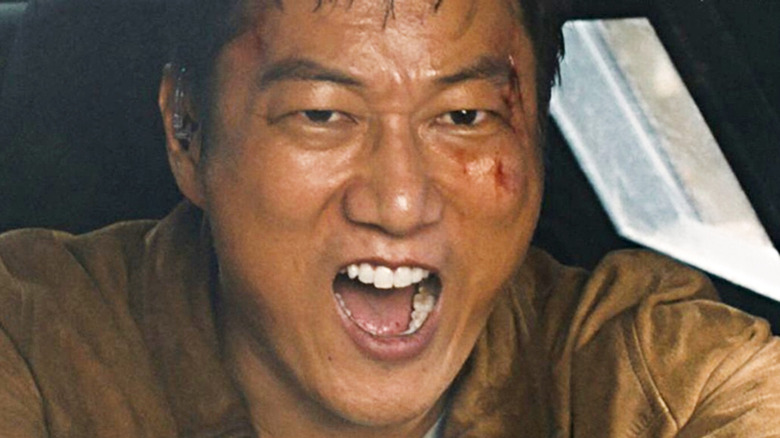 Universal Pictures
The "Fast and Furious" franchise has been going strong since 2001, upping the ante with each new installment courtesy of their logic-defying set-pieces. From cars driving between skyscrapers to dropping out of planes, part of the appeal of the "Fast" films is seeing how each new movie can possibly outdo the spectacle of its predecessors. It really is strange to think this saga used to be a basic street-racing series that was inspired by a real event.
The ninth "Fast and Furious" movie, aptly titled "F9," will see Dom Toretto (Vin Diesel) and his found family go up against his long-lost brother Jakob Toretto (John Cena) and Cipher (Charlize Theron) in an explosive feud — and promises to deliver a host of grandiose thrills along the way. The record-breaking "F9" trailer features cars performing Tarzan-esque maneuvers and Dom catching vehicles with his bare hands, so it's fair to say that "F9" won't be a back-to-basics return to the franchise's roots. But would you have it any other way?
That said, some of the most memorable sequences in the "Fast and Furious" franchise revolve around good old-fashioned brawls. Naturally, the filmmakers have hired skilled martial artists, pro wrestlers, and MMA fighters to bring these scenes to life throughout the years, creating some exciting moments in the process. Ronda Rousey is perhaps the most skilled fighter to make a cameo appearance in the franchise, but "F9" will introduce another UFC alumnus to the mix, and this was a dream come true for Sung Kang.
Sung Kang will throw down with a UFC champion in F9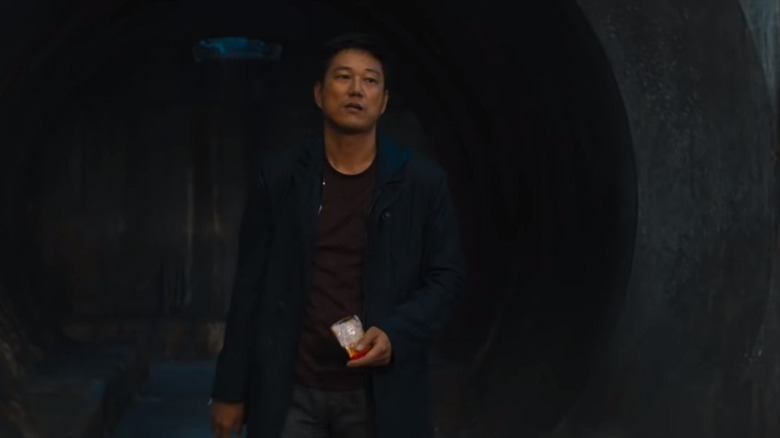 Universal Pictures
During a recent press event for "F9," at which Looper was present, Sung Kang, who plays Han Lue in the franchise, revealed that he got to have an action scene with UFC's Francis Ngannou, who goes by the nickname "the Predator" in the octagon. Kang also opened up about always wanting to be an MMA fighter, so it was a dream come true for him to share some screen time with the current UFC Heavyweight Champion.
Ngannou's involvement in "F9" has been known for quite some time now. He shot his scenes in August 2019, though details pertaining to his role are being kept close to the vest for now. Sportskeeda speculates that he'll be one of Jakob's henchmen, which seems likely if the saga's track record of using MMA stars in villainous roles is anything to go by. The heroes will need some tough opponents to go up against, and few human beings are as intimidating in a fight as Francis Ngannou. Han will have his work cut out for him.
"F9" is set to race into theaters on June 25.