Benjamin Richter's Worst Trait On American Horror Story: 1984
"American Horror Story" fans love the show's unique style and terrifying characters, both of which change each season to match whatever chapter the FX television show, created by Ryan Murphy and Brad Falchuk (per IMDb), is telling. From the anthology's first series, "AHS: Murder House," a supernatural, psychological ghost story, to "AHS: 1984," which paid homage to classic slasher films like "Halloween" and "Friday the 13th," fans have been treated to some top-quality viewing on the small screen.
Speaking of "AHS: 1984," we need to talk about the worst trait of Benjamin Richter (John Carroll Lynch) – also known as the villainous "Mr. Jingles" – of the series. Richter isn't Lynch's first time playing an evil character for the series, as he also played "Twisty the Clown" in "AHS: Freak Show." The two characters are quite different, though, with respect to their looks, worst habits, and what ultimately drives them to murder in their respective seasons.
So, what makes Lynch's character in the ninth season of the show tick, and what's his most undesirable characteristic? Let's dig into what exactly was Benjamin Richter's worst trait on "American Horror Story: 1984."
Benjamin Richter's worst trait on AHS: 1984 was his lust for revenge
To recap, Benjamin Richter was a Vietnam War veteran who was dishonorably discharged because he was an efficient killer who began exhibiting a strange pleasure in his duties as a soldier (per Fandom). After he returned to the United States, he became a janitor at Camp Redwood, and he was there when a massacre left nine people dead in 1970. After he was falsely accused of the murders by the lone survivor, Margaret Booth (Leslie Grossman) – who said she recognized the "jingle" of his keys right before the killings – he became a patient at Redwood Meadows Asylum, where he was tortured until he believed he actually killed the victims.
He eventually escapes the facility in 1984 and goes back to Camp Redwood to seek revenge on the counselors and Booth, who now owns the camp, and as Screen Rant notes, its Richter's lust for revenge that turns out to be his worst trait on "American Horror Story: 1984." Besides his run as a soldier, he wasn't a cold-blooded murderer before he was sent to the asylum, but his fixation on vengeance eventually drives him to escape the mental hospital and commit several murders to get it.
Benjamin Richter's quest for revenge led to a pretty high body count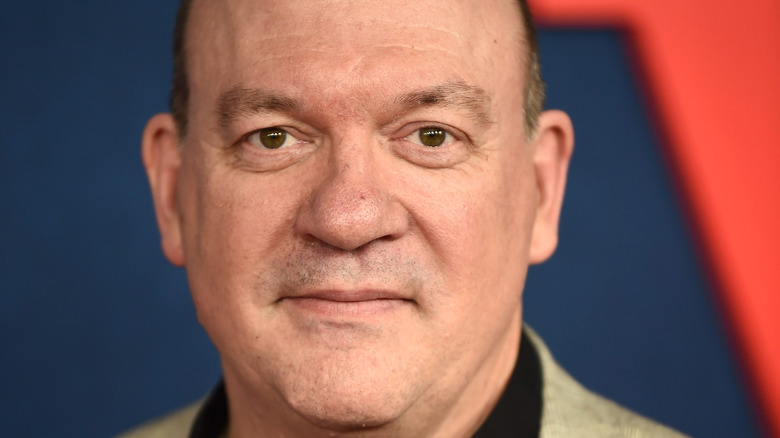 Dimitrios Kambouris/Getty Images
In the end, Benjamin Richter setting off on his quest for revenge was really the worst thing that he could have done, not only for the many innocent people who lost their lives at his hands but also for himself.
His first kill was an orderly during his escape from the mental institution, and then he killed a gas station attendant on his way back to Camp Redwood. He then murdered his old psychiatrist, an adult filmmaker, townies, and several counselors. However, when he finally finds the object of his revenge, Margaret Booth, he's unsuccessful in murdering her, and she is ultimately killed by ghosts rather than Richter (via Fandom). 
Considering that Richter killed so many people that weren't connected to his wrongful imprisonment without remorse, and he didn't get his revenge anyway, it's safe to say his overwhelming desire for revenge is easily his worst trait in "AHS: 1984."