What You Need To Remember Before Watching Workin' Moms Season 5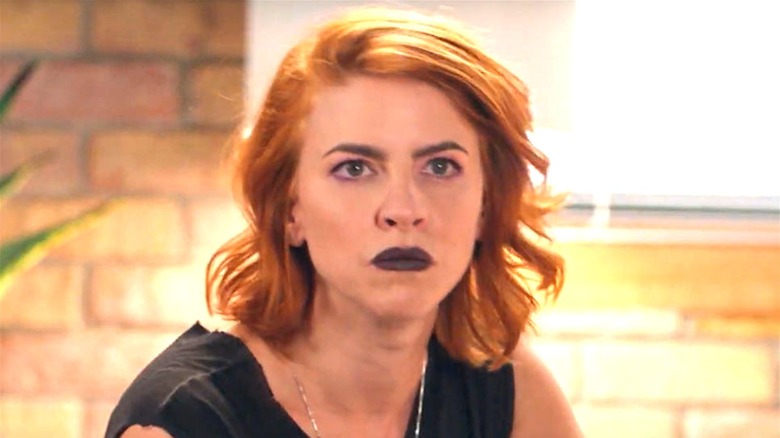 CBC/Netflix
A Canadian sitcom that's made its way to the US thanks to Netflix, "Workin' Moms" is a comedy series about four women and their troubles raising children while pursuing their passions through their careers. Originally premiering in Canada in 2017, the show premiered on Netflix in 2019, while Season 3 was airing. With four seasons on Netflix, "Workin' Moms" drew in a huge fanbase due to the hilarious, realistic lives of these relatable women, and Season 5 will be released on the streamer on June 15, 2021. It's unclear if there will be a Season 6.
"Workin' Moms" is created, written, and directed by Catherine Reitman, who also stars in the series as Kate, a serious PR executive who returns to work after maternity leave at the beginning of Season 1. She has two kids, Charlie and Ella, and is married to Nathan (Philip Sternberg). By her side are Anne (Dani Kind), Frankie (Juno Rinaldi), and Jenny (Jessalyn Wanlim), who all are dealing with their own struggles with motherhood and the workplace.
Going into the fifth season, there are a few key plotlines from Season 4 that you should definitely remember and keep in mind. So here's what you need to know before watching "Workin' Moms" Season 5.
Kate deals with weed beer and claustrophobic in-laws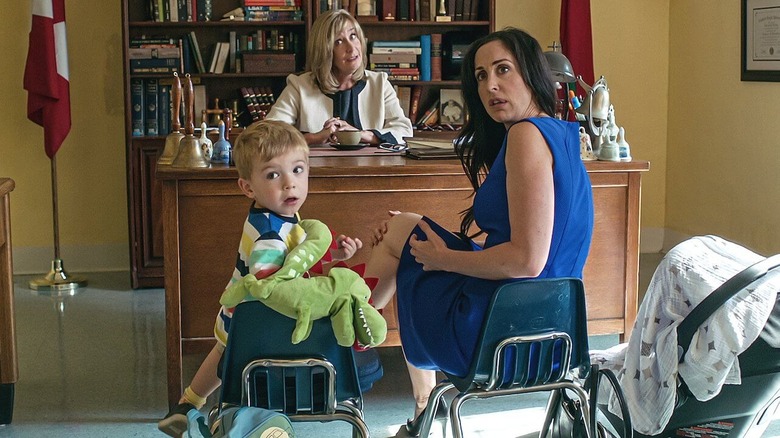 CBC/Netflix
For Kate, her Season 4 journey starts off on a high note, but it definitely doesn't stay that way. Back together with Nathan after some struggles, the two's happy life with their children is put to the test when Nathan's parents must live with them due to financial struggles. This is not a great scenario for Kate, and soon she's pushing the older couple out to live in their own tiny apartment, which Kate and Nathan are paying for.
While she figures out the dynamics at home, Kate also has some issues at work to deal with. One of these is Mike (Victor Webster), who Kate is romantically involved with in Season 3 before choosing Nathan, and is also a partner at her PR film. In Season 4, the two continually clash at work as they work on a project advertising a weed beer for a company called Après. When Mike allows Kate's new intern, Anne's daughter Alice (Sadie Munroe), to throw a party at the office with the weed beer samples, Kate fires Mike. Honestly, good riddance. But now Kate is in a pinch and has to hire someone new, paying more than she likes.
Anne has trouble with parenting and a new book deal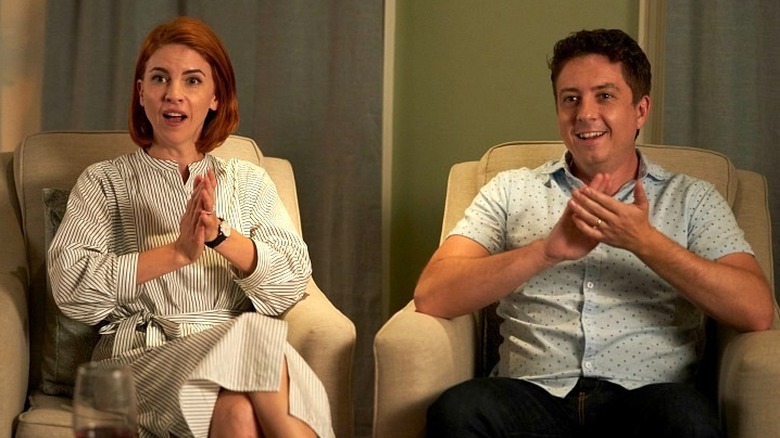 CBC/Netflix
As for Anne, her main storyline in Season 4 revolves around Alice, and Anne's various attempts to parent the rebellious teenager. The first thing she tries is a new, stricter parenting style, while also trying to make Alice as busy as possible so she has no time for trouble. She's so confident in this strategy that she even accepts a book deal to write about it, but when it becomes obvious that it isn't working, Anne has to come up with something new.
Meanwhile, Lionel (Ryan Belleville), Anne's husband, loses his job, putting them in a bind, while Alice is getting slut-shamed by people at school. Kate and Anne try to help Alice fight back against the bullies, but it's not very successful. Alice voices her desire to switch schools, and when the season ends with Lionel getting a new job that requires them to move, she gets her wish. Going into Season 5, it's unclear how the move to a new town will go and what will happen with Anne's book deal.
Frankie stops a scammer and becomes a co-parent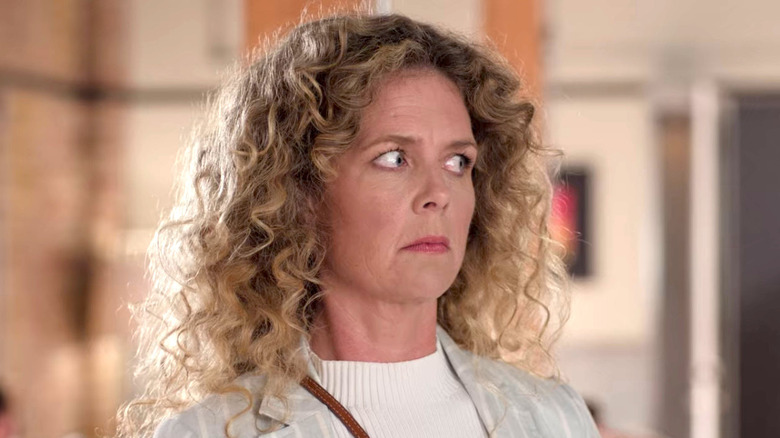 CBC/Netflix
With Frankie, Season 4 is all about strengthening relationships. Over the course of Season 3, Frankie becomes close to a woman named Bianca (Tennille Read). Having gone through the journey of having a baby with ex-wife Giselle (Olunike Adeliyi), resulting in their daughter Rhoda, Frankie helps Bianca through the process of getting pregnant. Going into Season 4, Frankie and Bianca's relationship is shifting to romance, as the two take care of Bianca's new baby, Solomon, together.
When Bianca gets in contact with her sperm donor, she starts to trust him very quickly, while Frankie is wary of the man. In the end, it turns out Frankie is right to be suspicious, as the man tries to steal from Solomon's college fund, but Frankie stops him. Growing even closer to Bianca during these events, Season 4 ends with Bianca asking Frankie to officially become Solomon's second mother and co-parent, legally adopting the baby, and she agrees.
Jenny fights for equal pay at work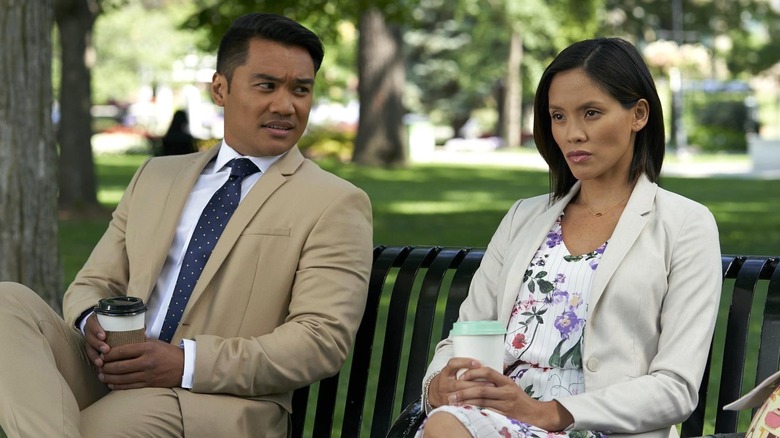 CBC/Netflix
In "Workin' Moms" Season 4, Jenny is fighting for equality at work after she finds out that the women working there are getting paid less than the men. She's fierce and persistent, and doesn't intend to stop until she achieves her goals. But then she finds out that the hot dad she's been constantly flirting with at the park, a man named Malcolm (Alex Mallari Jr.), is her new boss, and the person whose job it is to fix the equal pay issue.
While she still wants to get equal pay, Jenny backs off a bit at the end of the season when Malcolm offers her a raise. In response, Jenny makes sure he also promises to add free, on-site daycare for all parents on staff who need to take care of their children during the day, before accepting the deal. Still, the fight is far from over. After that, Jenny and Malcolm kiss and decide to go on a date, which brings into question the future for Jenny and her husband, Ian (Dennis Andres).