DC League Of Super Pets - What We Know So Far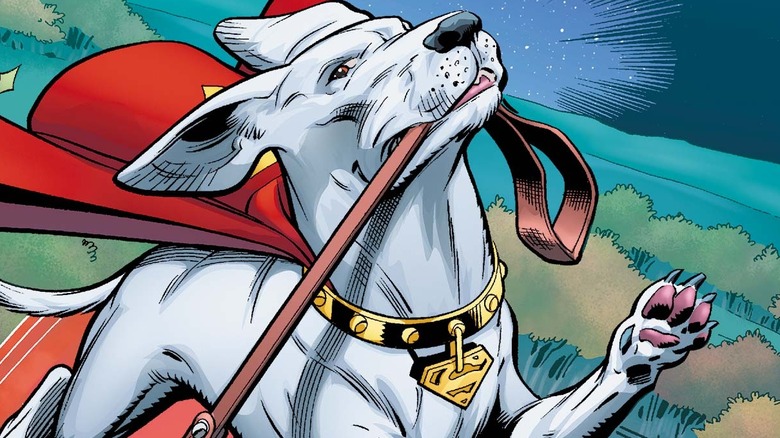 DC Comics
If there's anything that good superhero stories have taught us, it's that any character can be endearing, as long as they have a touch of humanity. Warner Bros. is casting that notion aside with their upcoming DC film based entirely on a team of inhuman superheroes. However, these guys aren't aliens like Superman or Martian Manhunter — they're animals.
Taking direct inspiration from DC's original Legion of Super Pets, "DC League of Super Pets" is an upcoming 3D animated film following the adventures of an all-animal team, lead by Krypto the Superdog and Ace the Bat-Hound. The original Legion, which also included heroes such as Beppo the Supermonkey, Streaky the Cat, and Comet the Superhorse, was a secret team of super animals that premiered in Adventure Comics #239 in 1962.
Since then, various super pets (mainly Krypto) have periodically appeared in comics and other media. However, barring Krypto's own short-lived television series, the Legion has never broken into the mainstream. Warner Bros. is looking to change that with this film. While not much is known about "DC League of Super Pets," some information has come out regarding the film's release date and cast. Here is what we know about the fearless furry heroes.
When will DC League of Super Pets release?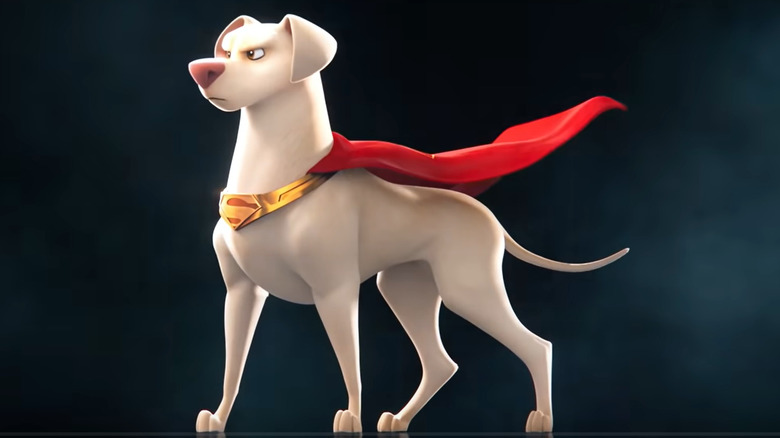 Warner Bros.
According to Collider, "DC League of Super Pets" has been in development since at least 2018, when Warner Bros. revealed that they would be hiring "LEGO Batman" writer Jared Stern to write and direct "League of Super Pets." The next year, Sam Levine and Patty Hicks were signed on to work as co-director and producer, respectively (via The Hollywood Reporter). Furthermore, the movie received an initial release date of May 21, 2021.
Obviously, things didn't go as planned. Though the timing may seem appropriate, the chances that "League of Super Pets" was delayed due to COVID-19 are low. According to Deadline, Warner Bros. made the decision to delay the film in May 2019. Unless the people at Warner Bros. are fortune tellers, there was probably some other unrevealed hiccup that prompted the delay. That hardly matters now, because "League of Super Pets" now has a release date of May 20, 2022.
Who will star in DC League of Super Pets?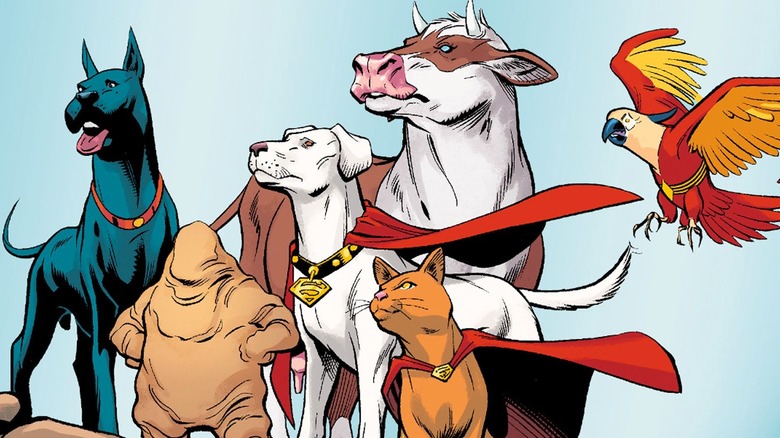 DC Comics
Until very recently, the voices behind the individual super pets have been kept very quiet. Recently, Warner Bros. released a teaser through the IGN YouTube channel early this June, revealing that Dwayne Johnson and Kevin Hart have been cast to play Krypto the Superdog and Ace the Bat-Hound, respectively. Joining them (because two superdogs does not constitute a "league") will be Keanu Reeves, Kate McKinnon, Vanessa Bayer, John Krasinski, Diego Luna, and Natasha Lyonne.
This is a shockingly star-studded cast for an animated movie about superpowered animals. Unfortunately, there's sparse information on what roles this cast will portray. The only other definite character in this cinematic super team is Streaky the Cat. However, Warner Bros. has not revealed which actors will play them, or what other characters might appear in "DC League of Super Pets."
Perhaps this information is being saved for the movie's eventual debut, but it's more likely that the casts' roles will become widespread knowledge once a full trailer is released. Until then, fans can have fun speculating on the topic, as well as predicting what other DC super animals will appear in the film. After all, there have been many different animal characters in multiple incarnations of the original Legion of Super Pets.
What will be the plot of DC League of Super Pets?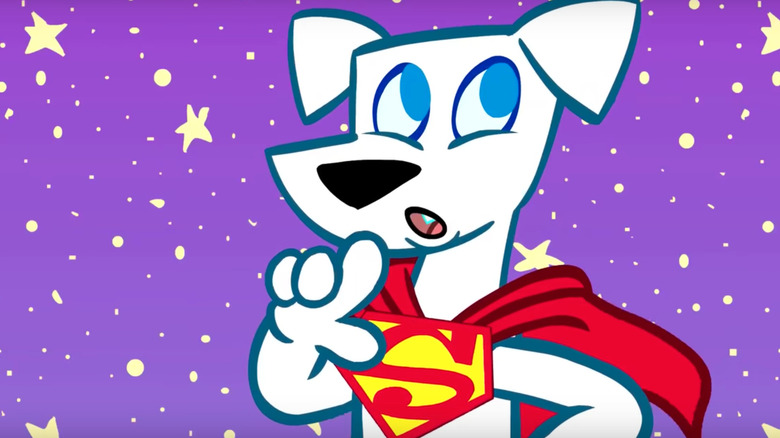 Cartoon Network/Warner Bros. Animation
Another thing Warner Bros. has kept tight lips on is the movie's premise and plot. Beyond knowing that it is a movie about superpowered pets, nothing Warner Bros. has released indicates any plot thread. Even the teaser posted by IGN reveals only a smidgeon of the film's 3D animation style. It doesn't tell us anything about the characters or what they'll be doing in this film.
The cherry on top of this disappointment is that solid speculation on the plot of "DC League of Super Pets" is almost impossible. The Super Pets have seen a wide variety of incarnations and interpretations in media since the original Legions' introduction in 1962, including multiple children's shows. But, because Warner Bros. has released almost no information regarding the film's premise, it's difficult to pin down where this movie is getting its inspiration. With just under a year left until the rescheduled release date, we hope that DC and Warner Bros. decide to drip feed us some new tidbits about the Super Pets. At this point, any little morsel will do.