DC League Of Super-Pets - What We Know So Far
If there's anything that good superhero stories have taught us, it's that any character can be endearing, as long as they have a touch of humanity. Warner Bros. is casting that notion aside with their upcoming DC movie based entirely on a team of inhuman superheroes. However, these guys aren't aliens like Superman or Martian Manhunter — they're animals.
Taking direct inspiration from DC's original Legion of Super-Pets, "DC League of Super-Pets" is an upcoming 3D animated film following the adventures of an all-animal team, led by Krypto the Superdog and Ace the Bat-Hound. The original Legion — which also included heroes such as Beppo the Supermonkey, Streaky the Cat, and Comet the Superhorse — was a secret team of super animals that premiered in "Adventure Comics" #239 in 1962.
Since then, various super pets (mainly Krypto) have periodically appeared in comics and other media. However, barring Krypto's own short-lived television series, the Legion has never broken into the mainstream. Warner Bros. is looking to change that with this film. While not much is known about "DC League of Super-Pets," some information has come out regarding the film's release date and cast. Here is what we know about the fearless furry heroes.
When will DC League of Super-Pets release?
According to Collider, "DC League of Super-Pets" has been in development since at least 2018, when Warner Bros. revealed that they would be hiring "LEGO Batman" writer Jared Stern to write and direct "League of Super-Pets." The next year, Sam Levine and Patty Hicks were signed on to work as co-director and producer, respectively (via The Hollywood Reporter). Furthermore, the movie received an initial release date of May 21, 2021.
Obviously, things didn't go as planned. Though the timing may seem appropriate, the chances that "League of Super-Pets" was delayed due to COVID-19 are low. According to Deadline, Warner Bros. made the decision to delay the film in May 2019. Unless the people at Warner Bros. are fortune tellers, there was probably some other unrevealed hiccup that prompted the delay. That hardly matters now because "League of Super-Pets" now has a release date of July 29, 2022.
Since "DC League of Super-Pets" is a Warner Bros. film, it will be heading to HBO Max 45 days after its theatrical release.
What is the plot of DC League of Super-Pets?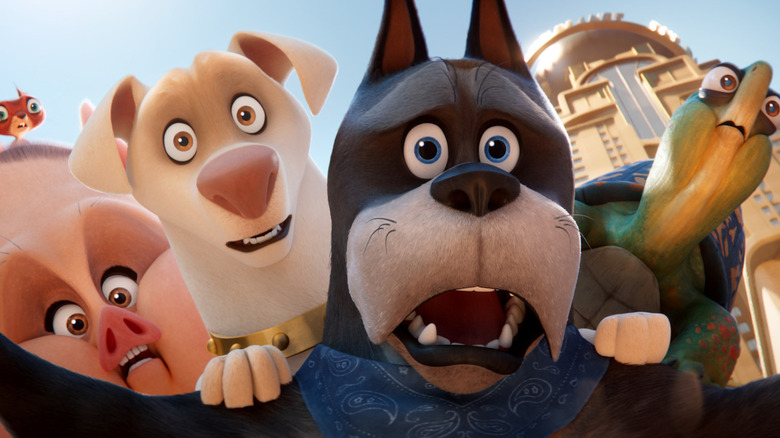 Warner Bros.
Thanks to the official synopsis of "DC League of Super-Pets" and its trailers, we can tell a good bit about the plot. It looks like Superman and the rest of the Justice League (Wonder Woman, Aquaman, The Flash, Green Lantern, Cyborg, and Batman) are kidnapped, leaving Krypto and his new friends to rescue them. Ace will lead the team of shelter pets (everyone minus Krypto), who have found new powers thanks to a mysterious surge from an orange kryptonite gem.
Krypto will also be stricken by his super-dog powers, leaving him powerless like his owner. He is just as susceptible to green kryptonite as Superman, so he'll have to find a way to fight alongside his new buddies after being reduced to just a normal dog. His positivity and fearlessness keep his mind strong and will help him lead the new team. Will they be able to defeat the orange kryptonite-equipped Lulu? Only time will tell.
Dwayne Johnson is Superman's best buddy Krypto
Dwayne Johnson is leading the charge on "DC League of Super-Pets" as Krypto the Super-Dog. Krypto is the loving dog of Superman and first appeared in "Adventure Comics Vol. 1" #210 in 1955. The family dog in the El household, Krypto was used as a test subject to send a rocket to Earth, as Kal-El's parents needed to make sure they could land a rocket on the planet with their son aboard. Unfortunately, Krypto's rocket goes off course, but the ship eventually rights itself when Kal-El lands on Earth and sends off a signal. Just like his owner, Krypto has super strength, the power of flight, X-ray vision, and freeze breath. Unfortunately, he'll be stripped of all these abilities in the movie, leaving him like every other dog on the street.
This marks the second DC project for Johnson in 2022, who is set to debut as Black Adam in the titular movie, which premieres on October 21. Johnson wrapped his voiceover role in September 2021 and said the animated film would be incredible. He's also lovingly nicknamed his character Bark Kent. The former wrestler's production company, Seven Bucks Production, is also behind the film. 
Kevin Hart leads the pack as Ace
The Dwayne Johnson-Kevin Hart duo is back, as the latter joins "DC League of Super-Pets" as Ace the Bat-Hound. A fictitious breed of dog, Ace is the companion of — you guessed it — Batman. The crime-fighting pup first appeared in "Batman Vol. 1" #92 in 1955. Much like Krypto and the other pet sidekicks in the cast, Ace debuted in the original DC Comics but is mostly known for his time in the animated shorts series "DC Super-Pets!" Ace also boasts super-dog strength, which he appears to have acquired when a lab he's being held in is hit with a surge of energy that comes from orange kryptonite. Since Krypto is without his powers, Ace will serve as the leader of Superman's sidekick and the shelter animals. 
When promoting "DC League of Super-Pets" on his Instagram, Hart said he was excited to be back on the big screen with his longtime colleague Johnson. Prior to the animated film, the actors starred in four films together ("Hobbs & Shaw," "Central Intelligence," "Jumanji: The Next Level," and "Jumanji: Welcome to the Jungle"). Johnson revealed in a "DC League of Super-Pets" featurette that one of his favorite things about the film is Krypto and Ace's relationship, which he says very much mirrors his real-life friendship with Hart.
Natasha Lyonne stars as the speedy turtle Merton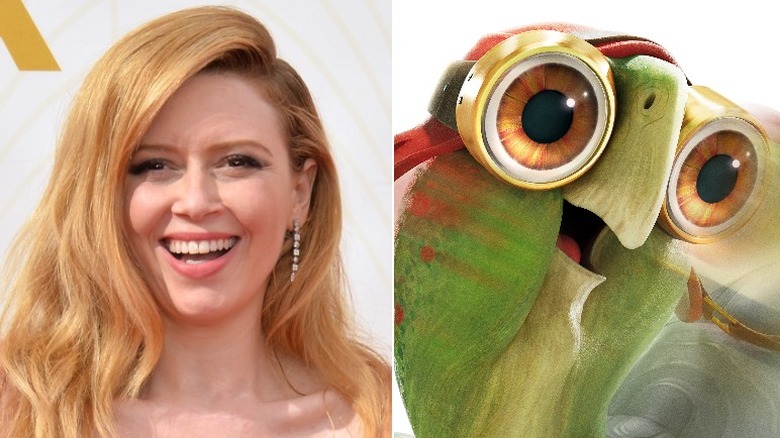 Featureflash Photo Agency/Shutterstock & Warner Bros.
"Russian Doll" star Natasha Lyonne stars in "DC League of Super-Pets" as Merton, the speedster turtle. Merton McSnurtle first appeared in "Funny Stuff Vol. 1" #1 but went by the alias of Terrific Whatzit (you can see why they opted for Merton for the film). The speedy reptile is the companion of Wally West, the Flash of Earth-508. Little Merton dresses just like his human friend, sporting lighting bolts on his boots and helmet, but the "DC League of Super-Pets" film showcases the turtle in just his shell.
In the comics, Merton is a very loyal man and is granted superpowers as an experiment to see how someone so honest handles them. Merton drops his shell when using his powers, making him look like anything but a turtle, which is why the alias Terrific Whatzit was born. It doesn't look like Merton will shed his shell based on what we see in the trailers, but anything is possible. Lyonne also revealed Merton has vision problems, which can cause serious issues for someone so fast. 
Diego Luna is the mighty Chip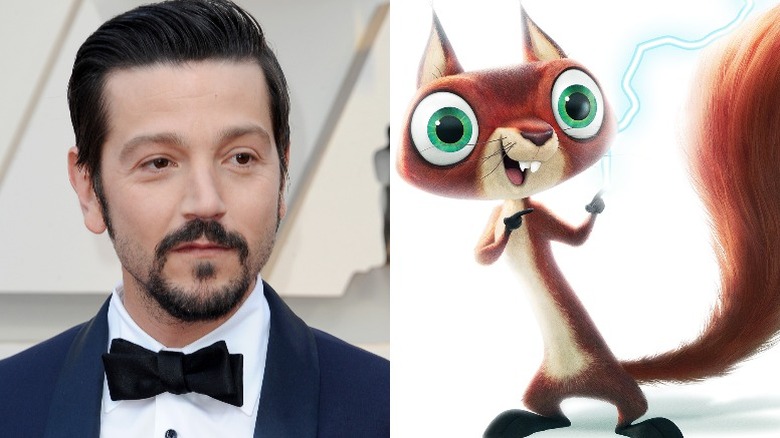 Tinseltown/Shutterstock & Warner Bros.
Also joining the new animated film is "Rogue One: A Star Wars Story" actor Diego Luna as Chip. First appearing in "Green Lantern Vol. 2" #148 in 1982, Ch'p (there is no "I" in the character's comic book name) is a member of the Green Lantern Corps. Ch'p trained alongside Hal Jordan and is a member of the H'lvenite species.
Luna revealed that the Chip we'll see in the movie is afraid of everything and always assumes that the worst is going to happen in any situation. Chip is very weary of himself and what he can do and has a hard time with self-confidence. He can manifest electricity from his tiny little paws and is not fully in control of his power just yet. The rest of the Super-Pets will guide lil' Chip and help him control his powers and believe in himself, making him a very valuable member of the team.
Vanessa Bayer is the kind-hearted PB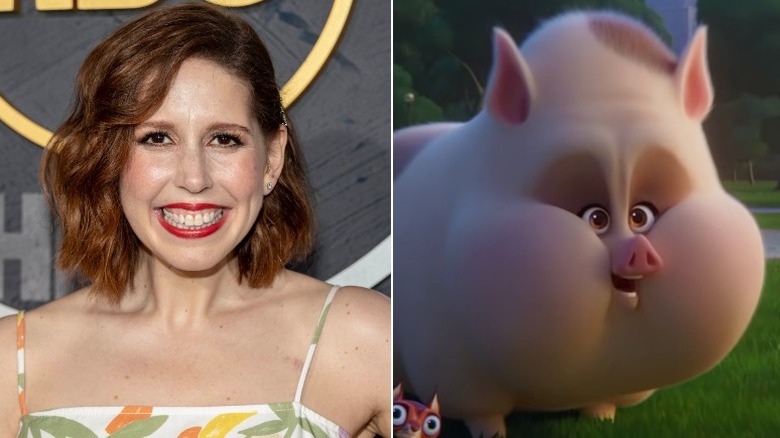 Eugene Powers/Shutterstock & Warner Bros.
The last of the Super-Pets is PB, a pig voiced by "Saturday Night Live" alum Vanessa Bayer. Not every character in "DC League of Super-Pets" is pulled from the comics, as PB is a brand new character — whose initials we're guessing stand for "pot-bellied." According to Bayer, PB is obsessed with Wonder Woman and feels a connection to the superhero. Bayer admires PB for wearing her heart on her sleeve and being extremely positive.
As with some of the other pets, it looks like PB obtains her powers from the explosion at a lab where she and others are being held in cages. Her new power allows her to grow in size, and not just a little bit ⁠— PB can grow as tall as buildings, helping the pets reach new heights, and can even help give them a launch. The friendly pig will be another positive force within the team, mirroring a lot of Krypto's confidence and friendliness.
Kate McKinnon is big bad Lulu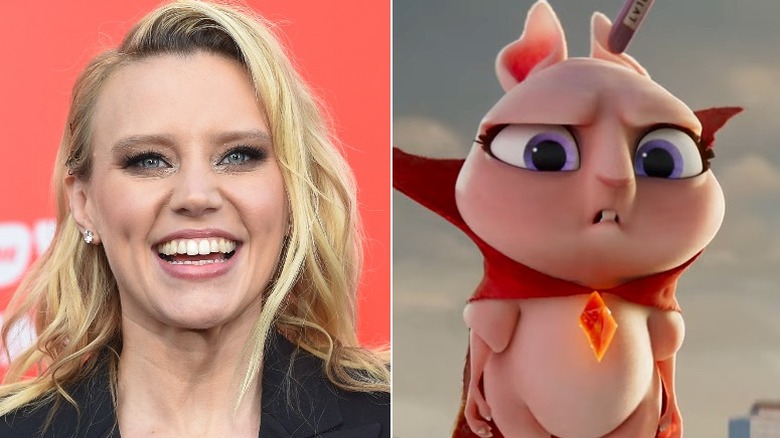 DFree/Shutterstock & Warner Bros.
Much like PB, Lulu is another character who was created just for the new film. Kate McKinnon plays the villainous Lulu in the upcoming movie and appears to be the story's antagonist. Lulu is a hairless guinea pig who seems to be some sort of laboratory experiment, evident in her ear tag, which reads "Lv1U" (hence Lulu).
Lulu is one powerful rodent (and don't you dare call her a hamster) who looks to have telekinetic powers. She wears orange kryptonite around her neck and sports a cape that looks a lot like Doctor Strange's. Lulu has a team of guinea pigs at her command, all of whom look like they've been experimented on as well. McKinnon says Lulu is a small creature who dreams of being something bigger. While her motives are unclear at this moment, Lulu seems to take a special interest in Superman and takes him down with some kryptonite. The actress is no stranger to voice roles, playing characters in films like "The Angry Birds Movie," "Ferdinand," and "Finding Dory."
Rounding out the cast of DC League of Super-Pets are some pretty big names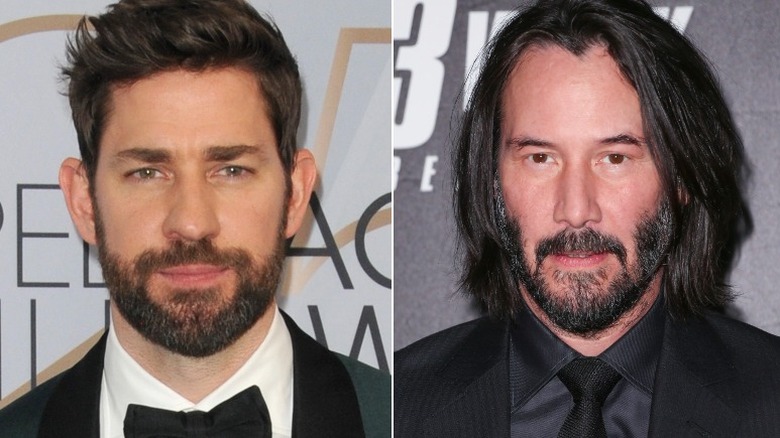 Kathy Hutchins & lev radin/Shutterstock
While some of the animals in "DC League of Super-Pets" will deny that they are actually pets, some still have owners or humans they are loyal to. Krypto's owner is Superman, who John Krasinski voices. "The Office" alum revealed his casting on Twitter, noting that he always wanted to do a team-up movie with Dwayne Johnson. In the new film, Superman will be in boatloads of trouble thanks to Lulu, and Krypto will recruit his new pals to help him rescue the owner he loves so much.
Voicing Ace's human sidekick is Keanu Reeves as Batman. Deadline noted Reeves was joining the Warner Bros. film a year ago, but exactly who he was playing was revealed much later in the second trailer for the film. Dascha Polanco of "Orange Is the New Black" fame will also voice a Green Lantern, specifically Jessica Cruz.
While Lulu is the big bad in the film, there will also be a human who's not to be trusted — Marc Maron will voice Lex Luthor, Superman's long-time nemesis. Whether Lulu and Lex work together is also currently unknown.
The mysterious roles of DC League of Super-Pets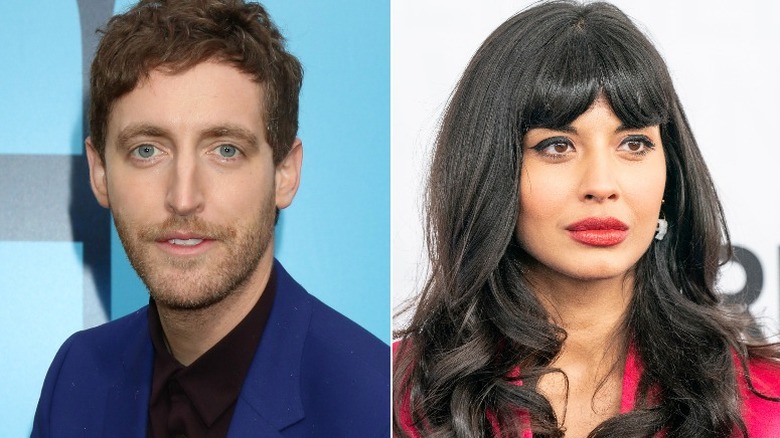 lev radin & Kathy Hutchins/Shutterstock
While a lot of actors and their roles in "DC League of Super-Pets" have been revealed to the world, there are quite a few characters who remain a mystery. Attached to the film in voice roles are Thomas Middleditch ("Silicon Valley"), Ben Schwartz ("Parks and Recreation"), and Jameela Jamil ("The Good Place").
We can assume that the trio voices one of the following characters, who are confirmed to appear in the movie but don't have an actor attached: Wonder Woman, Cyborg, The Flash, Aquaman, Lois Lane, and Pigasus. If those three stars are accounted for in the list of characters, that still leaves three characters without voice actors. Could we be getting actors from the DCEU to voice their own characters? So far, there have been no rumors suggesting it, but we doubt anyone would be disappointed to hear Gal Gadot or Jason Momoa on the big screen again.
What we learned from the trailers
There have been two official trailers released for "DC League of Super-Pets," both of which put Krypto front and center. The lovable canine is a on a quest to save Superman, who has been rendered powerless thanks to Lulu. As mentioned previously, all the pets (minus Krypto) are being held in some type of shelter when orange kryptonite drops into their room and grants them all very different powers. This looks like it might be the same gem that Lulu wears around her neck, meaning she might have been granted those powers at the same time but was able to escape with the kryptonite. 
The trailers also introduce a villainous cat whose name has not been disclosed. This cat can shoot rockets out of its tail and looks to be a worthy adversary to the Super-Pets. A third special trailer specifically focuses on Batman and Ace and how their partnership comes to be. It looks like the two don't know each other before the film and connect on their very similar pasts. This third trailer also reveals we will definitely be seeing the Batmobile in "DC League of Super-Pets," and there's also mention of Alfred, Robin, Commissioner Gordon, and "whoever Morgan Freeman played."