Here's Where You Can Watch All Of The Jumanji Movies
More than two decades after the release of the Robin Williams hit film, executives figured it was the right time to release a new take on Chris Van Allsburg's classic children's book "Jumanji." The result was 2017's "Jumanji: Welcome to the Jungle," a major box office success (via Box Office Mojo) and a hit with critics and audiences alike (per Rotten Tomatoes). Where the original featured an old-school board and pieces, the cursed object in "Welcome to the Jungle" is a video game cartridge that traps four squabbling teens inside the game. The high-schoolers now have to find their way out of Jumanji while trapped in adult avatars that don't exactly suit their personalities. For instance, shy, withdrawn Spencer (Alex Wolff) gets the body of Dwayne "the Rock" Johnson's Dr. Xander "Smolder" Bravestone, while shallow pretty girl Bethany (Madison Iseman) is horrified to play the game looking like a nerdy Jack Black, who plays Professor Sheldon "Shelly" Oberon.
The 2019 sequel "Jumanji: The Next Level" saw the teens return to the game with two older characters, Eddie and Milo (Danny DeVito and Danny Glover), while changing avatars a few times to keep the story interesting. "The Next Level" wasn't quite as well-received as "Welcome to the Jungle," as evidenced by its Rotten Tomatoes score, but it still made a ton of money at the box office — $800 million worldwide, according to Box Office Mojo.
If all this talk about "Jumanji" has you itching to watch all three movies, here's where you can watch them right now.
A number of options to buy or rent the Jumanji movies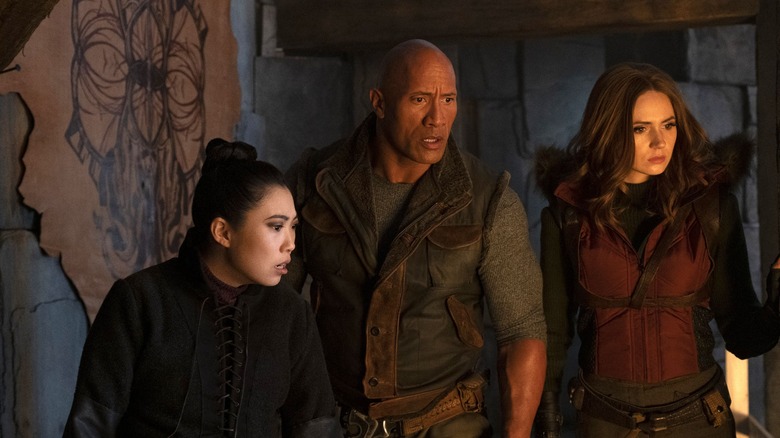 Sony Pictures Releasing
Let's movie in chronological order. Google Play and iTunes have "Jumanji" available to rent for $3.99, or you can buy the 1995 movie for $14.99. AMC's On Demand service also has "Jumanji" up for rent for $3, and for purchase for $7.99. You can also rent "Jumanji" on Amazon and Vudu for $2.99, and for $3.99, you can rent it from the following services: iTunes, Google Play, YouTube, and DirectTV. If you'd like to buy a digital copy, iTunes, Amazon, and Google Play each have it available for $12.99.
Next, "Jumanji: Welcome to the Jungle" can be streamed on fuboTV, DirectTV, and Sling TV, as long as you have a premium subscription to one of those services. You can also rent the film on Amazon's service for $2.99, or buy it for $13.99. 
Meanwhile "Jumanji: The Next Level" is available on STARZ and DirectTV, if you have a subscription to either service. Amazon also sells a digital copy for $7.99. Additionally, you can buy a digital copy of the film for $14.99 on AMC On Demand, Vudu, YouTube, iTunes, and Google Play.
And, of course, all three films are available for physical purchase via DVD and Blu-ray at your retailer of choice.