The Untold Truth Of House Of 1000 Corpses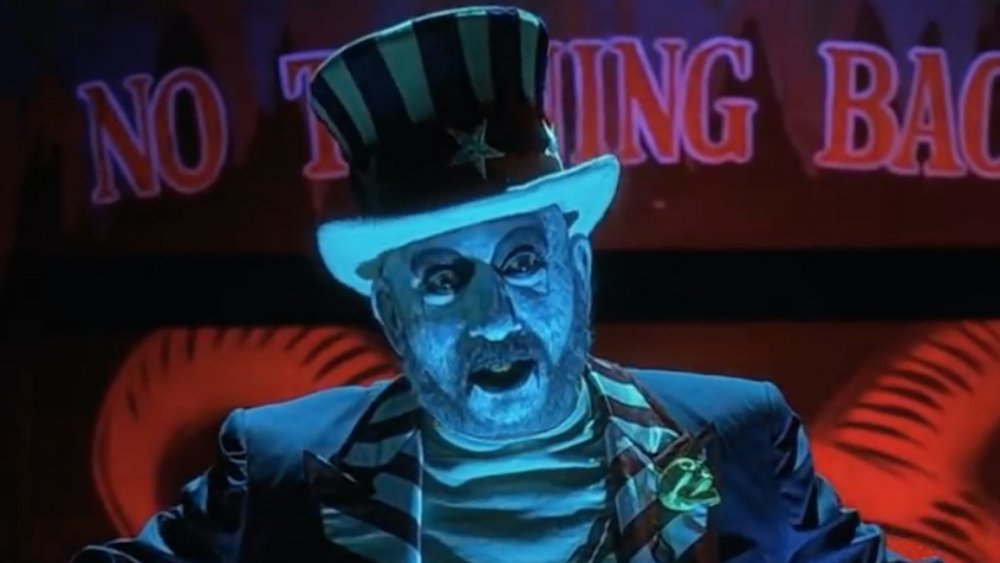 House of 1000 Corpses won't go down in history as the most commercially successful horror movie of all time, nor the most critically acclaimed. But it is, undoubtedly, a success. This hardcore horror film's style plays like a terrifying music video, providing a roller coaster ride of gruesomely colorful scenes. To the squeamish, this movie can come off as shocking, repulsive, and downright unwatchable, due to its gory nature. It does, after all, contain torturous mental abuse, bloody murder, and, for good measure, necrophilia. To fans, however, it's one of Rob Zombie's masterpieces, and the film that launched his career in horror. 
So yeah, there's a reason why this dark film had a rough time getting an R rating instead of an NC-17: It's not for the faint-hearted. But for those in tune with its dark vision, it's just what the blood-splattered doctor ordered. This murderous cult classic, which introduced the world to horror icons Baby Firefly (Sheri Moon Zombie), Captain Spaulding (the late Sid Haig), and Otis B. Driftwood (Bill Moseley), is due for a deep dive, and we're here to provide. This is the untold truth of House of 1000 Corpses.
The search for distribution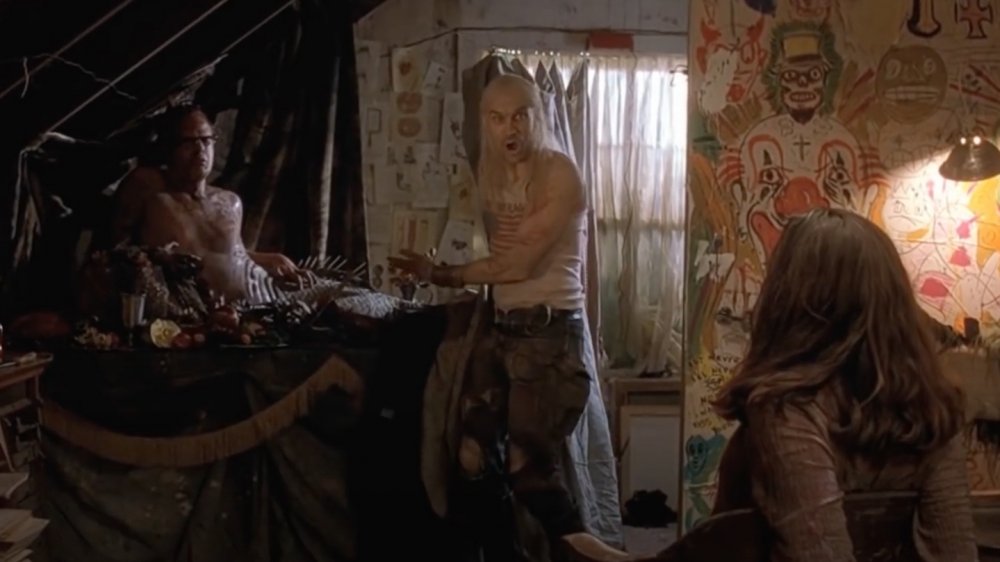 House of 1000 Corpses is graphic and disturbing — just look at the title. It's so dark, in fact, that it almost didn't see the light of day. The movie's violence and sadism led to it not being able to shake an NC-17 rating, caused Universal to shelve it. In time, director Rob Zombie bought the rights, and went on his own harrowing adventure to find another distributor. MGM eventually picked up the film and scheduled it for release in October 2002, but it was dropped after Zombie reportedly joked about Universal having "no morals" for not distributing the film, and then, "Well, MGM picked it up. I guess they have no morals."
Zombie considered distributing House of 1000 Corpses himself but, luckily, Lionsgate Entertainment stepped in and released the movie in April 2003. The release came with a major creative caveat, however: Zombie had to  cut part of Baby's storyline and soften many elements of the material for an R rating. Loyal fans are still keeping their fingers crossed for an eventual director's cut, which doesn't seem likely.
The villains' names were inspired by Groucho Marx characters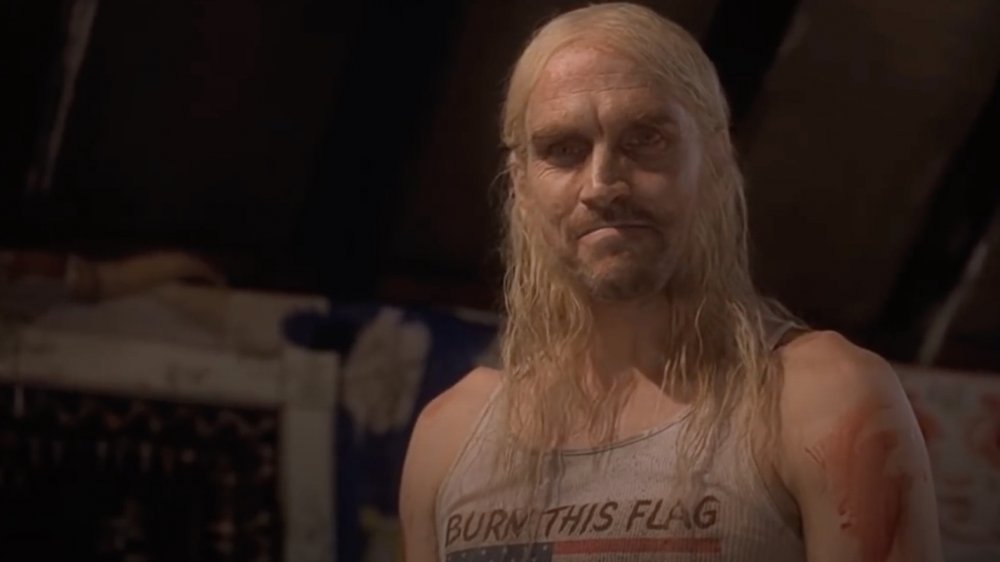 Horror fans might be familiar with the fact that House of 1000 Corpses was inspired by 1970s horror films such as The Texas Chain Saw Massacre. However, they might be surprised to learn that the villains' names were influenced by comedian Groucho Marx. While these genres might not seem to blend at first glance, none of that mattered to Zombie, who is a huge fan of the legendary comic. "I was a big Marx Brothers fan when I was a little kid because their movies were always on TV," Zombie remarked in 2016. "A Night at the Opera, in particular, was on a lot. So I discovered the Marx Brothers movies around the same time I discovered any movie, really."
Although a biopic of Marx that Zombie was supposed to direct has yet to come to fruition, Marx's work will forever live on through Zombie's characters. House of 1000 Corpses' Captain Spaulding takes his name from a character in Animal Crackers, Otis B. Driftwood comes from A Night at the Opera, Rufus T. Firefly is taken from Duck Soup, and Hugo Z. Hackenbush is from A Day at the Races.
Firefly family history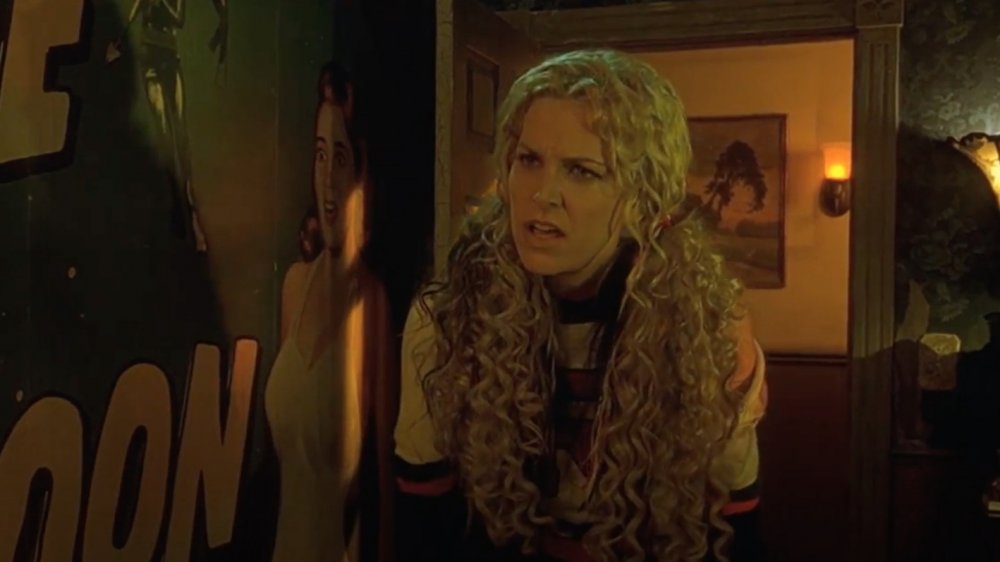 House of 1000 Corpses introduced the Firefly family to the world. The roots of this makeshift clan are about as twisted as the brutality they get up to.
The Firefly family consists of eight members: Vera-Ellen "Baby" Firefly, Earl "The Professor" Firefly (played by Jake McKinnon), Grandpa Hugo Firefly (played by Dennis Fimple), Gloria "Mama" Firefly (Leslie Easterbrook and Karen Black), Otis Firefly (Bob Moseley), Rufus "R.J." Firefly (Robert Allen Mukes), Tiny Firefly (Matthew McGrory), and last but certainly not least, Captain Spaulding, AKA Johnny Lee "Cutter" Johns.
Grandpa Hugo Firefly is the eldest member of the Firefly clan. He is presumably the father of Mama Firefly, previously known as Gloria Teasdale. She, in turn, is the biological mother of Baby, Rufus, and Tiny, as well as the presumed adoptive mother of Otis, whose last name was previously Driftwood. Mama's husband, Earl, fathered Tiny. Captain Spaulding and Mama are Baby's parents, making her the half-sister of Rufus and Tiny. Rufus is presumably the son of another man named Rufus.
Muddying the already chaotic family's waters even more, in Rob Zombie's song "P***y Liquor," it's stated that Earl (presumably Earl Firefly) is both Baby and Tiny's father. This family is, to say the least, complicated.
The house is the same one used in a 1982 musical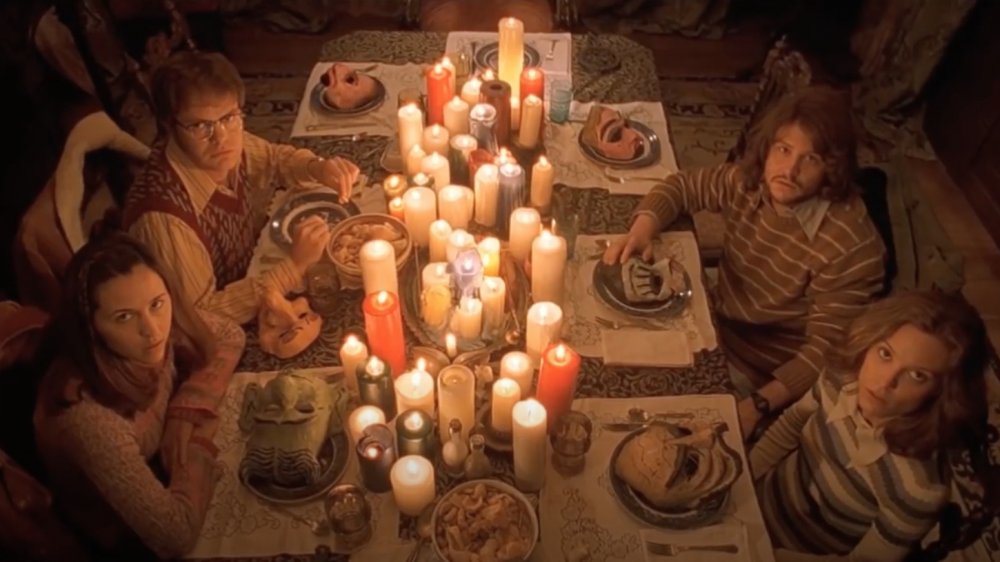 The Firefly family's home is decked out with a collection of creepy pictures, animal carcasses, and other gruesome artifacts. But believe it or not, the house is very real, and can actually be found on the backlot of Universal Studios Hollywood. Even more surprisingly, the house wasn't specifically built for House of 1000 Corpses. Care to take a guess what movie the house figured in? Perhaps a slasher, or at least a suspenseful thriller? You couldn't be more wrong: The house was originally built for the 1982 musical, The Best Little Whorehouse In Texas. Who would have thought the home made for Dolly Parton and Burt Reynolds to clown around within would go on to put a roof over the heads of a psychopathic, murderous family? That's Hollywood for you, baby. While the entire movie wasn't filmed at Universal or, of course, the house, it figures in most of the film's most terrifying scenes. 
Rob Zombie only wanted to make one film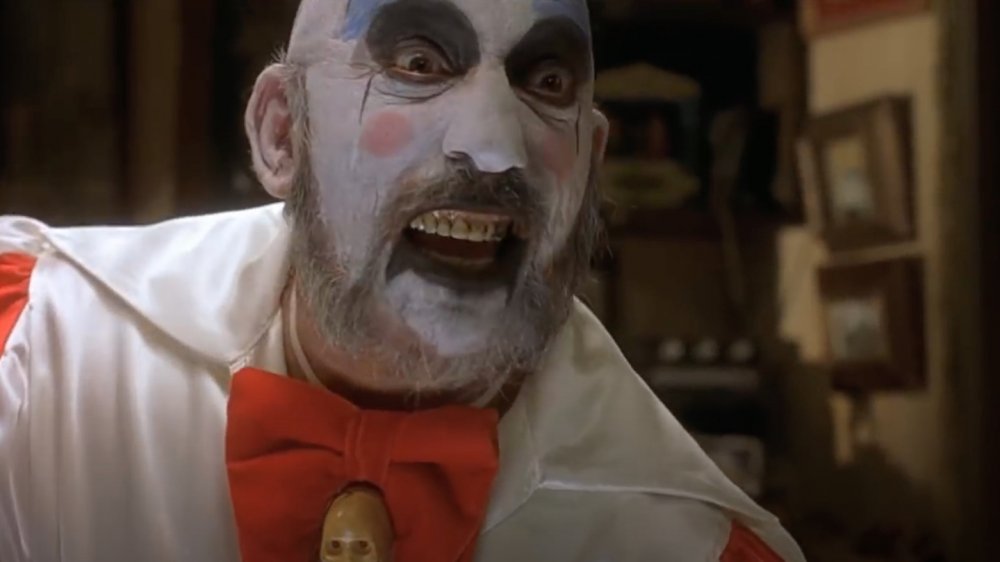 Initially, Rob Zombie only wanted to make one film. The Devil's Rejects and 3 from Hell have since rounded out the trilogy, so this might come as a surprise to many fans. But Zombie knew the troubles that accompany getting a movie funded, and as the filmmaker explained in a 2013 interview, "If someone's willing to put up that money and make your film happen, you really can't look that gift horse in the mouth."
If a sequel had to be made, Zombie wanted it to stand on its own. Making this happen would be difficult, however, which made him reluctant. "I didn't want to make House of 1000 Corpses Part 2," he recalled," I didn't want that title, even though that's what it was supposed to be, and I didn't want to make another movie that looked like that. So I thought, what I'll do is take the characters that I really like and eliminate some of the others and continue the story on as a different movie more in the style of what I want to do."
The other two films in the Firefly trilogy aren't even the only sequels Zombie has gone on to make. An animated musical "sidequel" released in 2009, The Haunted World of El Superbeasto, is also part of the tale.
Unfortunate passings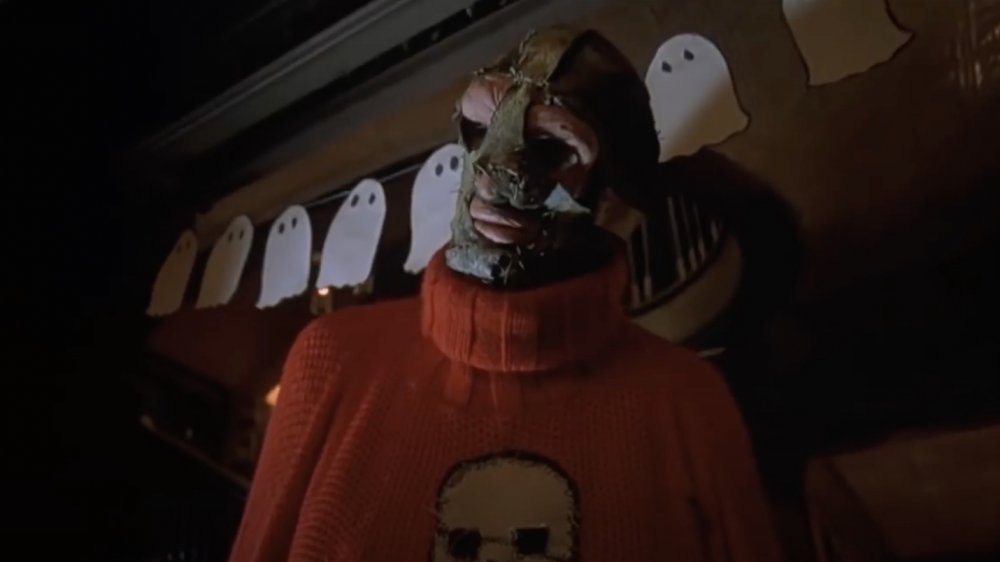 It's hard to believe House of 1000 Corpses hit theaters so many years ago. It's even harder to grasp that the world has lost an enormous number of the actors who starred in the cult classic since its release. Matthew McGrory (Tiny), Sid Haig (Captain Spaulding), Dennis Fimple (Grandpa Hugo), Karen Black (Mother Firely), Irwin Keyes (Ravelli), Tom Towles (Deputy George Wydell), Michael J. Pollard (Stucky), Harrison Young (Don Willis), Ken Johnson (Skunk Ape Husband), and Irvin Mosley Jr. (Lewis Dover) have all sadly passed away since House of 1000 Corpses debuted.
Some of these actors were a major part of the movie, present for the majority of its runtime. Some had comparatively minor roles. But whether they formed a huge part of the movie's machinery or acted as a single cog, each of these actors was part of something special. Their legacies will forever live on in House of 1000 Corpses, and in the hearts of horror fans everywhere.
Dr. Satan might not be real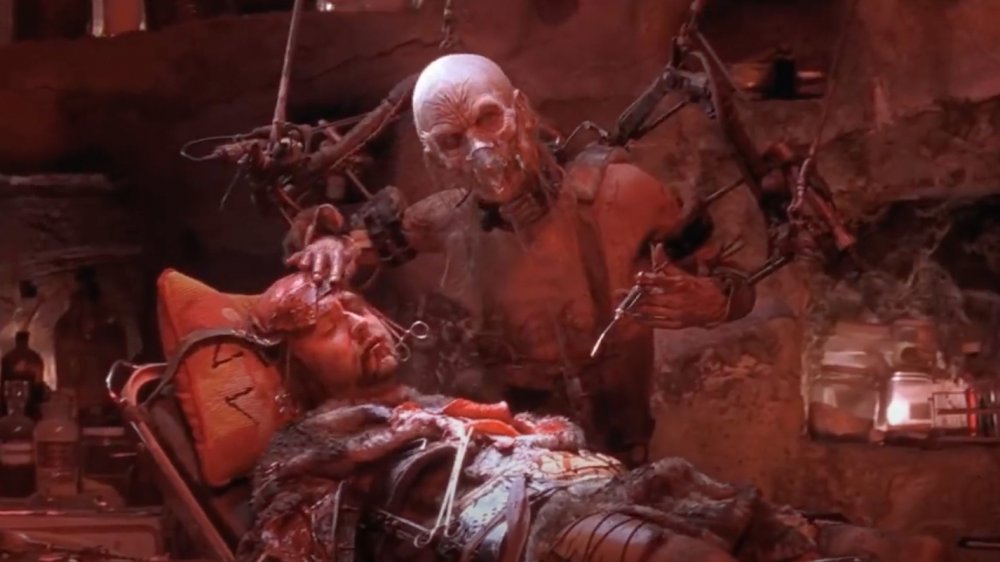 House of 1000 Corpses contains more intriguing characters than it's actually able to explore. Take Dr. Satan (Walter Phelan), hands down one of the most interesting beings in the Firefly trilogy. The cyborg scientist appears briefly in the movie, but will haunt viewers' nightmares forever, even if he doesn't necessarily fit in with the style of subsequent flicks.
In a 2019 interview with Bloody Disgusting, Zombie said, "Yeah, I got rid of him on The Devil's Rejects. I brought in the character with the idea that I would incorporate him into the [sequel] and try to bring him into the more realistic world that the films had evolved into, but it just looked stupid. So I just abandoned it." As it turns out, Dr. Satan might not even be real in the first place. Zombie went on to say, "I left it so that it could be whatever. Is it real? Is it probably just the girl, that Denise, after a long night of being tortured and watching all of her friends killed, maybe she just went cuckoo and was imagining all these crazy things? You know, I thought for that film it's best just leave it as however people want to interpret it."
Although Dr. Satan appears in a deleted scene of The Devil's Rejects, his existence, at least based on what Zombie said, remains up for debate.
Halloween Horror Nights have brought the Firefly home to the real world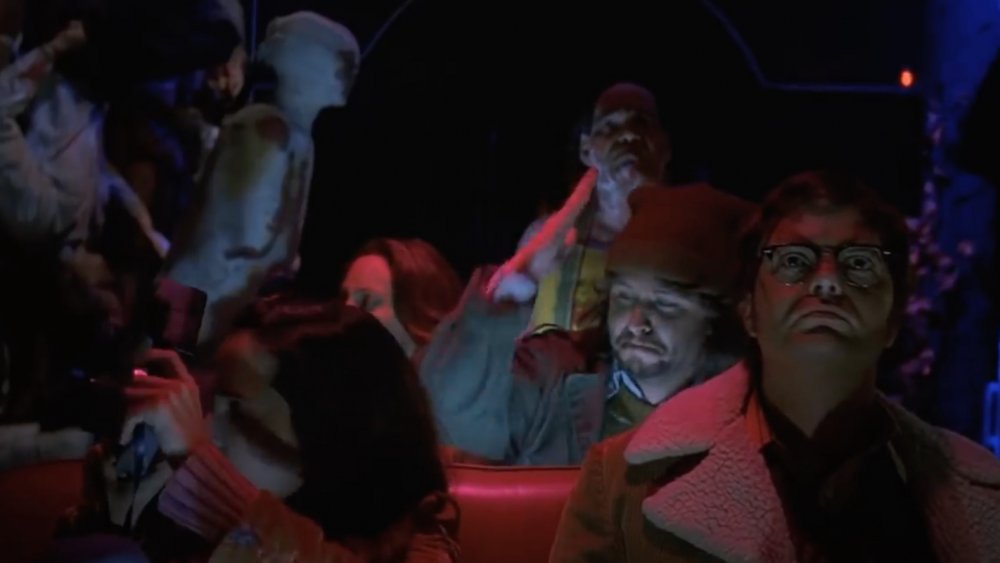 It's not every day a psychotic family is celebrated and rewarded with its own amusement park theme ride, but that's exactly what happened at Halloween Horror Nights at Universal Studios. Watching a movie is one thing — being inside it is quite another. But that's exactly what parkgoers looking to be spooked want, and if the description of the house is anything to go by, it's exactly what they get. Just picture this bloody scene, as described in the press release: "Without a moment to catch their breath, guests will venture to the chaotic home of the Firefly family ... It is a chilling journey into the netherworld of terror that weaves its way through a cavernous network of dark tunnels within the bowels of the house. Populated by the degenerate victims of Dr. Satan's debauched operations, legions of tortured creatures shuffle about as Dr. Satan continues his twisted medical practice, eagerly awaiting a new installment of victims." There you go, Dr. Satan fans — your twisted favorite lives on, albeit in the same place as the Minions ride.
House of 1000 Corpses was Rob Zombie's directorial debut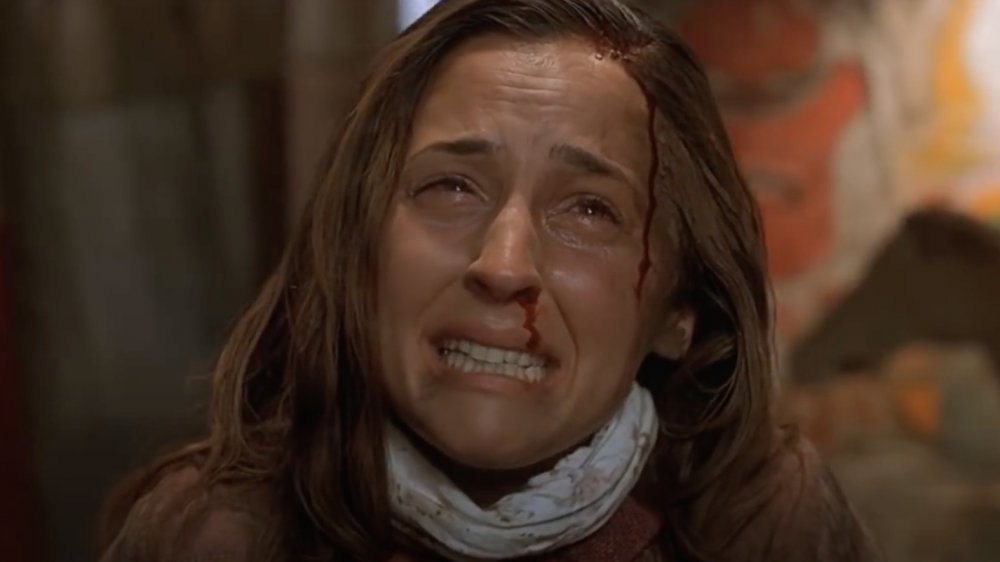 Robert Bartleh Cummings, more commonly known as Rob Zombie, came to public prominence in the early '90s as the frontman of the heavy metal band White Zombie. He went on to become a successful solo act, releasing albums under the name of, of course, Rob Zombie. Now that Zombie has had his hands on countless titles, making him a mainstay in the horror movie genre, fans might be surprised to learn that House of 1000 Corpses was his directorial debut. Since this debut, Zombie has gone on to make two Halloween movies, The Lords of Salem, 31, The Haunted World of El Superbeasto, The Devil's Rejects, 3 from Hell, and other projects.
As anyone familiar with his music videos can attest to, it's not a surprise that Zombie has etched his name in the annals of horror movie history. What is surprising is that House of 1000 Corpses took such a long and winding road to the theaters, that he initially thought he wouldn't be making sequels, and above all, that it was his first film. The movie simply feels too self-assured, too confident, and frankly, too good to be a first outing. And yet it was. Luckily for fans, it was only the beginning of a storied career.
Why Rob Zombie doesn't like his own film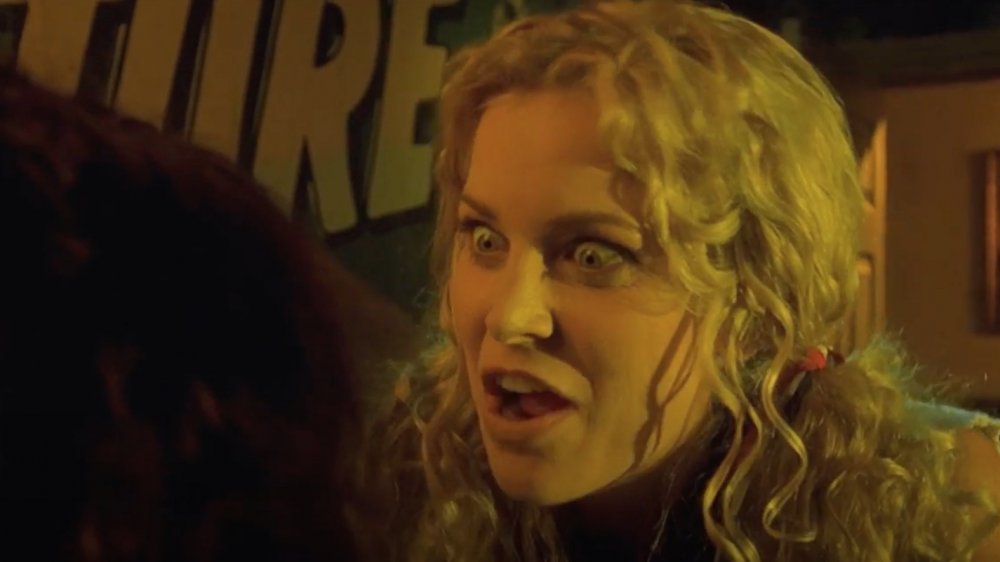 Although House of 1000 Corpses is a cult classic that made Zombie a household name in the horror genre, the director himself actually doesn't like the film very much. In a 2014 interview, Zombie said, "The first film [I directed], which people seem to love, is just a calamitous mess. Well, when it came out it seemed like everyone hated it. Now everyone acts like it's beloved in some way. All I see is flaw, upon flaw, upon flaw."
People tend to be their own worst critics — although critics have plenty of scathing things to say about House of 1000 Corpses. This can be especially true when it comes to a first work. While House of 1000 Corpses is brilliant to many, it was, as mentioned earlier, Zombie's directorial debut, so he's bound to look back and find issues with it. This is probably exacerbated by the fact that he took a different artistic approach to the following Firefly movies. No matter how Zombie feels, however, House of 1000 Corpses continues to make Halloween must-watch lists every year. An artist is entitled to be hard on his early work, but all the fans see is bloody goodness.