The Untold Truth Of The Umbrella Academy's Aidan Gallagher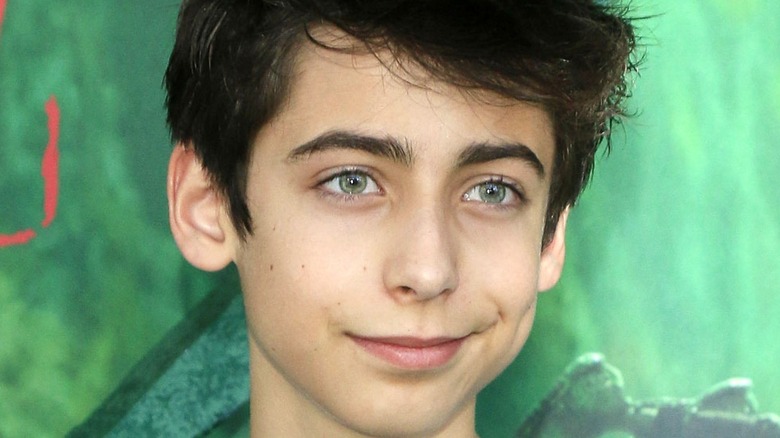 Shutterstock
Few of Netflix's original series have made quite as big a splash as their hyper-violent superhero fantasia "The Umbrella Academy." Based on the award-winning graphic novels from Gerard Way and Gabriel Bá, the series follows a family of adoptive siblings of unique provenance, each of whom has special abilities they bring to the crime-fighting team dubbed The Umbrella Academy. The team's tumultuous childhood led to some serious problems when they matured, however, a fact that fed much of the drama in the series' first season. With its barn-burning second season re-shaping those relationships in fascinating ways, and a new season of thrills on the way, "The Umbrella Academy" has become one of Netflix's most intriguing offerings to date.
The series has also made streaming stars of its principal cast members, some of whom were virtually unknown to audiences prior to appearing in the show. That includes Aidan Gallagher, who was just 14-years-old when he landed the role of the time-hopping man-child Number 5 on "The Umbrella Academy." Gallagher has since ridden the wave of breakout success to become one of the most recognizable young talents in Hollywood. Here are a few things you might not have known about the kid who portrays the fiery Number 5 on "The Umbrella Academy."  
His first TV gig came on a major series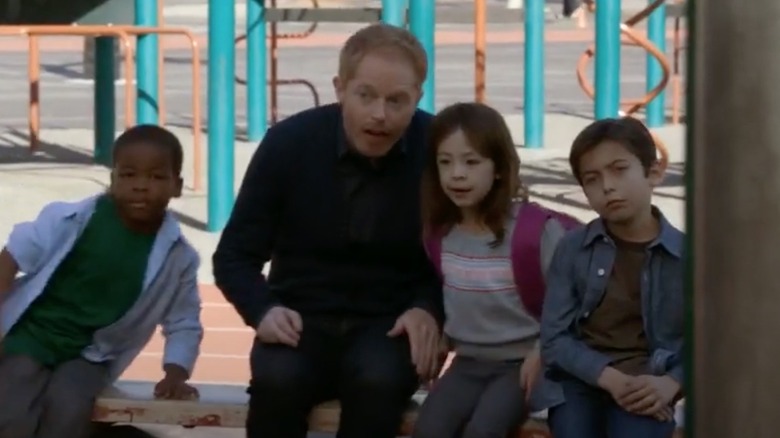 ABC
While "The Umbrella Academy" is clearly serving as Aidan Gallagher's breakout moment, the series is hardly his first acting gig. In fact, he'd already booked a handful of impressive small screen jobs before donning Number 5's infamous school uniform on "The Umbrella Academy." Even as Gallagher's very first screen appearance was little more than a non-speaking cameo, that cameo came on one of the biggest, and best-loved sitcoms of the modern era. 
Said sitcom was the ratings behemoth and perpetual Emmy Awards darling "Modern Family," which recently wrapped its lauded 11-season run on ABC. Aidan Gallagher wasn't around for the series two-part finale, however, with his one-off appearance coming way back in the fourth season of "Modern Family." Gallagher appeared in that season's 18th episode, which found Jesse Tyler Ferguson's Mitchell Pritchett encountering a playground bully while taking his daughter Lily (Aubrey Anderson-Emmons) to school. And yes, a few sharp-eyed viewers might've spotted a baby-faced Gallagher as one of the bullied kids in those playground scenes.
Gallagher was a Nickelodeon star before joining The Umbrella Academy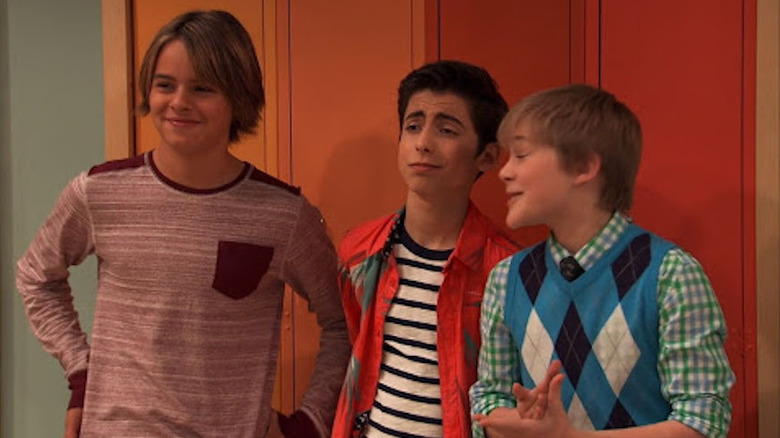 Nickelodeon
Though Gallagher's "Modern Family" appearance was of the one-off sort, one of his next small-screen ventures ended up keeping him steadily employed for a few years. And we're guessing many a fan of Gallagher's more adult work on "The Umbrella Academy" have little knowledge he was a full-blown child star on Nickelodeon before scoring his breakout role.
Gallagher's role on the family-friendly cable network's beloved sitcom "Nicky, Ricky, Dicky & Dawn" was about as far from his foul-mouthed, hyper-violent turn on "The Umbrella Academy" as you can imagine. Even still, Gallagher was frequently the standout on "Nicky, Ricky, Dicky & Dawn." The quick-witted snark with which he'd soon suffuse Number 5 is often on full display as the titular Nicky, the youngest and quirkiest of the series' Harper quadruplets. "Nicky, Ricky, Dicky & Dawn," ran for four seasons on Nickelodeon before getting the ax in 2018. However, that fateful cancellation proved fortuitous for Gallagher as it freed him up to book that gig on "The Umbrella Academy." 
Aidan Gallagher is an accomplished musician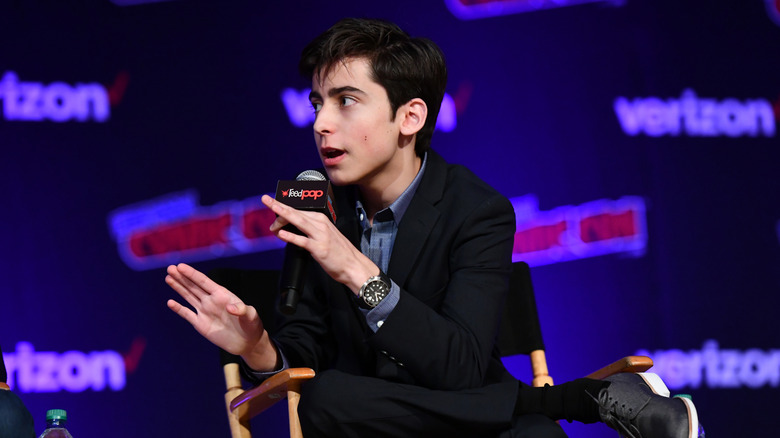 Noam Galai/Getty Images
Thanks largely to his show-stopping work on "The Umbrella Academy," Aidan Gallagher continues to make a name for himself as one of Hollywood's most promising young acting talents. While acting continues to be his primary job if the star has his way he'll soon be earning raves on the music scene too. And it turns out Gallagher is a rather accomplished musician capable of playing multiple instruments. The past few years he's even been writing, singing, and playing his own compositions, often recording them in the privacy of his bedroom, or in his home garage studio.
If you're curious about Gallagher's songwriting chops, you can check his tunes on his YouTube channel, where he's been debuting his work via livestreams and self-shot music videos. The good news is that most of those songs are actually pretty good, and Gallagher indeed has a solid singing voice. What's more likely to catch your eye is that some of his music videos are really well done, which leads us to believe the actor might also have a future in directing.
Gallagher is a devoted vegan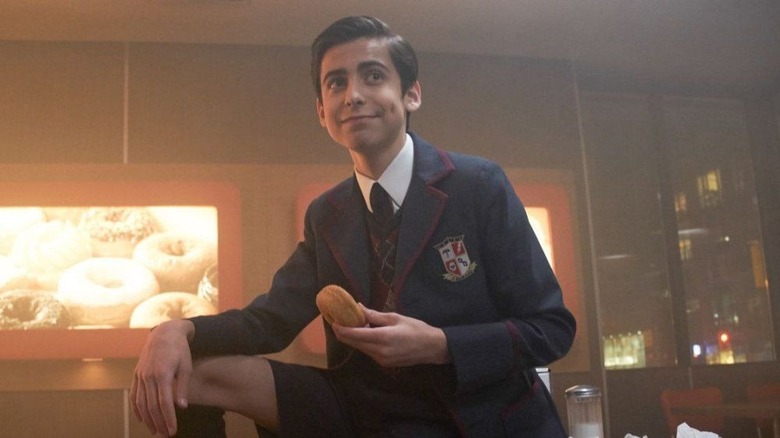 Netflix
Aidan Gallagher has developed quite a reputation for philanthropic work and his devotion to environmental awareness. And even as Gallagher's character on "The Umbrella Academy" has become renowned for his bloodletting abilities, it seems the actor himself has little interest in harming the flesh of man or beast. In fact, the actor is a staunch advocate for animal welfare. So much so that he switched to a plant-based diet a few years back, and has become a very vocal supporter of living the vegan life. 
Gallagher even proudly displays a vegan badge on his home Twitter page, where fans will also find frequent posts boasting both the health and environmental benefits of a meatless diet. He's been just as vocal about his own veganism in the media, speaking frankly to The Exam Room podcast in 2019 about going vegan, and the challenges of keeping to a strict diet on the set of "The Umbrella Academy." That suggests all those doughnuts Number 5 was chowing down on at Griddy's Doughnuts in season 1 were likely special orders. 
He's also a respected Environmental Ambassador for the UN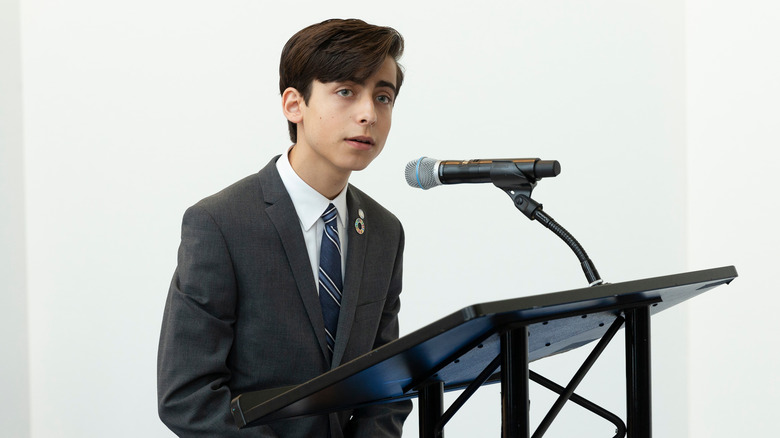 Shutterstock
We mentioned Aidan Gallagher's staunch support of environmental awareness, and that now feels a bit of an understatement. The actor has actually become one of the most passionate voices in Hollywood on environmental issues, even noting on Twitter his choice to go vegan was partially impacted by the meat industry's impact on climate change. Such devotion is rare amongst youngsters, and it seems Gallagher's steadfast commitment to leave the world in better shape than he found it was not lost on the United Nations, who designated him an Environmental Goodwill Ambassador in 2018. 
That lofty designation is impressive enough. It's all the more so as Gallagher was only 14-years-old when he earned it, which made him the youngest Goodwill Ambassador ever appointed in the UN system (via UNEP.org). For his part, Gallagher has not taken the appointment lightly, lending his celebrity to environmental causes with sincere devotion over the years via public appearances and fevered Twittering. Here's hoping he continues to use his voice for such causes, and that the youth of today are indeed listening.