Here's How Much Aidan Gallagher From The Umbrella Academy Is Actually Worth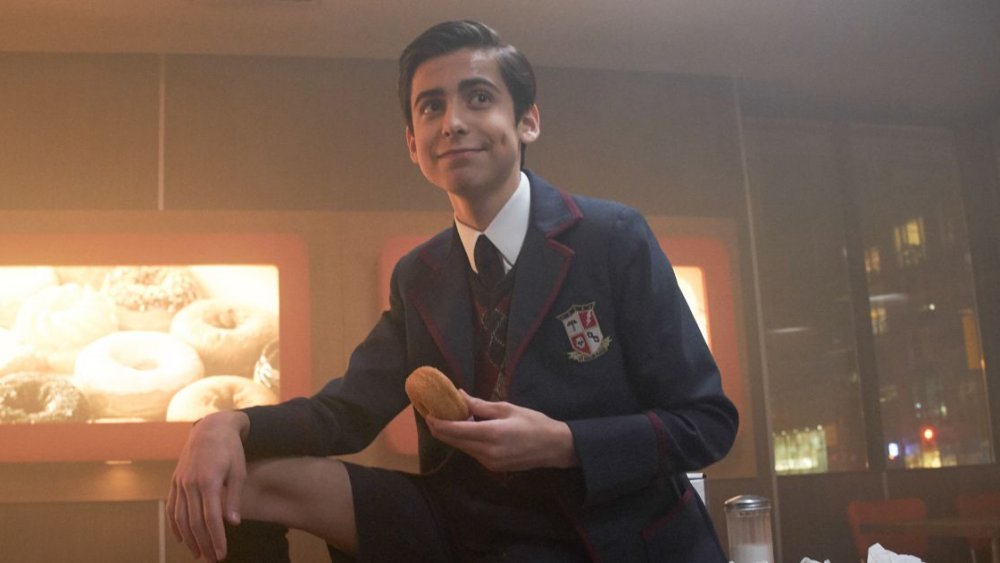 Netflix
After premiering on Netflix in February 2019, The Umbrella Academy quickly became the dysfunctional family superhero team-up the world didn't know it needed. It also became a ratings juggernaut for the streaming giant, with fans feverishly binging on the show's unique blend of neo-gothic style, heart-wrenching family drama, and no-holds-barred violence. Based on an original comic series by My Chemical Romance frontman Gerard Way — and suffused with a winking, anti-superhero sentiment – The Umbrella Academy isn't quite like any other superhero story out there. 
Truth be told, both the books and series are frequently less concerned with super-powered action than they are with the complex interpersonal relationships of the Hargreeves family at the center of it all. One of the key players in that family is the time-jumping, would-be assassin known only as Number 5. Played with uncommon depth and intelligence by relative newcomer Aidan Gallagher, Number 5 (perpetually stuck in a 13-year-old body after a time-travel mishap stranded him in the future for 45 years) has become quite the fan favorite amongst his ever-bickering "adoptive" siblings — mostly because his sardonic wit provides a much-needed edge to the The Umbrella Academy.
As for the actor who portrays Number 5 on The Umbrella Academy, Gallagher is more than earning his pay for his captivating, arguably show-stealing performance. As of February 2020, the 16-year-old actor is worth a reported $800,000. There's little question that number will rise with his role on the second season of The Umbrella Academy and beyond. 
Aidan Gallagher did quite well for himself before The Umbrella Academy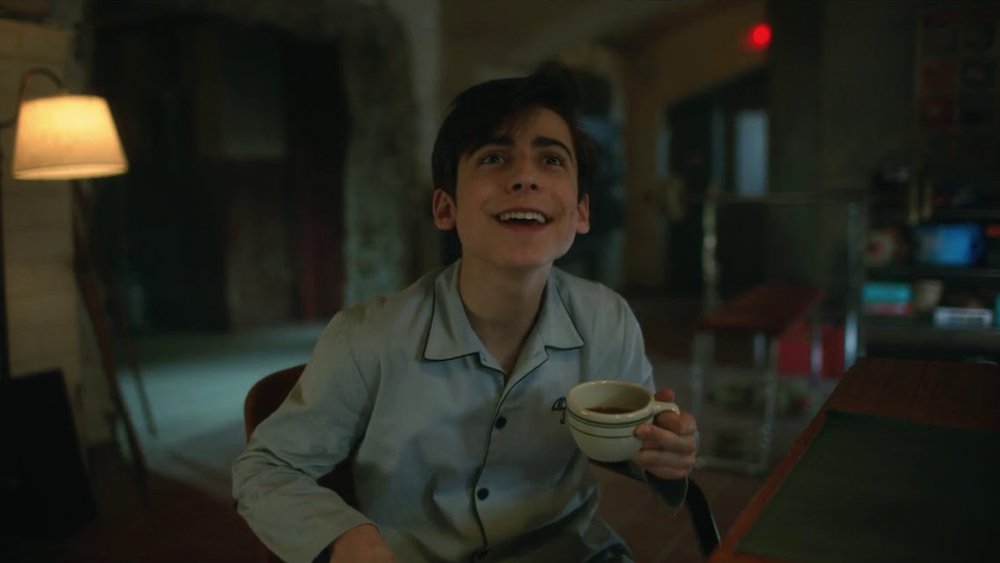 Netflix
While The Umbrella Academy has bolstered Gallagher's profile and bank account, his near-million-dollar net worth isn't solely the result of his Netflix gig. At just 16, Gallagher is already a Hollywood vet. In fact, he's been earning paychecks as an actor for close to a decade. 
Gallagher earned his first professional paycheck working on ABC's long-running sitcom Modern Family, but don't be surprised if you missed his appearance, as it was an uncredited, one-off gig way back in 2013. You may also have missed Gallagher's comedic turn in the made-for-TV movie Jacked Up that same year. In the film, directed by former child star Fred Savage, the young actor trades lines with Patrick Warburton and Missi Pyle. Jacked Up also put Gallagher in the orbit of Adam Sandler, given that the funnyman's Happy Madison Productions produced the project.
Though Gallagher hasn't re-teamed with Sandler since, that might be because he got quite busy in the wake of Jacked Up, booking a steady gig as the precocious Nicky Harper on Nickelodeon's tween comedy Nicky, Ricky, Dicky, and Dawn. That series kept Gallagher gainfully employed for four full seasons from 2014 to 2018, and undoubtedly contributed greatly to his burgeoning fortune. 
From the kid-friendly Nicky, Ricky, Dicky, and Dawn, Gallagher dove into the very adult world of The Umbrella Academy. While some of his Nickelodeon fans may not be old enough for The Umbrella Academy's TV-14 rating, rest assured that Gallagher's found a whole new fan base in the streaming world — one that's likely to keep his bank account loaded for years to come.