The Hidden Meaning Behind Griddy's Doughnuts On The Umbrella Academy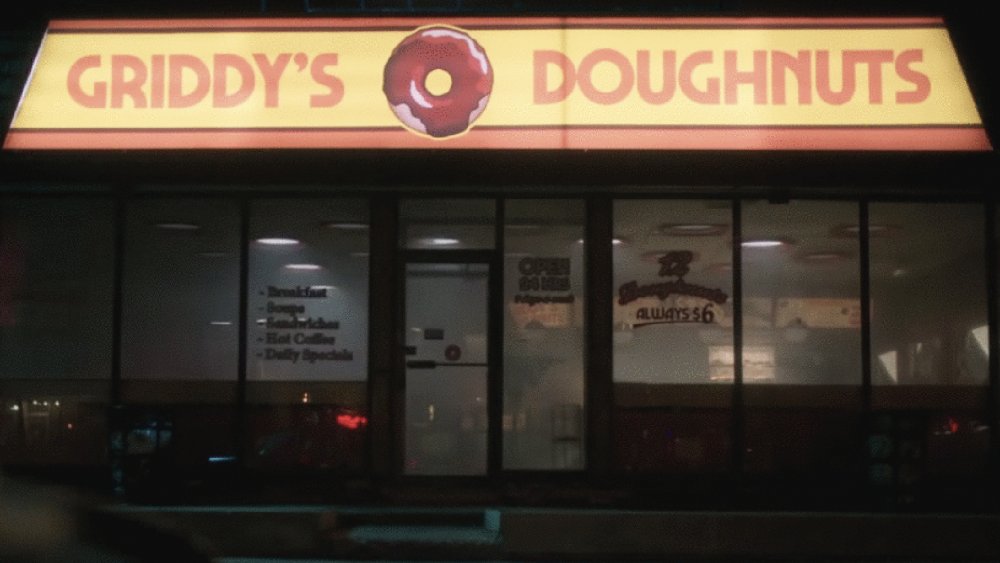 Netflix
Being a show centered around superheroes, Netflix's The Umbrella Academy boasts some interesting set pieces. It doesn't get more visually striking than the apocalyptic future or the Moon. At the same time, the series also dials back here and there, bringing Reginald Hargreeves' adopted children into everyday settings. Chief among them is the unassuming yet highly important Griddy's Doughnuts.
The confectionery debuted on the first episode of season 1, "We Only See Each Other at Weddings and Funerals." From then on, Griddy's gets a solid amount of screen time, thanks largely to Number Five (Aiden Gallagher) taking out a slew of armed assailants on its linoleum floor and a subsequent investigation stemming from it. It's also a frequent hangout spot for the time-traveling assassins Hazel (Cameron Britton) and Cha-Cha (Mary J. Blige), where the former falls in love with Agnes (Sheila McCarthy), the waitress.
Although Griddy's Doughnuts is a simple backdrop, it doesn't resemble the average Krispy Kreme. Griddy's doesn't look like a typical restaurant at all, in fact, but rather a combination of more than one. From the neon sign on the roof to its glass doughnut cases, Griddy's stands out when compared to anything found in the real world. Its unique setup is what makes it so important when discussing The Umbrella Academy's visual aesthetic.
In an interview with Inverse, the Netflix series' former production designer Mark Worthington elaborated on Griddy's Doughnuts — touching on how it came to be and what his intentions were in designing it.
Griddy's Donuts embodies The Umbrella Academy's tone and presentation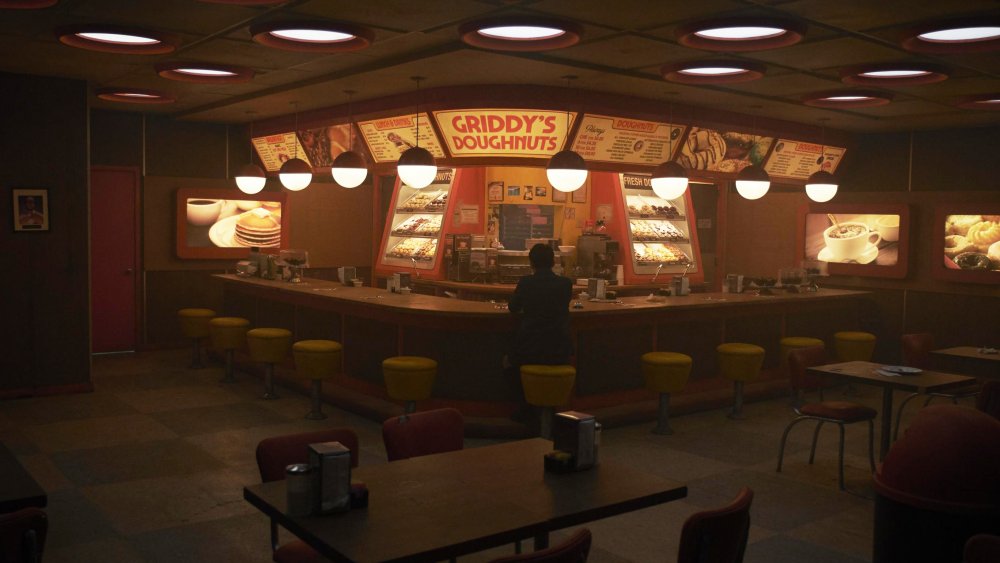 Christos Kalohoridis/Netflix
Once a legitimate business in real life, the donut shop is located within a strip mall in Toronto, Canada. It was abandoned for some time before Worthington and his team stumbled upon it, renovating and restoring it to its former glory. The location was transformed into Griddy's Doughnuts, as depicted in the Gerard Way comic book adaptation — yellow leather barstools and all. 
As Worthington put it, the reinvigorated store gave off the impression of "bougie modernist '70s architecture now fallen on hard times." Given its warm color palette and checkered floors, it isn't hard to see where he's coming from. Griddy's Doughnuts is like a step back in time, although it does contain some modern touches that could be found in restaurants today. This isn't a fluke, but instead a conscious choice that matched the set to the world of The Umbrella Academy.
It isn't quite discernible when the series takes place — or where, for that matter — which is the exact vibe Worthington went for with the doughnut shop. He mentioned how his understanding of The Umbrella Academy's tone went into the design of Griddy's Doughnuts. "I think of it as an alternate, adjacent world." Worthington said, further explaining that in this universe, "things are a bit more analog, but other things are more advanced. You're not supposed to know." As a whole, the series is disorienting, coming off as reality-based but still fictitious — and Griddy's Doughnuts adds to that vibe.
Following its massively successful first season, The Umbrella Academy will return for a second. The next batch of episodes will hit Netflix on July 31.