The Transformation Of Emmy Raver-Lampman From Childhood To The Umbrella Academy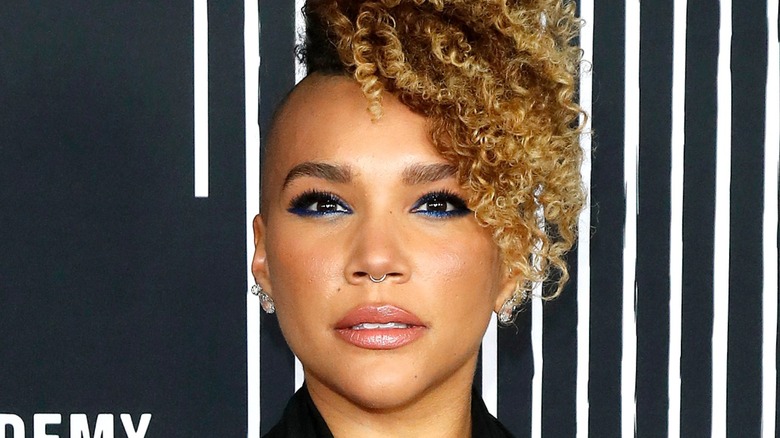 Shutterstock
The popular superhero-comic-turned-Netflix-series "The Umbrella Academy" is full of time travel, amazing powers, and plenty of drama. The black comedy centers on a family made up of seven adopted superheroes who were born on the same mysterious day. Their eccentric billionaire adopted father Sir Reginald Hargreeves (Colm Feore) gives the children numbers instead of names, but they're later renamed Luther (Tom Hopper), Diego (David Castañeda), Allison (Emmy Raver-Lampman), Klaus (Robert Sheehan), Five (Aidan Gallagher), Ben (Justin H. Min), and Vanya (Elliot Page). When the now-grown siblings reunite at Hargreeves' funeral, they work together to save the world and learn more about their adopted father's life.
While "The Umbrella Academy" is lauded as a creative and exciting tale, some terrible things have happened on the show — from tons of betrayal to murder. "The Umbrella Academy" also grosses fans out due to a questionable romance between Luther and Alison. The show does, however, have amazing casting, which makes the unfortunate moments a little more bearable. Emmy Raver-Lampman is one of the breakout stars of "The Umbrella Academy," though you may have seen her a few places before her big role. Let's take a look at her transformation from childhood up to "The Umbrella Academy."
Emmy Raver-Lampman had a unique childhood
According to an interview with Refinery29, Raver-Lampman was adopted as a newborn and raised in Norfolk, Virginia. Her parents are both educators, and their work meant that the family spent a lot of time traveling around the world. They lived in the Czech Republic, Ukraine, and India (via LA Times). And while Raver-Lampman admitted she hadn't always thought of having a career in theater (where she made her start), she revealed that she was always encouraged to follow her passions.
"I grew up in a very musical house; my dad and I would always sing together in church, he was in a band," she told Rose & Ivy. "I was always the entertainer whenever my parents had dinner parties—I was maybe four or five. I was so quick to hop on top of the coffee table and put on a show for my parent's dinner guests. I was just an active kid." According to The Flagship, Raver-Lampman joined the Hurrah Players — a family musical theater program in Virginia — where she took classes for 10 years.
While in middle school, Raver-Lampman auditioned for a prestigious high school called the Governor's School for the Performing Arts and got in. She told Rose & Ivy about her experience at the school and how it further cemented her love for performing: "I was in the musical theater department. I enjoyed theater and that was the way my parents raised me, to follow my gut, follow my heart and to do the thing that fills my soul and makes me happy. And if it stops making me feel that way then find something else to do. I grew up in a household where it was encouraged to do what makes you happy."
She started her career while in college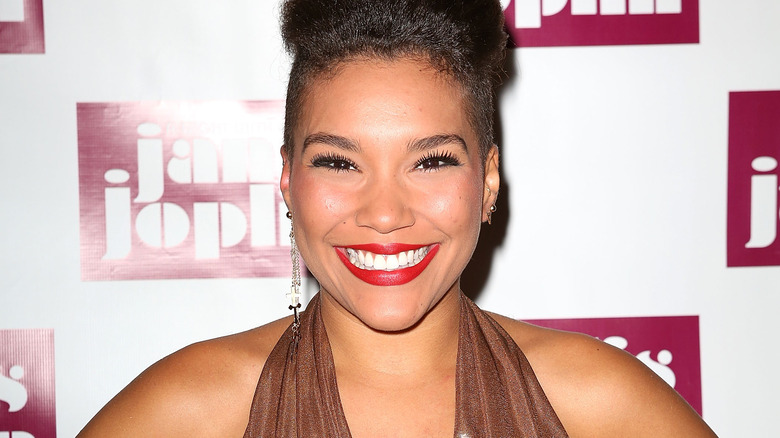 Walter Mcbride/Getty Images
Following her stint at the Governor's School for the Performing Arts, Raver-Lampman went on the hunt for a good college. Her only non-negotiable? She wanted to go to school in New York. "It was kind of New York or bust, it was about location," she told Rose & Ivy. "I wanted to live in New York City and be able to call myself a New Yorker and know the subway map by heart." She ultimately landed on Marymount Manhattan College for their musical theater minor, which she explained to Rose & Ivy was perfect for what she wanted to do: "I had a conservatory experience in high school. I wanted a liberal arts degree and to be able to have New York as my playground."
She used her NYC location to her advantage, auditioning for shows whenever she got the chance. She eventually landed a role in the show "Hair," and she took a break from school to tour with the company for a year and a half (via Rose & Ivy). Though she's admitted she never started performing for the accolades or the fame, she told Rose & Ivy what she set out to achieve in her career journey: "It has always been about what creativity inspires me and being around people who I love and building a community around me of amazing humans. I have always approached my life from that direction and wherever that takes me, is where it takes me. I am kind of here for everything."
She's been in tons of musical theatre productions
Though Raver-Lampman is most widely known for her time on "The Umbrella Academy," the majority of her career has been on the stage. As a sophomore in college, she was in an off-Broadway production of "Children of Eden" — which is actually how she landed her role in "Hair." According to the LA Times, the choreographer of "Children of Eden" was also working on "Hair" at the time and told Raver-Lampan about the audition.
Raver-Lampman continued booking roles onstage, including an ensemble and understudy role in "Jekyll & Hyde," a swing and understudy role in "A Night with Janis Joplin," and the standby for Elphaba in 2014's "Wicked." In an interview with The Flagship, Raver-Lampman described her reaction to hearing she'd landed the role, which she learned while she was doing "A Night with Janis Joplin. "My agent had me come down to [the] office and said that I had gotten my first principal part as a standby for Elphaba in 'Wicked.' I started crying. The 'Wicked' world is so huge and has such a loyal following."
Her time understudying for roles and readily waiting on standby eventually led her to two of her biggest roles to date — as part of the iconic original casts.
She was in two major original musical ensembles
Admittedly not knowing much about an up-and-coming production titled "Hamilton," Raver-Lampman agreed to audition for the ensemble, and her life quickly changed. "Never in a million years did I know — no one did, but especially me — what this show would become," she told the LA Times. "I had never heard the music. I didn't even really know what it was about. So I was truly flying blind into this cloud." After about a year of performing in the "Hamilton" ensemble, Raver-Lampman made the difficult choice to leave the production to play the role of Pearl Krabs in the original Chicago production of "Spongebob Squarepants: The Broadway Musical." She described the tough decision to the LA Times, saying "I remember writing my resignation email to Lin [Manuel Miranda] and crying on the couch. Sometimes as an artist you have to follow your gut."
When "Hamilton" made its way back to Chicago in preparation for its first national tour, Raver-Lampman was brought back to the cast — this time as the lead role of Angelica Schuyler (via Refinery29). Her time in "Hamilton" was a rollercoaster, as she explained to Refinery29: "We started this thing not having any idea exactly what we were sitting on, only for it to become this sold-out affair. We were nominated for Tonys and Grammys, Oprah and Prince came to the show, we were invited to the White House — the Obama White House!"
We can't wait to catch up with Raver-Lampman as Allison in Season 3 of "The Umbrella Academy."