Cobra Kai Creator's Tweet Has Fans Flipping Out About Season 4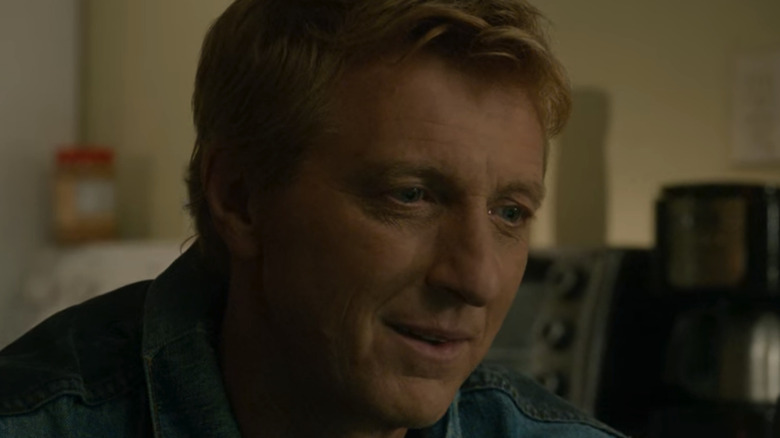 Netflix
Netflix's "Cobra Kai," the popular spinoff of the iconic '80s "Karate Kid" franchise, is set 34 years after the events of "The Karate Kid." The martial arts dramedy series follows Johnny Lawrence (William Zabka), the bully in the original film as he decides to reopen the Cobra Kai karate dojo and reconnects with his old nemesis Daniel LaRusso (Ralph Macchio) in the process. Though Johnny wasn't the nicest kid, "Cobra Kai" shows us a different side to his tough demeanor, and it turns out he's not so bad after all. The exciting series also has a new cast of young fighters looking to train at Cobra Kai, like Miguel (Xolo Maridueña), Eli "Hawk" Moskowitz (Jacob Bertrand), and Demetri (Gianni DeCenzo).
Season 4 of "Cobra Kai" is set to release later this year, and it's safe to say that fans are pumped. Several announcements about Season 4 have gotten them excited, including an iconic villain's return and an exciting yet cryptic tweet.
Cobra Kai Season 4 will be 'next-level'
The "Cobra Kai'" Season 4 teaser trailer announced the return of an iconic villain; Terry Silver (Thomas Ian Griffith), the antagonist of "The Karate Kid Part III," is officially coming back to the dojo. Along with the news came a tweet from the show's co-creator Jon Hurwitz, and fans are flipping out. "If you're one of the die-hards whose been praying for Terry Silver's return, I worry your head is going to explode once you watch Season 4. It's next level. #CobraKai #TerrySilver #Twig #Netflix," he tweeted.
Fans flocked to the tweet and were clearly pumped for the news. User @Ramiyahz replied "I approve of how much my mind is going to be blown already and the season isn't even out yet," while another fan named @ylterysh wrote "I can't say how excited I am hearing that one of the greatest villains of the whole franchise is returning to Cobra Kai!" Be sure to catch up with Silver and the rest of the "Cobra Kai" crew when Season 4 premieres this fall.