What Is The Song In The New Jungle Cruise Trailer?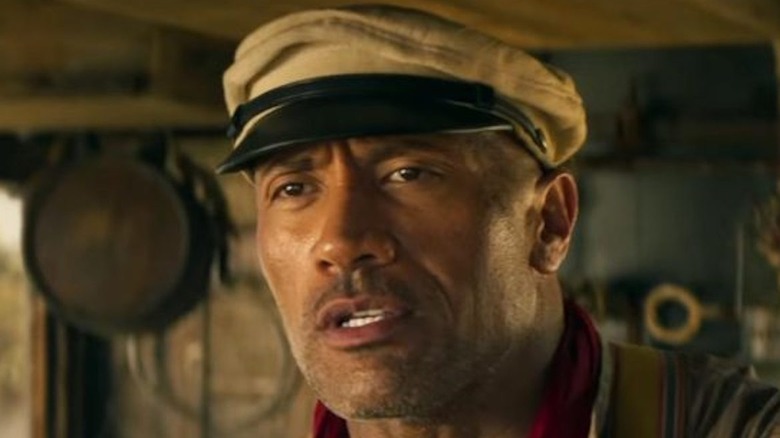 Disney
Summer movie season is almost upon us, and it seems we're finally going to get a chance to see some of the blockbuster features we were fully expecting to see last year before pandemic days hit. High on the lengthy list of pandemic-delayed projects is Disney's latest theme-park ride-turned-feature "Jungle Cruise," which is set to dock in theaters on July 30. That film sets up Dwayne Johnson as an adventurous riverboat captain hired by Emily Blunt to take her deep into the perilous heart of the Amazon in search of a fabled healing tree.
Directed by "The Shallows" helmer Jaume Collett-Serra (who's currently directing Johnson in "Black Adam"), and featuring supporting turns from heavy-hitters like Jesse Plemmons, Paul Giamatti, and Edgar Ramírez, "Jungle Cruise" promises high-octane action, and supernatural thrills beyond belief ... not to mention a winking sense of humor that should make it loads of fun for the whole family. Those elements are well on display in the film's flashy new trailer, which has a distinctly "Pirates of the Caribbean" vibe in all the right ways. That trailer is also soundtracked by a bluesy rock and roll anthem that'll sound very familiar to most ears, as it was a major hit for one of the biggest bands of the late-'60s, early-'70s scene, psychedelic swamp-rockers Creedence Clearwater Revival. 
Run Through the Jungle was one of Creedence Clearwater Revival's biggest hits
That song is CCR's smash hit "Run Through the Jungle," which was originally released in 1970 as the B-side to another of the band's biggest hits, "Up Around the Bend." As it happens, both songs would go on to serve as centerpieces for Creedence Clearwater Revival's legendary fifth album "Cosmo's Factory," which spent a whopping nine weeks in the top spot on the Billboard 200 charts in 1970. And rightfully so, as "Cosmo's Factory" fronts more hit songs in a single album than many bands have in their entire careers. 
Of those songs, few have proven quite as enduring as "Run Through the Jungle," which many presumed (given its jungle setting and CCR's penchant for political commentary) was another of the band's many anti-Vietnam War anthems (see also "Fortunate Son"). While the song is indeed a politically themed rocker, former CCR frontman John Fogerty (who wrote the song) revealed in a 2016 interview with Dan Rather it actually had nothing to with Vietnam, and was instead a treatise on America's utter lack of gun control.
Whatever the case, "Run Through the Jungle" remains an absolute classic of the era, and makes for a killer backing track for that "Jungle Cruise" trailer. "Jungle Cruise" is far from the first film to utilize the track. The song features prominently in several major Hollywood productions over the years including, "Air America," "Tropic Thunder," "Kong: Skull Island," and of course "The Big Lebowski."