Thor Fans Are Bullying Chris Hemsworth Over His Latest Instagram Photo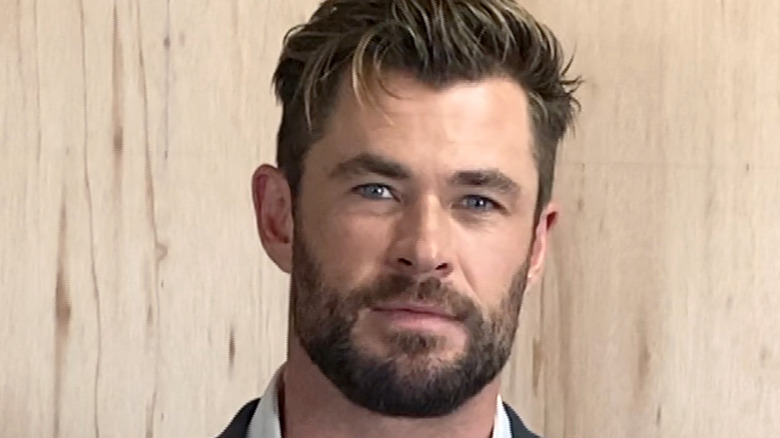 Getty Images/Getty Images
Even popular superheroes aren't immune to trolling. One of Marvel's most beloved Avengers is currently getting made fun of on Instagram ... though probably not for the reason that he would have expected. 
Chris Hemsworth, the man who has brought Thor to life for over a decade, recently posted a photo of him and his son on Instagram that featured a hilarious caption: "Holding my little man's hand and asking him the age old question. 'What do you want to be when you grow up' 'Dad i wanna be Superman' Lucky I have two other kids." 
In the photo, Hemsworth is seen glaring at the camera as if reacting to his son's innocent yet shady comment, which makes the whole post even funnier.
We completely sympathize with Hemsworth's bruised ego — kids can be brutal. However, while Hemsworth likely expected to receive plenty of lighthearted comments related to his caption (and him being the God of Thunder, in general), fans took a different route and bullied him for something else — and some stars even joined in on the action.
Did Chris Hemsworth skip leg day?
Amid the amused reactions to Hemsworth and his adorable son were plenty of comments calling out Hemsworth's legs, noting that he "must have skipped leg day." 
Apparently, some observers thought that it looks like Hemsworth focuses more on bulking up his upper body than his legs, which prompted comments about his appearance. One Instagram user wrote "thor has been skipping the leg day," while another one commented "Probably because Superman doesn't skip Leg Day" with a laughing emoji. Some went so far as to offer the seasoned actor workout advice about how to bulk up his legs.
Meanwhile, just as Thor can always count on his brother, Loki, to attack him at every opportunity, it seems that Hemsworth has the same problem: his brother, Luke, joined in on the bashing, writing "Bro?! You've been skipping leg days again?!"
Most of the jabs seem to be made in good humor, as leg day has become a bit of a meme itself in the workout community. We hope that Hemsworth doesn't take the comments to heart, since it's obvious that he cares a lot about preparing for his role in "Thor: Love and Thunder." 
Still, as writer Edward Cooper of Men's Health pointed out regarding the matter, it's probably best not to make mean comments on people's physical appearance, whether they're superhero actors or not.
"Thor: Love and Thunder" will be released on February 11, 2022.