Chris Hemsworth's Inappropriate New Training Video Has The Internet Cracking Up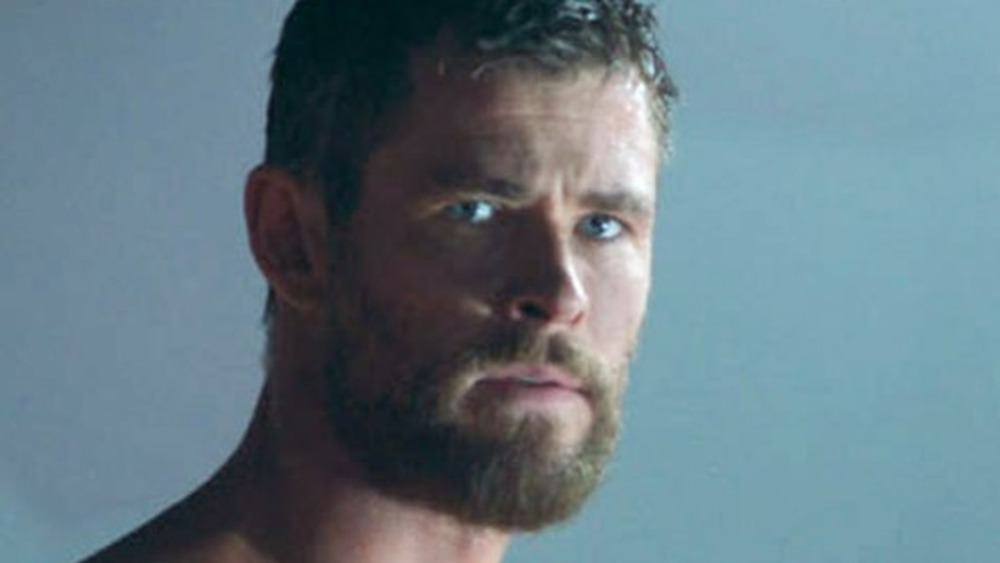 Marvel Studios/Disney
At this point, virtually nobody on Earth scratches their heads and wonders how it is that wealthy actors tend to look so fit and healthy. The answer is simple: They have teams for that, and more often than not, they're in tip-top shape because they're being paid to do so. (Hey, even the most exercise-averse person out there would run a half-marathon with a smile on their face if they were getting paid millions of dollars from a big movie studio.) When it's time to get absolutely shredded for their latest action movie, actors assemble their fitness Avengers: exercises coaches, nutritionists, stuntmen with years of experience, professional mixed martial artists, and anyone else who might be able to take an already in-shape body to the superhuman level. 
There are very few actors out there as ripped as Chris Hemsworth is, which makes sense considering who he plays in the Marvel Cinematic Universe. It's one thing to be a super-soldier like Steve Rogers (Chris Evans) or an intergalactic guardian like Peter Quill (Chris Pratt), but it's quite another to be Thor, the Asgardian god of thunder. And while Thor was in a very different kind of shape by Avengers: Endgame, looking rounder around the middle and longer in the beard, Hemsworth in real life tends to keep himself pretty jacked.
Recently, Hemsworth decided to get into the app business and create Centr, a pay-to-use app that makes his team of fitness professionals your team too, with customized meal plans and workout regimens to help you reach your health goals. And what better way to promote Centr than to post a hilarious ad that blends Hemsworth's unfiltered Aussie humor with his dedication to fitness and his personal team's expertise?
An ad for Centr centers on Chris Hemsworth's team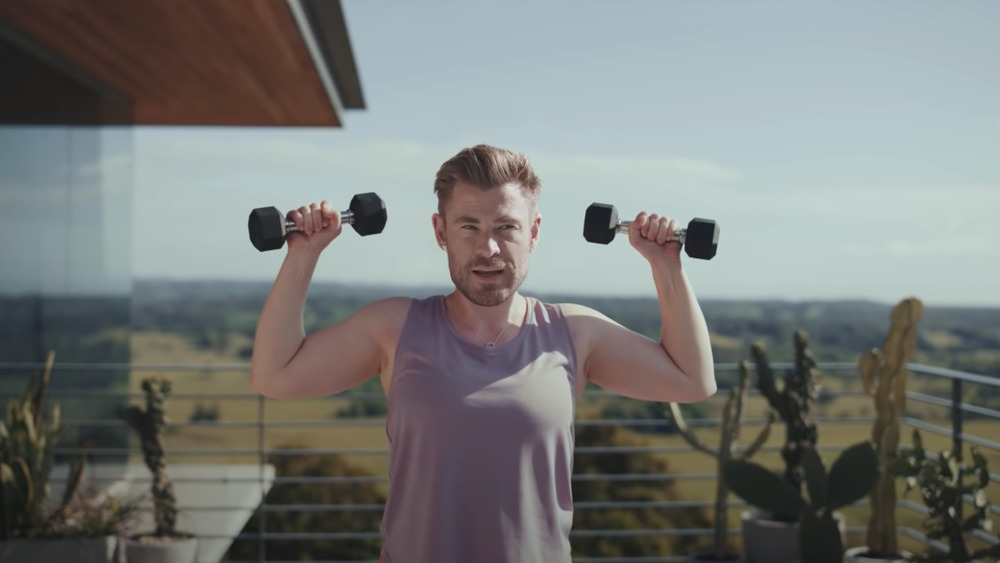 Centr/YouTube
Hemsworth took to Instagram on March 23 to share the ad with his 47 million-plus followers. It features a number of people working out ... who all just so happen to be the actor himself — sort of. 
In the video, Hemsworth's head appears over the bodies of a number of people, most of whom are dedicating themselves towards some kind of physical or mental wellness — working out, doing yoga, meditating, et cetera. Hemsworth speaks all the dialogue, discussing in very colorful terms how unlikable he is and how awesome the people who work with him are. (In Hemsworth's words, he's a "f***ing d***" and his team is "f***ing brilliant.") Two women — who, again, both have Hemsworth's face — discuss how they prefer Chris' brother Luke, for example, and a guy (also Hemsworth) cooking things up on the grill confesses he'd rip off Chris Hemsworth's face in a cage match.
Those who've kept up with Hemsworth's personal and professional endeavors will recognize this new clip as an uncensored version of a Centr ad that ran in February. It's the same premise — Hemsworth's head superimposed over other people's bodies, him saying that working out with his team is basically like working out with him — but with updated dialogue not fit for little ears. It ends with the tag, "You don't have to be Chris to get results. You just need his team."
The point of that ad is that, whether you love or hate Chris Hemsworth, something most of us can likely agree on is that he clearly has an excellent team keeping him in shape. That's where Centr comes in; it's a wellness program Hemsworth curated that includes a number of experts he's used over the years to get into the kind of shape required for the different roles he's taken. The experts include boxers, gold medal-winning gymnasts, yogis, chefs, and even podcasting therapists. Centr is designed to be workable from anywhere, including from home — which, as it happens, is the best place to criticize Hemsworth while watching the Hunger Games movies that feature everyone's actual favorite Hemsworth, Liam.
Chris Hemsworth is currently busy filming Thor 4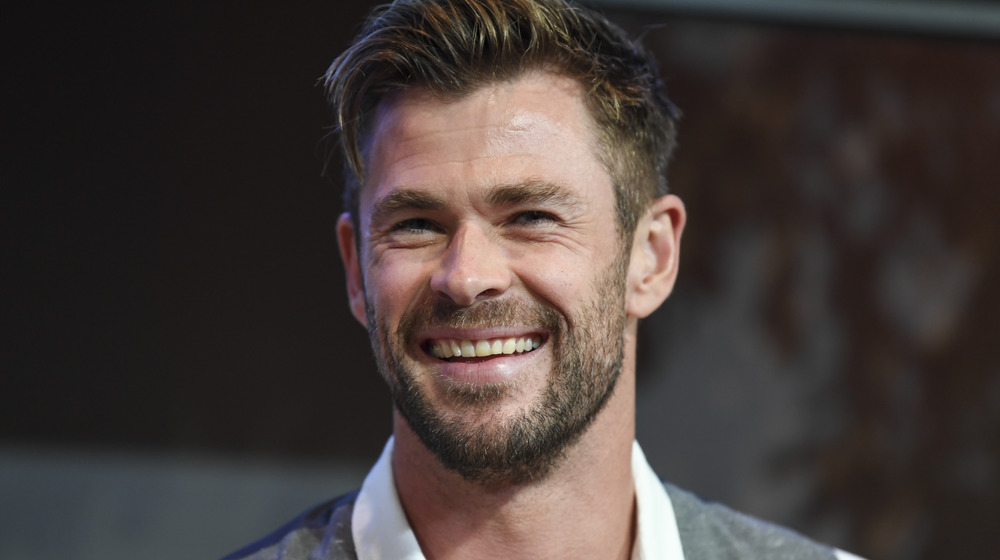 James D. Morgan/Getty Images
Hemsworth is currently putting the fruits of his fitness labors to use to film Thor: Love and Thunder, the fourth solo film centered on the God of Thunder (and the only "fourth solo film" Marvel has ever given to a character). 
Filming started in late January 2021 in Sydney, Australia, with the production bearing the perfectly health-conscious working title The Big Salad. Written and directed by Thor: Ragnarok mastermind Taika Waititi, Love and Thunder will see Hemsworth's Thor no longer the king of Asgard, as he handed that power to Valkyrie (Tessa Thompson) in Avengers: Endgame. While Valkyrie will be on the hunt for a queen to rule beside her, Thor will reunite with his ex-girlfriend Jane Foster (Natalie Portman), who is receiving treatment for cancer and will become the Mighty Thor and wield Mjolnir herself. Like Hemsworth, Natalie Portman got ripped for Thor: Love and Thunder, and will likely give the Australian star a run for his money in sheer muscle power.
Thor: Love and Thunder is set for release on May 6, 2022.