First Trailer For Edgar Wright's Last Night In Soho Will Haunt Your Dreams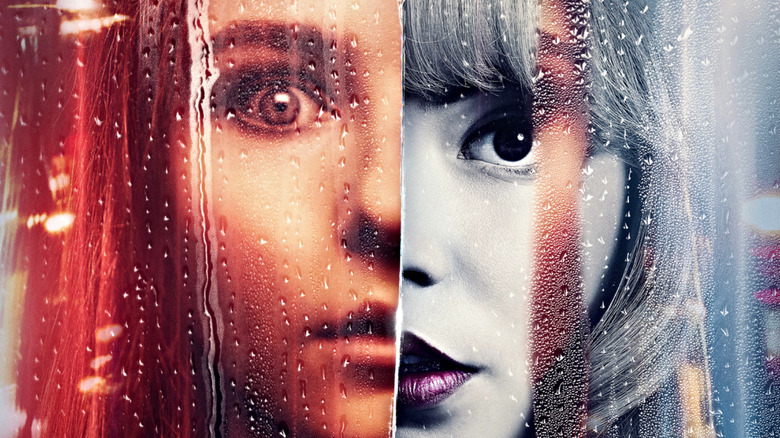 Focus Features/Universal Pictures
Edgar Wright has rocked the movie scene with "Scott Pilgrim vs. the World," "Baby Driver," and, of course, his "Three Flavors Cornetto Trilogy" of "Shaun of the Dead," "Hot Fuzz," and "The World's End." As such, every time his name comes up, fans wait with bated breath to hear what the director is planning to do next. 
Wright has a number of intriguing projects lined up, from the upcoming Stephen King movie "The Running Man" to a possible and eagerly awaited "Baby Driver 2." However, barring an unexpected resurrection of the director's beloved "Cornetto" series, his most fascinating upcoming movie is the mysterious, time-travel-themed "Last Night In Soho." 
The movie stars Thomasin McKenzie as a modern-day woman named Eloise who finds herself able to travel to the 1960s, and who becomes associated with a performer called Sandy, played by Anya Taylor-Joy of "The Witch" and "The Queen's Gambit" fame, whom she highly admires. The catch is that the movie is a drastic departure from Wright's whimsical signature tone, since it's been called a psychological thriller — possibly with a horror twist, even. 
Wright has been known to play with darker themes in virtually all of his movies, so it'll be fascinating to see how far into the creepy mind-bender territory he's willing to venture this time. Now, we're one step closer to finding out: The first trailer for Edgar Wright's "Last Night in Soho" just dropped, and it will quite possibly haunt your dreams.
The teaser trailer for Last Night in Soho is a creepy, dreamlike affair
The official teaser trailer for "Last Night in Soho" is a subtly disturbing affair with a general vibe that's, interestingly, somewhat reminiscent of director Nicholas Winding Refn's Elle Fanning-led thriller "The Neon Demon." However, the clip's actual content makes it clear that we're talking about a very different movie. 
The trailer is set to an ominous cover of Petula Clark's "Downtown," sung by Anya Taylor-Joy herself. Although it starts in a fairly unassuming manner, it soon becomes evident that Taylor-Joy and Thomasin McKenzie's characters are intertwined in complicated and mysterious ways that have little to do with traditional portrayals of time travel. The initial dreamlike glamour eventually gives away to abject dread. "When the past lets you in, the truth comes out," the trailer proclaims, as the lighting becomes more and more threatening, and the imagery turns into scary figures, creepy makeup, and an apparent knife attack. Finally, it appears that the very fabric of reality is starting to break apart like glass. 
Although it's still unclear precisely what "Last Night in Soho" is about, one thing is certain: This most definitely isn't the kind of movie in which Simon Pegg and Nick Frost suddenly waltz in and start cracking jokes — and if they do, they probably won't be as delightful as you remember them from the "Cornetto Trilogy." Instead, it looks like Wright is taking all the style and panache of "Baby Driver" and using it for nefarious purposes. In other words, "Last Night in Soho" looks like a must-watch movie — just don't be surprised if it also looks a whole lot like a very disturbing dream you're about to have tonight. 
"Last Night in Soho" is set to hit theaters on October 22.