Producer Jordan Blum Reveals The Surprising Inspiration Behind Marvel's MODOK - Exclusive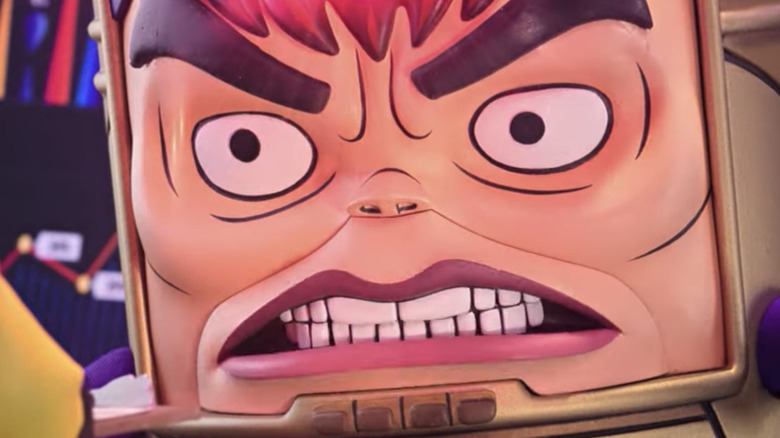 Marvel Studios/Hulu
The egomaniacal MODOK is one of the more unforgettable Marvel villains, but, until now, he's been relegated to the comic books, aside from cameos in various animated series. That all changed in May 2021, when the first season of "Marvel's MODOK" began streaming on Hulu. The adult, stop-motion, animated series follows the title character — whose name is an acronym for Mental Organism Designed Only for Killing — as he navigates the sale of his evil organization while trying to meet the needs of his demanding family.
Produced and co-created by Jordan Blum ("American Dad"), "Marvel's MODOK" stars Patton Oswalt as the voice of MODOK, Aimee Garcia as wife Jodie, Melissa Fumero as daughter Melissa, Wendi McLendon-Covey as arch-nemesis Monica, and various guest stars such as Jon Hamm as Iron Man. While fans have been clamoring for MODOK in the MCU, they may not have expected a series that explores his everyday life.
In an exclusive interview with Looper, Blum revealed the surprising inspiration behind MODOK's backstory.
Blum wants you to view MODOK as just a regular guy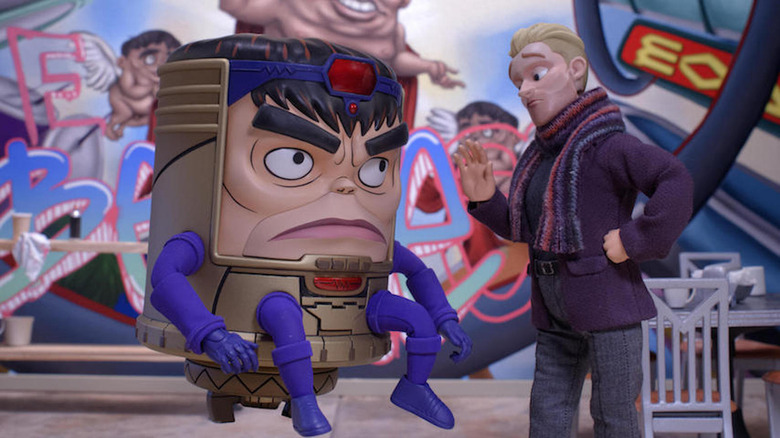 Marvel Studios/Hulu
When setting out to co-create a series with Patton Oswalt, Jordan Blum said he was drawn to MODOK because the character was such a "weirdo." "I've always loved the Marvel oddities," Blum said. "And MODOK is this amazing Jack Kirby design that, when you see it, it stays with you forever. This giant floating head with baby arms and legs who wants to take over the world and takes itself very seriously." Blum said MODOK was the first character that came to mind when discussing a potential series.
From there, the premise for the series quickly fell into place. "You ask questions about these characters like, 'Where does this guy go at night? Who would marry him? What would his kids be like?'" says Blum. "And suddenly, this comedy was kind of born out of, 'What are the scenes that we don't get to see? What happens when MODOK leaves that Captain America panel?' ... To me, it was one of the easiest shows to come up with and build because it was all there already in the character."
Viewers may be surprised by the emotional family connection on Marvel's MODOK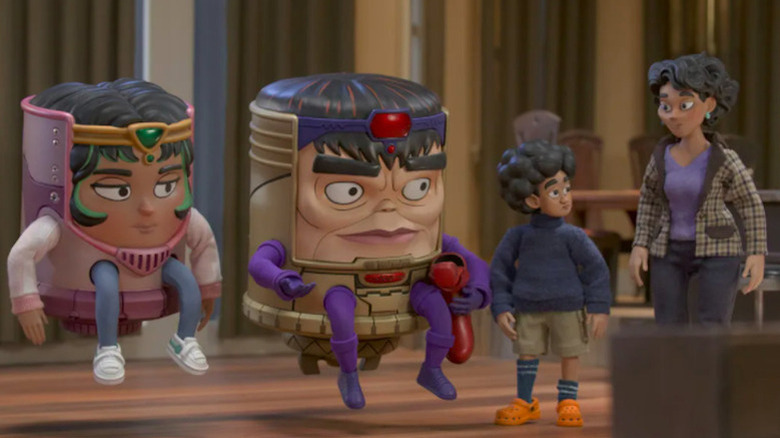 Marvel Studios/Hulu
When it came to building MODOK's family, there was a very clear goal. "I've worked in animation for a long time, and from 'The Simpsons' forward, there's absolutely a kind of traditional type of family," Jordan Blum said. "And we wanted to break the mold a little bit and build a family that was mixed faith and mixed race and mixed MODOK people and normal people, and kind of have it resemble a modern family that looked very different, I think, than what's been traditionally seen on television. We wanted to humanize them in that they're messy and complicated, and the problems between MODOK and his family don't get resolved at the end of every episode with a big hug."
The family aspect may not be something viewers were expecting; it's a trait that Blum credits directly to his time working on "American Dad." "It really informed how I tell stories, and how you utilize animation as a storytelling device, and what you can do, and how far you can take things," says Blum. "We took a lot of how you kind of tell these big, insane stories, but at the center of it has to be this relatable, emotional story between the family or coworkers or something like that. If [viewers] don't care, then the show doesn't work."
The first season of "Marvel's MODOK" is currently streaming on Hulu.