How Aimee Garcia Really Feels About Playing A Supervillain's Wife On MODOK - Exclusive Interview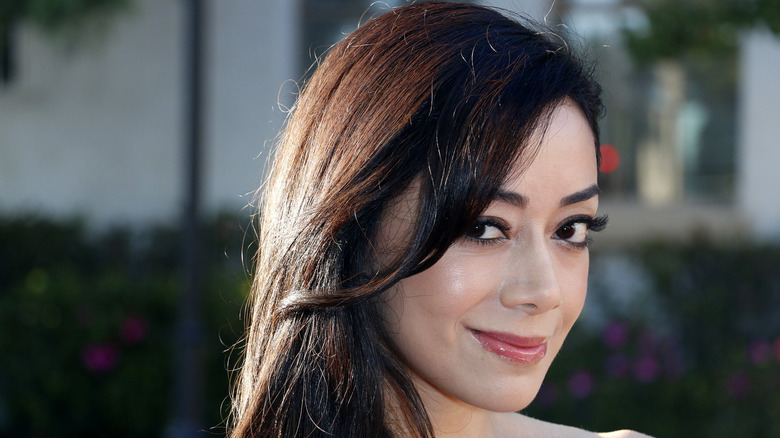 Shutterstock
Aimee Garcia has a pocketful of hit TV series to her name, including starring roles on "George Lopez," "Dexter," and "Lucifer." And in 2021, she adds another high-profile show to her resume, "Marvel's MODOK," which premieres on Hulu on May 21.
The adult animated stop-motion series follows MODOK — which stands for Mental Organism Designed Only for Killing — an egomaniacal supervillain with a giant head, tiny arms and legs, and a floating chair as he struggles to maintain control of his evildoing organization after it's bought by a tech company while juggling the needs of his demanding family.
Garcia voices MODOK's wife Jodie, who wants to pursue a new path in life but sees MODOK's many shortcomings as an obstacle. The series also stars Patton Oswalt ("The King of Queens," "Agents of SHIELD") as MODOK, Melissa Fumero ("Brooklyn Nine-Nine") as daughter Melissa, Ben Schwartz ("Parks and Recreation") as son Lou, Wendi McLendon-Covey ("The Goldbergs") as MODOK's arch-nemesis Monica, and various guest stars such as Jon Hamm as Iron Man.
In an exclusive interview with Looper, Garcia opened up about her role in "Marvel's MODOK," working with an all-star cast, and what her MODOK character has in common with her role in "Lucifer."
Aimee Garcia thinks Marvel's MODOK is very 'relatable' and might even make you cry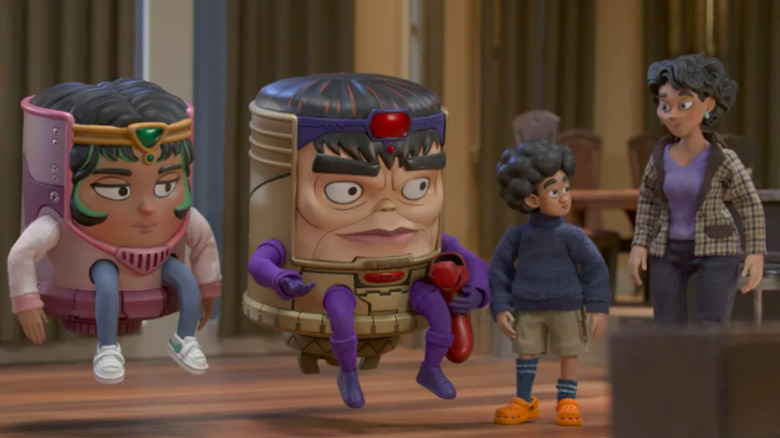 Hulu
What made you connect with your "MODOK" character, Jodie?
I had never seen an animated wife like her, where she has her own arc. She goes from housewife to supervillain — it's so fun, and I just thought they did such a good job, both Patton and [creator] Jordan [Blum], in writing this three-dimensional everywoman. She's a mom, she's a wife, she's an independent career woman, but she's also married to a supervillain. And I think when you're married to a supervillain you have to have loose morals.
But she's not just saying, "Yes honey, whatever you want, you can do whatever you want." I loved it. She found her independence later in life, which we never see, and obviously it bothers egomaniac MODOK. And I just found it so fun that she gets pursued by Wonder Man, you know, who calls himself "Pending Avenger, underwear model, lover of MODOK's wife," which of course doesn't sit well with a supervillain.
Also, personally, I felt very honored to originate a Latina character in the Marvel Universe. I'm a big Marvel fan and just to be a part of it was a dream come true.
It's a bit surprising how much of a "family show" it is. What's your favorite part about the family dynamic?
That it's relatable. I don't think we've ever seen a supervillain have a midlife crisis. And in the end, even though it's galactic warfare and fun Avenger fights, it really is about a father connecting with his daughter, and siblings fighting, and two people who have been together for a really long time who grow apart and are trying to fight for their relationship. Jodie and MODOK are still in love, and you see why they're together, but people change and people grow apart. And so I feel like that, to me, the love between this dysfunctional family is my favorite part. Because yes, there's robot guts. Yes, there's aliens. Yes there's intergalactic warfare. But in the end, it's really about a family trying to keep it together and about people trying to realize their identity when the world is upside down, which I think is so relatable and timely — especially now.
What happens if you're defined by being a mother and all of a sudden your kids grow up? What happens if you're defined by being a CEO and all of a sudden you lose your career? What happens if you're defined by, you know, whatever that may be ... you're a chef and all of a sudden you've got to close down your restaurant. So I feel like that's such a relatable thing to deal with, going from "mom" to "teacher" because schools are closed [during the COVID-19 pandemic]. I feel like you don't expect to see that in a floating supervillain with tiny arms and legs, but somehow by the end of the episode, you're like, why am I crying?
And it's just so fun to have this very "never seen before" refreshing look at what happens to a supervillain after the fight. What happens to a supervillain's family when they're not on top? So that to me is just so fun — that all MODOK wants to do is destroy the world, but he's like, "How can I destroy the world when my torture chambers have been replaced by a yoga studio?" So it's very frustrating for him but, in the end, you just see these sweet family moments, and it's very heartwarming, which you would never expect, I think, for an absurd, bizarre show like "MODOK."
Aimee Garcia reflects on working with MODOK's all-star cast and being a trailblazing Latina on TV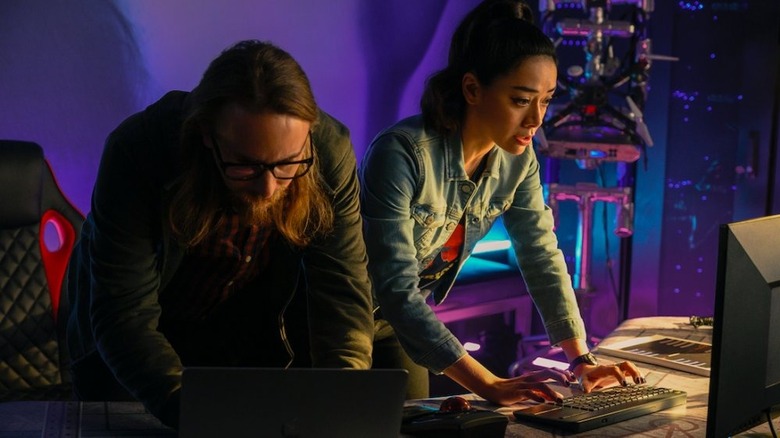 "MODOK" has such a great cast. Now, obviously an animated series is filmed much differently than live action, but was there someone in particular you were excited about working with or someone who exceeded your expectations?
I was a fan of everyone in this cast, and I had to bite my tongue and not fangirl during the table read. I love Melissa Fumero. I know her personally but I was a fan from "Brooklyn Nine-Nine." Then, you know, Patton Oswalt — his standup and his [memorable "Star Wars"] filibuster on "Parks and Recreation." And Ben Schwartz on "Parks and Rec," and Sam Richardson from "Veep," which was one of my favorite shows when it first came out. And Wendi McLendon-Covey, I love Wendi back from "Reno 911!" and obviously "Bridesmaids" and "The Goldbergs." And Beck Bennett from "Saturday Night Live." Everyone was just so insanely talented. I felt like I was joining this all-star team.
But the only cast member that I got to actually be in the booth with was Patton. And he has this incredible ability to just turn on a dime. One second, he's being a hysterical supervillain. The next second, he's being a heartwarming and vulnerable father. So I was very impressed by Patton's ability to, with his voice, be able to have you root for this egomaniac supervillain. And I feel like only Patton Oswalt can have you rooting for a supervillain who wants to destroy the world because he is just so committed. Like I said, I've never met anyone who can just turn on a dime like that. He will just 180 from world destruction — destroying multiple people, aliens, galactic beings — to, you know, feeling sad because he lost the love of his life and he's trying to use a time portal to get her back.
Like, who wouldn't root for that — a guy who is trying to go all in and save his wife and marriage? And MODOK is like, I'm going to create a time machine so that I can take her back to our first date. Patton just completely blew me away. He is all heart, and he's just an insanely talented comedian. But he's also a very soulful, dramatic actor as well, and the show showcases all sides of him.
A week after "MODOK" premieres, the latest season of "Lucifer" returns, which is also a cheeky, left-of-center show in its own right. Do you see any similarities between Jodie and your "Lucifer" character Ella?
Gosh, you know, not really. Ella is so full of light and a big love bug — a huge hugger and a Pollyanna. She's nonjudgmental and curious, and sees the best in people, and everyone is her potential best friend until proven otherwise.
Jodie starts out the first season of "MODOK" as the voice of reason, the loving wife, the mom, and all of a sudden she becomes, in my opinion, a worse supervillain than MODOK.
So I don't really see similarities, except that I feel like, in their own way, they were trailblazers, with Jodie being an originated Latina character in the Marvel Universe and an independent woman who finds her career later in life after she's become a mom. In animation, I don't think we see that often. And then Ella is one of the few women of color in STEM on TV, and I'm just so proud to represent a Latina scientist. And at one point she was, I think, the only Latina scientist character out of the 200-plus shows on the air at the time, which boggles my mind. So I think they're both, in their own way, trailblazers ... except in different directions.