Melissa Fumero Dishes On Her MODOK Role And What To Expect From Brooklyn Nine-Nine's Final Season - Exclusive Interview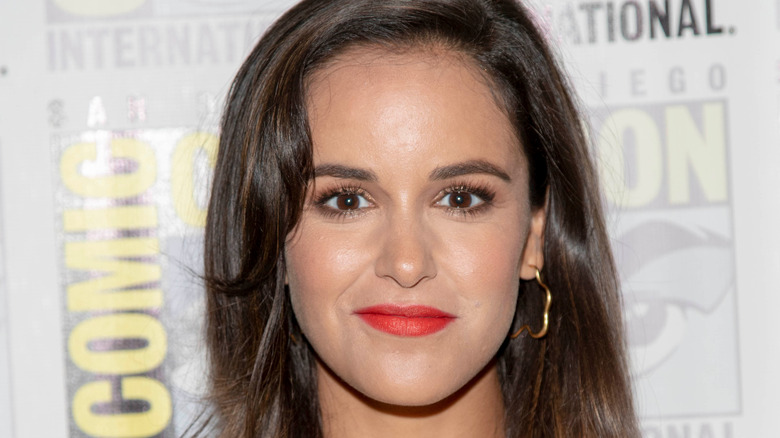 Shutterstock
Melissa Fumero may be best known as the hilariously ambitious police officer Amy Santiago on "Brooklyn Nine-Nine," but in 2021 she joins another memorable show, "Marvel's MODOK." The adult animated stop-motion series, which premieres on Hulu on May 21, follows egomaniacal supervillain MODOK — who has a giant head, tiny arms and legs, and a floating chair — as he struggles to meet the needs of his demanding family and maintain control of his evildoing organization after it's bought by a tech company.
Fumero plays MODOK's teenage daughter Melissa, who's popular among her peers but still desperately seeks her father's approval. In addition to Fumero, the series stars Patton Oswalt ("The King of Queens," "Agents of SHIELD") as MODOK, Aimee Garcia ("Lucifer," "Dexter") as wife Jodie, Ben Schwartz ("Parks and Recreation") as son Lou, Wendi McLendon-Covey ("The Goldbergs") as MODOK's arch-nemesis Monica, and various guest stars such as Jon Hamm as Iron Man.
In an exclusive interview with Looper, Fumero chatted about her role on "Marvel's MODOK," working with an all-star cast, and her feelings on "Brooklyn Nine-Nine" ending after eight seasons.
Melissa Fumero reflects on bringing her MODOK character to life and working with an all-star cast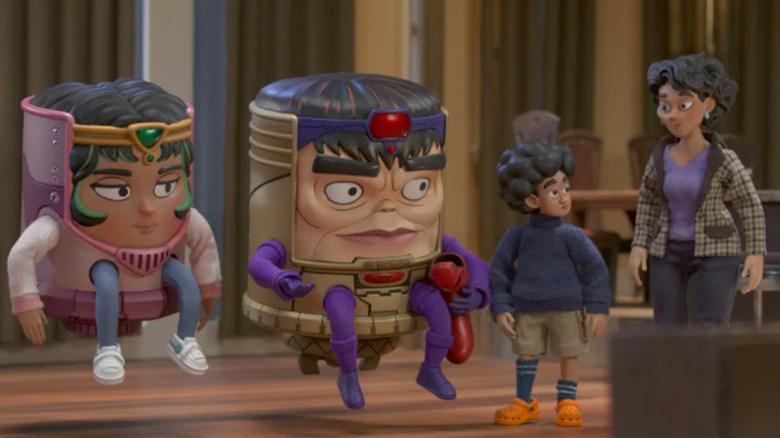 Hulu
You share the same name with your character, Melissa. Are there any other characteristics that you share with her?
Oh god, I hope not. [Laughs] Well ... I guess I hope I share her intellect and her ambition. I would say probably a lot of the other personality traits, not so much. She's not necessarily the kindest person. She aspires to be a supervillain, so that's not quite in my same wheelhouse.
Melissa is kind of the polar opposite of her brother Lou — a bit more grounded, if you can say that, and focused on helping her father navigate his many issues. And there's an underlying current of her always looking for MODOK's approval. What's the key to making a disgruntled, deadpan teenager funny?
Honestly, Patton and [creator] Jordan [Blum] and our writers made my job really easy because the scripts were so fire and so funny and it really was there for me in the words. I think that there are elements of her teenage personality that any of us could relate to: seeking approval, wanting to know who you are, being ambitious, and thinking of the future. Those are all sorts of things that I think we can easily tap into, but it really was there in the writing. She was really clear-cut from the beginning. I could read it, and I was like, I know this girl, I know who she is. And then it was just having fun with it and playing with the levels and finding what she sounds like exactly.
MODOK is as much of a "family show" as it is a comic book/supervillain series. What is your favorite part of the family dynamic on the show?
I love that their dynamic is obviously they care about one another and they love each other through a lot of dysfunction. They live in a different world than most people. They're surrounded by crazy circumstances. They have a really different point of view — they're really okay with everything that MODOK does, and they're proud of him for being a supervillain, which is different. So it's really fun to kind of observe a family like that and see where some of their issues could be very common. And then obviously some of their issues are not, but I feel like it's definitely a family dynamic we haven't necessarily seen before. So it was really fun to dive into that.
Now obviously an animated series films much differently than live action, but I have to assume that part of the appeal of the show to you was working with such an all-star cast. Did you have any particularly funny or memorable moments with Patton or Wendi or any of the other cast members?
No. I mean yes and no. We had table reads, which isn't always common for an animated show, and they were so, so fun. I wasn't able to go to all of them because I was shooting "Brooklyn Nine-Nine" at the same time that we were recording. But I love Patton. Obviously he played a very, very funny fire chief in a couple episodes of "Brooklyn Nine-Nine" who was like our arch-nemesis. So I met him years ago and I'm a huge fan of him as a person and as a comedian, and was so stoked to be part of this with him. It was really fun to see him again.
I also have known Aimee now for a few years and it was so fun to have another Latina there to geek out and be like, "Oh my god, can you believe this is happening?" Because there aren't a ton of Latinas in the Marvel Universe, so we were both really excited about originating two characters that were Latina. Plus, we're friends, so it was just fun.
I didn't get to see Wendi because I'm pretty sure she was shooting "The Goldbergs." And I also kept missing Ben Schwartz [who plays Lou] — he and I were like ships passing in the night. He would go to a table read that I couldn't go to and vice versa. And so I hope if we get to do more episodes that I get to spend more time with them and maybe get to record together too. Because I didn't get to record with anyone.
Melissa Fumero believes Brooklyn Nine-Nine's final season is 'firing on all cylinders'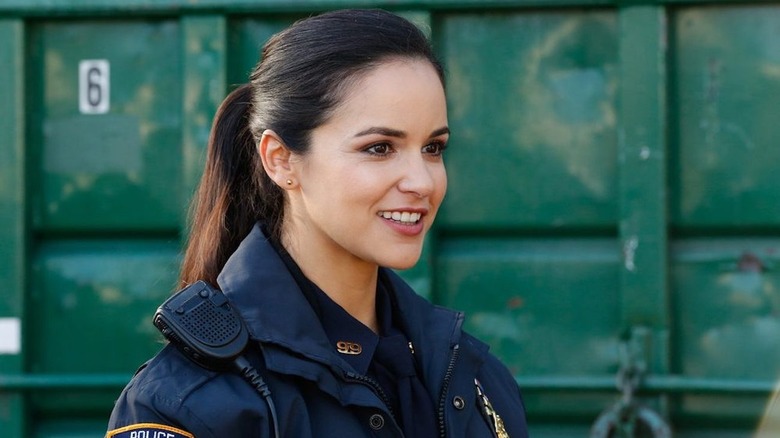 Your "MODOK" character has some similarities with Amy Santiago from "Brooklyn Nine-Nine." Do you see those similarities? And how did "Brooklyn Nine-Nine" prepare you for entering the Marvel Universe, which you are now officially part of?
Oooo! I'll never get tired of hearing that! But yeah, I guess I could see that. Like they're both really type-A kind of go-getters. So there are definitely some similarities there. I think in general, "Brooklyn Nine-Nine" and Amy Santiago prepared me for many things and many other roles. I joke that I feel like I've gone to this really elite comedy school for eight years because of all the amazing people I've worked with there. I've learned so much. So then to have something like "MODOK" come along, that is just as funny and operating on that same high level with the jokes, you feel prepared. You're like, "Okay, I know how to do this," which is a good feeling. And, yeah, it was just a really fun world to dive into. And like I said earlier, our writers and Jordan and Patton really, really hit it out of the park.
Speaking of "Brooklyn Nine-Nine," can you tell us a little bit about what to expect from the final season?
My lips are quite sealed, but I will say, the scripts have been amazing. I think it'll be equal parts the "Brooklyn Nine-Nine" you know, hilarious firing on all cylinders, fun and crazy and so silly, while also taking on certain things about the squad, about policing, I guess, and with also hints of the nostalgia, as well, throughout too. Definitely some callbacks, some really sweet moments filled with heart. So, I mean, they've really filled up this season with everything, and I think it's going to feel — I hope — really satisfying to our fans for the last victory run.
That show is like the little engine that could, you must be sad to see it go...
You know, it's really bittersweet. The timing feels bittersweet. It feels like the right time to end it, kind of going out while we still feel like we're on top. We're still making a really good show that we're proud of. We haven't overstayed our welcome. But obviously it's also really sad. I'm going to miss playing Amy. I'm going to miss seeing these people every day. I'm going to miss working with this cast who just continues to challenge me and make me a better actor and a better person. So it's really a lot of opposing emotions at once, but I'm really proud of the show, really proud of our run, really excited for people to see the final season and to celebrate with everyone. I'm trying to just focus on that, celebrate the show with everyone and our fans and take this victory lap.