Criminal Minds Fans Agree This Is The Saddest Pre-100 Hotch Moment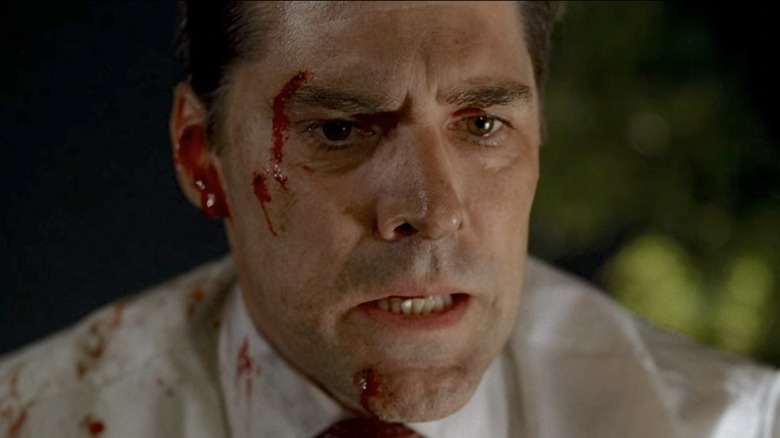 CBS
Aaron "Hotch" Hotchner (Thomas Gibson) was the stern yet sympathetic chief of the FBI's Behavioral Analysis Unit (BAU) in CBS's "Criminal Minds" for over 10 years, since the show's first episode in 2005. Over the course of his tenure on the show, Hotch had numerous tragedies that kept his character relevant even as he wasn't written to be as immediately loveable as some of his co-stars' parts.
Importance to the series aside, Gibson's character was quickly written out of the show when he was fired from "Criminal Minds" in 2016 after allegedly kicking writer and co-executive producer Virgil Williams in the shin, an incident that apparently fits into a pattern of aggressive behavior. Despite Gibson's behind-the-scenes volatility, fans still remember his character fondly, as Hotch was at the center of some of the show's most pivotal moments.
Hands down, the most tragic thing to happen to Hotch occurred in the Season 5 episode "100," where Hotch's ex-wife Haley (Merideth Monroe) is killed by The Reaper (C. Thomas Howell) after Hotch refused to make a deal to stop chasing the serial killer. It's one of the most memorable deaths in the series, as the entire BAU – including Hotch – listens in on Haley's final moments, unable to intervene.
Besides Haley Hotchner's death in "100," though, there have been quite a few traumatic scenes in "Criminal Minds" that Hotch has found himself at the center of. So, "Criminal Minds" fans took to Reddit to vote on their saddest pre-"100" moment to definitively choose his second-saddest moment. This is what they came up with.
This Criminal Minds episode was just Mayhem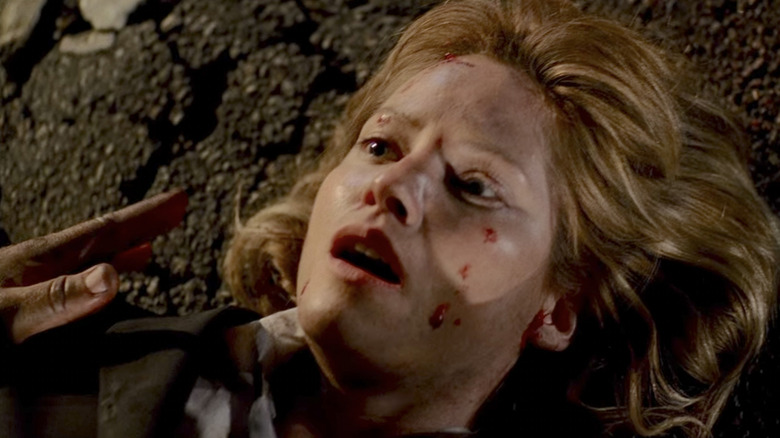 CBS
In the poll on r/criminalminds, Agent Hotchner's performance opposite Agent Kate Joyner (Sienna Guillory) in the first episode of Season 4, "Mayhem," won the title of Saddest Pre-"100" Hotch Moment with over one-third of the 915-vote total. In the finale of Season 3, "Lo-Fi," we learn that Hotch and Kate have a romantic past, and JJ (A.J. Cook) even turns to Garcia (Kirsten Vangsness) to comment that she's the spitting image of Haley, Hotch's ex-wife. The episode ends with various members of the BAU entering their black SUVs, and then one explodes, leaving the audience in suspense of who has fallen victim to the terrorists that the team is investigating.
With the close prior relationship between Hotch and Kate established, the events of "Mayhem" become all the more tragic. It is revealed that their car was the one targeted, and Hotch is injured and disoriented at the episode's start. He soon realizes that Kate must be seriously harmed, as he cannot find her. So, Hotch runs back to the SUV, only to see that Kate has been thrown far from the vehicle, onto the street, where she lies in critical condition. Hotch runs to her to help, and the two realize that she needs medical attention ASAP.
After the bomb had detonated, Hotch asked a civilian to call 911, but although police and paramedics arrive at the scene, they keep a distance because the BAU had previously warned that the terrorist group's goal was to cause a stir with a first strike, then take out first responders once they come to help. So Hotch is tragically left calling for help, to no avail, until one paramedic finally breaks protocol and comes to Kate's aid.
The paramedic, though, turns out to be a terrorist – as does the civilian who called 911 – and is using Hotch's vulnerability in the moment to infiltrate a hospital, where he can cause some major destruction. The events surrounding Kate's death rightfully rank as the second-saddest Hotch moment because he not only loses a past flame and an agent he respects, but he also plays right into the terrorist group's hand, despite his team's careful planning to avoid doing just that.