The Real Reason Garcia's Hair Turns Red In Criminal Minds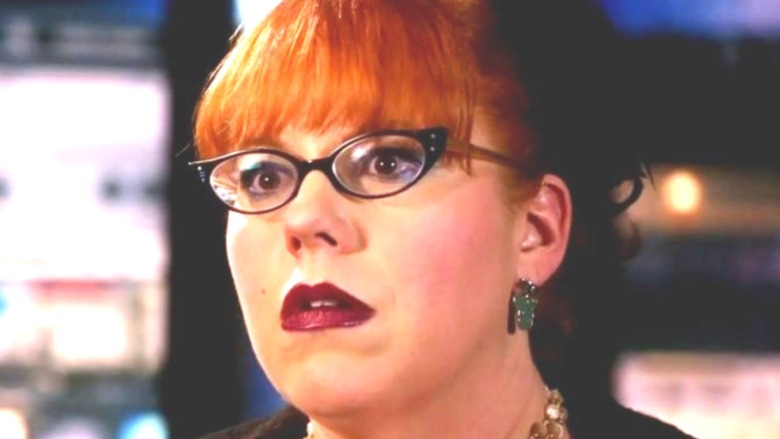 CBS
Kirsten Vangsness' "Criminal Minds" character, Penelope Garcia, has been a fan favorite since the beginning of the series thanks to her quick wit and flirty, fun demeanor. Fans weren't the only ones who loved her, either. Vangsness only initially signed on for a single episode, but ended up playing so well opposite Shemar Moore that the show's producers turned Garcia into a regular character. Ultimately, Penelope Garcia would light up the screen in all but one episode of "Criminal Minds" over the course of its 15 seasons.
One of Garcia's defining characteristics is her style. In loud prints, neat and colorful makeup, and bold accessories, Vangsness' character strikes quite a contrast with the rest of the gray-clad BAU. In addition to breaking up the visual monotony of the series, Garcia's style works so well because it matches her quirky personality, giving the character more depth. Her hair, in particular, tells a story — not only about the character, but also about the actress.
For the majority of the "Criminal Minds," Garcia is blonde, but randomly in the middle of Season 5, her hair turns red with no explanation. Vangsness first appears with red hair in Episode 12, "The Uncanny Valley," which aired January 13, 2010. Her hair stays red well into Season 6, before reverting to blonde in Episode 15, "Today I do," which aired February 16, 2011. These color changes aren't limited to a single season, and they have no relevance to the story. So why did Garcia spontaneously don an auburn mane in Criminal Minds? 
As it turns out, Vangsness' booming career outpaced the velocity of her stylist.
Kirsten Vangsness goes blood red for a vampy web series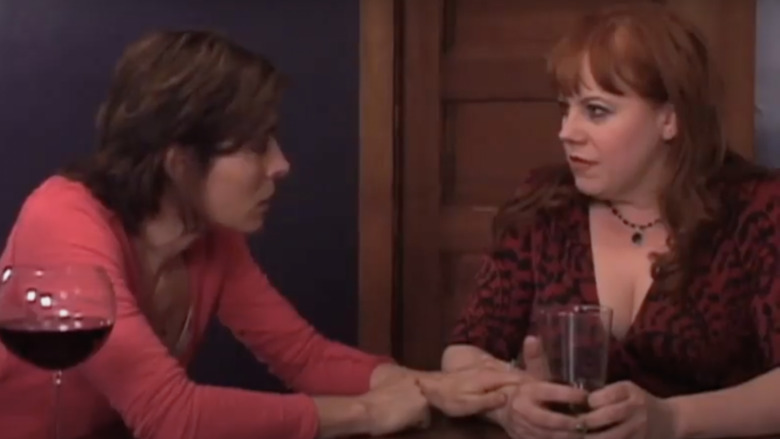 YouTube
The role of Penelope Garcia on "Criminal Minds" made Kirsten Vangsness a household name, and with more fame comes more acting gigs. 
In 2010, the actress and proud cat-lady joined the cast of a web series called "Vampire Mob," whose short episodes tell the story of a hitman vampire, Don (John Colella), and his wife, Annie (Reamy Hall), as they navigate their newfound immortality and taste for blood. Vangsness plays Laura, Annie's non-vampire sister who gets upset when Annie bites their mother so that they can spend eternity together. Vangsness' red hair first appears in the trailer for Season 1 of "Vampire Mob," posted March 24, 2010 — just a few months after the "Criminal Minds" episode where Garcia first appears as a redhead.
While the introduction of Garcia's red hair in "Criminal Minds" comes slightly before Vangsness' appearance as Laura in "Vampire Mob," the filming of the fifth season of "Criminal Minds" must've been concurrent with the web series. Taking into account the fact that production schedules vary, it is likely Kirsten Vangsness dyed her hair auburn for her "Vampire Mob" part, and just had to roll with it at her day job. The conflict worked in reverse the next season, when she returned to "Criminal Minds" blonde on "Vampire Mob."
Penelope Garcia wears both colors like a boss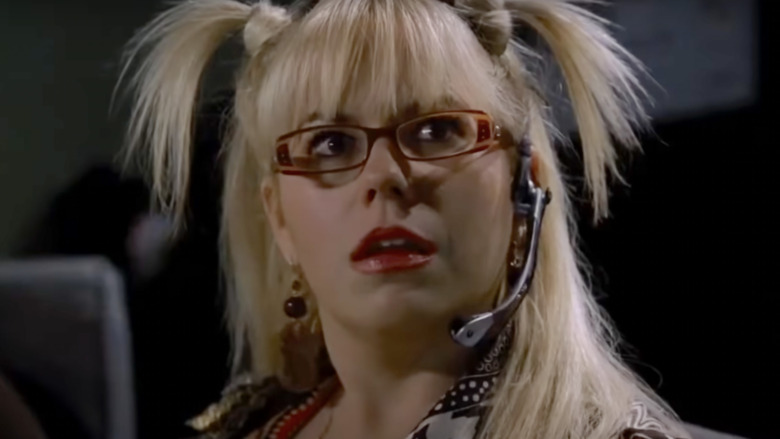 CBS
Vangsness juggling multiple roles might explain Garcia's red hair, but the sudden change didn't really hurt "Criminal Minds." Vangsness told Hollywood Outbreak, "I think that since I made [Garcia] ... with the help of the writers, they've let me collaborate constantly." 
This influence on the character's personality and style allowed Vangsness to get creative when the mood struck: "So, I colored it red and then I got bored with the red. Then I wore a blonde wig one day and I was like, 'I remember, I like this.' Then I go back to blonde." The beloved characteristics of Penelope — her flirtatiousness and quirky, colorful fashion — offer an easy explanation for the seemingly spontaneous changes to her hair color in Seasons 5 and 6. Most fans didn't even blink.
If any character can randomly change their appearance, it's Penelope Garcia.