The Break-Up Dramedy Hidden Gem Series You Can Catch On HBO Max
HBO
Although cable stations and streamers are starting to keep the pace, HBO has been the gold standard for groundbreaking original programming for the past couple of decades. With lauded dramas like "The Sopranos," "Game of Thrones," and "The Leftovers" in its past, and recent hits like "Watchmen," "Succession", and "Chernobyl" earning critical acclaim, HBO will likely not be ceding its original programming crown to another network any time soon. 
That's at least partially because those legendary series, among dozens of others, remain as endlessly re-watchable as any that have ever graced the small screen. And yes, fans of HBO's best-loved dramas have been binging away since those favorites landed on HBO's streaming service, HBO Max. They've been taking full advantage and revisiting some iconic HBO Original comedies, too. As a good laugh is always welcome these days, rewatches of classic comedies like the boundary-pushing "Girls," "Curb Your Enthusiasm," and "Veep" have never felt more essential. Ditto for in-production hits like "Barry," "The Righteous Gemstones," and "The Flight Attendant."
But if you've already binged and/or re-binged those beloved series and are on the hunt for a new show that'll tug at your heartstrings as much as it sledgehammers your funny bone, there's a little-seen comic gem set in New York's stand-up comedy scene that's worthy of your queue.
Crashing is a heartfelt series about stand-up comedy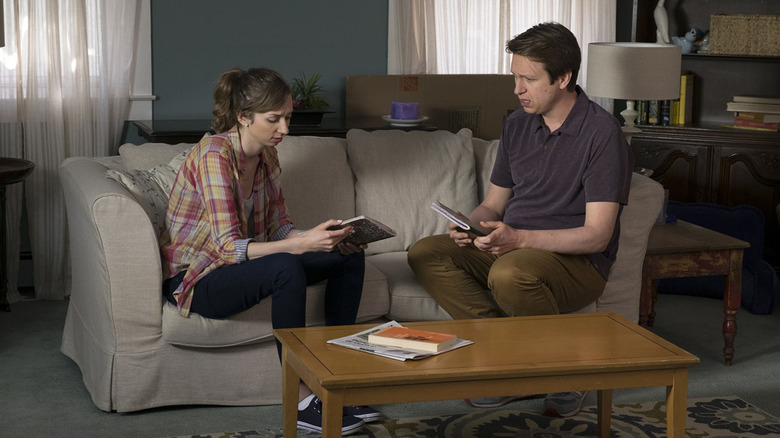 HBO
HBO's "Crashing" follows the trials of Pete Holmes, a devout Christian and wanna-be stand-up comedian whose life is thrown into flux when he discovers his wife (the great Lauren Lapkus) is having an affair. With his marriage stumbling towards an unceremonious end, and his schedule free from the shackles of anything resembling a day job, Pete heads to New York to chase his dream of making it big on the comedy scene. With no money and no place to stay, he ends up crashing at life and on the couches of any who'll have him.
Created by and starring Holmes himself, "Crashing" is loosely based on his own experiences in the stand-up world, most of which are the very definition of "cringe-worthy." The series debuted on HBO to raves in 2017, and continues to boast an impressive 90% Fresh rating at Rotten Tomatoes. The first two seasons of "Crashing" largely depict Pete in full meltdown mode, struggling at relationships, floundering spectacularly on the stand-up scene, and crashing on the couches of Artie Lange, Sarah Silverman, and Bill Burr. Along the way, he also has fateful encounters with Penn Jillete, John Mulaney, Dr. Oz, and fellow up-and-coming comedian Ali Reissen (Jamie Lee), with whom he begins a tumultuous relationship. 
As for Season 3 of "Crashing," it's pretty much perfect from start to finish, with Pete doing some much needed growing up and getting his first taste of the big time via a hilariously accidental opening gig for Mulaney. Season 3 also closes on a beautifully amorous note that serves as a pitch-perfect end for the show itself, which was cancelled soon afterward. "Crashing" remains a must-see series for comedy fans, who can now discover this hidden gem for themselves on HBO Max.