MODOK Stars Dish On The Importance Of Their Roles In The Marvel Universe - Exclusive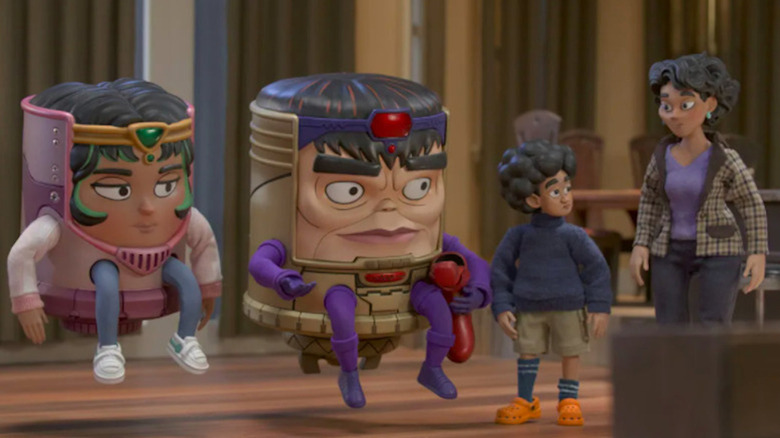 Hulu
Contains spoilers for Season 1 of "Marvel's MODOK"
When we think of Marvel, the company's name usually calls to mind the big-ticket superheroes: Spider-Man, Iron Man, Captain America ... the list goes on and on. But just as important to the Marvel Cinematic Universe are the MCU's villains. From Thanos to the Red Skull, the bad guys are what make the good guys look so virtuous. But what happens in the villains' lives when the big fight scenes are over? Where do they go? What do they do? Hulu's new show, "Marvel's MODOK," attempts to answer these questions with its titular egomaniacal supervillain.
The adult, stop-motion series follows MODOK — which stands for Mental Organism Designed Only for Killing — as he struggles to maintain control of his evildoing organization, after it's bought by a tech company, while juggling the needs of his demanding family. With a giant head, tiny arms and legs, and a floating chair, MODOK is one of the more memorable — if not previously underutilized — villains in the Marvel Universe. But "Marvel's MODOK," the first season of which is currently streaming on Hulu, isn't just groundbreaking because it delves into the backstory of one of the comic book world's most beloved evil oddities, it also introduces some much-needed diversity into the Marvel Universe.
Starring actor-comedian Patton Oswalt ("The King of Queens," "Agents of SHIELD") as MODOK, the series features a who's who ensemble cast, including Wendi McLendon-Covey ("The Goldbergs") — plus Jon Hamm as Iron Man and Whoopi Goldberg as Poundcakes. But where the series makes waves is with the inclusion of two Latina actors: MODOK's wife Jodie, voiced by Aimee Garcia ("Dexter," "Lucifer"), and his daughter Melissa, voiced by Melissa Fumero ("Brooklyn Nine-Nine"). Garcia and Fumero recently spoke about what it means to originate two Latina characters in the Marvel Universe during an exclusive interview with Looper.
Marvel's MODOK looks to break the mold of the traditional family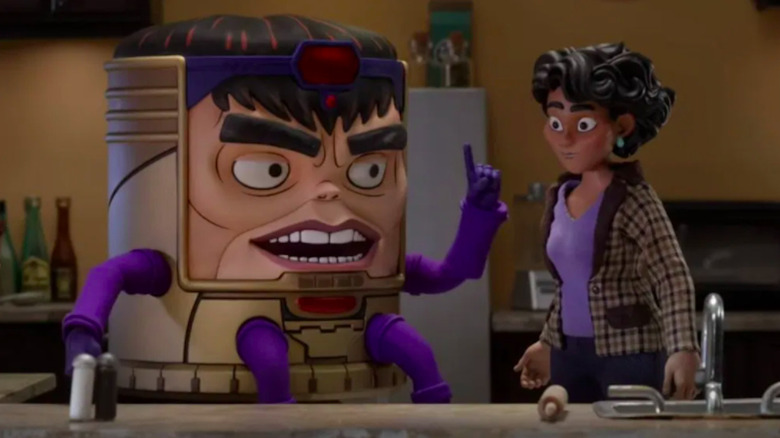 Hulu
While Latina characters are not entirely new to Marvel — see: Ava Ayala aka White Tiger and Anya Corazon aka Spider-Girl — they are still part of an underrepresented segment of society, something of which both Aimee Garcia and Melissa Fumero are well aware. When asked about working with such an all-star cast on "Marvel's MODOK," Fumero was quick to point out her bond with Garcia. "I have known Aimee now for a few years and it was so fun to have another Latina there to geek out with and be like, 'Oh my god, can you believe this is happening?!'" Fumero says. "Because there isn't a ton of Latinas in the Marvel Universe, so we were both really excited about originating two characters that were Latina. Plus, we're friends, so it was just fun."
Meanwhile, Garcia calls her character Jodie a "trailblazer," not just because she's a Latina in the Marvel Universe but also because she breaks the mold of the traditional wife and mother in animated sitcoms. "I felt very honored to originate a Latina character in the Marvel Universe," Garcia says, adding, "I had never seen an animated wife like her, where she has her own arc — she goes from housewife to supervillain [and is a] three-dimensional every-woman. She's a mom, she's a wife, she's an independent career woman, and she's also married to a supervillain. But she's not just saying, 'Yes honey, whatever you want, you can do whatever you want.' She found her independence later in life, which we never see, and obviously it bothers egomaniac MODOK."
The first season of "Marvel's MODOK" is now streaming on Hulu.