Why Jose Chavez Y Chavez From Young Guns Looks So Familiar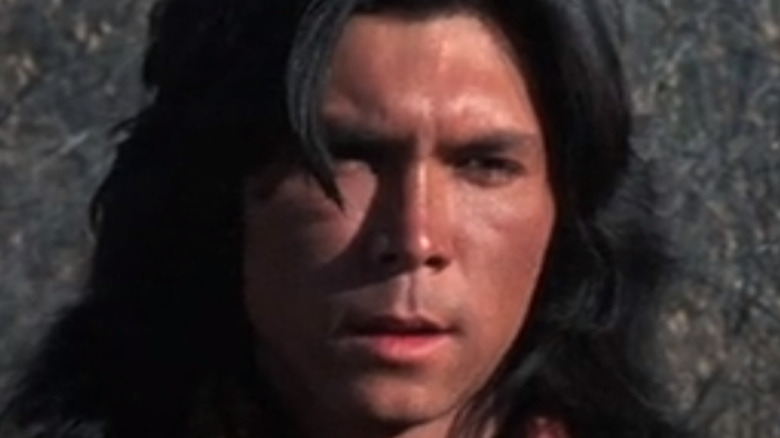 20th Century Fox
You can tell a lot about a person by the company they keep. "Young Guns" was far from the first Western with a star-studded ensemble, but loading a film with a cadre of famous faces, particularly this cadre of famous faces, definitely felt like a very '80s way to make a Western. The cast included Emilio Estevez as Billy the Kid; his brother, Charlie Sheen, as Dick Brewer; a third famous acting scion, Kiefer Sutherland, as Doc Scurlock; and a young actor, still relatively unknown, named Dermot Mulroney as Dirty Steve Stephens. With names like those attached, the fact that a young actor named Lou Diamond Phillips was brought into the ensemble to play the real-life outlaw Jose Chavez y Chavez, and given third billing no less, was a sign that Hollywood foresaw a bright future for him. 
The strategy worked, for the film and for Phillips. Despite a lackluster reception from critics, the film made nearly five times its budget at the box office, and Estevez, Sutherland, and Phillips all returned for "Young Guns II" in 1990. Phillips told Looper earlier in 2021 he still gets plenty of fan recognition from playing Chavez y Chavez, but like his co-stars, his career was far from over when he hung up the saddle. Here are some of the films from which you might recognize Phillips.
Phillips played a rock legend in La Bamba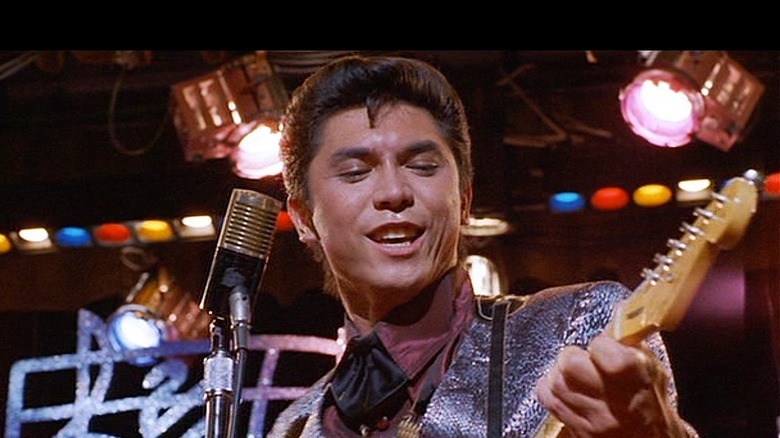 Columbia Pictures
Lou Diamond Phillips' breakout role in Hollywood came just one year before he rode with the "Young Guns," when he played Chicano rock pioneer Ritchie Valens in the 1987 music biopic "La Bamba." Valens –– known as Richard Valenzuela when not performing –– rocketed to music stardom as a 17-year-old high school student after being discovered while performing in Southern California. His single "Donna" reached No. 2 on the charts, though posterity would best remember the other side of that record, a rock version of a Mexican folk song that would give the film its title.
In the film, Valens' musical talent can't insulate him from trouble at home: a rocky relationship with his half-brother, Bob Morales (Esai Morales) and a girlfriend whose parents don't approve of her dating a Mexican-American. While touring with Buddy Holly (Marshall Crenshaw) and other acts, a plane carrying Holly, the Big Bopper (Stephen Lee), and Valens crashed, killing all three, an event that became known as "The Day the Music Died." Phillips didn't originally intend to audition for the role of Valens; he thought he was going out for the part of the brother, Bob, and remembers with trepidation the day he was told he'd be the lead, and how he managed to talk himself into it. "I thought, 'Oh, I am Ritchie," Phillips told Yahoo in April. "An unknown kid from the sticks with a big dream to become an actor in film and television. I thought, 'This is me translated through the lens of the '50s and rock 'n' roll as opposed to movies.'"
He got grilled by Denzel Washington in Courage Under Fire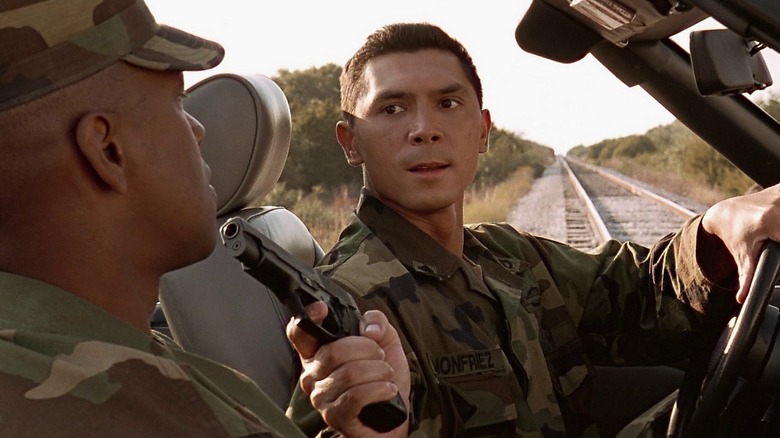 20th Century Fox
In 1996, Lou Diamond Phillips joined the impressive ensemble cast of the war drama "Courage Under Fire." Edward Zwick's film follows Lieutenant Colonel Serling (Denzel Washington), an Army helicopter pilot who's transferred to a desk job after his involvement in a friendly fire incident. His latest task is to investigate the inconsistent testimonies provided by the crew of another army pilot, Captain Karen Walden (Meg Ryan), who was killed when her helicopter was shot down while on a rescue mission and is up for the Medal of Honor.
Phillips plays the misogynistic Staff Sergeant John Monfriez, the biggest naysayer among those involved in the incident. According to Monfriez, it was his idea, not Walden's, to destroy an enemy tank by dropping a fuel bladder onto it and igniting it with a flare gun, and that the pilot was ultimately a coward. This doesn't track with what Serling has heard from the others, though, and after another round of grilling from him, Monfriez commits suicide. With pressing from Serling, the helicopter's medic, Andrew Ilario (Matt Damon) finally tells the truth: Monfriez wanted to flee and abandon the wounded, and wound up pulling a gun on his commanding officer. She fired her weapon behind him at an enemy combatant, but Monfriez misjudged her action and shot her.
Lou Diamond Phillips played an arrogant commander on Stargate Universe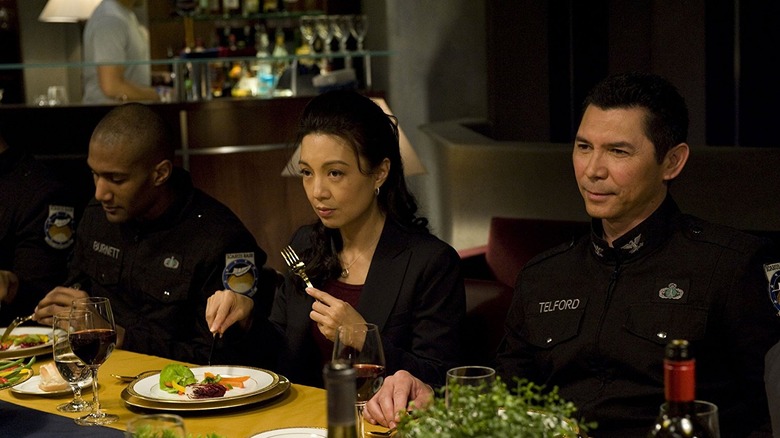 MGM Television
"Courage Under Fire" wouldn't be Lou Diamond Phillips' last time playing a military man; in 2009 he took the role of Colonel David Telford on "Stargate Universe." Telford is actually left behind in the accident that sends a contingent of soldiers, scientists, and other personnel to a ship built by the Ancients distant galaxy, a fact that leaves him seething and scheming how to get onboard or otherwise take control of the ship, often through the use of the Ancients' communication stones that swap the minds of participants into each others bodies, allowing him to be on Destiny while inhabiting someone else's physical form.
Much of Telford's motivations would come to make sense after it's revealed he's a brainwashed agent of the Lucian Alliance who's meant to be helping that hostile force reach Destiny. He's caught up in his guilt over the fact that he was an enemy agent. In the end though, the real Telford proves less evil but still pretty antagonistic to the likes of Dr. Nicholas Rush (Robert Carlyle) and Destiny's captain Colonel Everett Young (Louis Ferreira).
Lou Diamond Phillips played a sheriff's unofficial deputy on Longmire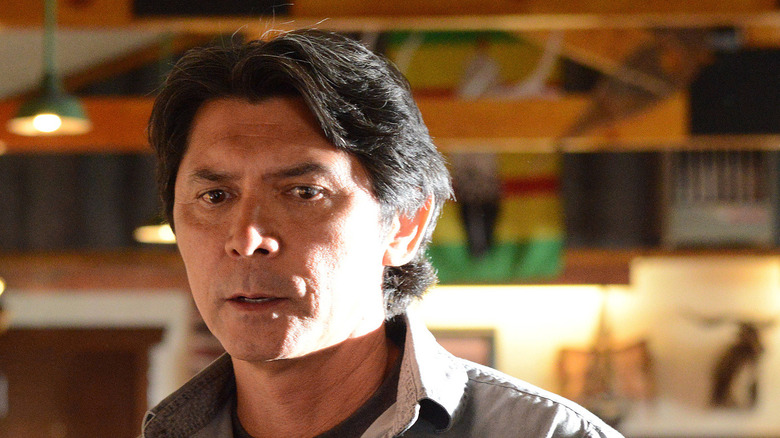 A&E/Netflix
In 2012, Lou Diamond Phillips returned to Westerns to play the role of Henry Standing Bear on A&E's Wyoming-set crime drama "Longmire." Henry is the best friend, confidante and sometime assistant to Walt Longmire (Robert Taylor), the sheriff of fictional Abrasoka County, who is withdrawing into his grief after the murder of his wife when the series begins. Their closeness means Henry becomes a prime suspect after her murderer is discovered buried in a shallow grave, and he spends parts of Season 2 and 3 either in prison or out on bail for the murder, until Walt finds evidence that clears him. Longmire would run for six seasons total, and Phillips-as-Henry would be there for all them, despite getting shot, getting kidnapped, and turning into a vigilante for the people on the Cheyenne reservation. 
As for playing a member of the Cheyenne on the show, Phillips, told Cowboy & Indian magazine in 2012 that he saw the opportunity to play a wide variety of different ethnicities in his career, from Latinos to Native Americans to the King of Siam in a Broadway revival of "The King and I," as "a huge honor for me...This diversity is our country's quilt, and I'm certainly a representative of this ever-changing multicultural landscape."
He was a father figure on Prodigal Son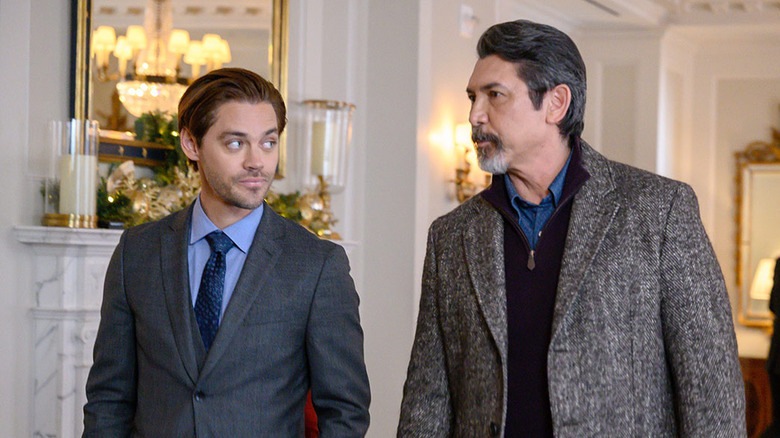 Fox
In 2019, Lou Diamond Phillips took his experience playing the grounding force to an unstable law enforcement officer to Fox for its new series, "Prodigal Son." It's Phillips' NYPD Lieutenant Gil Arroyo who hires series protagonist Malcolm Bright (Tom Payne) after Malcolm has been fired from the FBI. Malcolm is a gifted profiler, helping to solve crimes by putting himself in the heads of killers, which may have something to do with the fact that he's the son of a notorious serial killer himself, Martin Whitly (Michael Sheen), whom Gil arrested years before the series is set.
Since then Gil has served as a father figure and mentor for Malcolm, and is often the person vouching for him when his behavior and skills isolate him from his suspicious colleagues. He also gets romantically involved with Malcolm's mother Jessica (Bellamy Young) at the end of the first season.
Unfortunately for Phillips, Fox announced ahead of the season finale that Season 2 of "Prodigal Son" would be the show's last, which apparently caught the actor off-guard. He tweeted in the aftermath, "Wow. Gutted. Didn't see that one coming. Might be taking a few days away from the platform#Prodigies. Just know that you have been the most wonderful, entertaining, brilliant fan base I have ever encountered. Much Love."