The Movie Like Hunt For The Wilderpeople Comedy Fans Need To See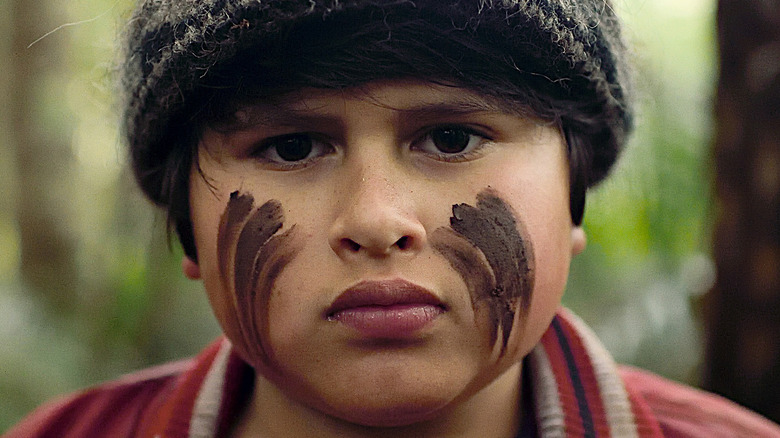 Piki Films/Madman Entertainment/The Orchard
These days, Taika Waititi is best known either as the man who saved the Marvel Cinematic Universe's underwhelming "Thor" franchise from ruin with 2017's brilliant "Thor: Ragnarok," or as the Academy Award-winning writer of 2019's Nazi-Germany-set dramatic farce "Jojo Rabbit." While those recent projects certainly helped posit Waititi as an undeniable A-list director, the New Zealand native has actually been chugging away at the movie game for 14 years now. Even as Waititi's unique sense of dramatic quirk continues to play in blockbuster land, some of his best big-screen moments have come via much smaller films. 
Case in point: 2016's riotous indie dramedy "Hunt for the Wilderpeople." Set largely in the wilds of the New Zealand bush, "Hunt for the Wilderpeople" tells the story of Ricky Baker ("Deadpool 2" star Julian Dennison), a wayward teen orphan from the city who's shipped off to the sprawling New Zealand countryside to live with his foster parents Bella (Rima Te Wiata) and Hec (Sam Neill). After a period of adjustment and encouragement from his doting foster mother, Ricky comes to love the country life. But when Bella unexpectedly dies, leaving the cantankerous Hec in charge, child services show up to take Ricky back to the orphanage. Unwilling to return, Ricky runs off into the bush, and a hilarious, surprisingly heartwarming adventure ensues.
"Hunt for the Wilderpeople" is about as singular a cinematic treat as has ever been created. But if you've already seen it and are desperate to track down a flick with a similar vibe, you wont have to look further than Waititi's own oeuvre.
Boy is another hilarious and heartfelt tale of fathers and sons from Taika Waititi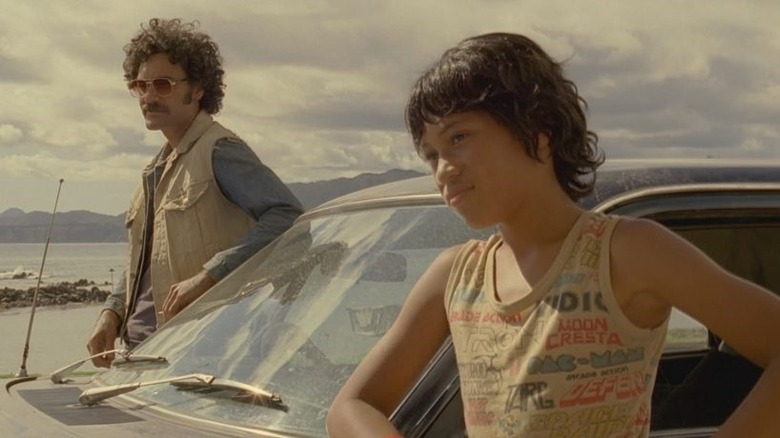 Unison Films
Taika Waititi's 2010 film "Boy" — which he both wrote and directed, just like he did with "Hunt for the Wilderpeople" — tells another tale of an unconventional family and a complicated paternal relationship that unfolds in a slightly off-radar region of New Zealand. Though the two films have overarching similarities, Waititi spins a very different sort of story with "Boy."
Taking place mostly in the Waihau Bay area of New Zealand's Eastern seaboard and set in 1984, "Boy" centers on 11-year-old Alamein, aka Boy (James Rolleston), a kind-hearted pre-teen who lives on a farm with his Nan (Mavis Paenga) and kid brother Rocky (Te Aho Eketone-Whitu). Boy spends his days talking to his pet goat, hanging out with his pals, crushing on a pretty local girl, and worshipping at the altar of Michael Jackson. But when his Nan is called away to Auckland, Boy is left in charge of the household, and is both shocked and delighted at the sudden reappearance of his long-lost father, also named Alemain (played by Waititi).
Unbeknownst to Boy, however, Alemain is freshly released from prison. He's only back on the farm to find a bag of money he buried before being arrested — a fact that eventually complicates the father-son reunion. 
With "Boy," writer-director Waititi fully indulges in all the kooky hijinks, acutely observed humanity, and low-key cinematic style we've come to expect from his work. And that all makes "Boy" a killer double-feature pick alongside "Hunt for the Wilderpeople."