The Character Everyone Forgets Sarah Paulson Played On Grey's Anatomy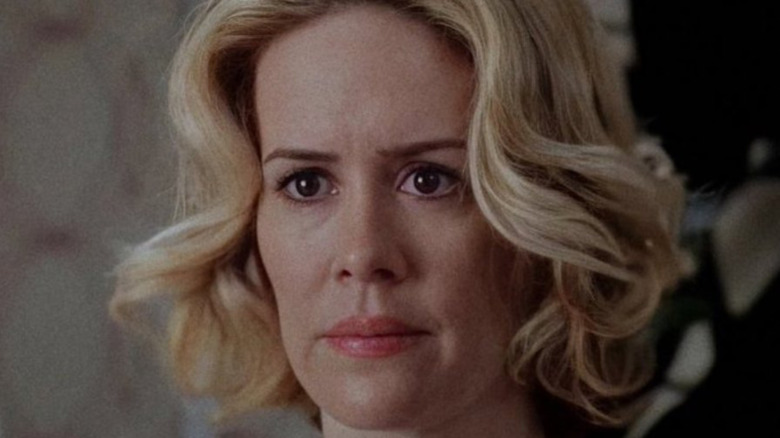 ABC
Sarah Paulson is one of television's most lauded and beloved actresses, but even some of her biggest fans might forget about her single-episode turn on this long-running medical series.
After getting her start with small roles in movies like 2005's "What Women Want" and larger roles on television shows like "Studio 60 on the Sunset Strip," Paulson gained huge fame and acclaim in her first collaboration with creator Ryan Murphy, joining him for a small part in the first season of "American Horror Story" in 2011. After that, Paulson took even bigger roles in future seasons of "AHS," eventually winning her first Emmy Award thanks to her work as real-life prosecutor Marcia Clark in Murphy's first season of his anthology "American Crime Story," titled "The People v. OJ. Simpson."
However, before she joined forces with Murphy — who would center her in her own villain origin story, "Ratched," in 2020 — Paulson appeared as the younger version of one of the most infamous characters on ABC's popular medical series "Grey's Anatomy." Here's the vital character that everybody forgets Sarah Paulson played on "Grey's Anatomy" in 2010.
Sarah Paulson played one of Grey's Anatomy's most legendary surgeons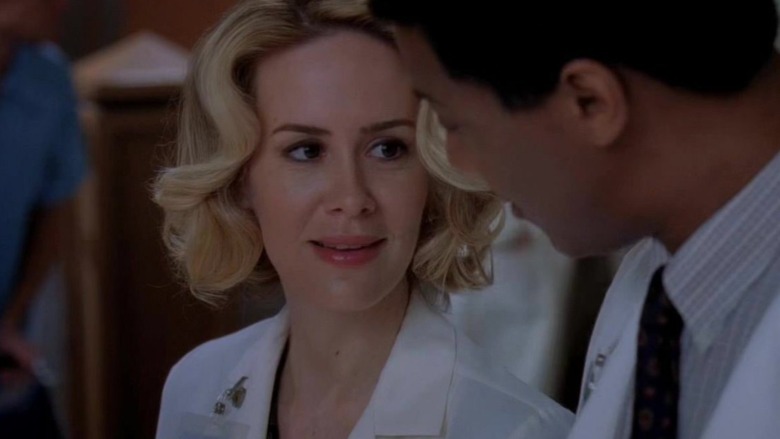 ABC
Throughout "Grey's Anatomy," one figure looms large over the series' main character, Meredith Grey (Ellen Pompeo) — her famous mother, Ellis Grey. Played in the show's present narrative by Kate Burton, Ellis was once a famous, award-winning general surgeon who left huge shoes for her daughter to fill... and whose life and mental acuity are ultimately cut short by early onset Alzheimer's disease.
However, in the Season 6 episode "The Time Warp," a different actress takes on the legend that is Ellis Grey: Sarah Paulson. When Seattle Grace Mercy West Hospital revives a hospital lecture series, the former Chief of Surgery, Richard Webber (James Pickens, Jr.) tells a story about working with a young Ellis Grey, played by Paulson (with the younger version of Richard played by J. August Edwards). While the two married surgical residents carry on an affair with each other — an affair that has a huge effect on Meredith's life and the rest of the "Grey's Anatomy" storyline — Ellis and Richard also struggled as a female and Black surgical resident, respectively, in a hospital dominated by white men at the time. When the two end up treating a patient with a disease once called GRID... though, years later, it would be renamed as AIDS, and try to help a man suffering from social stigma and a life-threatening disease all at once.
Paulson is a perfect addition to this flashback storyline on "Grey's Anatomy," which gives audiences a rare glimpse of Ellis — pre-Alzheimer's — at work, as well as a young Meredith in a brief moment where her workaholic mother pushes her aside in favor of her career. All in all, Paulson's turn as Ellis Grey reminds fans just why the surgeon was such a legend, and why her diagnosis later in life is even more tragic as a result.
You can stream "Grey's Anatomy" on Hulu and Netflix now.