New Loki Clip Will Crack You Up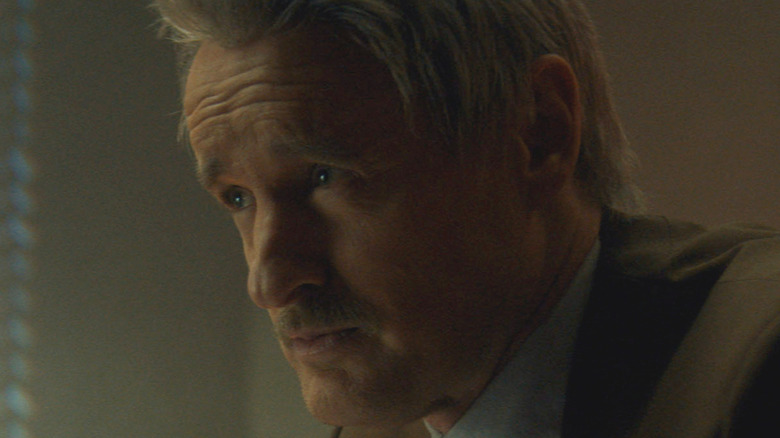 Marvel Studios/Disney+
A new clip from Marvel Studios' "Loki" series sees the relationship between the MCU's God of Mischief (Tom Hiddleston) and Mobius M. Mobius (Owen Wilson) getting off to an interesting start. The upcoming series will be the third Disney+ title from Marvel Studios to date, coming off the releases of "WandaVision" and "The Falcon and the Winter Soldier" earlier this year. Both of those shows proved to be hugely popular and were critically acclaimed, and Marvel no doubt hopes to keep the success of its Disney+ series going with "Loki." Fortunately, there's very little reason to believe "Loki" won't be just as enjoyable and refreshing an addition to the Marvel Cinematic Universe as its two predecessors.
Created by Michael Waldron, "Loki" follows the version of the God of Mischief that escaped with the Tesseract during the time heist in 2019's "Avengers: Endgame" once he is picked up by the TVA (Time Variance Authority) and forced to help the organization fix the time stream that he supposedly helped fracture. Hiddleston and Wilson are set to lead the series' ensemble cast and, now, Marvel fans have a new idea of what to expect from these characters' unique relationship in the series.
Loki just loves to talk in the new clip from Marvel's upcoming Disney+ series
Marvel Studios has unveiled a brand new clip from "Loki" that runs just a little over a minute long and shows the full elevator conversation between Tom Hiddleston's Loki and Owen Wilson's TVA Agent Mobius M. Mobius, a sequence that has already been teased in previous "Loki" trailers. The clip notably begins with Mobius telling Loki that he was just taken from somewhere he would have been killed, which could be a reference to the desert landscape Loki appears to land in immediately after escaping with the Tesseract in "Avengers: Endgame." From there, the clip shows Loki explaining who the TVA are — an organization dedicated to protecting the "sacred timeline" — and how they were created by the Time-Keepers, who Loki derisively describes as "three space lizards." The characters' exchange takes up most of the clip's runtime, and given the expositional nature of the dialogue, it's probably safe to assume that the scene takes place fairly early on in the "Loki" pilot, as a way to quickly spell out what the TVA is for viewers watching at home.
The scene also successfully showcases Loki and Mobius' playfully combative banter and works to establish the latter as someone who can keep up pretty well with the notoriously sharp-witted God of Mischief. Previous "Loki" trailers have already teased Mobius and Loki's working relationship pretty heavily, but this clip just further proves how immediately likable and entertaining their bond is. The good news is Marvel fans only have to wait a few more weeks before getting to see the full scope of Mobius and Loki's relationship, when "Loki" makes its premiere on Disney+.