Small Details You Missed In The New Loki Trailer
Everyone's favorite trickster god is back in a brand-new trailer for his own Disney+ streaming series. 
On Monday, April 5, Marvel released the official trailer for Loki, starring Tom Hiddleston as the titular character. The show, set to debut on Disney+ on June 11, follows Loki after the events of 2019's Avengers: Endgame, in which an earlier-timeline version of the character stole the Tesseract and escaped. As fans know, the actual Loki died at the start of Endgame, when his plans to pull a fast one on Thanos (Josh Brolin) backfired and ended in the giant purple Titan choking Loki to death in front of his adoptive brother Thor (Chris Hemsworth) and various other Asgardian refugees. This version of Loki, however, doesn't seem to be the somewhat-reformed baddie with a heart of gold that he was went he died: Loki in his upcoming show appears to be the backstabbing, manipulative villain viewers loved to hate and hated to love in 2012's The Avengers. 
Loki will see Hiddleston's character bouncing through human history and altering events of the past after a timeline-monitoring organization brings him into custody and watches his every move. With so many time periods to explore, so many chances for things to go wrong, and so many tricks up Loki's sleeve, it's no surprise that the series' official trailer features a hefty serving of Easter eggs and references to identify and unpack. Let's break down the small details you may have missed in the new Loki trailer.
What is the TVA?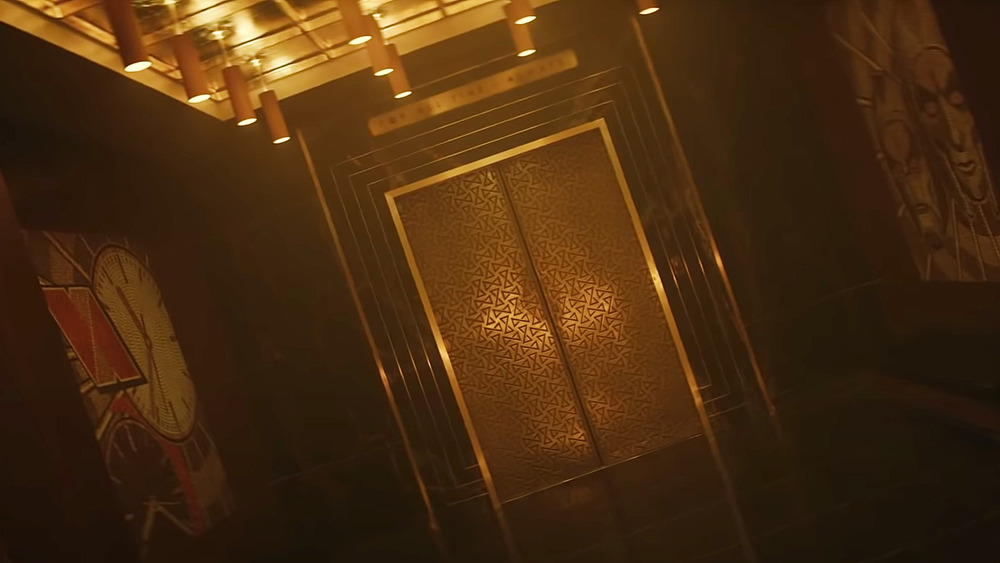 Marvel Studios/Disney+
From the looks of the trailer, it's clear Loki is going to be working closely with the Time Variance Authority (aka the TVA), despite him clearly not enjoying the forced collaboration. In the trailer's opening moments, Mobius explains to the notorious trickster that the moment he picked up the Tesseract in Avengers: Endgame, he disrupted the natural flow of time. That's where the TVA comes in. But what is the TVA?
The members of the Time Variance Authority are essentially time cops who are in charge of ensuring all the various timelines in the Marvel universe stay on track. As Loki points out, they are an extremely bureaucratic body, and their introduction in the comics was more than a bit tongue-in-cheek on the part of Walt Simonson and Sal Buscema, who are responsible for the TVA's first appearance in 1986's Thor #372. In the comics, all of the Managers — mid-level clones — are drawn to look like the late Mark Gruenwald, a writer and editor whose wealth of Marvel knowledge was unmatched in his lifetime. 
It looks like Loki may have ditched the clone element (although Owen Wilson does bear a passing resemblance to Gruenwald), but the general vibe and purpose of the TVA remains unchanged: They must keep the expansive Marvel multiverse from getting too convoluted. And that's good news for new and seasoned Marvel fans alike, because the presence of the always-meta TVA generally leads to some fascinating — and trippy — stories.
Say hello to the Time-Keepers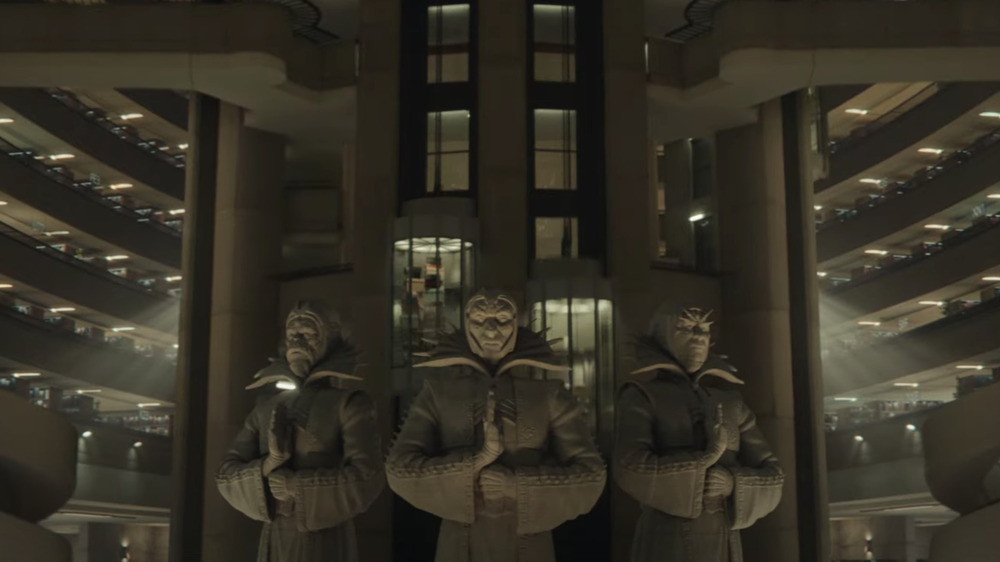 Marvel Studios/Disney+
At the 11-second mark of the new Loki trailer, one can spot tall stone statues inside the Time Variance Authority building. Just a few seconds later, at the 18-second spot, you'll see large wooden faces carved into the walls behind what looks like the TVA building's front desk. These three beings are actually pretty major when it comes to Marvel Comics, as they represent the Time-Keepers.
First appearing in Thor #243, the Time-Keepers were three entities created by He Who Remains, the last director of the Time Variance Authority. The purpose of the Time-Keepers is twofold: to teach those in the current cycle how to avoid mistakes of the past, and to ensure retired TVA employees maintain a good quality of life. Of course, they strayed from their designated course and traveled back in time in order to seek answers behind the creation of the universe, and caused all kinds of issues and destruction during different timelines.
In the Loki trailer, the statues of the Time-Keepers are standing with their right hands in the praying position at their hearts' center, and their left hands balled in a fist beneath their right wrists. It should be noted that the designs of the Time-Keepers in Loki are slightly altered from how they appear in the pages of Marvel Comics. In the series, the Time-Keepers appear to have more humanoid faces than the alien-like appearances they have in the comics.
"The Time-Keepers have built quite the circus," Loki says in the trailer. Whether he's referring to the actual beings themselves or the TVA as a whole at that moment remains to be seen, but he seems to have an understanding that all is not as it seems with the agency.
Owen Wilson's Marvel-ous debut as Mobius M. Mobius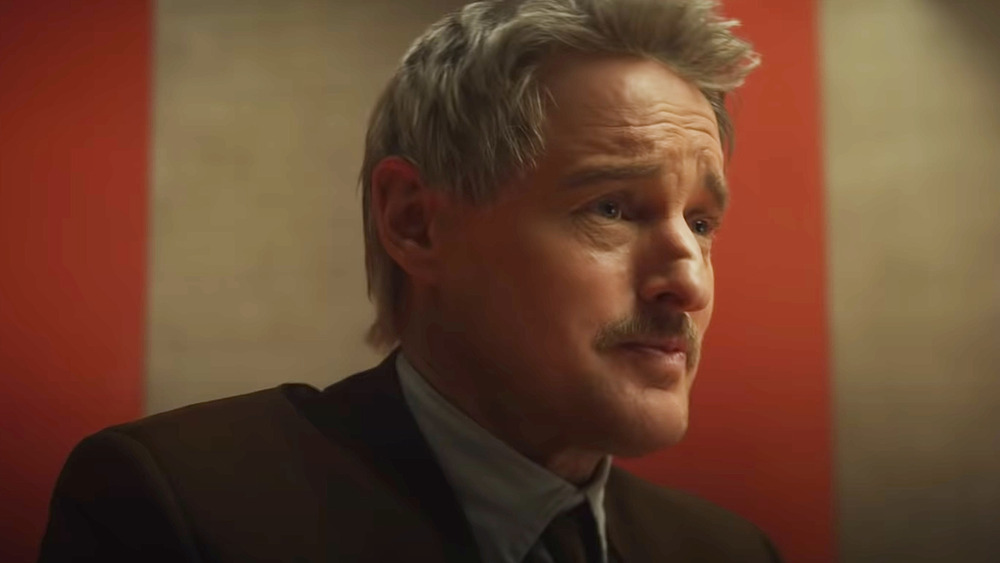 Marvel Studios/Disney+
There's plenty to get excited about in the new Loki trailer, especially when it comes to a huge movie star joining the Marvel Cinematic Universe. For the first time, fans get to meet Owen Wilson's Loki character: Mobius M. Mobius, a Manager (meaning he's a mid-level clone, as previously mentioned) within the Time Variance Authority who appeared in the original Marvel comics. From the looks of it, Wilson's Mobius will be an integral part of Loki, teaming up with the Asgardian trickster to help restore reality and fix all the wrongs Loki created after he stole the Tesseract. Even in the trailer alone, Hiddleston and Wilson's banter is second to none, so fans have a lot to look forward to.
Beyond Wes Anderson's unreleased project The French Dispatch, Wilson hasn't been spending much time on the big or small screen lately, making Loki a welcome return for the talented performer.
The cat that could be more than just a cat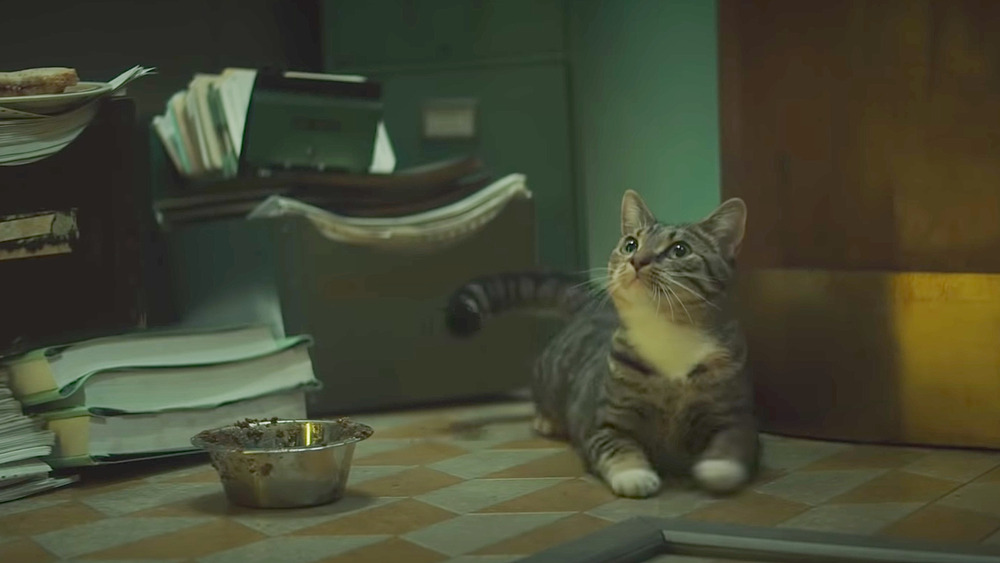 Marvel Studios/Disney+
As Loki is taken captive by the Time Variance Authority, he's ejected into a strange, drab office, where he's asked to sign an enormous stack of paperwork to "verify everything" he's ever said in his existence. As he drops into the room, a cat, laying next to its bowl, looks curiously at Loki — and even backs away from him a little bit. The inclusion of a cat in the new Loki trailer might seem innocuous to a casual Marvel fan, but in this world, cats are rarely what they seem at first glance.
Captain Marvel fans know that this cat could very well be a Flerken, a feline-like alien creature capable of some pretty impressive — and disgusting — digestive feats. It could also be a clever reference to a "Cat Thor" of Marvel comic lore; at one point, Loki transforms into Cat Thor to make Nancy Whitehead, Squirrel Girl's best friend, smile. In any case, after Captain Marvel's Goose turned out to be much more than a simple cat, there's a chance that this cute little kitty holds some big secrets. Or it could just be an adorable animal that fans can fawn over. Either way, we're not mad about it.
Gugu Mbatha-Raw is making her MCU debut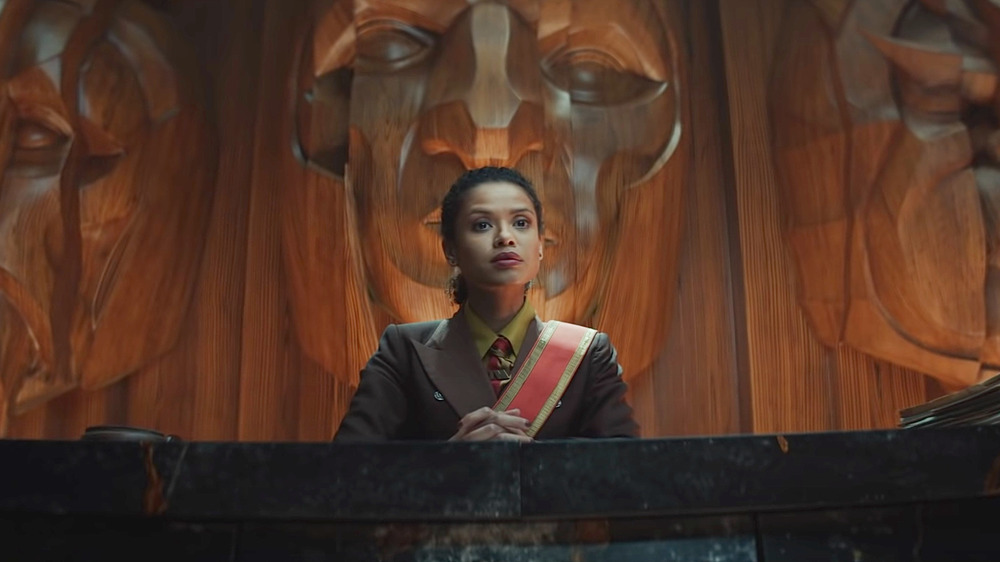 Marvel Studios/Disney+
Loki will clearly have to answer to the Time Variance Authority throughout his series, and the minds behind Loki have assembled a pretty great cast to play these time cops — including British actress Gugu Mbatha-Raw, who seems to be portraying a high-ranking member of the organization. As of this trailer, there's not a lot of information about Mbatha-Raw's Loki character, but it's safe to assume she'll play a fairly big role in the series.
If Mbatha-Raw looks familiar, that's no surprise. She's been a steady force in Hollywood lately, starring in Apple TV+'s The Morning Show, lending her voice to Netflix's sadly short-lived The Dark Crystal: Age of Resistance, and appearing in the 2020 British comedy Misbehaviour. You probably also remember her moving turn in the fan-favorite Black Mirror episode "San Junipero," one of the anthology series' more optimistic installments. Given her talents and diverse range, Mbatha-Raw is a great choice to add to the Loki cast, and fans will have to wait and see how her character tangles up with the trickster god.
The action outside — and inside — Roxxcart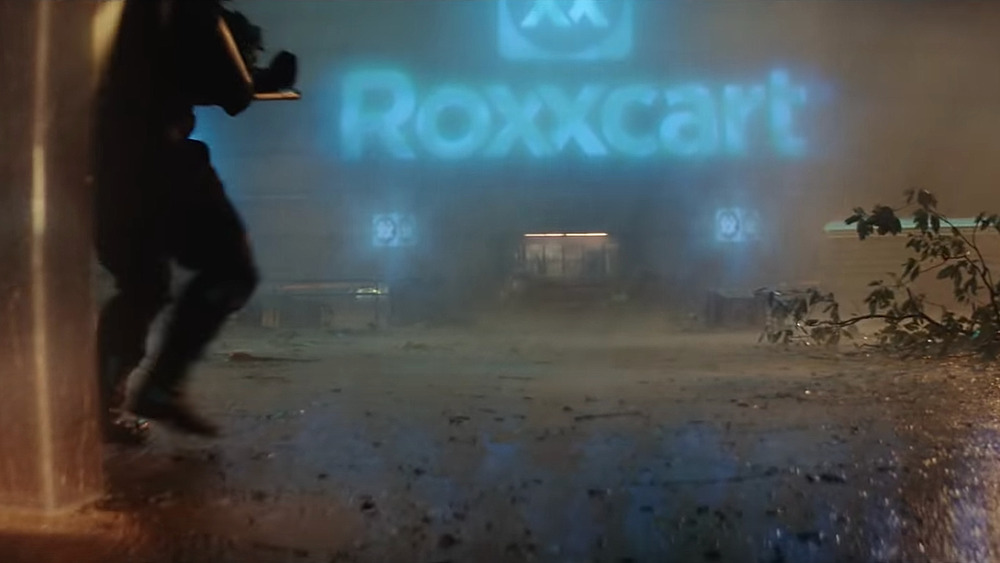 Marvel Studios/Disney+
Something that makes a return appearance in the second trailer for Loki is the neon blue sign of a store named Roxxcart. At the 1:20 mark, there's a short clip of a squad of soldiers approaching the entrance to the building during a windy and rainy night. Elsewhere, there are scenes featuring Loki running away from what appear to be various TVA members from inside Roxxcart. These bits of footage are brand-new — and quite intriguing.
The appearance of an in-universe store could usually be chalked up to the production design team trying to flesh out the world of a series. But this is a Marvel property, which means there's likely more to Roxxcart than meets the eye. Roxxcart has been the subject of speculation ever since its presence in Loki was known about. As noted by ComicBook.com, the store is possibly connected to Roxxon Corporation, a shady international oil conglomerate that has appeared in multiple live-action Marvel properties — including Agents of S.H.I.E.L.D., Agent Carter, Daredevil, Cloak & Dagger, and Iron Man 3. 
Exactly how the big-box store branch of Roxxon's industry will play into the narrative of Loki remains to be seen. It's likely that the store will be of some kind of significance, though. This is the second time it has appeared prominently in a trailer for the series, and there's even a Roxxcart website that fans can visit. As of now, it just displays the logo, but it's something worth keeping an eye on as Loki's June 11 launch date draws nearer.
Our first glimpse at Wunmi Mosaku's Loki character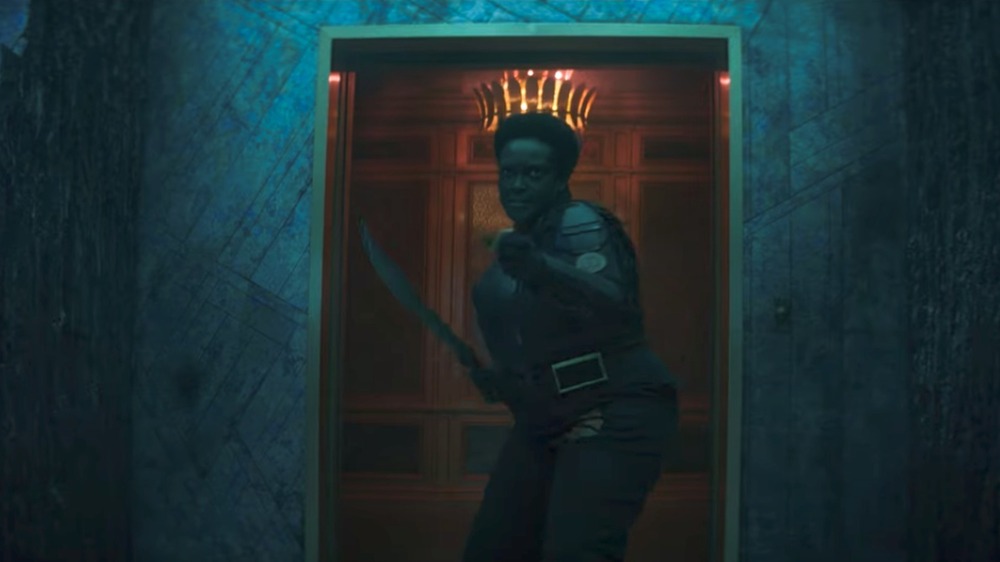 Marvel Studios/Disney+
Marvel never officially announced Wunmi Mosaku as part of the Loki cast, but a trio of blink-and-you-miss-them appearances in the new trailer not only confirm the Lovecraft Country actress' presence in the show, but also give fans a good look at her character — who hasn't been named as of this writing.
The first time Mosaku's character appears in the trailer is five seconds in: She's seen stepping through a portal, one hand gripping Loki and the other holding the Tesseract. This seems to be moments after Loki is arrested for wreaking havoc on the timeline, as Loki's still in his traditional costume and hasn't been put into the prison garb or middle-manager suit he's mostly seen wearing in the trailer. She appears again at the 19-second mark, standing next to Loki as he's arraigned on time crime charges. Finally — and most awesomely — she appears at 1:48, blocking a doorway, drawing a sword, and preparing for battle.
The three moments in this trailer indicate that Mosaku's character is some sort of Time Variance Authority security officer, either a cop or a prison guard responsible for monitoring and transporting Loki.
It's exciting to see Mosaku in a Marvel property. The British actress' star has been ascending since she appeared in the Black Mirror episode "Playtest" in 2016. Her other notable projects include the excellent Netflix horror movie His House, in which she played Rial, and HBO's horror series Lovecraft Country, with the memorable episode "Strange Case" focused on her character Ruby Baptiste.
The first look at Sasha Lane's Loki character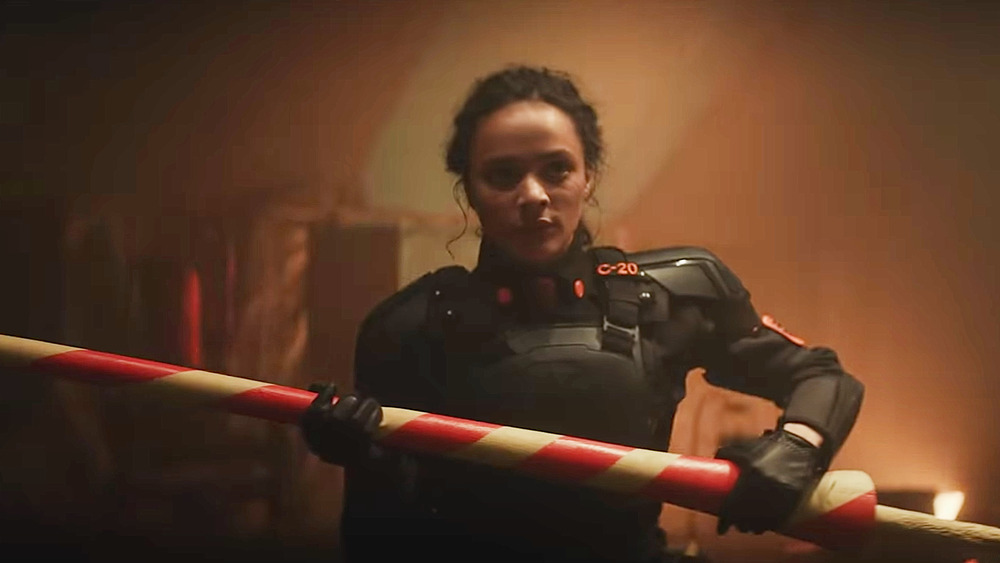 Marvel Studios/Disney+
After rumors circulated that Sasha Lane, best known for her starring role in American Honey, would be joining Loki, fans were scrambling for any details about who she would be playing. Thanks to the new trailer, they now have their official first look at Lane's Loki character.
At around the 1:45 mark in the new Loki trailer, Lane's character appears on screen, decked out in what looks like Time Variance Authority armor and holding a jousting lance. But just because she's wearing the armor doesn't mean she's a part of the organization, as the next shot shows Lane's character pummeling a different TVA officer. 
So far, there are no other details about who her character is, so it's unclear why she's fighting the TVA — but given Loki's powers in manipulation, it might not be of her own volition. As for the lance, this potentially hints at the scene taking place in the Medieval time period, which would make sense given that Loki will jump around important moments in real-life human history and standout events within the MCU.
According to Lane's IMDb page, the actress will be in episodes 1, 2, and 6 of Loki, though that's subject to change as more information is released. Will her character be a friend or foe to Hiddleston's Loki? Fans will just have to wait and see.
"Vote Loki" gets another nod in this new trailer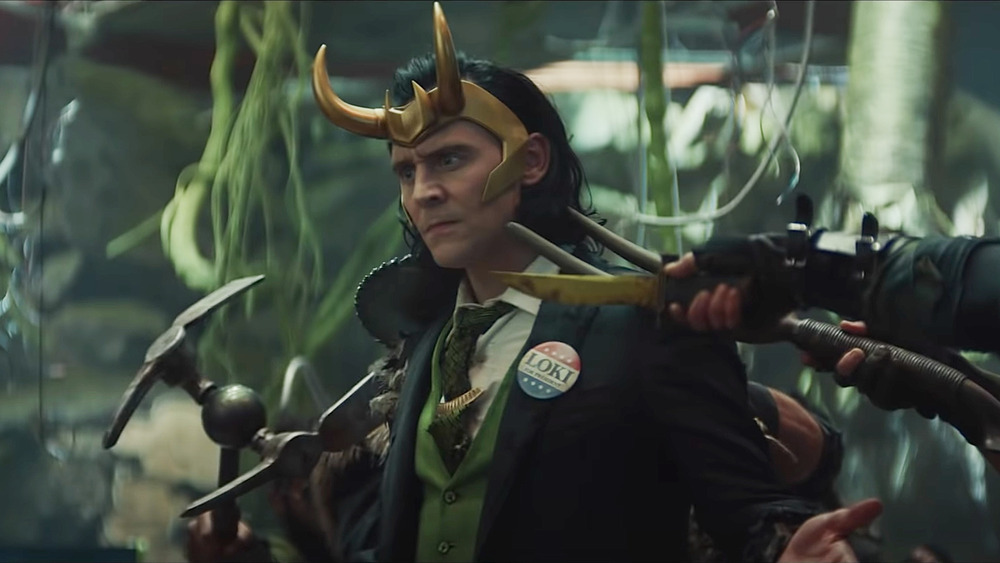 Marvel Studios/Disney+
Loki is a trickster, willing to deceive whoever he needs to in order to get his way. In other words, he'd make the perfect politician. Comic book writer Christopher Hastings apparently thought the same thing when he came out with a four-episode miniseries in 2016 titled "Vote Loki." The premise is simple: Loki decides to run in the 2016 U.S. president election, promising that he's always going to lie to the people as opposed to lying while pretending he's telling the truth (like past presidents have). To everyone's surprise, it turns out to be a fairly effective campaign strategy, as Loki ends up garnering a ton of support.
From both of the Disney+ Loki trailers we've seen so far, it looks like this storyline is getting adapted ... at least somewhat. The first Loki trailer, released back in December 2020, features a scene where the trickster god looks confident in his group of followers before they turn their weapons on him. This new trailer doesn't provide a ton of fresh insight into how "Vote Loki" will be adapted into the Disney+ series, which seems to suggest that this part of the show will probably only last for a single installment of the six-episode season.
The bigger question is what exactly this version of Loki is running for. King of the universe? President of an alternate timeline? The President of the United States, but in a different reality than the one we're used to? Only time will unravel these mysteries.
It looks like Loki and Mobius will be visiting Pompeii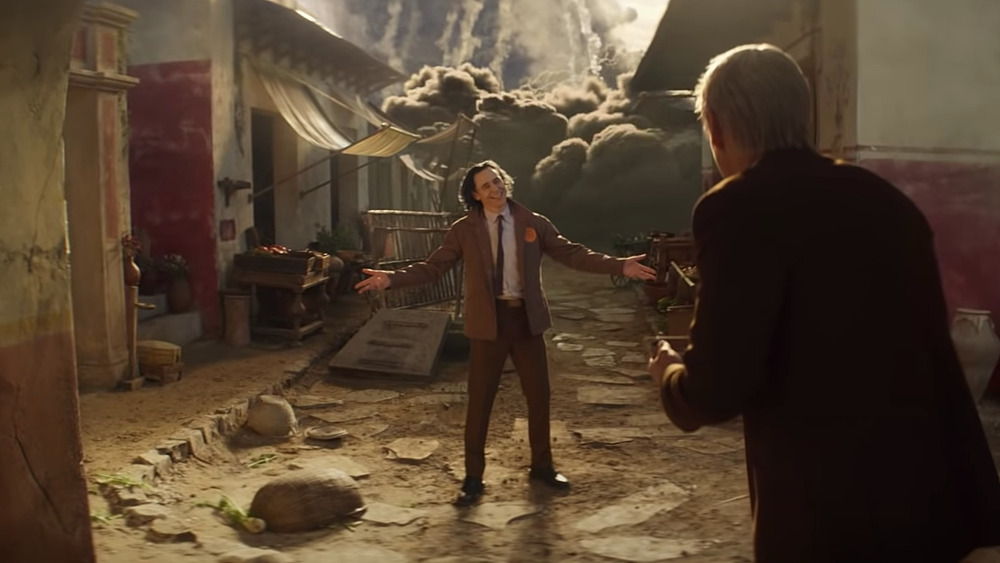 Marvel Studios/Disney+
One specific scene in the new Loki trailer illustrates just how far back in time the series will take fans. At the 2:08 mark, Loki and what looks like Wilson's Mobius are seen in the town of Pompeii, Italy, right as the Mount Vesuvius eruption comes roaring through town, destroying everything in its path. The short shot shows old buildings, pots, and a traditional stone path behind Loki, further indicating the older time period. 
The Mount Vesuvius eruption happened in 79 A.D., and ignited a "pyroclastic surge — a 100-miles-per-hour surge of superheated poison gas and pulverized rock [that] poured down the side of the mountain," which buried everyone and everything underneath "millions of tons of volcanic ash" (via History). It wasn't until 1748 that people discovered the well-preserved remains of the city and its inhabitants. 
In the Loki trailer, it looks like the god of mischief has the advantage, possibly bartering with Mobius as the volcanic ash hurtles toward them. Upon seeing the clip, many fans have posed a very valid question: Does this mean Loki caused Pompeii's destruction? Considering his history, it's certainly possible.
Another look at Loki as D.B. Cooper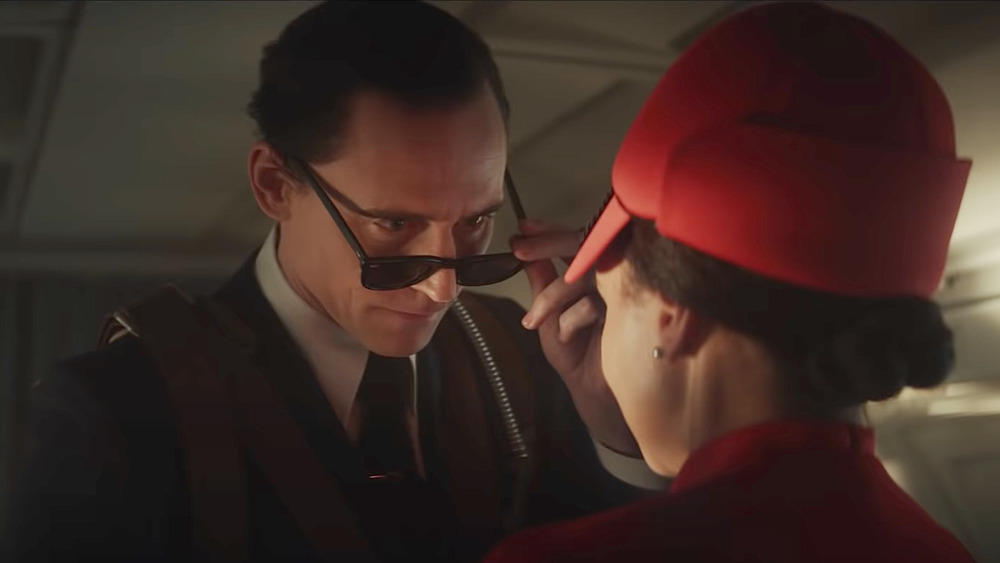 Marvel Studios/Disney+
Near the end of the new trailer, Loki is seen winking at a flight attendant while sporting a black suit and tie, white shirt, black sunglasses, and short, neatly cropped hair. It's unclear exactly what's happening here, but it's hard not to see a resemblance between Loki's new look and the mysterious D.B. Cooper. 
On November 24, 1971, Dan Cooper (an alias and not the man's real name, which is still unknown) hijacked a Boeing 727. He ultimately parachuted out of the plane with $200,000 of ransom money in hand — the equivalent of about $1.3 million in 2021 cash. His body has never been recovered, and no one knows what happened to him, why he did what he did, and who he really was.
We've previously seen Loki dressed as D.B. Cooper in the trailer that premiered in December 2020. In those clips, the dapper-looking Loki smiles after peeking out the window of a large aircraft. There's also a lengthier clip of him winking at the same flight attending and taking a bag from her before saying, "You'd better be ready." He then parachutes out of the moving plane, only to be zapped away, leaving behind some cash from the bag. 
Since Loki is working with the TVA and will be traveling through time throughout the series, it makes perfect sense that he'd be masquerading as one of history's most notorious and mysterious criminals.
Will Lady Loki be a part of the series?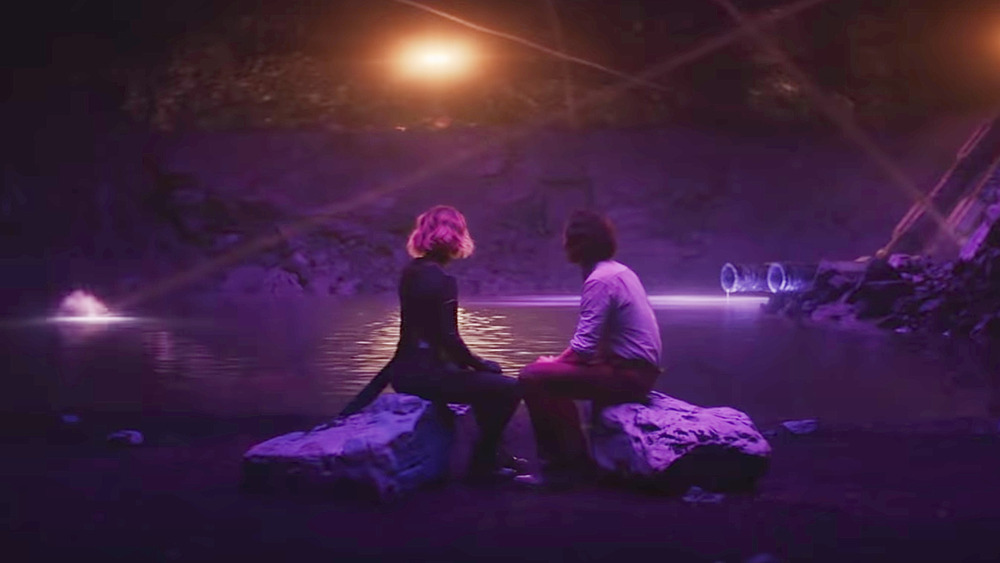 Marvel Studios/Disney+
Just as the Loki trailer comes to a close, audiences can see Loki sitting with a mysterious woman, who's facing away from the camera. Naturally, speculation is running rampant about who this woman could be, with fans wondering if Scarlett Johansson's Black Widow or another huge female MCU figure might be making an appearance in Loki. However, one theory seems to be rising above the fray: This woman very well might be Lady Loki.
Lady Loki is an integral part of the original Marvel comics, serving one of the tricks in Loki's wide-ranging arsenal of mischief. After Loki dies, which he does multiple times in the comics, he's reincarnated into Lady Sif's body. (MCU fans will remember the Asgardian warrior Lady Sif from Thor and Thor: The Dark World, in which she's played by Jaimie Alexander.) Not only is Lady Loki one of Loki's important disguises, but she also adds a new layer to the character, who's clearly comfortable existing as both genders. 
We still don't know who this woman in the new trailer actually is, but if she is Lady Loki, fans are definitely in for a treat.