Emma Stone Dishes On The Unique Stunts She Pulled For Disney's Cruella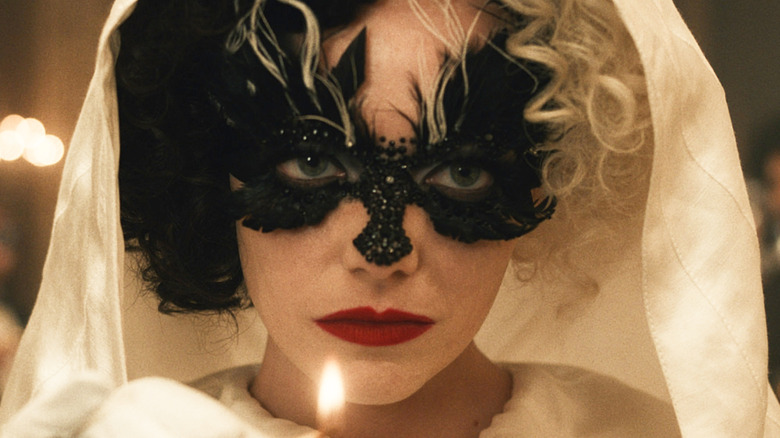 Disney Enterprises, Inc./Walt Disney Studios Motion Pictures
Since the release of the novel "The Hundred and One Dalmations" in 1956, there have been numerous adaptations of the story. Written by Dodie Smith, the book first came to the screen in the 1961 animated feature "One Hundred and One Dalmations," courtesy of Disney. Disney subsequently made a live-action adaptation in 1996, followed by a sequel in 2000, titled "102 Dalmations," as well as an animated TV series that ran for two seasons. Throughout all these tellings, however, the main antagonist, Cruella de Vil, has only been seen in relation to the Dalmations themselves.
Disney's upcoming film "Cruella" intends to change that. Charting the journey of the character as a young fashion designer, the film sees Emma Stone step into the shoes filled by Glenn Close in the prior films, with Emma Thompson, Paul Walter Hauser, and Mark Strong rounding out the supporting cast. The film itself promises to set itself apart from the prior Dalmations films, and Stone and Thompson both spoke about some of the more unique stunts "Cruella" brings to life.
Stone had to do practical effects in elaborate outfits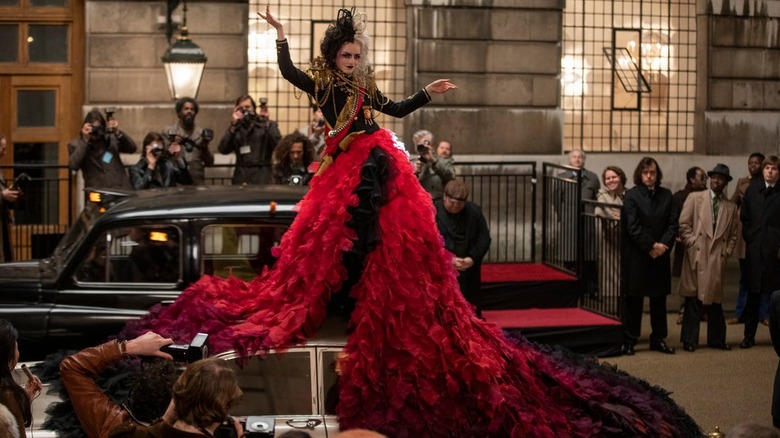 Disney Enterprises, Inc./Walt Disney Studios Motion Pictures
Speaking at a press conference about the movie, Stone described some of the unique outfits she wore during the shooting of the movie. One of the scenes required Cruella to wear a dress with a 40-foot train as she rode atop a garbage truck, while another outfit involved a skirt big enough to cover a car, which Stone had to navigate repeatedly.
"My very, very favorite outfit that was absolutely ludicrous was the dress that I wear on the garbage truck, because there was a 40-foot train," Stone said, "and that wasn't attached to the dress, because obviously I wouldn't be able to move anywhere, so they added that onto the dress at the last minute when I get on the garbage truck to shoot that part."
Stone went on to say the impracticality of the outfit added to the fun of shooting the scene, and the movie as a whole. "It was just phenomenal, I mean, nothing you would ever be able to even remotely wear in real life." She also went on to speak about another outfit in the film as well. "But, to be honest, there was also that insane skirt when I cover the car, and that was epic too. Trying to walk up onto a car and then cover an entire car with a skirt was just fantastic. It was just, that really is the moment where you're like 'I am in a movie right now.' "
Stone's co-star Thompson interjected that both scenes were filmed with practical effects. "I was there for both those bits, and none of it's CGI, it's all real. You actually walked onto the car and pulled the material around, and you did it about a million times, because it was hard." Thompson said. "And then the garbage truck, when it drove off, that thing of the material doing that amazing sort of snakelike thing actually happened. I mean, it was all real, and I love that about it as well, that it wasn't a CGI movie."
"Cruella" is poised to hit U.S. theaters on May 28.