Costume Designer Reveals The Inspiration Behind Cruella's Looks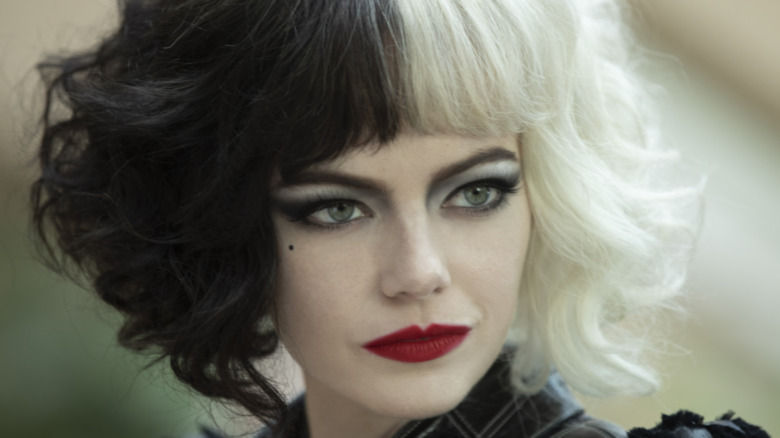 Disney
Two-time Oscar-winning costume designer Jenny Beavan's work on film and television has spanned centuries of time over her illustrious 43-year career, from her work in such period classics as "A Room with a View" and "Howard's End," to the post-apocalyptic world of "Mad Max: Fury Road."
After the latter film nabbed her an Academy Award for Best Costume Design, Beavan has been in demand more than ever, and recently found herself in the unique position to create costumes for a time period she's actually lived in — the 1970s — for the new film "Cruella." Arriving in theaters and on Disney+ with Premier Access on May 28, the movie tracks the origins of Estella "Cruella" de Vil (Emma Stone) before she became the famed Disney villain in "101 Dalmatians."
"It's quite a dense script, and you see a complete arc of her journey, from being a young kid who's rebellious and obviously enjoys clothes, to a fully-fledged, very individual type of fashion designer," Beavan said, in a press conference attended by Looper. "So, we were in the '70s [and] I was around in the '70s. I remember it well. I didn't have a lot of money then, because I was still working in legitimate theater, but I certainly remember what people were wearing and the various influences that were around."
Creating the costumes Cruella and her nemesis took Jenny Beavan back to the 70s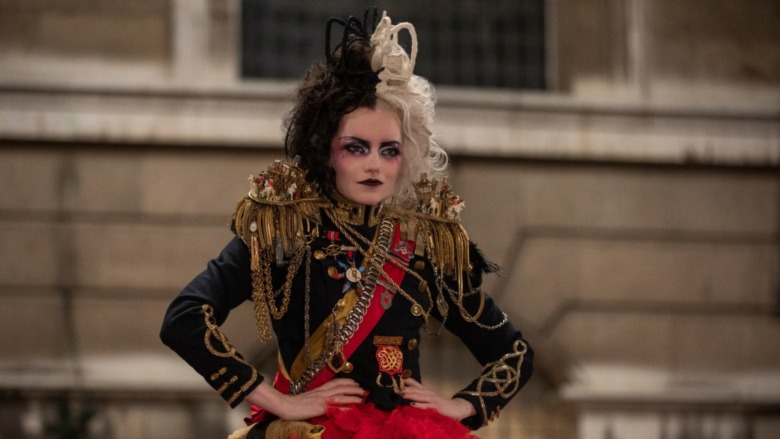 Disney
Beavan said that since fashion has, thankfully, been well-documented throughout history, she was able to rely on publications at the time to not only inspire to create Cruella's sartorial sensibilities, but those of her chief antagonist, the high-society fashion legend Baroness von Hellman (Emma Thompson).
"When I started on it, I really looked at old magazines of the period. Vogue is very available online, so that was very useful for high fashion, like the Baroness, to see what people were wearing," Beavan recalled. "And for Cruella herself — Estella 'Cruella' — there was a lot of wonderful sort of body maps, obviously: Vivienne Westwood, Galliano type looks, people who were doing individual and interesting things."
The distinct difference for Cruella's looks, though, is that it's a representation of an evolution and revolution, effectively, in fashion — and Beavan's vivid memories of it helped inspired the character's punk rock-infused style.
"I actually remember us all going to Portobello Vintage Market [in London], buying bits and pieces, putting them together; particularly military bits were very popular at the time, which you wore with jeans, or you wore with a frilly skirt, or sort of putting things together in an interesting way," Beavan said. "Because we'd come out of the '50s, which were very strait-laced, and through the '60s, which had an explosion of freedom in every way, the '70s were really an interesting period of making the freedom come into some kind of focus — and that's really where I looked for finding my way with her."
Cruella de Vil is not the character you know from the previous film versions, Jenny Beavan says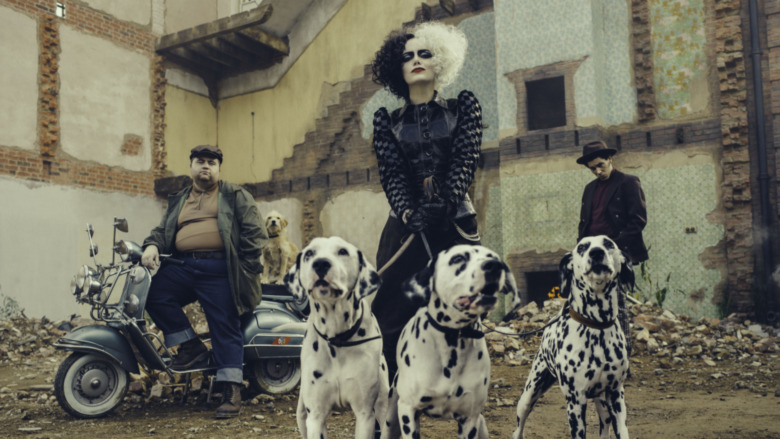 Disney
Fans, of course, know Cruella de Vil from her appearances in the 1961 animated version of "One Hundred and One Dalmatians" (where she was voiced by Betty Lou Gerson) and in the more succinctly titled 1996 live-action adventure "101 Dalmatians," starring Glenn Close.
Cruella in the new film has similarities to these prior depictions, in that the character "does seem to be defined by black and white, and obviously there's a bit of red that comes in and the Dalmatians are an important part of it," Beavan told reporters. Other than that, Beavan said she really didn't look much to either of the "Dalmatians" films for inspiration in her designs, with maybe the exception of Cruella's accomplices.
"I did look at Jasper and Horace, particularly in the animation and felt that there was something lovely about the way they were drawn and their colors," Beavan said. "So, I slightly brought that into Joel Fry and Paul Walter Hauser's costumes, but they were probably the most influenced in any way by particularly the animation. But otherwise, I just wanted to sort of make sure that you could about believe that eventually she could become Glenn Close — that was about as far as my influence went."
Disney's "Cruella" opens in theaters and on Disney+ with Premier Access on May 28.