Small Details You Missed In The New Cruella Trailer
The second and final trailer for Cruella just dropped, and there's quite a bit to talk about.
Directed by I, Tonya's Craig Gillespie, the latest Disney villain origin story — which stars Academy Award-winners Emma Stone and Emma Thompson in the leading roles — tells the story of timid aspiring fashion designer Estella de Vil (Stone). As Estella tries to make her way in the competitive fashion industry in London, she finds a position at Baroness von Hellman's (Thompson) atelier ... but when the Baroness ends up living up to her "hellish" last name as a boss, Estella undergoes a radical personal transformation and seeks revenge. Though audiences are already familiar with Cruella de Vil thanks to the 1961 animated classic 101 Dalmatians and its 1996 live-action adaptation (in which Cruella is played to perfection by Glenn Close), this is a side of the character nobody has seen before.
Set to be released simultaneously in theaters and on Disney+ (with Premier Access) on May 28, Cruella is one of the most anticipated films of the year thus far, pairing an insanely talented ensemble cast with a never-before-told story of one of the House of Mouse's most infamous villains. Here's everything you may not have noticed in the second Cruella trailer.
Emma Thompson's Baroness takes center stage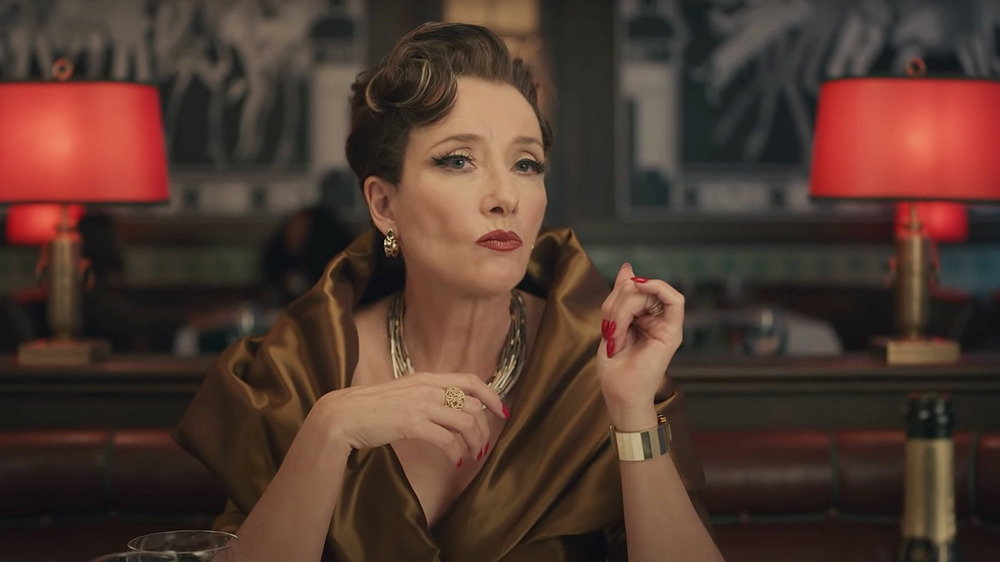 Walt Disney Studios Motion Pictures
Emma Stone might be playing Cruella de Vil, but in this new trailer, Emma Thompson's Baroness von Hellman steals the spotlight, as audiences learn what a cruel, horrifying superior she is to her fashionable underlings. Whether she's firing people on the spot or physically injuring her employees, the Baroness is ruthless, despicable, and utterly selfish. Ultimately, this drives Estella to turn to a life of crime — stealing a trio of Dalmatians, causing mayhem, and rechristening herself as Cruella to destroy the Baroness once and for all.
Thompson, a venerated British actress whose performing career spans decades, is definitely the perfect choice to play the sneering, imperious Baroness. Whether you recognize her from classics like 1995's Sense and Sensibility (which earned her an Oscar for writing the screenplay), the Harry Potter films (in which she plays batty Professor Trelawney), or recent projects like 2013's Saving Mr. Banks or 2019's Late Night, there's no question that it will be extraordinarily fun to watch Thompson's Baroness face off against Stone's Cruella.
Kirby Howell-Baptiste's Cruella character is shrouded in mystery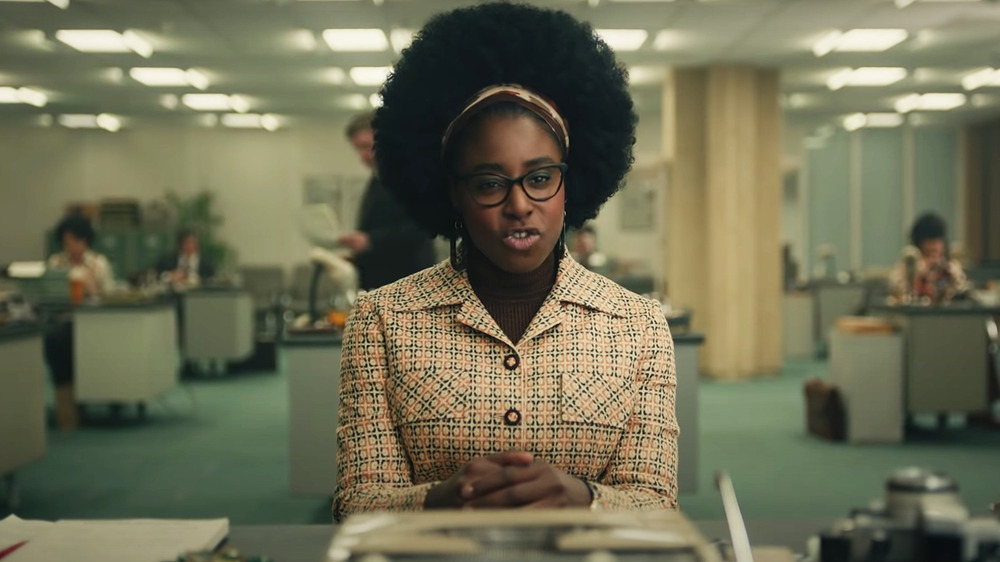 Walt Disney Studios Motion Pictures
Though Stone and Thompson are the undeniable stars of the film, Cruella boasts a pretty huge supporting cast — and in this trailer, fans finally get a glimpse of Kirby Howell-Baptiste's character, Tabitha. Though nothing concrete is known about Tabitha just yet, she's seen in some sort of office setting, telling Cruella that she seems to have "a bit of an extreme side."
If this English actress caught your eye, it's probably because of her incredibly strong string of recent television roles. Howell-Baptiste has appeared in everything from Killing Eve to Barry to Hulu's Veronica Mars reboot, but fans of The Good Place likely know her as Simone, a neuroscientist who ends up embroiled in a scheme to help restore order and justice to the afterlife. Aside from 2017's A Dog's Purpose, Howell-Baptiste hasn't appeared in a ton of big films just yet, but clearly, that's changing thanks to Cruella. The actress' sharp comedic instincts and deadpan, perfectly timed delivery make her the ideal choice to play a supporting role in this darkly funny film.
Cruella's accomplices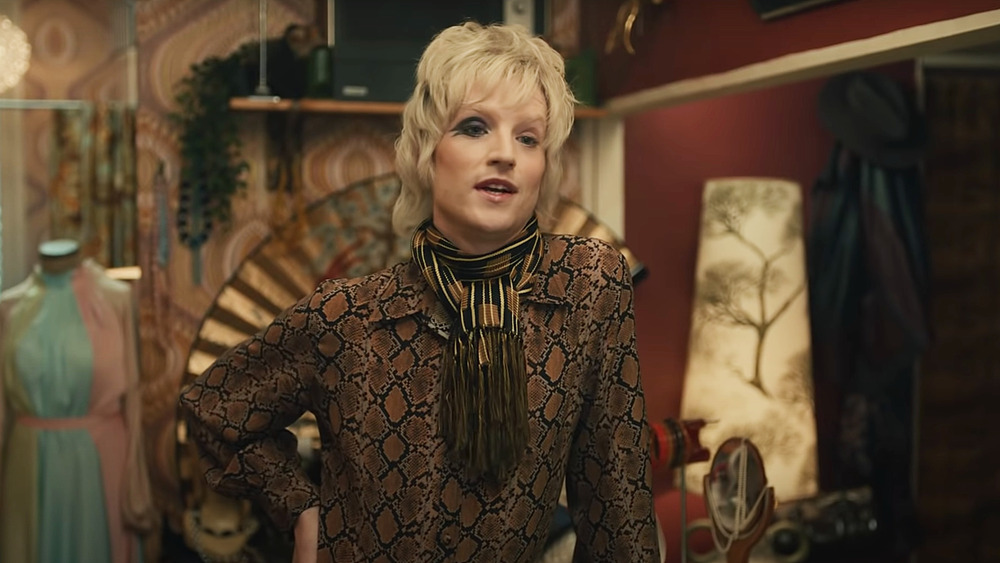 Walt Disney Studios Motion Pictures
Cruella won't be doing her dastardly deeds alone. She'll have help from like-minded troublemakers on both the fashion and criminal ends of things.
Judging by the new trailer, Cruella's ally in fashion will be Artie (John McCrea), who appears at the 1:17 mark. In response to Cruella asking him to take part in whatever scheme she's cooking up, Artie replies, "I do love trouble." He's seen wearing a snakeskin-printed shirt and a scarf tied in such a way you'd need a degree in geometry to replicate the knot. He has a blond fashion mullet and makeup on just one eye. Très chic!
Artie actor John McCrea is best known for starring in the British stage musical Everybody's Talking About Jamie as drag queen Loco Chanelle, a role he'll reprise in the upcoming film adaptation. His most prominent pre-Cruella onscreen performances that have been released so far were in a pair of Netflix limited series: Giri/Haji and Dracula.
Cruella's criminal accomplices are brothers Jasper (Joel Fry) and Horace Badun (Paul Walter Hauser), who should be well-known to 101 Dalmatians fans. They're briefly glimpsed a couple of times in both this new trailer and the one released in mid-February, this time shown burglarizing the fashion house and stealing Baroness von Hellman's prized Dalmatians. Canonically, Jasper is tall and thin and Horace is short and stocky, and this holds true in the upcoming live-action film, with Jasper portrayed by 6'1" Game of Thrones actor Fry and Horace by 5'9" Richard Jewell star Hauser.
A nod to the pink house that inspired 101 Dalmatians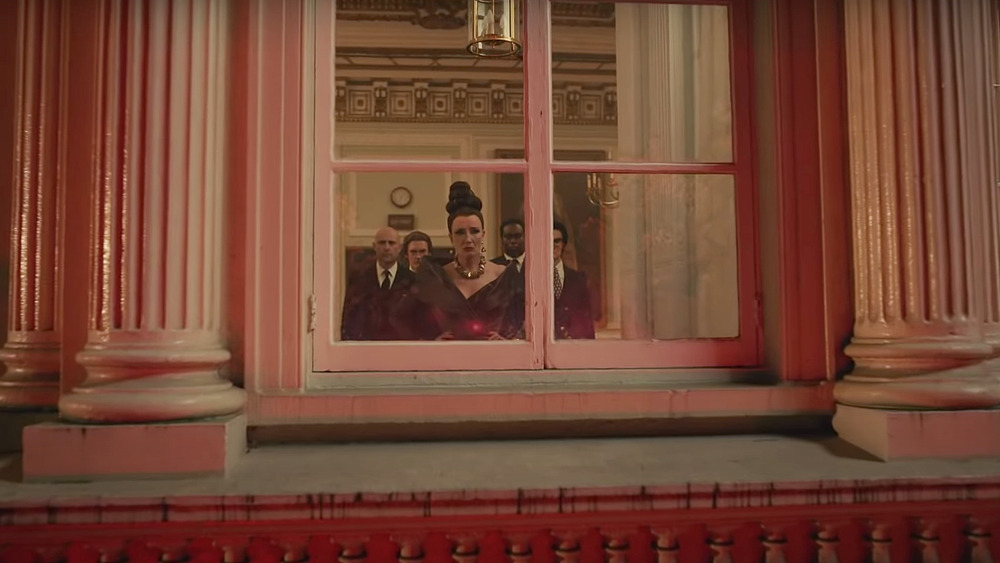 Walt Disney Studios Motion Pictures
There's a real pink house in London that inspired the home in Dodie Smith's 1956 book 101 Dalmatians, which went on to become the source material for the hit 1961 Disney animated film, the 1996 live-action flick, and, of course, Cruella. The house, located in the very posh London neighborhood of Primrose Hill, went on the market in 2020 for the first time in nearly 40 years, listed with a staggering £8.9 million ($11.1 million USD) price tag. Smith lived nearby the house and walked her own Dalmatians past it on the way to the park, and is thought to have used the house as inspiration for Dalmatians Pongo and Perdita's family home.
In the new trailer for Cruella, we first see Baroness von Hellman's house at 0:40, though it looks very different from the real home that inspired 101 Dalmatians, as it's a different structure and a different color. However, at 1:33, we see the house again — and this time, the lighting (or is it fire?) makes it look pink. It's a nice homage to the original source material, while also keeping the new live-action film in its own territory.
Making sense of Mark Strong's Cruella character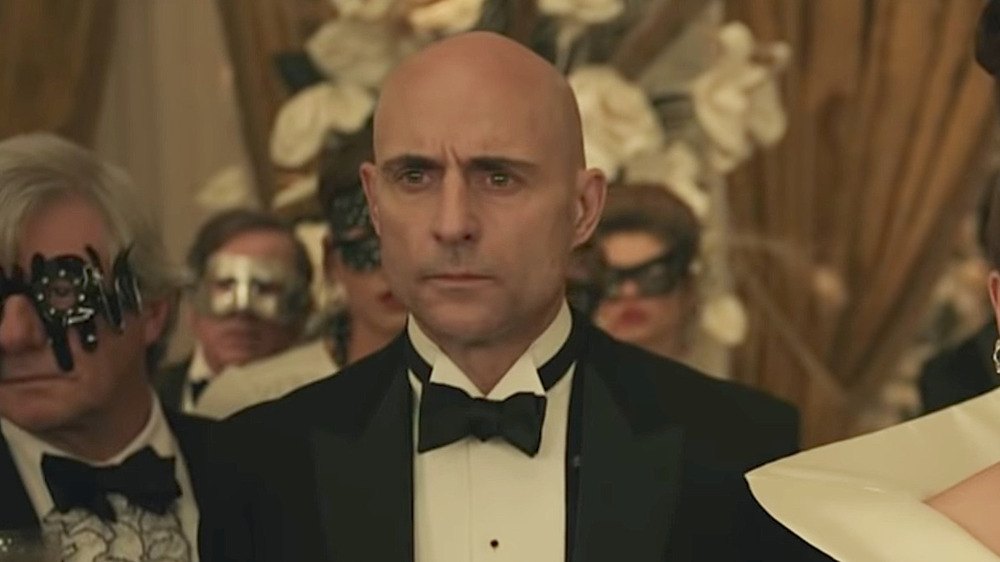 Walt Disney Studios Motion Pictures
In the new trailer for Cruella, we see a tuxedoed character named Boris, played by Mark Strong, pop up in various scenes. When Strong joined the film's cast in January 2020, he was rumored to be playing the role of the Baron, father to Stone's Estella de Vil (and potentially the husband of Thompson's Baroness). The previous trailer for Cruella featured a little more of Boris, showing him once again tuxedoed and looking concerned as Cruella revealed her new, villainous look to three growling Dalmatians and the Baroness. At this point, it remains unclear if Boris is the Baron, but he does appear to be close to the Baroness, seen near here and as part of what looks like her security detail.
In a November 2020 interview with Collider, Strong praised the movie, saying, "There are huge fashion and ballroom sequences in it, which are just so impressive." He added that performing alongside the "two Emmas" was "just great" because he was able to "shoot the breeze with those guys during the downtime, and then play with them, telling this fantastical story that I think people are thoroughly going to enjoy, when the cameras were rolling." 
Strong is no stranger to playing various villains throughout his career, including in films like Sherlock Holmes and Kick-Ass, so it would be no surprise if we're actually meant to root against Boris in Cruella.
Mark your calendars for Cruella to hit theaters and Disney+ (again, with Premier Access) on Friday, May 28.