The Real Reason Castlevania Season 1 Was So Short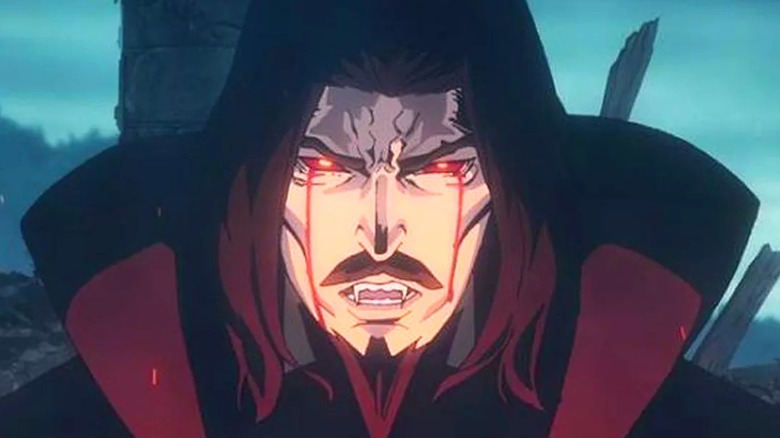 Netflix
Dracula may be immortal, but sadly, the hit Netflix anime "Castlevania" must come to an end. The fourth season recently dropped on the streaming service, and it's officially the end of the video game adaptation of which horror fans couldn't get enough. It's not all bad news; Netflix has announced it's interested in kicking off an entire "Castlevania" extended universe, in which characters from the original series will veer off into their own adventures.
Now that every episode of the series is available, viewers can watch the entire story without having to wait a year in between seasons. Whether you're going back for a rewatch or this is your first time checking it out, there's something a bit odd that comes up when you go from one season to the next. While most Netflix original shows have between eight and 13 episodes per season, "Castlevania" Season 1 only has four episodes. It was definitely a bit of a tease when it was first released because it ends on a massive cliffhanger, and anyone viewing it undoubtedly wanted more immediately. As it turns out, there's a pretty good reason why fans only got a taste of Wallachia initially.
The first season of Castlevania was originally supposed to be a movie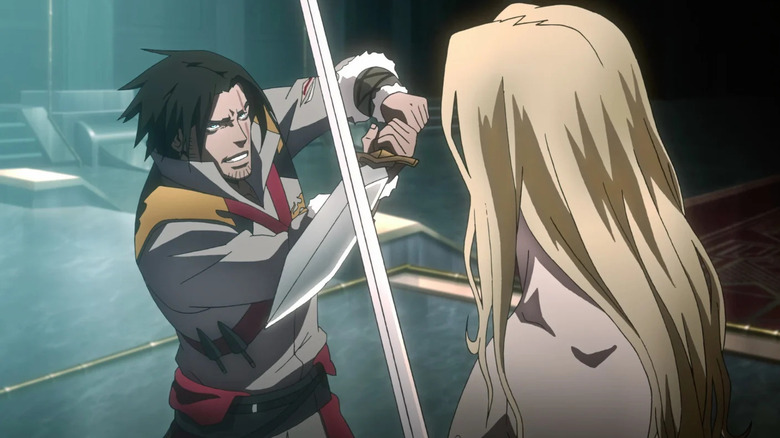 Netflix
Later seasons of "Castlevania" went on to offer eight to 10 episodes each, allowing fans to delve more into the horrific world of vampires and those who hunt them, but initially, there was a great deal of uncertainty about whether there was an audience for an anime-inspired series based on a video game. Kevin Kolde, who was an executive producer on the series, spoke with CBR about how the plan for a film adaptation of "Castlevania III: Dracula's Curse" has been in the works for years. As he explains, "The first season is really built and based upon the original script, which was intended to be a direct-to-video movie back in the mid-2000s; there's a bit of that. I think a lot of it is just that everyone saw this as a risk."
The first season came out in 2017 and Netflix really hadn't done adult-oriented anime at that point; it sounds as though the streaming giant just wanted to hedge its bets to see what kind of viewership it earned with a season that essentially functions as an elongated pilot. Kolde further elaborates that "[Executive producers] Larry Tanz and Ted Biaselli and [Netflix Vice President of Anime Content] John Derderian, they're supporting the show but they just didn't know so they were like, 'Do four episodes and we'll see what happens.' I think it was just an abundance of caution."
Ultimately, the bet paid off, as "Castlevania" became a massive hit — to the point where a spinoff is now in the works. It also likely gave Netflix the confidence to pursue other adult-oriented anime like "Yasuke," and as it stands, the four seasons we did get of "Castlevania" function as an incredible piece of storytelling that didn't overstay its welcome.