Bodyguard Season 2 - What We Know So Far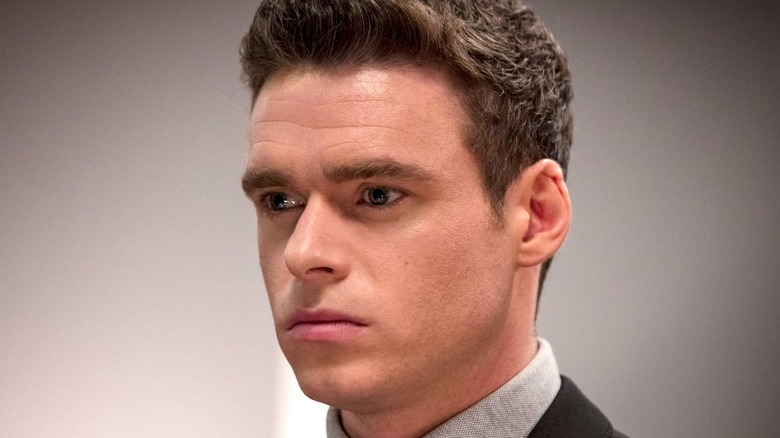 BBC
BBC tends to produce continuous hits over the years, but some are more successful than others. In 2018, Jed Mercurio, the mind behind the long-running crime procedural "Line of Duty," created a new series called "Bodyguard." Starring Richard Madden as Police Sergeant David Budd, a highly-skilled officer suffering from PTSD, "Bodyguard" was extremely successful upon release. Then once Netflix got its hands on it and brought the show to the attention of an international audience, it was a certified hit.
The first season of "Bodyguard" follows Budd as he is assigned to guard Home Secretary Julia Montague (Keeley Hawes), a driven yet divisive politician whose beliefs Budd strongly disagrees with. Soon after he begins his new position, Budd starts uncovering a political conspiracy of terrorism, cybersecurity, and collusion, all while dealing with his own unraveling mind. Throughout the first season's six episodes, viewers experience shocking moment after shocking moment, and you have no idea what might come next. Audiences and critics loved the series, with "Bodyguard" holding a solid 93% rating on Rotten Tomatoes. Of course, fans weren't satisfied with just six episodes, and soon after Season 1 ended, people started clamoring for a second season.
Here's everything we know about "Bodyguard" Season 2 so far.
When will Bodyguard Season 2 be released?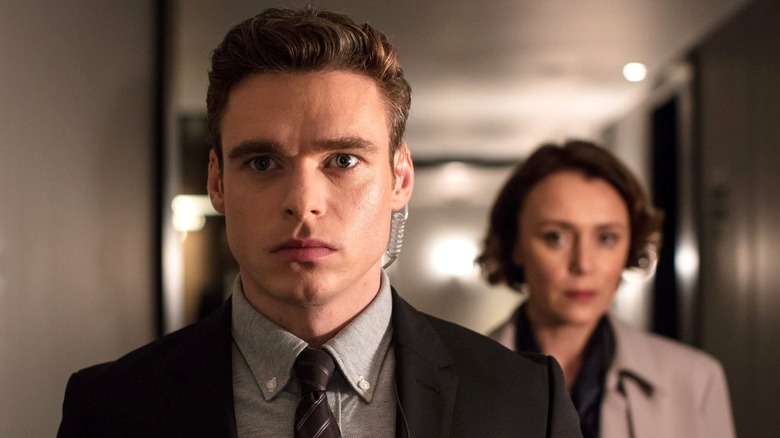 BBC
This is a very difficult question to answer. The first season of "Bodyguard" was released in August and September of 2018, and British shows are notoriously slow at producing new seasons, so fans knew it would be a while before new episodes came out. As of right now, the series isn't officially renewed or cancelled, but that doesn't mean much, as Madden, Mercurio, and others involved with "Bodyguard" have been commenting on a second season ever since the first ended, and it seems practically guaranteed. The question is just when.
In an interview with Deadline back in 2018, shortly after BBC's "Bodyguard" hit Netflix, Madden seemed quite sure that Season 2 would happen, saying, "I'm going to meet Jed in a couple of weeks, to have a chat and see what's in his brilliant brain." In mid-2019, Mercurio confirmed at the Banff World Music Festival that he was in talks with BBC, but that Season 2 was not officially greenlit (via The Hollywood Reporter). In late 2019, actor Nicholas Gleaves, who played Roger Penhaligon in "Bodyguard" Season 1, told RadioTimes that he spoke with a producer who "absolutely guaranteed" a second season, but until it's official, it's still up in the air.
Now in 2021, Madden has his roles in "From Now" and "Eternals" out of the way, leaving his schedule relatively open to return to "Bodyguard." Looking at the timeline, the earliest new episodes could come out is likely late next year or early 2023, unless BBC gets going on production really quickly.
Who will be in the cast of Bodyguard Season 2?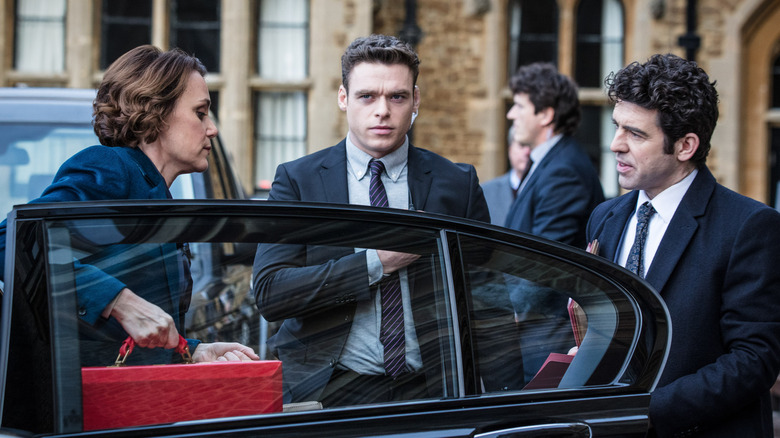 BBC
Firstly, "Bodyguard" wouldn't be the same without PS Budd, so it's safe to say that Madden will be returning as the title character. Other members of the supporting cast who will likely be back are Gina McKee as Commander Anne Sampson who is in charge of the Metropolitan Police's Counter Terrorism Command, Sophie Rundle as Vicky Budd, PS Budd's estranged wife and the mother of their two children, Nina Toussaint-White as DS Louise Rayburn, a Counter Terrorism officer who appears to trust Budd despite the investigation against him, and Ash Tandon as DCI Deepak Sharma, an intelligent investigator who believes that Budd is working with the terrorists.
Although it's safe to say that Hawes will not be returning as Montague, there are some others in the supporting cast who could appear in future storylines, like Vincent Franklin as Minister of State Mike Travis, Stuart Bowman as Stephen Hunter-Dunn, Director General of MI-5, Pippa Haywood as crooked CSI Lorraine Craddock, or Michael Schaeffer as the mysterious "Richard Longcross." The new episodes will possibly feature a time jump as well, so be prepared to see some new faces in Budd's life.
What will Bodyguard Season 2 be about?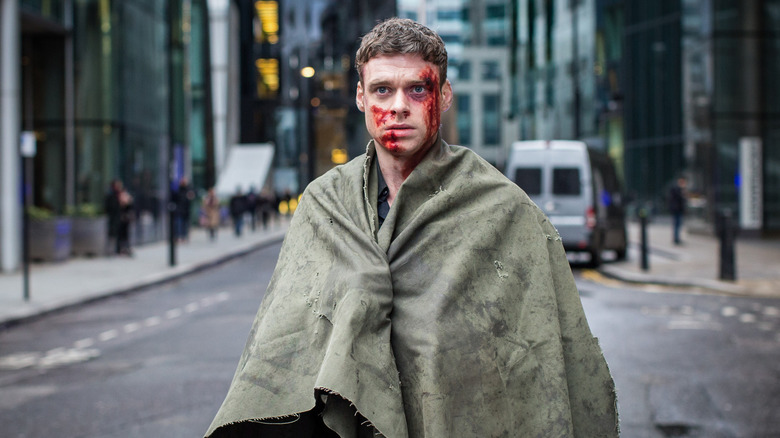 BBC
At the end of "Bodyguard" Season 1, Budd successfully uncovers who's behind Montague's assassination, along with a few people within the government who are manipulating the system to allow for shady dealings to go unnoticed. Budd is officially cleared of any crimes related to Montague's death, and he decides to get help for his PTSD in order to repair his relationships with Vicky and his kids. With the way their relationship is at the end of the season, it seems like Budd and Vicky will not be getting back together, each planning to move on and meet other people, but they will continue co-parenting.
After everything comes to light, the British Prime Minister is forced to resign, along with MI-5 leader Hunter-Dunn. Longcross escapes custody, leaving it open for the show to further explore who he is and what his motives are. Although there are only a few interactions between Longcross and Budd in "Bodyguard" Season 1, they are tense and interesting, and it would be great to see that antagonism develop more in the future. So far, nothing about the plot of "Bodyguard" Season 2 is set, although it's possible that the show will continue the story a few years down the line, with viewers meeting a much-changed Budd.