The Real Reason Richard Madden Left Game Of Thrones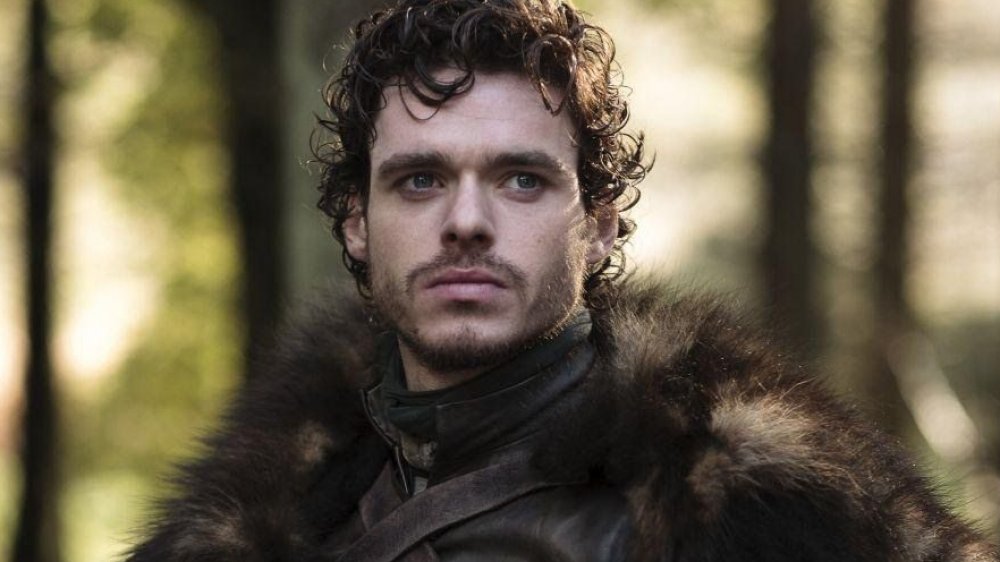 HBO's juggernaut series Game of Thrones spent a decade on the premium cable network, becoming a worldwide sensation and making stars out of its enormous cast. However, some of Thrones' stars didn't spend the show's entire eight-season run tied to the fictional world of Westeros. Since the series was known for literally killing its darlings, actors like Sean Bean, Michelle Fairley, Jason Momoa, and Pedro Pascal (who played Ned Stark, Catelyn Stark, Khal Drogo, and Oberyn Martell, respectively) only spent a little bit of time on Game of Thrones, cementing their legacy on the show while also leaving them free to take new projects.
One of those actors was Richard Madden, who played Robb Stark on the first three seasons of Game of Thrones. The eldest son of the highborn Stark family of the North, Robb, much like his father Ned, served as one of the show's moral centers — though his noble attitude and thirst for justice was ultimately his undoing (again, exactly like his father). In his quest to overtake opposing Lannister forces, Robb entered into a treaty with Walder Frey (David Bradley), agreeing to marry one of the lord's daughters in exchange for an army, But when Robb met Talisa (Oona Chaplin), he fell in love immediately and eloped with her instead. Furious and betrayed, Walder plotted his revenge, leading to the show's infamous "Red Wedding," in which Robb, his mother Catelyn, and his pregnant wife Talisa were slaughtered.
Many were heartbroken over Madden's departure from Game of Thrones, but the actor himself doesn't feel entirely the same way. Here's why Richard Madden left Game of Thrones after just three seasons.
Richard Madden wanted something more post-Thrones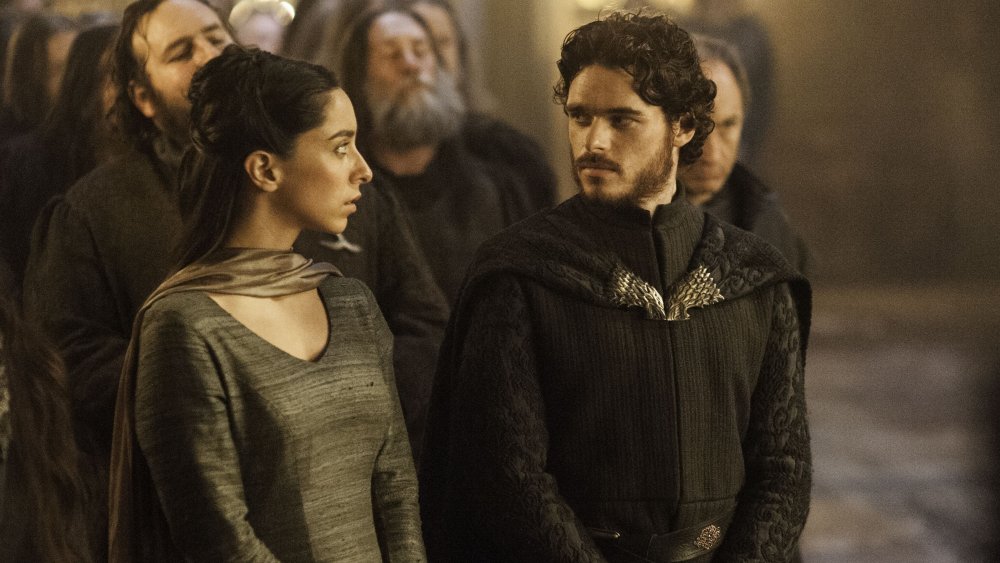 Obviously, the big reason why Richard Madden left Game of Thrones is because his character was always meant to be murdered. The show was an adaptation of George R.R. Martin's novel series A Song of Ice and Fire, the first of which is entitled A Game of Thrones. In the third book, A Storm of Swords, Robb is killed at the event known as the "Red Wedding." While it's not uncommon for TV and film adaptations to take creative liberties when translating the source material, Robb's death was unavoidable.
That said, Madden didn't protest leaving Game of Thrones. In a June 2019 installment of the Variety series "Actors on Actors," Madden sat down with Academy Award-nominated actress Amy Adams and revealed that he was actually "thankful" that he was killed off Thrones early. Madden explained his gratitude by saying, "I died at the end of season 3. It was such a hard thing to finish because from first pilot to my death was five years. But five years was a great time to be on the show. It helped me so much with my career and experience. I learned a lot from shooting 30 hours of television."
He then went on to praise the people who stuck out the entire series: "You really start to learn the trade doing that. And then I was thankful to leave it. The actors on it now must be 11 years into playing these characters. Give these guys some medals, because that is a marathon."
Madden also expressed the desire to move on from the Robb Stark "type," worried that he might be typecast going forward. "I'd like to explore things that are a bit not Romeo. I think I spent 10 years playing different versions of Romeo," he said. "From Robb Stark to literally playing Romeo twice on stage, once when I was 21 and once when I was 30, I've played a lot of these good guys that bad things happen to."
Richard Madden's next moves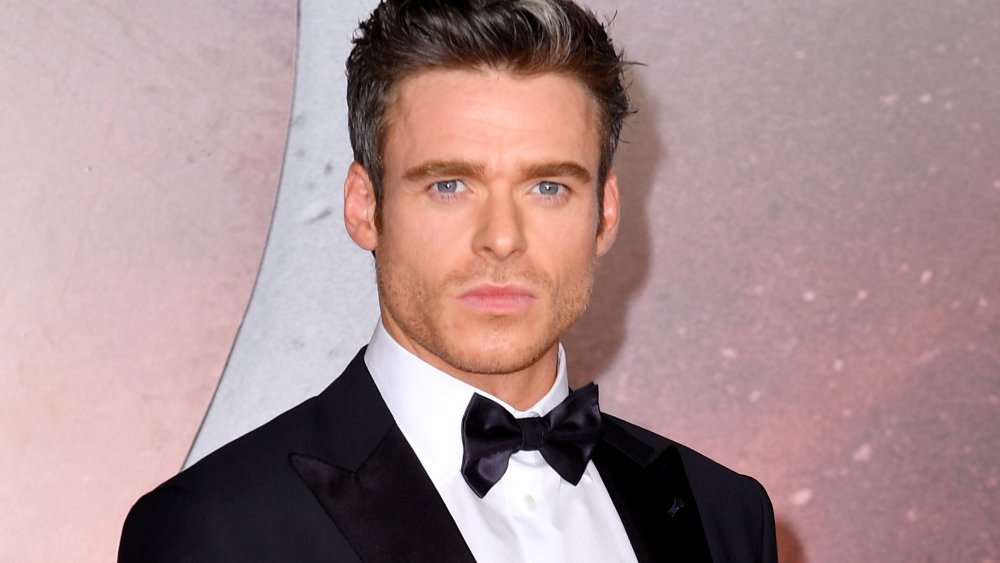 Gareth Cattermole/Getty Images
As it happens, Madden's first major role post-Thrones was a welcome departure from his best-known "Romeo" roles — and before that, he tried his hand at fairy-tale blockbusters as well. After leaving Game of Thrones in 2013, he appeared in Kenneth Branagh's 2015 adaptation of Cinderella as the Prince. Madden also made a first-season turn on the historical drama series Medici as Cosimo de' Medici, and snagged a spot alongside Idris Elba in the 2016 action film Bastille Day, playing an American pickpocket named Michael Mason.
His next leading role came in 2018 with the BBC and Netflix production Bodyguard, on which he played war veteran and professional security guard Sergeant David Budd. For his work on the series, Madden earned him international acclaim and a Golden Globe Award for Best Actor in a Television Series, Drama. Following the outrageous success of Bodyguard, which went on to be the most-watched series in England since 2008, Madden was awash in opportunities — appearing in the Netflix original film Ibiza alongside Gillian Jacobs, in Rocketman with Taron Egerton, and in Sam Mendes' Academy Award-nominated war film 1917. 
Beyond that, Madden's future is looking even brighter. The actor will appear as Ikaris in Marvel's hotly anticipated 2020 film The Eternals, which also stars Angelina Jolie and Kumail Nanjiani, among many others. Additionally, Madden has signed on to a still-mysterious Amazon original called Citadel, helmed by prolific Marvel Studios directors Joe and Anthony Russo. 
Clearly, Madden's talent has carried him far beyond Westeros, and it's exciting to see him tackle so many exciting new projects in the aftermath of Robb Stark.
You can catch Madden in The Eternals on November 6, or watch his award-winning performance on Bodyguard, streaming on Netflix now.