The Ending Of Cold Pursuit Explained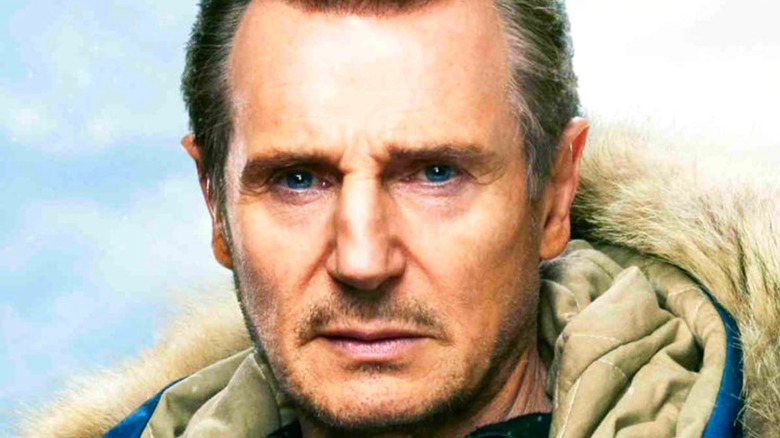 Summit Entertainment
Revenge is a dish best served – well, you know the expression. Liam Neeson actioner "Cold Pursuit" is a nasty but bleakly funny thriller about how a single act of vengeance can create a chain of endless violence. Neeson plays Nels Coxman, a grieving father who finds out his son's heroin overdose was forced onto him by a Colorado drug cartel. The formerly mild-mannered snowplow driver is sent over the edge and soon kills three cartel members with a shotgun.
When the bodies are discovered, however, the leader, Trevor "Viking" Calcote (Tom Bateman), believes his rival White Bull Legrew (Tom Jackson) is responsible. The result is a chaotic gang war that can only end – naturally – in a climactic bloodbath at Coxman's place of work.
Can Coxman escape the feud alive once the gangs know who he is? Here's how the ending of "Cold Pursuit" pans out for the vengeful snowplow driver, as well as what happens to the gangster villains of Viking and White Bull.
Liam Neeson gets bloody revenge for his son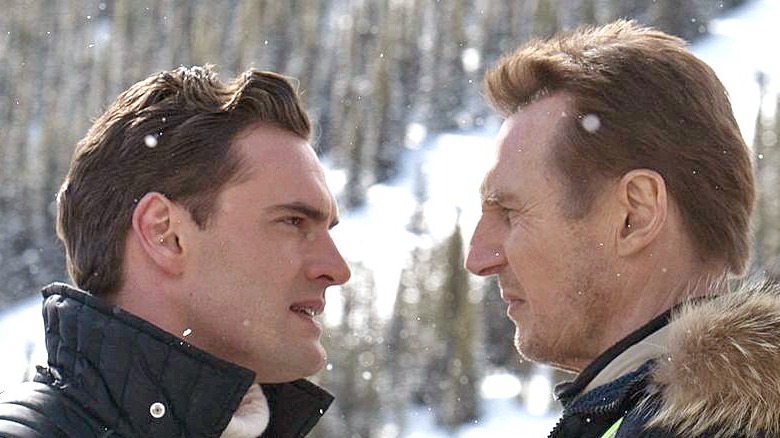 Summit Entertainment
Shortly after Coxman kidnaps Viking's son – in order to get the cartel head killed in an ambush by his rival – Viking uncovers his true identity. Both gangs race to his workplace and there begin a major shootout, while Nels tries to complete his revenge by going after Viking.
In the ensuing warfare, most of the gang members are killed. Coxman meanwhile stops Viking from fleeing with the use of heavy machinery, impaling his car with a tree and trapping the drug lord. Unable to flee, Viking is finally shot and mortally wounded by White Bull.
With Viking's son safe and Coxman's revenge complete, the protagonist begins to leave – that is, until an armed White Bull jumps in his cab, with the two driving away together. The final scene shows White Bull and Nels in the car as the driver rides along snow-covered roads, silently doing his job and seemingly done with the carnage he's created. Or at least it seems that way until Bull's last enforcer unwittingly lands right in the path of the snowplow and gets shredded.
Snow and cold figure in this movie in more ways than one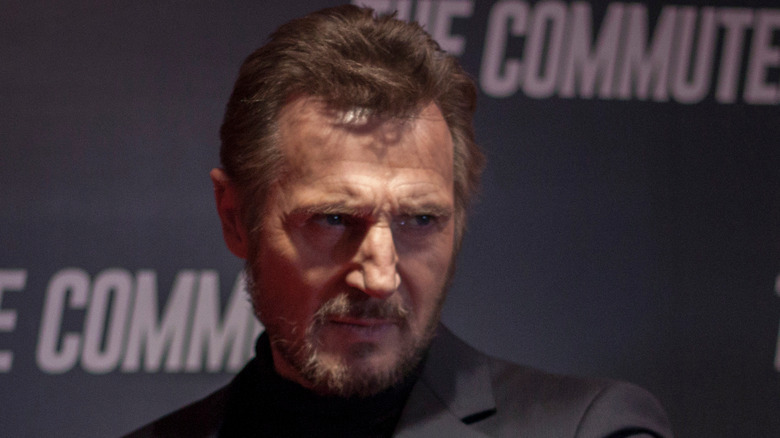 Shutterstock
While the title is a clear nod to Neeson's character pursuing revenge for his son, it's also in reference to the snowy, frigid Colorado environment where the film takes place. The harsh winter surrounding the characters not only plays a hand in the plot but also emphasizes the absurdity of the escalating gang war. Few people can look dignified running in the snow or getting their tires stuck, after all, and especially when they're likely to die in the process.
Coxman's snow plow business is arguably also clever foreshadowing for his bringing down the cartel – "snow" is slang for heroin (via American Addiction Centers), so his character is still doing "snow removal," just on a whole different level.
Cold behavior and treatment of others is a major factor in the behavior of the characters, too. Coxman kills several people throughout the movie with zero hesitation but is still protective of Viking's son, maybe because he reminds him of his own. Similarly White Bull is an icy gangster, but his Ute heritage means he cares about something besides profit. 
There are themes in Cold Pursuit of honor and what drives people to violence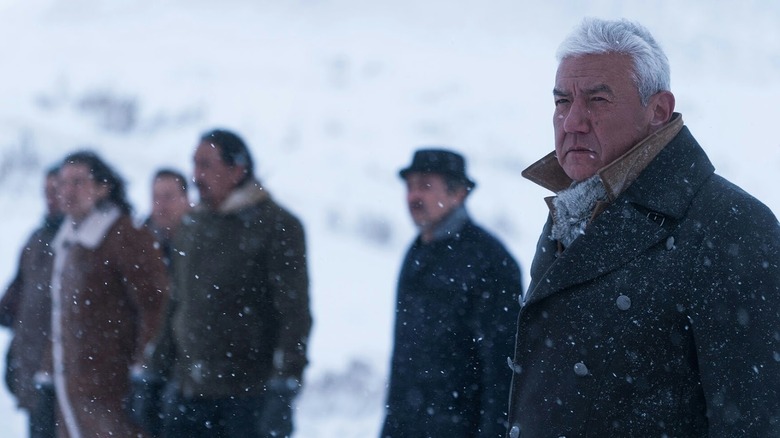 Summit Entertainment
"Cold Pursuit" can appear at first glance to be just another fun actioner where Liam Neeson takes bloody vengeance on someone, but there are also deeper themes here about honor and what drives someone to violence in the first place. This is especially emphasized in the very different motivations of the three main characters: Nels Coxman, Trevor "Viking" Calcote, and White Bull Legrew.
Whereas Viking and White Bull were active criminals already, Coxman is a model citizen, pushed into revenge and murder by the cartel's killing his child. However, his one act of violence ends up triggering a series of deaths, including that of his own brother. Compare this to Viking, a psychopath gangster but one who genuinely wants to keep the peace with White Bull. Still, once Coxman kills Viking, he immediately ceases his rampage as if he had a job to do and it's now over.
Meanwhile White Bull, a member of the Ute tribe whose crime syndicate is returning to their once stolen land, is a gangster like Viking but not without good intentions. That may be why he gets into the snowplow with Coxman, as they both are men who resorted to violence to get what they really wanted.
If you want to check out Cold Pursuit's twists and turns for yourself, the film is currently streaming for free on Peacock.