This Is Where The Cellphone Footage On AHS: Roanoke Really Came From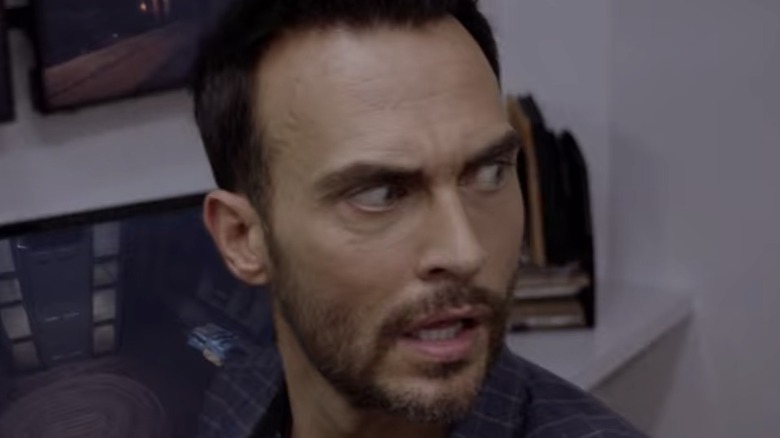 FX
If you're a fan of "American Horror Story," you may remember that the narrative in "Roanoke" depends in no small part on amateur footage, such as cell phone recordings, starting at the very beginning of the season. This sixth chapter of the series focused on an old, abandoned colonial farmhouse purchased by Shelby and Matt Miller after they move to North Carolina following a trauma. Strange events start to happen, leading the couple to install security cameras linked to a phone. Phone clips and other "found footage" during this season tell the story of the home, which is eventually revealed to house a whole lot of paranormal activity — and be part of a documentary called "My Roanoke Nightmare."
The season features a violent mob, the workings of the blood moon, and a return to the home to be recorded for television. This was the subject of the second part of the season, using video from different sources, such as GoPro-style video cams and body cams. The characters are even tasked with recording on their own cell phones for the reality show production — and they apparently capture some hair-raising things, such as disembowelment and murder. The fact that their personal phones apparently had enough battery power to last through the whole ordeal even became a joke on social media. However, if you've ever wondered where that footage came from, we've got the scoop.
The footage was recorded on the actors' actual cell phones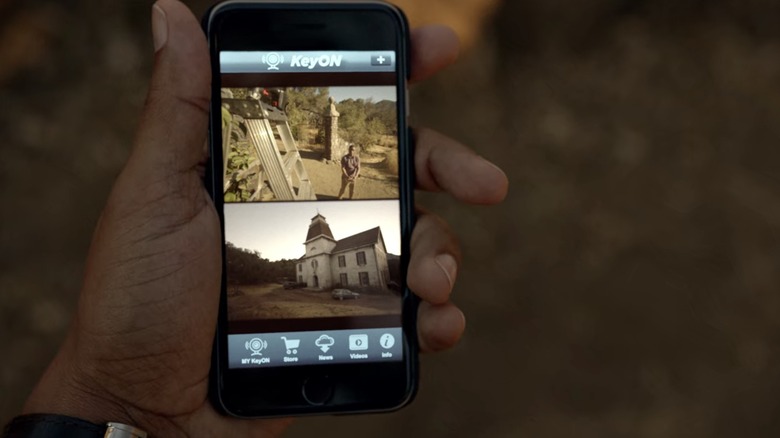 FX
Angela Bassett, who started her "American Horror Story" stint in Season 3 as Marie Laveau in "Coven," made her directorial debut in the sixth episode of "Roanoke." She revealed that the unconventional filming style in "Roanoke" was actually made more authentic by, well, being real. 
Bassett told Vanity Fair about the found footage used in the very meta season: "Not filming in a conventional way, and always having to remind yourself to skew it a little bit," she said while explaining what surprised her about transitioning to behind the scenes. "You want it to look good — keeping in mind the idea of the surveillance cameras — but still you have to make it look lush and interesting. Though sometimes the surveillance shots can be very static. High and wide, you know? But the way the script was written, there was an opportunity to break it up a bit. Filming with iPhones, that whole idea. Not being able to see it as it's happening. Sometimes putting the phones into the hands of the actors. We were becoming our own cinematographers, you know?"
She noted that, in her episode, there was a mix of more professional shots and iPhone footage. But, as the "Roanake" season went on, "there [was] more of us filming ourselves," she said. In other words, some of the footage was recorded and shown on actors' own cellphones. Talk about meta!