The Tom Cruise Lovecraftian Horror Movie We Never Got To See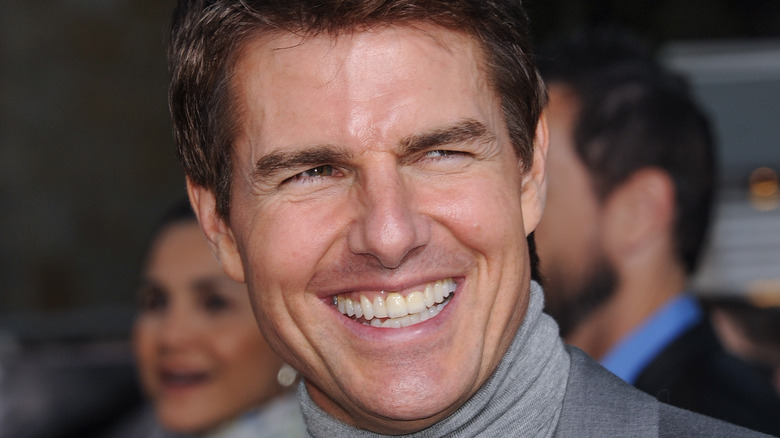 Shutterstock
Tom Cruise's career has seen some ups and downs in the past decade or two, but the actor remains one of the biggest, most bankable stars in the world. And while he continues to earn raves for his death-defying work in the blockbuster "Mission: Impossible" franchise, part of Cruise's durability in Hollywood is his dedication to subverting his action movie persona with films not cut straight from that genre's cloth.
Cruise's affinity for genre-jumping has led to some of the best performances of his career, including 1989's "Born on the Fourth of July," 1999's "Magnolia," and 2008's "Tropic Thunder." That said, horror is one of the few genres Cruise has only ever dipped a toe in, with Neil Jordan's 1994 vampire melodrama "Interview with the Vampire," Stanley Kubrick's unnerving 1999 thriller "Eyes Wide Shut," and 2017's forgettable monster movie "The Mummy" being the only films that even remotely fit the proper genre mold. 
Back in the early 2010s, however, Cruise was apparently looking to change that and go big with his first true-blue horror flick. In March 2011, it was reported that Cruise was teaming up with Guillermo del Toro for a hard R-rated adaptation of H.P. Lovecraft's "At the Mountains of Madness," a breathlessly tense story about a doomed expedition that uncovers horrors buried in the icy environs of Antarctica (via io9).
What happened with the adaptation of At the Mountains of Madness?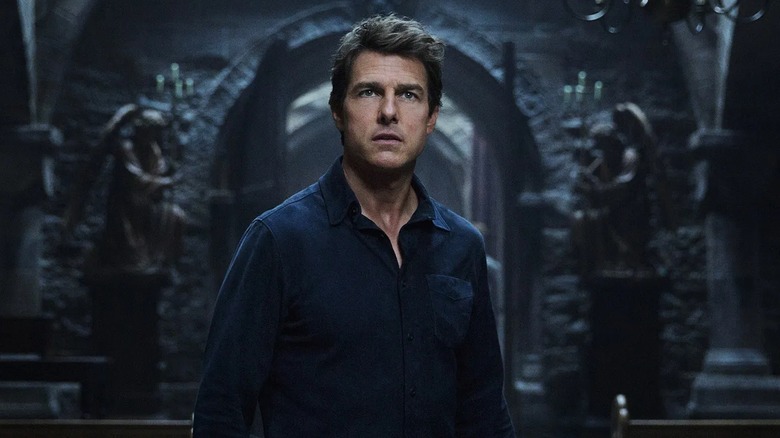 Universal Pictures
Sadly, Universal Studios brass nixed the planned adaptation of "At the Mountains of Madness" not even a day after producer Don Murphy told io9 that it was set to begin filming in June 2011, that Tom Cruise would star, and that the script closely followed the source material. Deadline detailed on March 7, 2011 Universal had "been balking over the $150 million budget and R rating on 'At the Mountain[s] of Madness'" for a long time and finally pulled the plug. With Legendary Pictures at the time moving swiftly on Guillermo del Toro's "Pacific Rim," it was evident that the "At the Mountains of Madness" movie wouldn't come to pass.
Shortly following that report, del Toro sat down for a revelatory interview with Deadline, explaining that in spite of Tom Cruise's star power (and his genuine desire to lead the movie) and the backing of James Cameron, Universal ultimately shut down "Mountains" due to its pitch-black narrative, inherent lack of a romantic subplot, need for a hard R-rating, and reported $150 million price tag.
For Cruise, "At the Mountains of Madness" falling through was just one of many projects throughout his career that didn't quite get off the ground. For del Toro, it was the tragic end of decades' worth of planning. And unfortunately, the film's cancellation came just months after he'd exited his long-delayed adaptation of "The Hobbit," hoping to rebound with a faithful adaptation of H.P. Lovecraft's harrowing tale of arctic terror. To make matters worse, IndieWire reported in 2012 that del Toro believed Ridley Scott's divisive "Alien" prequel "Prometheus" had essentially killed his "At the Mountains of Madness" adaptation for good, as there were striking similarities between the projects. 
All may not be lost, however. Even if Cruise and del Toro don't get back together to adapt "At the Mountains of Madness," the director himself told IndieWire in 2020 that he's still holding out hope to one day make the film on his terms. The only question now is who's got the money to back it?