Castlevania Teases Season 4 With Intriguing New Image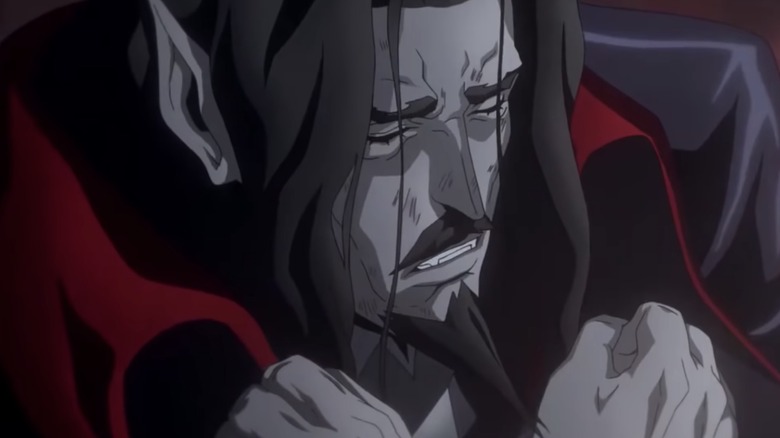 Netflix
With the fourth and final season of  "Castlevania" on its way, Netflix has been teasing its original series for weeks with a new trailer, new images and posters from the show, and a promise that "these are the end times."
You may recall that in Season 2, Dracula was banished to hell via wooden stake (by his own son) and beheading — in an emotionally heart-wrenching scene — and he barely appeared in the less action-packed Season 3 at all. During this upcoming conclusion, dark forces appear to be conspiring to revive the seemingly dead Dracula (Graham McTavish) — a time-honored "Castlevania" tradition. 
It looks like protagonists Trevor Belmont (Richard Armitage), Sypha Belnades (Alejandra Reynoso) and Alucard (James Callis) will be focusing on apocalyptic events (including a battle with the Grim Reaper himself) stemming from such attempts. "We killed Dracula," Trevor says in the trailer, "but now, we have to spend the rest of our lives making sure that nobody brings him back from the dead."
Today, the Netflix Geeked Twitter revealed an intriguing full image that hints at some of Season 4's events and plays a role in a significant moment from the show's future.
Netflix showed off a portrait of Dracula by Kloysius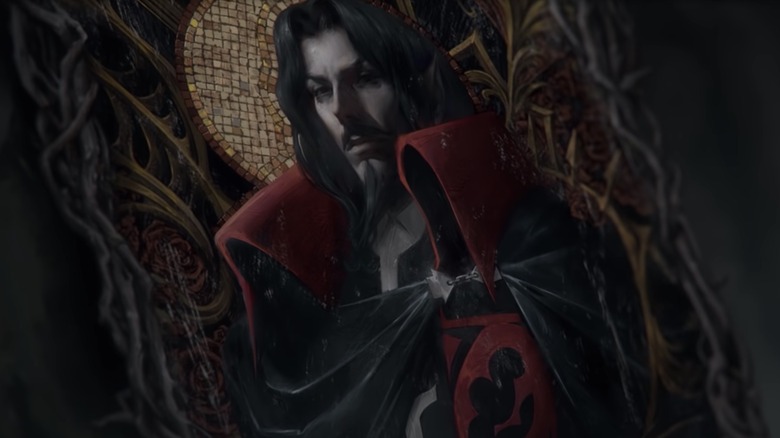 Netflix
The art of "Castlevania" is consistently stylish and striking, and one of the highlights over the past three seasons has been the richly-detailed portraits in the show's backgrounds from artist Kloysius. Today's Twitter post from Netflix showed off a piece of art that eagle-eyed fans have spotted before: It's a portrait of Dracula in red and black, surrounded by tangled brambles, roses, and gold decor. 
The artwork is viewable in the April 29 trailer, during a scene with Trevor and Sypha in a chamber, looking at a spell in glowing green. There's a glowing star in the center that appears to have been used with the intention of bringing someone back from the dead. "Oh, let me guess," Trevor says, disgusted. Sypha announces, to no one's surprise, "It decodes as Vlad Dracula Tepes." When she says that, an elongated, angled version of Kloysius' portrait can be seen on-screen. 
As the potential start to a "Castlevania" franchise envisioned by Netflix, this last highly-anticipated season could be quite climactic. Little reveals like this one, building up the show's atmosphere and foreshadowing possible events to come, simply add to the series' momentum in advance of the Season 4 launch on May 13.