What The Cast Of Waterworld Is Doing Today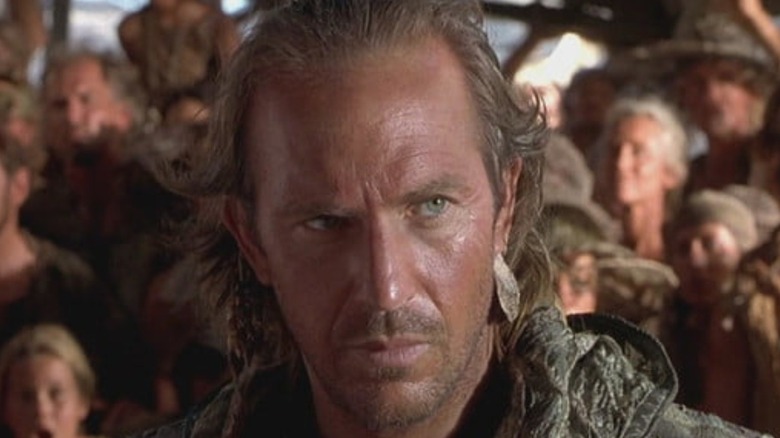 Water covers roughly 71% of the Earth. What if that percentage got a lot closer to 100%? That's the premise of the 1995 post-apocalyptic action flick "Waterworld," which stars Kevin Costner as the Mariner, a grim and resourceful survivor who wants only to keep surviving. Things get a lot more complicated for him when he gets caught up in the search for dry land, bringing him into deadly conflict with the ruthless Smokers. 
Fate did not prove kind to "Waterworld." While home release sales and the payment for TV broadcast rights would eventually push "Waterworld" into the black, North American ticket sales earned only $88 million for a film that cost $235 million to make. The movie quickly earned a reputation as one of the biggest box office bombs in film history, a label that endures to this day.
In spite of its early failures, "Waterworld" has actually managed to gain a respectable cult following. While its presence on a resume initially made things tougher for some of its stars, others went on to build memorable careers. For a movie defined by its failure, it's surprising just how many "Waterworld" actors have since gone on to great success — and in at least one case, household name status. Here's what the cast of "Waterworld" is doing today. 
Kevin Costner eventually surfaced from 'Waterworld'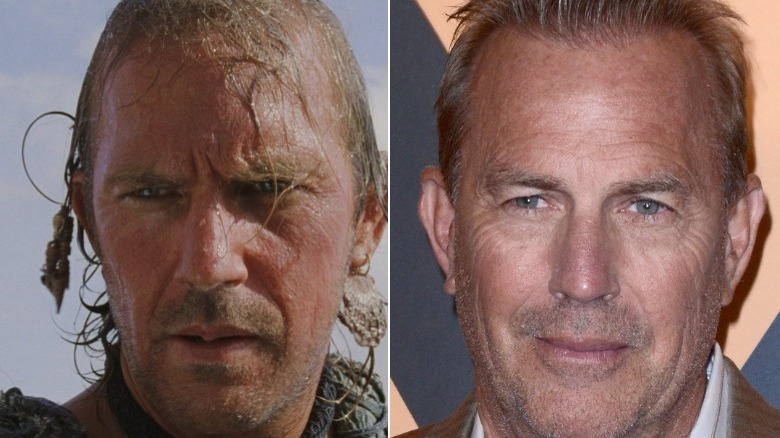 Shutterstock
Kevin Costner was riding high before "Waterworld." He enjoyed a string of successful roles in the late '80s and early '90s, beginning with his portrayal of the legendary prohibition agent Eliot Ness in 1987's "The Untouchables." He was both director and leading man for 1990's "Dances with Wolves," which earned him two Oscars. But "Waterworld" drowned his streak. His bad days got worse when he doubled-down on post-apocalytpic fare with the 1997 bomb "The Postman."
The early '00s were a mixed bag for Costner. He suffered a series of flops, most memorably with 2001's "3000 Miles to Graceland," in which Costner and Kurt Russell played criminal Elvis Presley impersonators. Along with bombing at the box office, "3000 Miles" got five nominations from the infamous Razzie Awards — which gives out awards like "Worst Actor" and "Worst" Picture" — though, to its credit, the film didn't bring any trophies home. Two years later, Costner returned to the director's chair with the Western "Open Range," in which he also played the lead role.
It wasn't until the 2010s that Costner's career hit another great streak. He impressed Western fans and history buffs alike with his performance in the 2012 History Channel miniseries "Hatfields & McCoys." The following year, he became Superman's adoptive father in "Man of Steel." He continued to score wins by playing NASA supervisor Al Harrison in 2016's "Hidden Figures," and John Dutton, the Dutton family patriarch, on the popular Western series, "Yellowstone."
Dennis Hopper embraced variety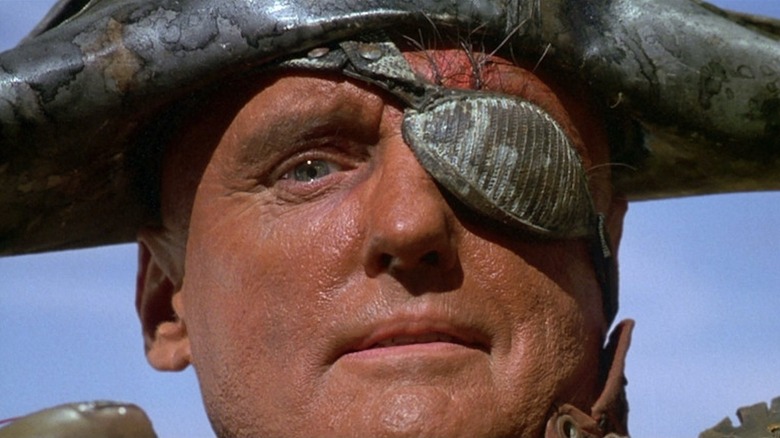 Dennis Hopper was an interesting choice for the Deacon, the one-eyed villain who pursues the Mariner and his allies. As the director and one of the stars of the generation-defining 1969 road film "Easy Rider," Hopper was closely associated with the sort of counterculture that would doubtlessly demonize an environmental terror like the Deacon. Somehow finding cigarettes, lighters, and matches in a world covered with water, the Deacon and his followers live up to their name as the Smokers.
While Hopper had been working in TV and film since the mid '50s, his casting in "Waterworld" was due in part to the career revival he enjoyed after being cast in David Lynch's "Blue Velvet." Hopper was notorious for being difficult to work with — including allegedly pulling a knife on the late Rip Torn – and more than once found himself branded persona non grata in Hollywood. He continued acting after "Waterworld," including in 2005's "Land of the Dead," and a reunion with "Waterworld" co-star Kevin Costner in 2008's "Swing Vote." He also made memorable TV appearances on "Entourage" and "24," and starred on the short-lived series "Crash." 
Hopper died from prostate cancer in 2010, at the age of 74. He would go on to appear in a number of films posthumously, including in the long awaited Orson Welles film, "The Other Side of the Wind," which was finally released in 2018, despite being filmed in the early '70s.
Jeanne Tripplehorn survived 'Waterworld' to great success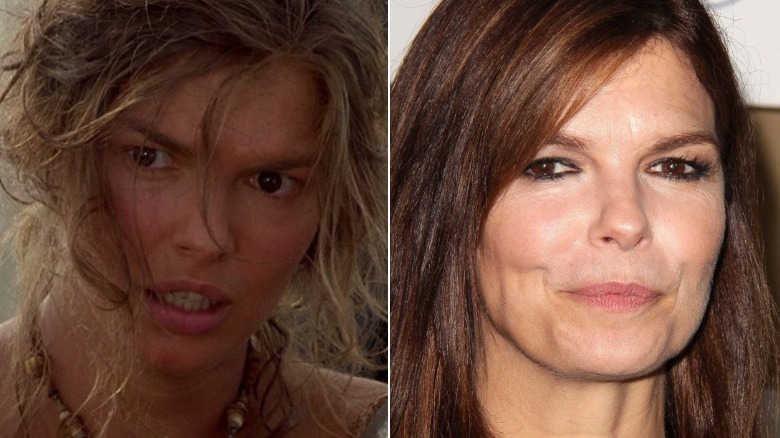 Shutterstock
Jeanne Tripplehorn played Helen in "Waterworld," custodian of the young Enola and the Mariner's love interest. The early-to-mid '90s marked Tripplehorn's break-out period: Before "Waterworld," she landed memorable roles in big films like the classic 1992 thriller "Basic Instinct," and the 1993 legal thriller, "The Firm."
While she worked regularly after "Waterworld," she didn't hit that level of exposure again until 2006 found her playing Barbara Henrickson, the first of Bill Henrickson's (Bill Paxton) three wives on the HBO drama "Big Love." The year after "Big Love" concluded, Tripplehorn joined the cast of CBS' beloved police procedural "Criminal Minds" as FBI Agent Dr. Alex Blake, replacing Paget Brewster's character Emily Prentiss. 
Other impressive performances include Tripplehorn's portrayal of widowed First Lady Jackie Kennedy-Onassis in the 2009 HBO film "Grey Gardens," and Eleanor Schlafly, sister-in-law to prominent conservative activist Phyllis Schlafly, on the highly acclaimed FX miniseries "Mrs. America."
Tina Majorino grew to become a successful adult actor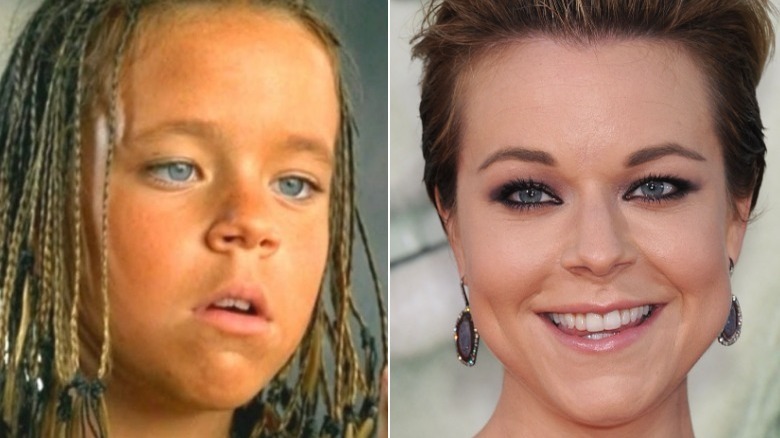 Shutterstock
Pre-teen Tina Majorino played Enola in "Waterworld," a young orphaned girl whose unique back tattoo holds the key to finding dry land. It's Enola who holds desperately onto the belief that the Mariner is more of a hero than he wants to admit, even after he nearly kills her early in the movie by throwing her into the ocean. 
Beginning her acting career at the age of seven, Majorino took an extended break after starring in the 1999 TV movie "Alice in Wonderland," reportedly wanting to focus more on school and her family. She returned in 2004 for what proved to be her most memorable role: Deb in the smash-hit comedy "Napoleon Dynamite." Since then, most of her acting work has taken place on the small screen. She scored the role of Cindy "Mac" Mackenzie, the titular high school detective's computer expert friend, on "Veronica Mars," and played Heather Tuttle, best friend to the oldest Henrickson child, on "Big Love." Majorino went on to portray vampire Molly on Season 5 of "True Blood," mousy intern Dr. Heather Brooks on Season 9 and 10 of "Grey's Anatomy," and chemist Florence on CBS' action drama "Scorpion." 
Gerard Murphy dazzled theatergoers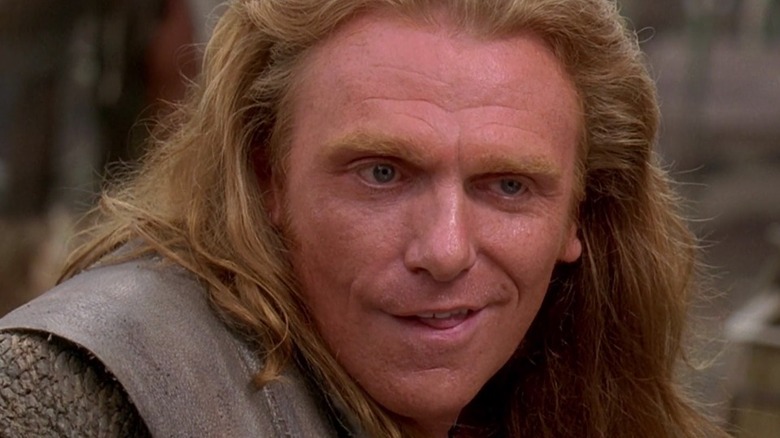 When the Mariner first arrives at the atoll in "Waterworld," some of the residents fear he could be a spy for the Smokers. He isn't, of course, but the doomed residents aren't wrong to fear betrayal — they're just looking in the wrong direction. The actual traitor, who later succeeds in helping the Deacon and his followers ransack the atoll, is the long-haired villain known only as the Nord, played by Northern Irish actor Gerard Murphy. The Nord takes an early interest in the Mariner, and later proves to be the Deacon's right hand man. 
Murphy's favorite home was the stage, and that's where he spent much of his professional life. He was an associate artist with the Royal Shakespeare Company, and a beloved performer at the Glasgow Citizens Theatre and Manchester's Royal Exchange. He also appeared regularly on UK TV series. For example, after "Waterworld," he played Detective Inspector Bracken on the British detective series "McCallum," and would later make appearances on BBC series like the police procedural "Waking the Dead." His appearances in American TV and films were more sparse, though Batman fans may remember him as the corrupt Judge Faden who oversees the release of Joe Chill (Richard Brake) in 2005's "Batman Begins." 
In 2013, Murphy died of prostate cancer at the age of 64.
Jack Black became a household name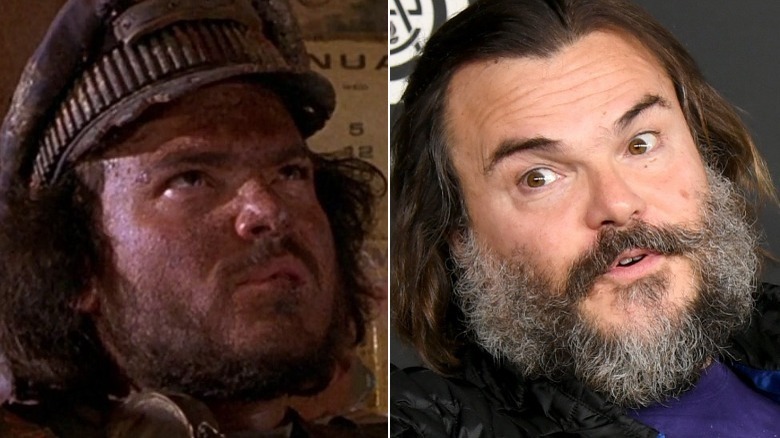 Kevin Winter/Getty Images
One of the most surprising parts of a "Waterworld" rewatch may be the appearance of Jack Black as an unnamed Smoker pilot. Black was mostly landing small roles in the mid-'90s, including co-starring with the similarly unknown-at-the-time Giovanni Ribisi on a Season 3 episode of "The X-Files." 
Black won more exposure after "Waterworld" with memorable appearances in films like the following year's "The Cable Guy" and "Mars Attacks!," along with the advent of the HBO series "Tenacious D," based on the comedy-rock band he formed with Kyle Gass. As the millennium turned, Black broke new ground as Barry in the hit dramedy "High Fidelity." His profile quickly rose, reaching stratospheric heights when he starred as Dewey Finn, a fake substitute teacher who educates his students on how to rock in the smash-hit 2003 comedy "School of Rock." His family-friendly bonafides were cemented when he became the voice of the eponymous hero Po in the "Kung Fu Panda" films, and starred in the 21st century revival of the "Jumanji" film series.
Black hasn't left grown-up humor behind, though. He appeared in the controversial 2008 satire "Tropic Thunder," and continues to rock as part of Tenacious D. During the COVID-19 pandemic, he became known for hilariously bizarre viral social media videos, like his transformation into Captain America after a vaccination shot.
Kim Coates became a son of anarchy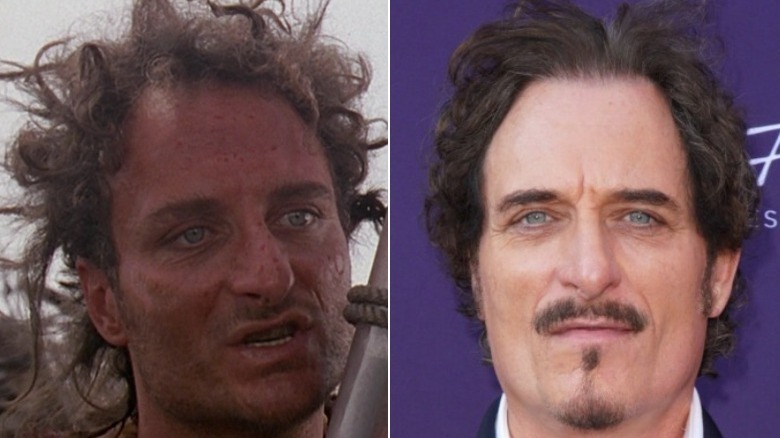 JC Olivera/Getty Images
Somewhat uneasily, "Waterworld" attempts to be a fun, swashbuckling adventure flick in spite of some truly dark moments. One of movie's most disturbing scenes comes when the Mariner, still considering Helen and Enola to be inconveniences, almost sells Helen to a mentally unstable drifter in exchange for a random piece of paper. The drifter, who thankfully winds up dead before he can assault Helen, is played by Canadian-American actor Kim Coates. 
After "Waterworld," Coates worked steadily as a character actor, making appearances in films like 2000's "Battlefield Earth," and the following year's "Pearl Harbor" and "Black Hawk Down." He also had plenty of recurring and one-off TV roles on series like "The Outer Limits," "CSI," and "Entourage." In 2008, he landed the role for which he's best known: Tig on the beloved FX crime drama "Sons of Anarchy." Coates' character is one of only a few original cast members who survive to see the series finale. 
More recently, Coates has earned acclaim for playing mob boss Declan Gardiner on the Canadian crime series "Bad Blood." He was also cast as Count Dalibor, the ruler of Transylvania, on the final season of Syfy's "Van Helsing."
You know Jack Kehler, even if you don't realize it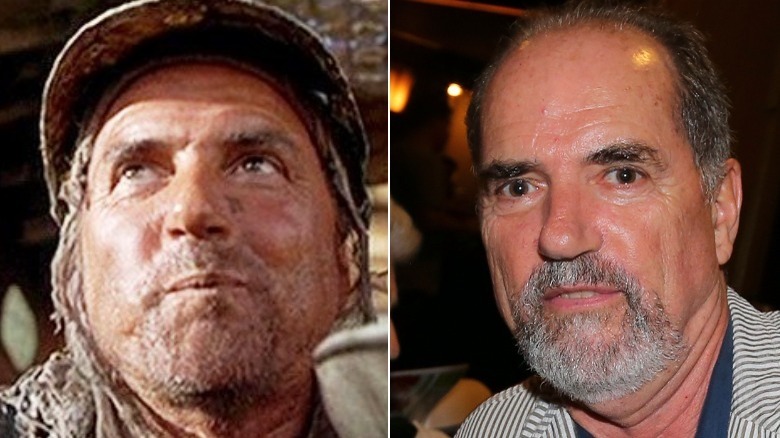 Victor Decolongon/Getty Images
The only reason the atoll allows the Mariner entry in the beginning of the film is because he unveils a jar full of dirt, something more valuable than gold in this bleak, wet world. After leaving his boat, the Mariner heads straight for the atoll bank to exchange the precious dirt for currency. The banker who makes the exchange — including literally tasting the dirt to test its worth — is played by character actor Jack Kehler. 
Jack Kehler has one of those faces you see and think, "Oh yeah, that guy," without necessarily remembering his name. Since 1983, he's played small roles in numerous films and TV series. The year after "Waterworld," Kehler scored one of his more extensive recurring roles on the critically acclaimed but short-lived legal drama "Murder One," as well as the follow-up miniseries "Murder One: Diary of a Serial Killer." Memorably, he appeared as Marty, the Dude's patient, dancing landlord in 1998's "The Big Lebowski." In one of his most recent high-profile parts, Kehler portrayed Harlan Wyndam-Matson, an American collaborating with the Japanese Empire on Season 1 of Amazon Prime Video's 2015 series, "The Man in the High Castle."
Robert Michael Jeter delighted kids and won awards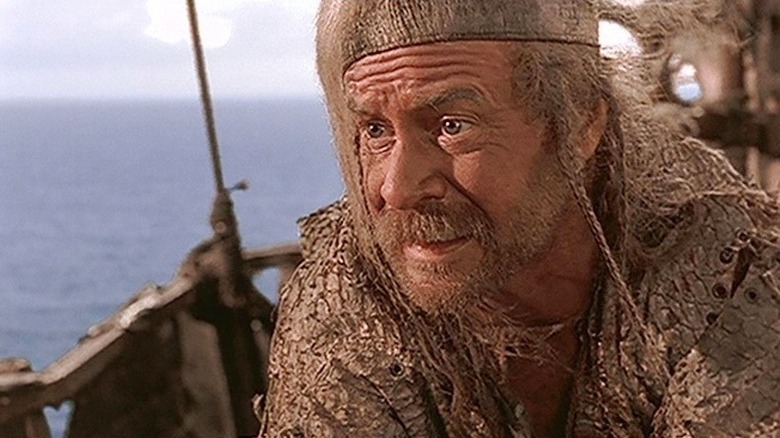 Beyond Helen and Enola, few of the atoll's residents survive the assault by the Deacon and the Smokers. One of few to make it out alive is Old Gregor, an inventor who tries to escape with Enola in his gas balloon. Sadly, he takes off too early and unintentionally leaves Helen and the girl behind. He does manage to show up once more just in the nick of time, however, saving the Mariner and Helen after the Smokers capture Enola and destroy the Mariner's boat.
Old Gregor was played by Robert Michael Jeter, who was often credited as simply "Michael Jeter." Some of Jeter's most well-remembered work came before "Waterworld," including his role as a homeless singer in 1991's "The Fisher King" and his Emmy-winning portrayal of math teacher Herman Stiles on the Burt Reynolds-led CBS sitcom "Evening Shade." But "Waterworld" was hardly the end for the talented character actor. Between 2000 and 2003, he delighted young "Sesame Street" viewers as Mister Noodle. He also played convicted felon Eduard Delacroix, known for his friendship with a mouse named Mr. Jingles, in 1999's "The Green Mile." In 2003, he reunited with "Waterworld" veterans Kevin Costner and Kim Coates for the Costner-directed Western "Open Range." 
Jeter's appearance in "Open Range" was a posthumous one, however: Jeter died in March 2003 due to complications following an epileptic seizure. He was 50 years old.
Zakes Mokae made history long before 'Waterworld'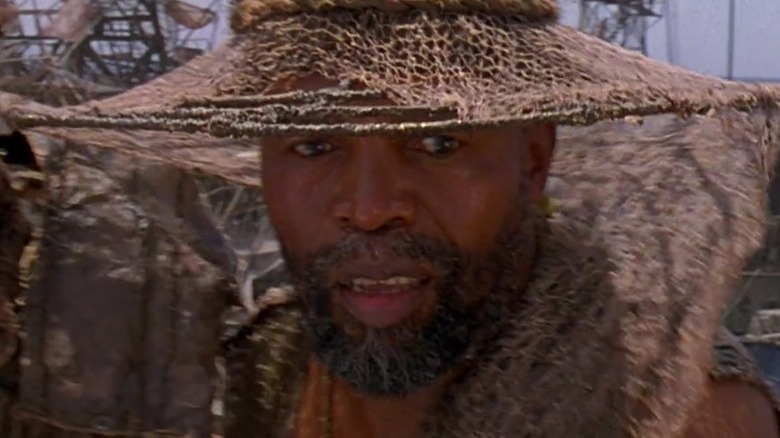 When the Mariner first arrives at the atoll, the elders see him as a godsend. Not only does he bring with him the precious dirt, his presence might prevent the undesirable consequences of inbreeding: The elders hope the Mariner will agree to mate with one of their young women before he leaves. He refuses, and soon afterward the Mariner's mutant gills are discovered, prompting the elders to call for his execution — or as they call it, for him to be "recycled."
One of those elders is played by South African-born actor Zakes Mokae. Long before landing a role in "Waterworld," Mokae was known for a much more important achievement. In 1961, Mokae starred in the history-making play "The Blood Knot" alongside actor and playwright Athol Fugard. It was the first time in apartheid South Africa that a Black actor and a white actor had ever appeared together on the same public stage. 
The year "Waterworld" came out was a busy one for Mokae. He also appeared as a doctor in the medical disaster film "Outbreak," and as a vampire expert in the comedy-horror "Vampire in Brooklyn." He went on to make brief but memorable appearances as an inmate on the prison drama "Oz," and as the doomed president of a fictional African nation on "The West Wing."
Mokae died in 2009 after suffering complications from a stroke. He was 75 years old.
Sab Shimono voiced your childhood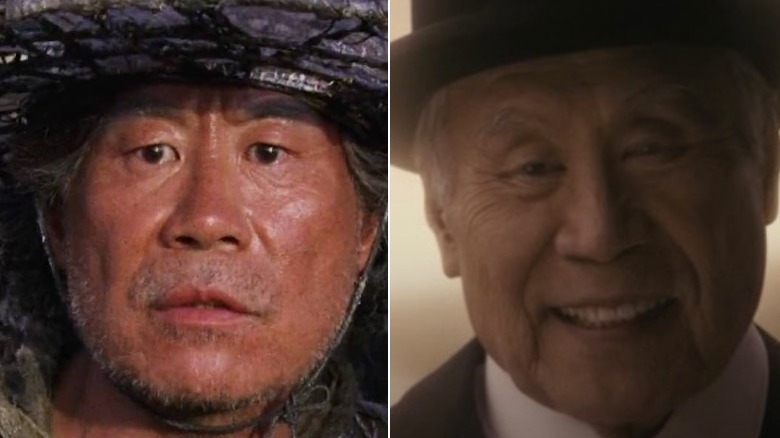 Of the unnamed atoll elders who are initially grateful for the Mariner's arrival and later want him dead, the most vocal is played by Sab Shimono. Shimono's elder makes the indecent proposition to the Mariner, and later speaks to the atoll residents as they prepare to "recycle" the hero. 
Many of Shimono's most prominent live-action appearances in film and TV took place before his casting in "Waterworld." Among his more well-known roles, he played Mr. Saito, one of the transplanted Japanese executives in the 1986 comedy "Gung Ho," and the subsequent TV series. He also played the arrogant medical examiner "Painless" Kumagai in the 1990 legal thriller "Presumed Innocent," and the villain Lord Norinaga in 1993's "Teenage Mutant Ninja Turles III."  
Though he's continued to work in live-action, Shimono scored a lot of wonderful voice roles in animated shows, films, and video games after "Waterworld." He was the voice of Uncle Chan on "Jackie Chan Adventures," performed multiple characters, including Monk Gyatso, on "Avatar: The Last Airbender," and portrayed the titular hero's father, the Emperor, on "Samurai Jack." In more recent years, he's given his voice to a much more personal project. Shimono co-hosts the podcast "Order 9066," which explores the internment of around 120,000 people of Japanese ancestry, most of whom were American citizens, within "relocation" camps during World War II. This is, unfortunately, an event with which Shimono has personal experience.
R.D. Call made a career out of portraying enforcers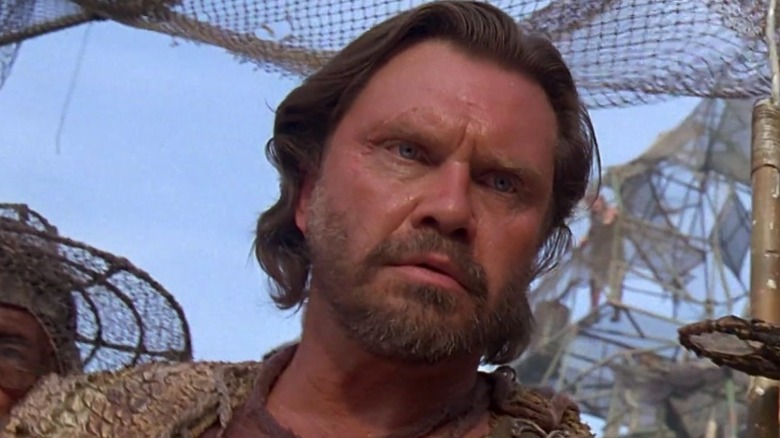 One of the only people who treats the Mariner with any kind of fairness at the atoll is R.D. Call's unnamed enforcer. He gives the Mariner a stern warning when he first arrives, but later, as the residents appear ready to kill the Mariner with their bare hands, the enforcer stops the violence. He doesn't try to interrupt the Mariner's execution later on, but he does refuse to allow him to be ripped to pieces, and apologizes to the Mariner as he's being lowered to the "recycling" pit. Fittingly, he's one of the few to survive the Smokers' attack. 
The enforcer was played by R.D. Call, a character actor known for playing this sort of role. Call had a long list of law enforcement roles under his belt, in films like 2001's "I Am Sam," 2006's "Babel," and 2007's "Into the Wild." That theme continued on the small screen: Call typically played either cops, government agents, or military officers on shows like "Supernatural," "The Practice," and "JAG."
In February 2020, Call died from complications due to back surgery at the age of 70.