How Andrew Garfield Really Feels About Tom Holland Playing Spider-Man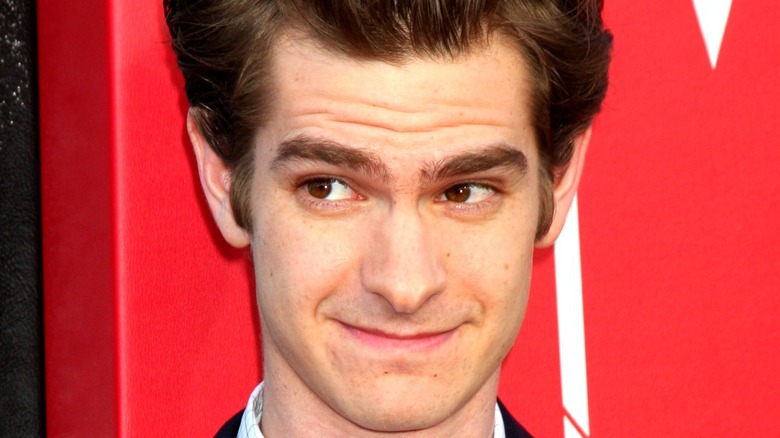 Shutterstock
Getting the opportunity to play one of the most famous and beloved superheroes to ever swing across a screen is childhood-dreams-coming-true-level exciting. Losing that opportunity before you expected to — and watching another actor take your place with great success — is the gut-wrenching twist in the tale.
A decade after Tobey Maguire first brought Spider-Man to the big screen, Andrew Garfield stepped into the skintight Spidey costume for 2012's "The Amazing Spider-Man." Studio Sony Pictures had plans to make multiple movies with Garfield in the role, but after the sequel flick "The Amazing Spider-Man 2" was deemed a critical flop (despite earning more than $700 million worldwide) in 2014, Garfield's web-swinging franchise was canceled.
Ever since then, fans have been debating about the real reason Andrew Garfield was let go from the Spider-Man film series, and why the trilogy actually never came to fruition. Was it just about the reviews, or was there something more at play? To this day, it's still mostly a mystery — but what's clear is that Garfield was disappointed with how everything played out. In a 2016 conversation with Amy Adams for Variety's "Actors on Actors" interview series, Garfield shared that he was excited to bring a new era of Spider-Man — "this incredible character that I've been dressing as since I was three" — to life, but that his vision was ultimately "compromised." He added, "It breaks your heart." 
And then, he had to watch someone else take over the role just two years later. This is how Andrew Garfield really feels about Tom Holland playing Spider-Man.
Andrew Garfield has nothing but praise for Tom Holland's Spidey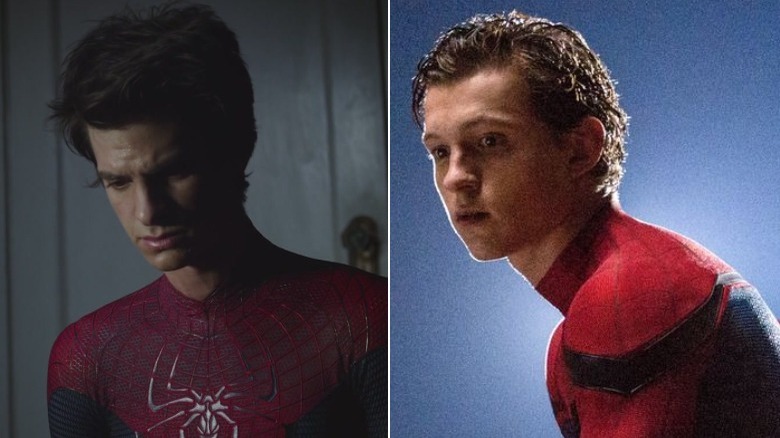 Sony Pictures Releasing, Sony Pictures Releasing/Marvel Studios
If you've successfully mastered the entire Marvel Cinematic Universe timeline, you'll remember that Tom Holland's Spider-Man first appeared in 2016's "Captain America: Civil War." He starred in his own movie, "Spider-Man: Homecoming," a year later.
By then, Andrew Garfield had followed up his Spider-Man disappointment by earning a Best Actor Oscar nod at the 2017 ceremony: He'd played Vietnam War medic Desmond Doss — the first conscientious objector awarded the Medal of Honor — in "Hacksaw Ridge." A couple of weeks earlier, Garfield's movie "Silence," directed by Martin Scorsese and co-starring Adam Driver, hit theaters. He was also receiving rave reviews for his performances in "Angels in America" (ironically in London's West End).
In a 2016 interview with Comic Book Movie, Garfield shared that being let go from his "Spider-Man" duties and Holland replacing him actually enabled him to take on these opportunities. (The schedule of a superhero actor is quite demanding, and doesn't really allow for outside work between filming, possible reshoots, exhaustive press junkets, and multiple premiere events around the world.) Garfield was also pleased that Marvel Studios had partnered with Sony for Holland's Spidey movies. And about Holland? Garfield had nothing but praise for the actor taking over the Spider-Man mantle. 
"[I'm] excited for Tom Holland," Garfield said at the time. "I think he's a very emotional, truthful, funny, physical actor ... it all really couldn't be in any better hands. I'm really stoked for it."
Garfield's positive perspective on his role rival may or may not extend to making a Spider-Verse-style appearance alongside him. There have been persistent rumors that both Garfield and Tobey Maguire will suit up again for Holland's upcoming third solo Spidey outing, "No Way Home," but Holland has been candid about the chances of seeing Maguire and Garfield in "Spider-Man 3," which he says are zero. Garfield has offered conflicting remarks, firmly denying that he's involved with "No Way Home" and then a day later urging fans to "never say never."
Looks like we'll have to wait and see if the three silver-screen Spider-Men we've met over the last 19 years will unite in "No Way Home."