The AHS Theory That Has Fans Looking Twice At The Witches And Warlocks
FX
"American Horror Story" has had a lot of fun playing with witch and warlock mythos. One of its most successful seasons, "American Horror Story: Coven," focuses on the events within Miss Robichaux's Academy for Exceptional Young Ladies, a New Orleans-based school for young women with witchy gifts. 
The witches and a corresponding pod of warlocks are once again examined in "American Horror Story: Apocalypse," where the witches are forced to defend the entire world against an apocalypse engineered by Michael (Cody Fern), son of the devil from "American Horror Story: Murder House." Michael aligns himself with the warlocks, who want to use his power to raise their status within the wizarding community. This would give them leverage over the all-powerful and world-famous witches, overseen by Cordelia Goode (Sarah Paulson).
Fans have wondered if they'll ever see the witches and warlocks from the "AHS-verse" again. After all, even though they managed to avert the apocalypse, the ending of the final episode suggests that Satan has found another tiny minion on earth. We've discovered a fan theory about the possible future of the characters that has people excited about another potential appearance.
Fans are begging for the original coven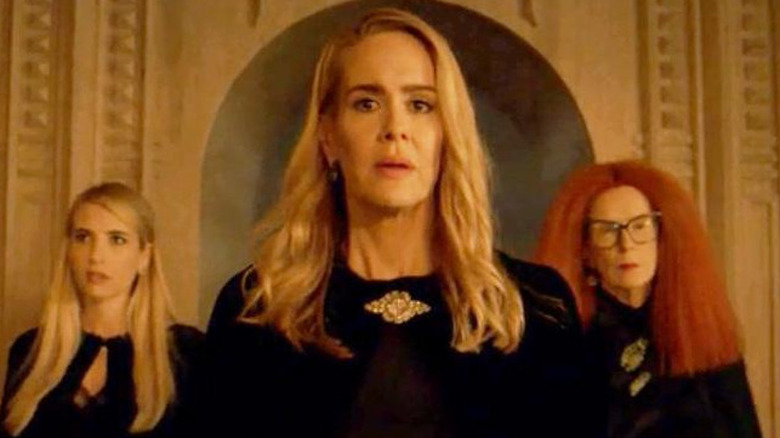 FX
A poll posted on the "American Horror Story" subreddit by /u/Eichelwurst — in which the majority of fans said they'd be happy to see the witch coven return for another season — brought out some interesting fan theories. Users such as /u/IncubusART suggested that further witch and warlock stories might work best within the context of their own spin-off show.
/u/ahs_hailey had the most interesting theory by far: "i want them to bring the original coven." They're referring to the pre-Cordelia, pre-Fiona era coven, way back when it was first established. They also suggested that they wanted to see other types of witches, mentioning Misty's healing factor and ability for growing green things: "Maybe an ocean witch with some sort of ocean horror themed season."
A poll by showrunner Ryan Murphy revealed that a Siren-based season received a very high percentage of the vote for a potential half of the upcoming "AHS: Double Feature" (according to Bloody Disgusting). With such a high amount of feedback, it's possible viewers might get to see this idea come to fruition.  
The horror maven has long said that the "Coven" witches will return at some point in the future after their jaunt in "Apocalypse." "The witches will be back," he told Entertainment Tonight after his December 2018 Hollywood Walk of Fame star dedication ceremony. "Not next season (which would have been 1984, which aired in 2019), but we have something really fun planned." "AHS" is not showing any signs of slowing down, and it's great to see Murphy can still keep fans guessing after all this time.