Emma Stone Opens Up About Becoming Cruella De Vil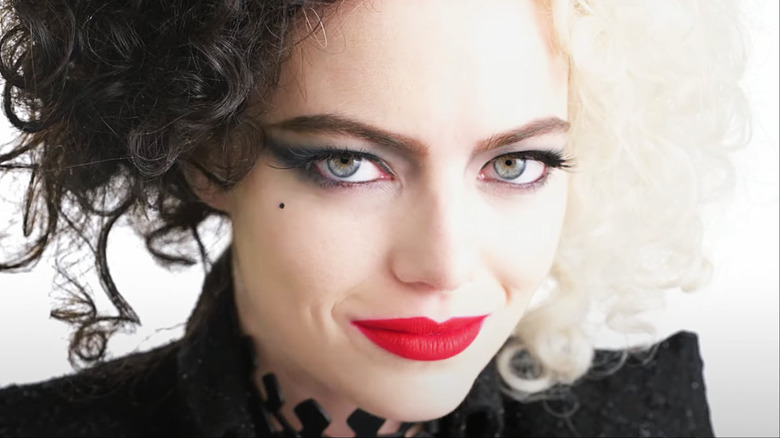 Disney
Disney is set to premiere the highly anticipated villain origin story "Cruella" on May 28th. The film will star Emma Stone as the iconic monochrome haired protagonist who has been terrifying dog owners since her first appearance in 1961's "One Hundred and One Dalmatians." The current movie is set in London in the 1970s, and follows our lead before she took on her infamous persona — which, in real life, was solidified as a fashion symbol by Glenn Close's portrayal in the 1996 live action version. Emma Stone's incarnation, who is depicted as originally being named Estrella, will reveal that she was once an ambitious young fashion designer whose antagonism with her boss (Emma Thompson) became the catalyst for her transformation into the evildoer we all love to hate. 
In a recent video interview put out by Disney, Stone opened up about what it was like taking on this iconic character, and how she was able to mold herself both physically and psychologically into the wickedly relentless woman who would one day try and kill puppies to make a coat.
Emma Stone embraced Cruella de Vil's stylish sensibilities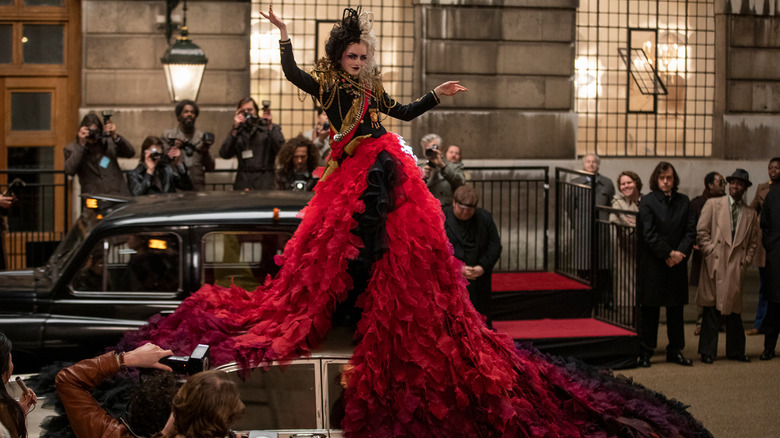 Disney
Emma Stone makes it clear, from the outset, that this new take on Cruella will live up to her evil name — but she won't start that way. "As we know, Cruella De Vil is pretty villainous [...] In this film, we get to see how she became the villain we know today."
For Stone, a huge part of inhabiting the role was embracing the unique and bold fashion choices that are made throughout the film. "One of the most fun things to explore is her creativity," Stone explains. "She's very good at what she does." Being able to explore Cruella's greatest talent — her unique, cutting edge, and distinctive style — allowed Stone to have a greater appreciation not just for the expertise the character brought to her industry, but also the genius of her artistry as a designer. Being ghastly is one thing, but looking fabulous while doing it is something else entirely. 
Stone adds, "The character is so much fun, and so, kind of, intoxicating."
Once she was in full hair and makeup, and immersed in the distinctive look for her portrayal, Stone says she easily inhabited the essence of how Cruella saw herself and wanted to be seen by others. Stone also said that the role allowed her to be more reckless, playing someone so mischievous and brazenly troublesome. As she puts it, with a laugh: "The villains are always kind of the fun ones." 
"Cruella" will hit theaters and Disney+ (with Premier Access) on Friday, May 28.